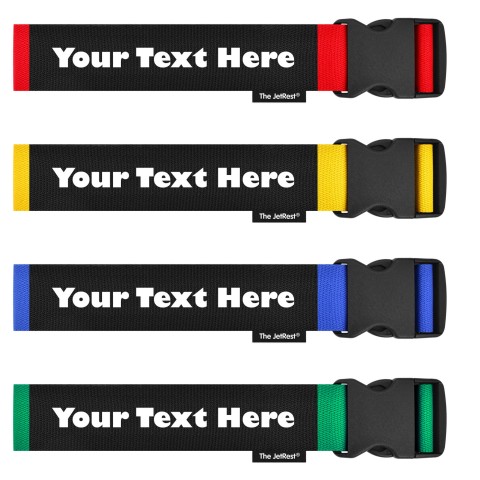 1143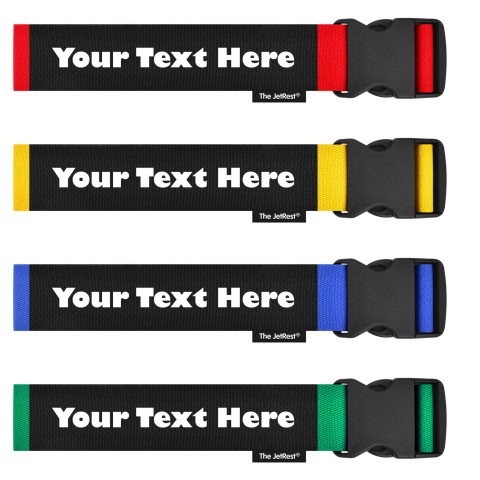 1143

1143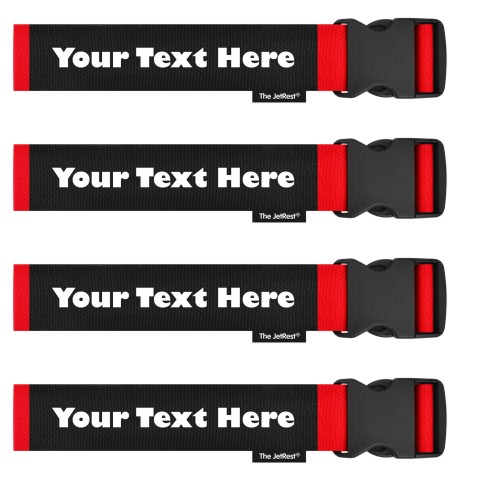 663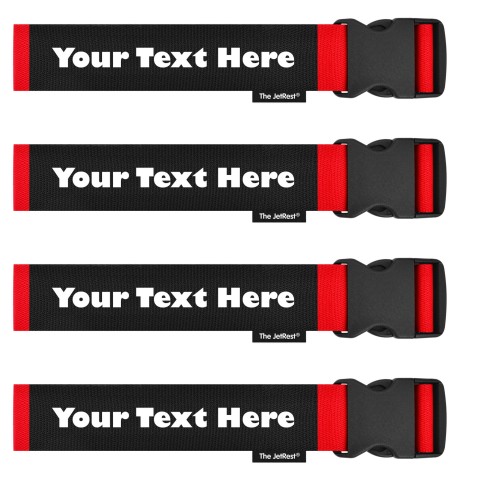 663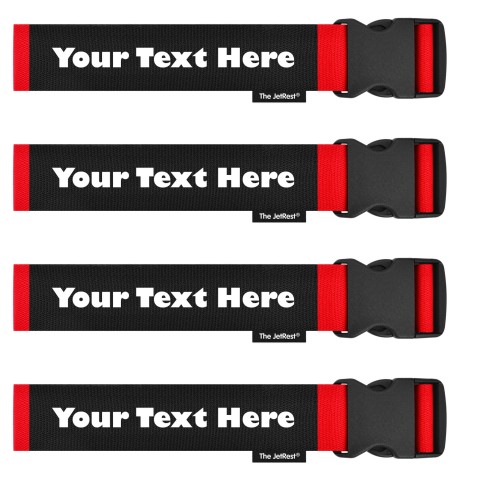 663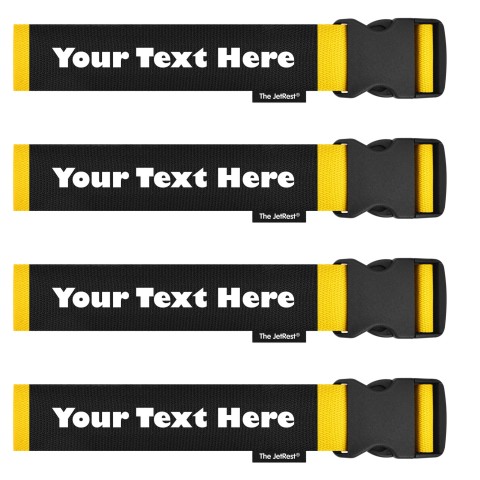 665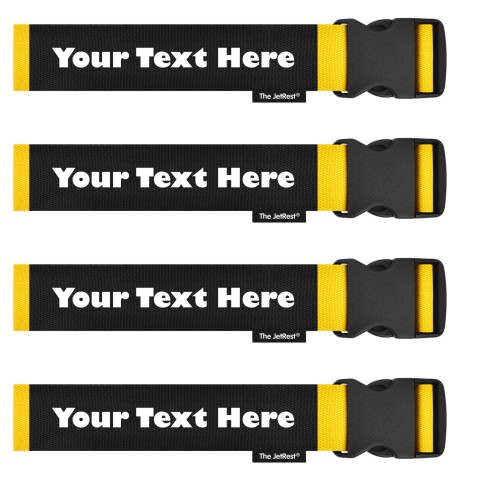 665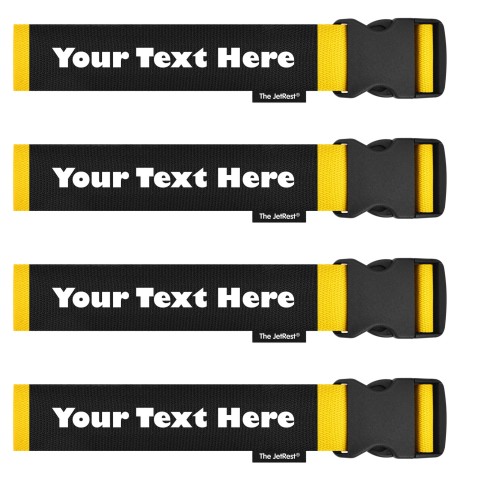 665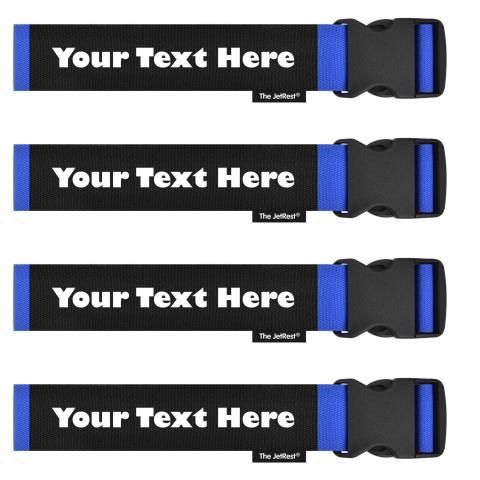 658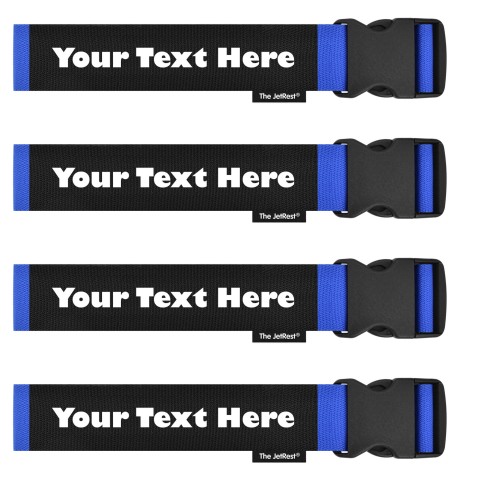 658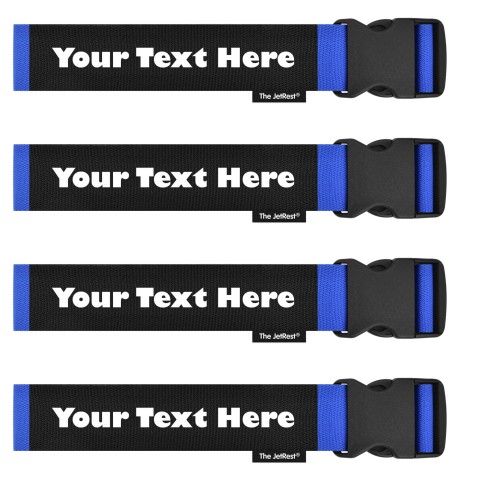 658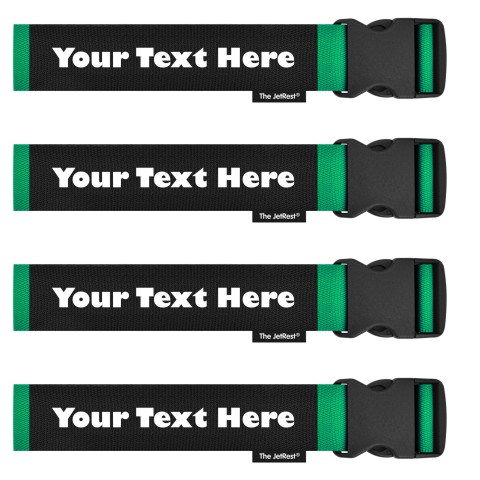 660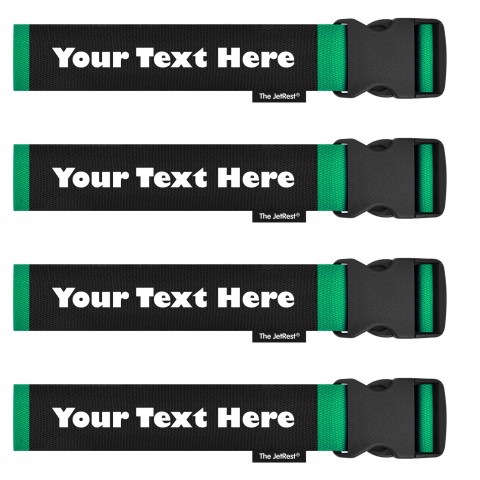 660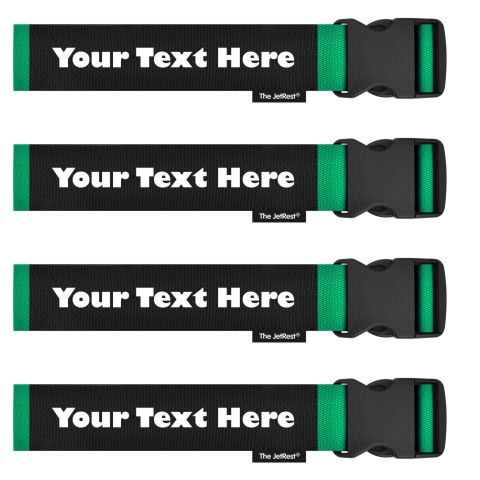 660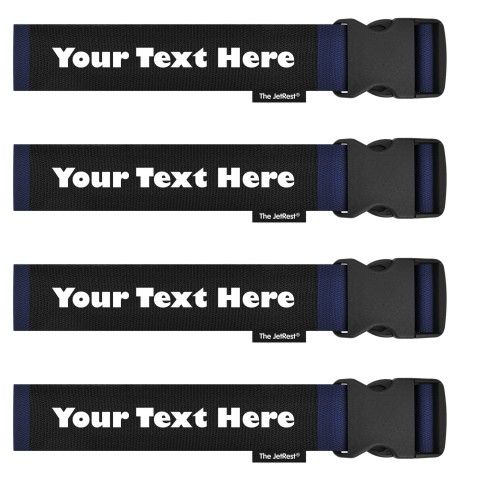 662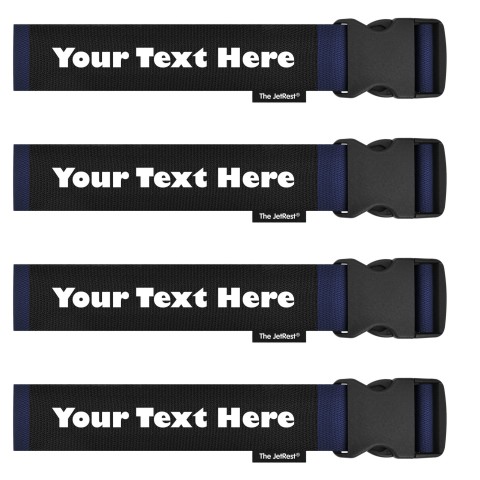 662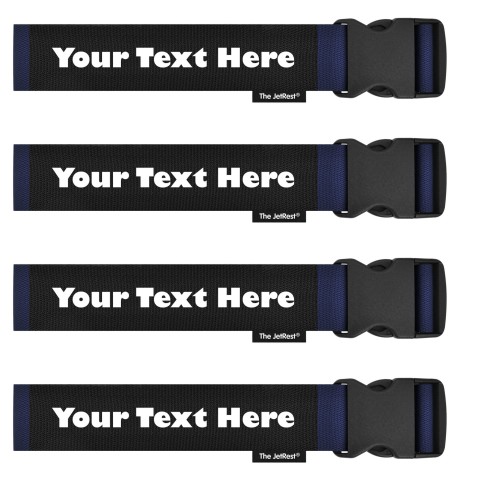 662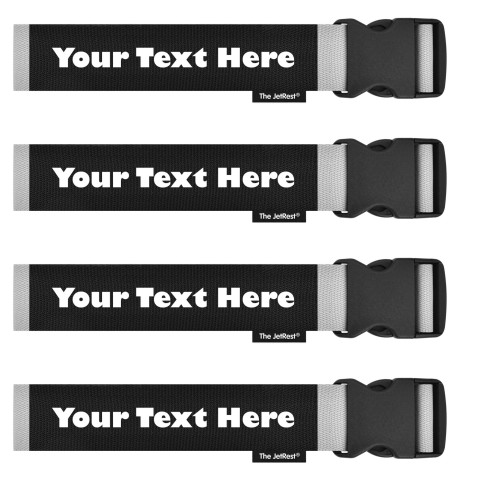 661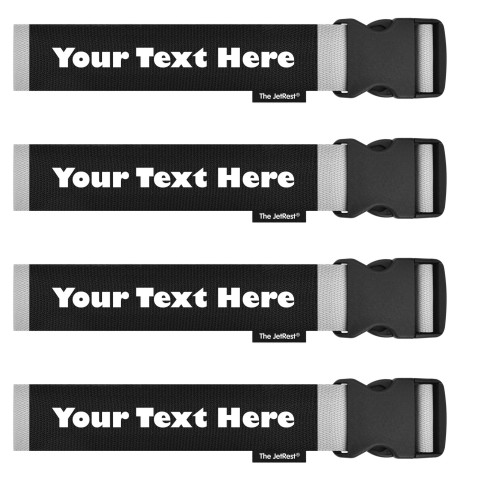 661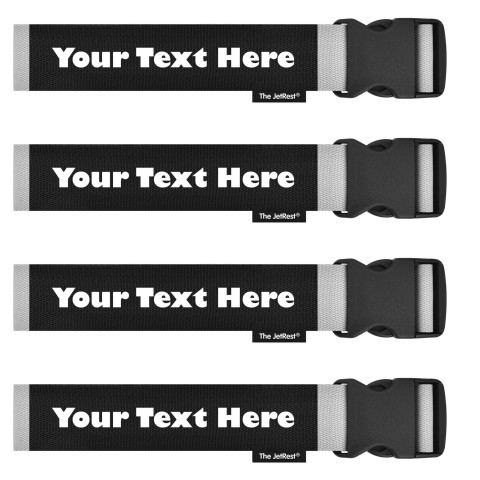 661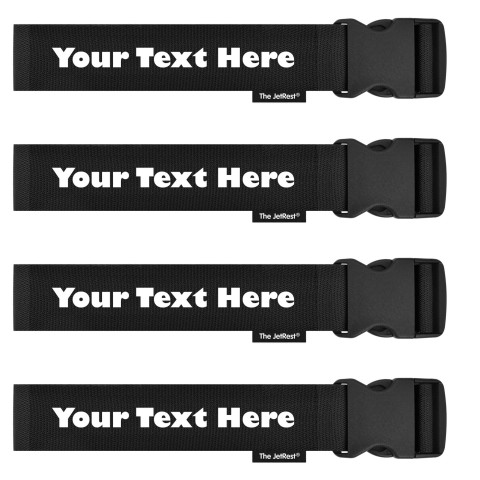 659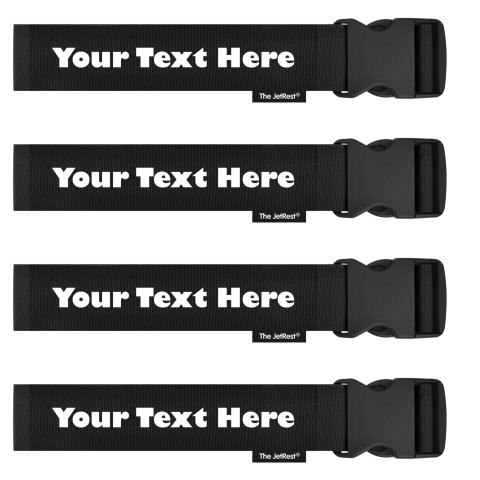 659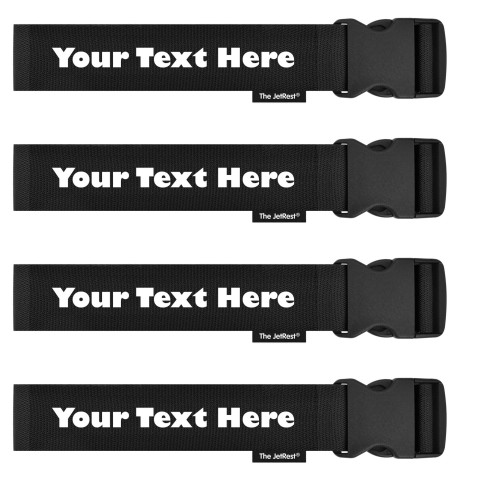 659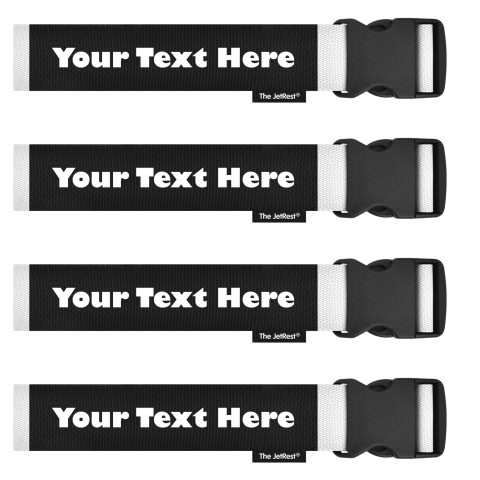 664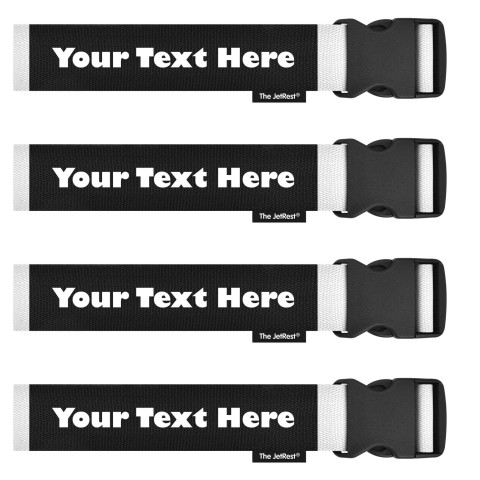 664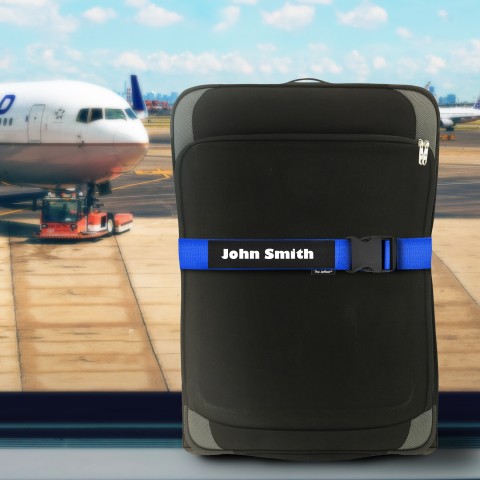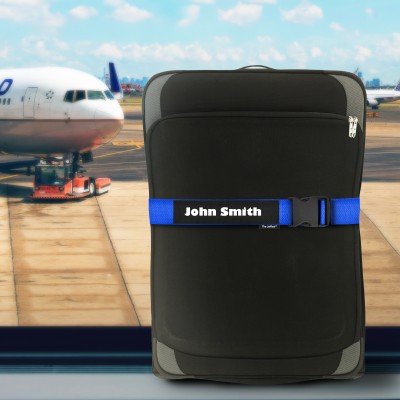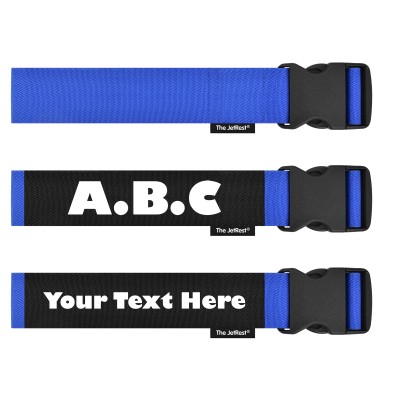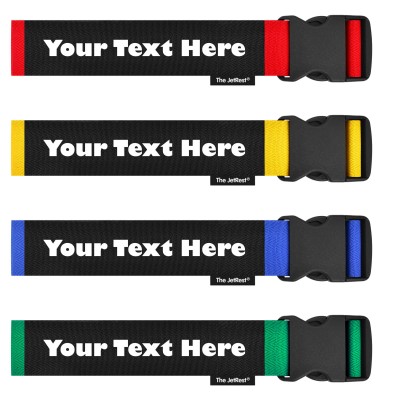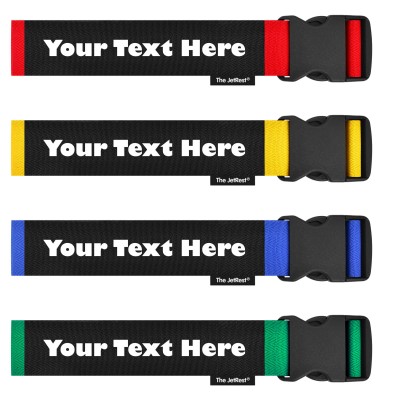 4 Pack of Personalised Luggage Straps
Description
4 Pack of UK Made Personalised Luggage Straps.
Printed with up to 4 different names.
180cm length x 5cm width with longer strap options.
Super durable clasp design.
Stunning colour varieties.
Optional pouches.
Trusted JetRest® brand
Made to order in Britain, this stunning 4 Pack of Personalised Suitcase Straps is a great bargain for those looking for straps for the whole family. We allow a different name to be printed on each strap, which will make spotting your luggage at the carousel super easy.
We offer our British Made Personalised Luggage Straps in a wide variety of unique colours. Among these options is a lovely 100% cotton strap which is ideal for those who have delicate baggage.
As standard, these stunning suitcase straps come in a 180cm length, but we offer the facility to select up to a 300cm long strap if you require one. Each strap is manufactured to order and comes in a 5cm width as standard.
This 4 Pack of Personalised Luggage Straps also makes for a wonderful and thoughtful gift idea. If you know anyone going on their holiday soon, give them the gift of peace of mind and the assurance that their luggage is safe and sound with these durable baggage straps.
Reviews
Went down a treat - everyone loved them
- Great quality, quick delivery.
By Frances Gaiger (Jan 2019)
Great product and really fast service
- After a mix up at the airport carousel this year with our luggage, I ordered sets of personalised luggage straps for Xmas gifts for all the family. Great quality and service and everyone was delighted with them.
By JW (Jan 2019)
Quality straps, great service
- Great quality luggage straps well marked with personalised name. Delivered in time for Christmas despite leaving the ordering late.
By Stonescot83 (Jan 2019)
GREAT FOR THE HOLIDAYS
- I BOUGHT A PAIR OF LUGGGAGE STRAPS FOR MY HUSBAND AND A PAIR FOR ME. THET ARRIVED VERY PROMPTLY IN TIME FOR CHRISTMAS AND THEY LOOK GOOD.
By B STAPLETON (Jan 2019)
Luggage straps
- Ordered 4 straps as Christmas presents. All were impressed by the quality. Just need to go on holiday now.
By Joan Brown (Dec 2018)
Excellent product
- Excellent quality material used for the personalised luggage straps. Very prompt service on all the items.
By Spurr (Dec 2018)
FAQs
Can I personalise this strap with something other than my name?
Yes. You are free to type whatever name, message or phrase you want, as long as it's within the 18-character limit.
How are the straps printed?
We heat press your text on to a black strip which is then sewn carefully on to the strap to make a durable and strong personalisation for your straps.
Can I have different text on each strap?
Yes. Just fill in the text field for the personalised text you want on each strap.
Can the luggage strap fit different size suitcases?
Yes. Luggage Straps have an adjustable buckle and will fit the vast majority of sizes.  Simply order a longer version if required in the options.
Are the Luggage Straps easy to remove?
Yes. Luggage Straps come with a buckle that is easy to release.
Can I have my luggage strap made to a different length?
Yes. We manufacture all of our luggage straps in our factory so can make them as a bespoke item to your own requirements. If the luggage strap is to be made longer, please place your order and select the size you would like.
Shipping
The information below is for guidance. Actual delivery costs and dates depend on the delivery address, weight and time your order is placed. Cut-off time for Overnight Orders is 12 noon.
| Price | Method | Manufacture Time | Delivery Time | Est. Delivery Date |
| --- | --- | --- | --- | --- |
| £2.95 | Royal Mail - 2nd Class | 1-3 Days | 2-3 Days | Wed 29 Jan - Mon 3 Feb |
| £3.95 | Royal Mail - 2nd Class | 1-3 Days | 2-4 Days | Wed 29 Jan - Tue 4 Feb |
| £3.95 | Royal Mail - 1st Class | 1-3 Days | 1-2 Days | Tue 28 Jan - Fri 31 Jan |
| £4.99 | Royal Mail - 1st Class | 1-3 Days | 1-3 Days | Tue 28 Jan - Mon 3 Feb |
| £5.95 | Royal Mail - 2nd Class | 1-3 Days | 2-3 Days | Wed 29 Jan - Mon 3 Feb |
| £10.07 | Courier - Economy (M-F Pre 6pm) | 1-3 Days | 2-3 Days | Wed 29 Jan - Mon 3 Feb |
| £12.95 | Courier - Overnight (M-F Pre 6pm) | 1-3 Days | 1-2 Days | Tue 28 Jan - Fri 31 Jan |
| £14.95 | Royal Mail - Special Delivery (Pre 1pm) | Same Day | Next Working Day | Mon 27 Jan |
| £14.95 | Royal Mail - Special Delivery (Saturday Pre 1pm) | Monday | This Saturday | Sat 1 Feb |
| £24.95 | Courier - Economy (M-F Pre 6pm) | 1-3 Days | 2-4 Days | Wed 29 Jan - Tue 4 Feb |
More Information
| | |
| --- | --- |
| Availability | Available to Order |
| Despatch | 1-3 Days (to Personalise) or Upgrade at Checkout for Overnight Delivery |
| Brand | The JetRest |
| RRP | £29.95 |
| Weight | 460 g |
| Country of Origin | United Kingdom |
| SKU | FGLUG001(x4) |
| Tariff Code | 6307909899 |
| Tariff Description | Luggage Strap - Woven Webbing |
4 Pack of Personalised Luggage Straps