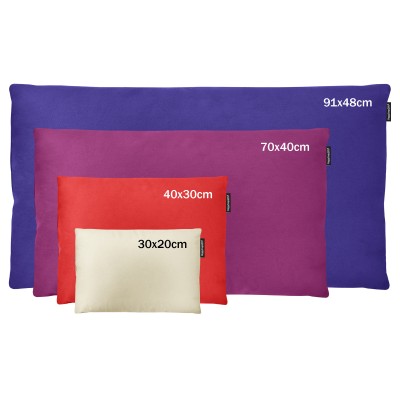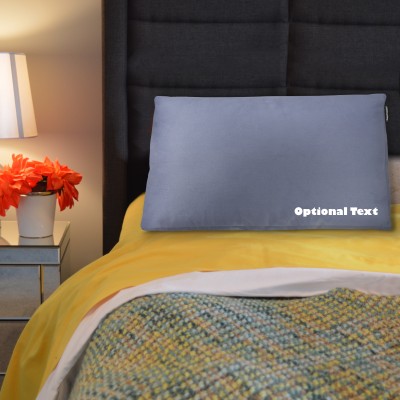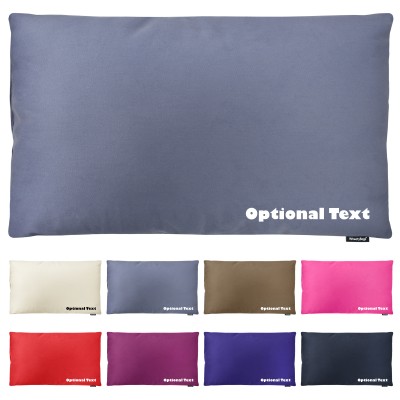 Buckwheat Sleep Pillow (Optional Size & Organic Filling Weight)
UK Made
Organic Filling
Zips - Oeko-Tex
Description
100% Organic Buckwheat Sleep Pillow with convenient zip allowing you to remove a portion of the filling to your preference.
UK-made buckwheat pillow.
100% organic buckwheat hulls.
Zip allows you to remove some filling.
Many size options including smaller camping, childrens and travel pillows.
Standard bed pillow size: 70cm x 40cm.
King size: 91cm x 48cm.
Includes removable cover for cleaning.
Trusted HappySnapGifts® brand.
The 100% Organic Buckwheat Sleep Pillow is an effective replacement for your fibre, feather or memory foam pillow. Buckwheat hulls conform perfectly to the unique shape of your head and can assist in providing the deep, restful sleep you long for. Buckwheat Pillows can be used by adults and children alike.
Each of these buckwheat pillows feature a convenient side zipper, which allows you to remove part of the filling to better suit your unique physiology. We offer this pillow with distinct size options, each of which ensure your head and neck are fully supported, regardless of the position you sleep in.
We've sourced an all-natural, 100% organic buckwheat from a reputable British farm. The buckwheat we triple graded and free from herbicides, pesticides and fungicides. Start your journey on the road to a better quality of life with our range of gorgeous Buckwheat Pillows.
Reviews
The best pillow thus far
- Recovereing from recently broken ribs, I had some jip with my old boingy mattress so replaced it with a memory foam mattress. This proved a little too firm, for my liking and the huge variety of pillows I tried, all gave me an aching neck - hard memory foam, soft memory foam, fibre-filled or feathers, all had issues. So I decided to try a buckwheat pillow and I have to say it is great. It is not too high, creates a supported dip for your head, like a bean bag but doesn't get hot or wrap round your head. Some people complain about noise but I can't say it's noisy at all, more like the soft crunch of your foot on fresh snow. Could possibly use a little more filling (though that is an option). Recommended.
By Wayne (Aug 2018)
Fantastic Pillows
- These pillows are great, nice and firm and shape to your head perfectly. No more stiff neck in the morning.
By Mark Ingram (Aug 2018)
Sleep easy
- Buckwheat pillow is brilliant my sleep has improved, my neck no longer aches, Best Buy ever
By BeanieB (Jul 2018)
Recommend
- Very comfortable pillow. It helped me with my back pain. highly recommended
By IK (Jul 2018)
Great pillow
- I love this pillow. It is very comfortable.
By IK (Jun 2018)
Deep Sleep with my pillow
- with my new wheaty pillow I now can sleep at night and wake up with no aches and pains. Thank you to wheaty bag specialists.
By Terry (May 2018)
Instructions
DO NOT HEAT THIS PRODUCT IN THE MICROWAVE.
This Organic Buckwheat Pillow is NOT intended to be used hot or heated in the microwave. Buckwheat Pillows are a sleeping pillow for comfort and rest whether in a chair or in bed.
Removable Covers
If you purchase this Product with the option for "Removable Cover" for cleaning, the outer removable cover will be supplied in the fabric and colour of your choice.  The inner pack will be manufactured from a fabric and colour of our choice depending on supplies available at the time of manufacture (usually our natural value cotton fabric depending on the product).
Cleaning with removable cover option (where appropriate):
Remove the Inner Product from the outer fabric cover.
Do not wash or get the Inner Product contents wet.
Warm hand or delicate machine wash max. 40 degrees.
Wash with like colours or seperately by hand in warm water.
For best results, lay flat on a suitable surface to air-dry.
Cleaning without removable cover option:
Use a damp cloth or sponge to hand clean the Outer Product Fabric.
Do not get the inner contents wet.
Air dry before using the product.
FAQs
How does the pillow siffer with and without the removable cover option ?
If you choose no removable cover, the pillow will arrive filled with buckwheat and have a zip closer so you can gain access to remove some of the filling to suit how deep you want the pillow to be.  This pillow will be in the fabric and colour you select.
If you choose to include the removable cover option, the inner pillow will be made in a natural cotton fabric and be filled with buckwheat and also have zip access to adjust the filling weight yourself.  The outer cover will be a pillow case style and this outer will be made in the fabric and colour you select.
Shipping
The information below is for guidance. Actual delivery costs and dates depend on the delivery address, weight and time your order is placed. Cut-off time for Overnight Orders is 12 noon.
| Price | Method | Manufacture Time | Delivery Time | Est. Delivery Date |
| --- | --- | --- | --- | --- |
| £2.95 | Royal Mail - 2nd Class | 1-4 Days | 2-4 Days | Wed 29 May - Wed 5 Jun |
| £4.96 | Royal Mail - 1st Class | 1-4 Days | 1-3 Days | Tue 28 May - Tue 4 Jun |
| £10.15 | Courier - Economy (M-F Pre 6pm) | 1-4 Days | 2-3 Days | Wed 29 May - Tue 4 Jun |
| £12.95 | Courier - Overnight (M-F Pre 6pm) | 1-4 Days | 1-2 Days | Tue 28 May - Mon 3 Jun |
| £12.95 | Royal Mail - Special Delivery (Pre 1pm) | Monday | Next Working Day | Tue 28 May |
| £14.95 | Royal Mail - Special Delivery (Saturday Pre 1pm) | Monday | This Saturday | Sat 1 Jun |
| £24.95 | Courier - Economy (M-F Pre 6pm) | 1-4 Days | 2-4 Days | Wed 29 May - Wed 5 Jun |
| £24.95 | Royal Mail - Special Delivery (Pre 9am) | Monday | Next Working Day | Tue 28 May |
| £29.95 | Royal Mail - Special Delivery (Saturday Pre 9am) | Monday | This Saturday | Sat 1 Jun |
More Information
| | |
| --- | --- |
| Availability | Available to Order |
| Despatch | Priority 1-2 Days (2-3 if personalised) (Overnight Delivery Available) |
| Brand | HappySnapGifts |
| RRP | £14.95 |
| Filling | Buckwheat |
| Weight | 785 g |
| Country of Origin | United Kingdom |
| SKU | FGBUC003 |
| Tariff Code | 10081000 |
| Tariff Description | Pillow - Buckwheat Filled with Fabric Cover |
Buckwheat Sleep Pillow (Optional Size & Organic Filling Weight)