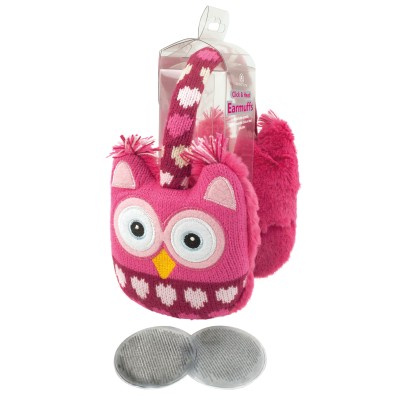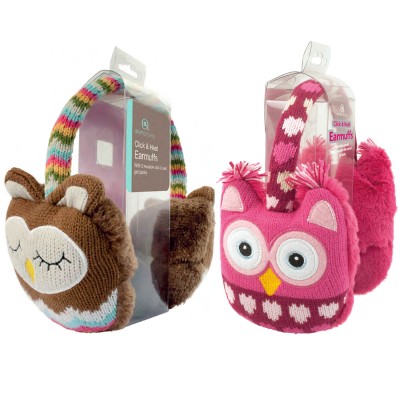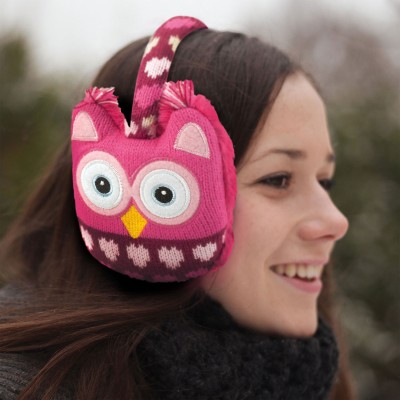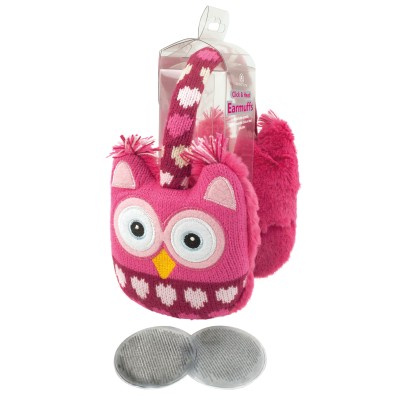 Earmuffs in Knitted Owl Design with (Click-Heat) Warming Insert
Description
Knitted Owl Earmuffs are a wonderful gift to keep your ears warm when out and about in winter and as a lovely gift.
Ear Muffs as a knitted owl character.
Colour options.
Beautifully made and adjustable in size.
Contains 2 reusable click to heat style gel packs that provide warmth when activated.
One size fits all.
Knitted Owl Earmuffs make for a lovely caring gift to help keep a persons ears warm when out and about in the cold.
Each earmuff contains a couple of gel based heat packs that are safely and simply clicked to activate the heating process. Simply click and then pop inside each ear compartment and wear to keep your ears warm. The muffs will carry on keeping your ears warm and toasty even after the gel pack has finished supplying warmth as they are made with a lovely soft furry white fabric inside as shown on the images on our site.
Full heating and reactivation and care instructions are supplied on every pack supplied and we have also written out the information taken from a pack from the factory when we first took in the stock. Please have a look now and be sure to follow the actual on-pack information when the gift arrives. Heating activation and reactivation is very simple and safe.
Please follow the on-pack instructions that you will receive with your product to ensure you follow the very latest factory-supplied instructions.
We have copied out the instructions on the Instructions Tab for your peace of mind, though just in case they change on-pack, we always recommend you read the pack printed instructions from the factory.
Reviews
Fun and very cosy
- These ear muffs are a bit of fun and are very cosy, even without the warmers being used. (Karen)
Directors review of the Knitted Owl Earmuffs
- These earmuffs make for a lovely gift to anyone wanting to keep their ears lovely and warm when out and about in the cold. Each lovley character owl earmuff contains a gel pack style heat pack that can be very easily clicked to activate the warming process and you then simply pop each on in the ear compartment. Reactivating the gel pack is very easy though does involve boiling it in water for a short period so this bit is always recommended to be done by adults though clicking to activate could be done by pretty much anyone safely as you will soon see. The owl characters are cute and cuddly and make for a fun way to keep the ears warm and make for a perfect winter gift. (Michael Robinson)
Instructions
DO NOT HEAT THIS PRODUCT IN THE MICROWAVE.
This product is NOT intended to be heated in the microwave.
Please refer to the instructions that may be attached to the product at manufacture (if applicable) for further information.
Delivery
The information below is for guidance. Actual delivery costs and dates depend on the delivery address, weight and time your order is placed. Cut-off time for Overnight Orders is 12 noon.
| Price | Method | Manufacture Time | Delivery Time | Est. Delivery Date |
| --- | --- | --- | --- | --- |
| £4.99 | 2nd Class (Tracked) | 0-1 Days | 2-3 Days | Mon 25 Sep - Wed 27 Sep |
| £6.99 | 1st Class (Tracked) | 0-1 Days | 1-2 Days | Fri 22 Sep - Tue 26 Sep |
| £10.99 | Royal Mail (Special Delivery Overnight Mon-Sat Pre 1pm) | Tomorrow | Next Day (Mon-Sat) | Mon 25 Sep |
| £12.99 | DHL Courier (Economy M-F Pre 6pm) | 0-1 Days | 2-3 Days | Mon 25 Sep - Wed 27 Sep |
More Information
| | |
| --- | --- |
| Despatch | Today (Cut off time 3pm M-F) |
| Brand | Aroma Home |
| RRP | £14.95 |
| Filling | Water |
| Country of Origin | China |
| SKU | FGEAR050(Pink) |
| Gtin | 5060014159724 |
| Product Weight | 178 g |
| Product Dimensions | 20 x 16 x 10cm |
Product Options
Earmuffs in Knitted Owl Design with (Click-Heat) Warming Insert
- Pink
FGEAR050(Pink)
5060014159724
£14.95
178 g
20 x 16 x 10cm
Earmuffs in Knitted Owl Design with (Click-Heat) Warming Insert