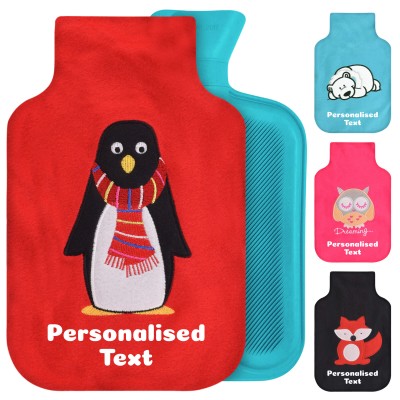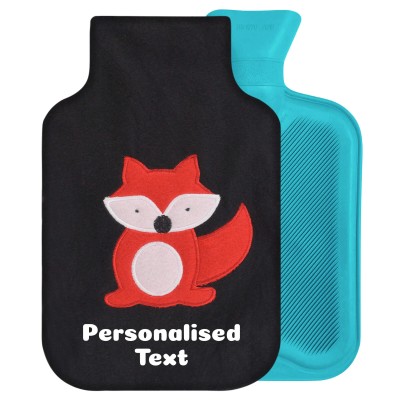 Kids Personalised Hot Water Bottle
Description
Kids Hot Water Bottle Cover with Personalised Text and cute animal embroidery options now with Rubber Hot Water Bottle included.
Soft fleece fabric.
Available in black, turquoise, pink or red.
Can be personalised with a name or message of your choice.
Approx. 35cm x 20cm size.
Random coloured hot water bottle will be included.
Our cuddly hot water bottle covers come in four different colours each of which has its own cute animal design embroidered onto the fabric. Perfect for kids, but also great for adults who appreciate the charming animal designs. This adorable hot water bottle covers each has their own personality and come in four different colours: black (fox), turquoise (polar bear), pink (owl) and red (penguin). Each cover measures approximately 35x20cm in size and will fit our standard 2-litre size rubber bottle.
Reviews
Penguin hot water bottle cover
- Lovely hot water bottle cover, snuggly and cosy with delightful penguin. (Marion Baldwin)
Excellent Quality
- I bought the penguin and the fox designs. They are excellent. The material and embroidery are excellent quality. They were delivered within 4 days, which was brilliant as it was over Xmas/ New Year period. I am so impressed with the quality of these items that I have come back to the site to buy more! Exellent quality and value for money (Maxine M)
So endearing.
- Hot water bottle covers super-duper and cosy.Lovely embroidery. (Heather Forshaw)
Directors Review of the Embroidered Hot Water Bottle Covers
- These hot water bottle covers are very cut and the embroidery is excellent in the detail. We wupply these covers with a free rubber hot water bottle if selected and make for excellent value if you are looking for a traditional hot water bottle with cover. Adding personalisation to the cover makes for a great personalised and low cost gift. (Michael Robinson)
Instructions
Our products will have a sewn-in Care Label giving you guidance on Care and Washing this Product. In summary however, they will contain the following instructions though please do refer to the specific label on your individual item for the latest information:
For 100% Cotton, 100% Polycotton & 100% Polyester Fabrics (eg Fleece).
CARELESSNESS CAUSES FIRE.
Remove the outer cover if supplied before carefully cleaning.
Do not wash or get the inner wheat or other filled heat packs wet.
Warm hand or machine wash and cold rinse.
Wash with like colours max. 40 degree temperature.
For best results, lay flat on a suitable surface to air-dry.
Do not bleach.
1 spot iron (Cotton / Fleece) or 2 spot iron (Polycotton).
Do not tumble dry.
FAQs
Can I personalise the hot water bottle covers with a name?
Yes. Our hot water bottle covers can be personalised if the Personalise this Product button is shown as a selection.
What size are these covers?
Size information is supplied in the Product Information and where appropriate, we may also offer Size Options to choose from.  Where no size option is shown, the covers are a generic 2 litre size appropriate for our own supplied (and possibly other) rubber hot water bottles.
What age do you suggest these covers may be suitable for?
The covers are suitable for all ages however please refer to the Instructions details we supply if you are purchasing a rubber hot water bottle to match these covers for special safety information on users of different ages.
What is a "Sanger" Hot Water Bottle?
Sanger is a premium manufacturer of rubber hot water bottles and the bottles meet the TUV, BS 1970:2012 and EN71 requirements.  When you receive your Sanger hot water bottle you will know the difference in just how luxurious and 'thick' the rubber feels.  This is the premium brand we prefer if you are buying a hot water bottle when you have a choice of brand.
What is a "Generic" Hot Water Bottle?
Targeted to give you a value product but one that still is safe and meets the required testing standards, our generic brand bottles will be available from a variety of manufacturing sources and are available from mixed colours of stock available at the time.  If you prefer to know which colour your are getting with your bottle, choose one where we present a colour option at checkout.
Delivery
The information below is for guidance. Actual delivery costs and dates depend on the delivery address, weight and time your order is placed. Cut-off time for Overnight Orders is 12 noon.
| Price | Method | Manufacture Time | Delivery Time | Est. Delivery Date |
| --- | --- | --- | --- | --- |
| £4.99 | Royal Mail 2nd Class (Tracked) | 1-4 Days | 2-3 Days | Fri 9 Dec - Thu 15 Dec |
| £6.95 | Royal Mail 1st Class (Tracked) | 1-4 Days | 1-2 Days | Thu 8 Dec - Wed 14 Dec |
| £11.96 | DHL Courier (Economy M-F Pre 6pm) | 1-4 Days | 2-3 Days | Fri 9 Dec - Thu 15 Dec |
| £14.96 | DHL Courier (Overnight M-F Pre 6pm) | 1-4 Days | 0-1 Days | Wed 7 Dec - Tue 13 Dec |
| £14.99 | Royal Mail (Special Delivery Overnight M-F Pre 1pm) | Tomorrow | Next Working Day | Thu 8 Dec |
| £17.99 | Royal Mail (Special Delivery on Saturday Pre 1pm) | Tomorrow | This Saturday | Sat 10 Dec |
| £34.99 | Royal Mail (Special Delivery Overnight M-F Pre 9am) | Tomorrow | Next Working Day | Thu 8 Dec |
| £39.99 | Royal Mail (Special Delivery on Saturday Pre 9am) | Tomorrow | This Saturday | Sat 10 Dec |
More Information
| | |
| --- | --- |
| Despatch | 1-4 Days (Made to Order) or Upgrade for Overnight Delivery at Chekout |
| Brand | HappySnapGifts® |
| Filling | Water |
| Country of Origin | China |
| SKU | FGHOT063+008(Fox)(P) |
| Tariff Code | 3924900090 |
| Tariff Description | Plastics and articles thereof; rubber and articles thereof |
| Product Weight | 34 g |
| Product Dimensions | 34 x 22.5 x 2cm |
Product Options
Size & Colour
2 Litre (Stock Available Colours)
Character
Fox, Polar Bear, Owl
Product Type
Hot Water Bottles
Hot Water Bottle > Cover
Kids Hot Water Bottle
Kids Hot Water Bottle > Cover
Personalised Hot Water Bottles

Kids Personalised Hot Water Bottle
2 Litre (Black with Fox) (Personalised with Text)
FGHOT063+008(Fox)(P)
£9.99
34 g
34 x 22.5 x 2cm
Kids Personalised Hot Water Bottle
2 Litre (Turquoise with Polar Bear) (Personalised with Text)
FGHOT063+008(Bear)(P)
£9.99
34 g
34 x 22.5 x 2cm
Kids Personalised Hot Water Bottle
2 Litre (Pink with Owl) (Personalised with Text)
FGHOT063+008(Owl)(P)
£9.99
34 g
34 x 22.5 x 2cm
Kids Personalised Hot Water Bottle