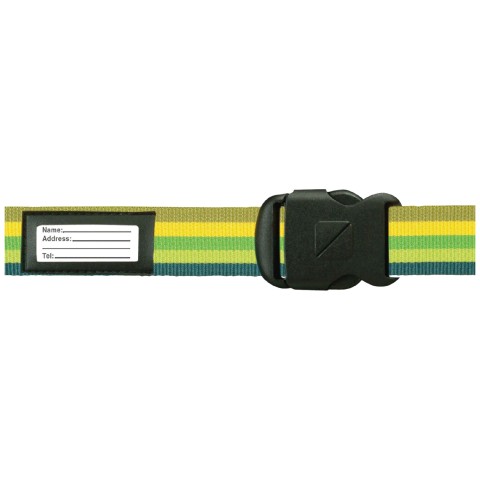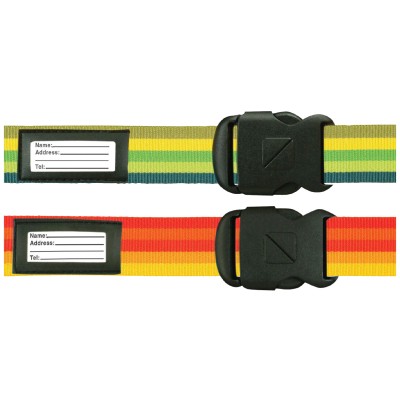 Luggage Strap with Integrated Address Label (1.5 Inch Wide)
Description
The Luggage Strap 1.5 inch with an integrated address label.
Strong luggage strap.
Comes with an integrated address label.
Fits all luggage sizes and is approx. 200cm / 80 inches long.
1.5 inches wide webbing strap used.
Instructions are enclosed.
These distinctive, fashionable luggage straps are an ideal way of keeping your suitcase safe during transit. Don't let your holiday be ruined by damaged or lost luggage; keep them safe with these durable, 1.5 inch luggage straps. Available in two striking colourways, these straps come with an integrated address label so people will know exactly who your luggage belongs to.
Each strap has been expertly designed to provide the safety and peace of mind you desire when travelling abroad. At 200cm long - these 1.5 inch luggage straps have been engineered to fit every size of luggage, including higher capacity suitcases. These stunning suitcase straps are made to last and are fully adjustable, allowing you to increase or decrease the length of the strap to fit the desired size.
At 1.5 inches wide, these suitcase straps are bold enough to be easily recognisable on an airport carousel. Each strap comes with a free lost & found service. Just register your unique ID code online and protect your belongings against loss.
Reviews
Strapping!
- We Recently purchased two brightly coloured luggage straps which are excellent. They fit our large suitcases and tighten easily. The bright yellow and green colours aid identification on airport carousels. The extra strength gives us confidence that our cases won't burst open. (Kathan)
Makes luggage much easier to retrieve
- Excellent strength and quality. The really bright colours make luggage easy to spot amongst a sea of other cases. (Margaret Brown)
Good for spotting
- Great for spotting luggage on the carousel (S Hussain)
Smart and useful....
- These straps really help identify your case...very useful... (Amanda)
first class
- The luggage straps are first class and good valuie for money.Dalivery was spot on. Thank you for a good service (anonymous)
Coloured luggage strp
- Brilliant, it does exactly what it says and means I will recognise my luggage on the carousel. (Janejetflyer)
Excellent Strap
- Sturdy and colourful. Very pleased. In fact I am about to order a second one! (Dawn)
Delivery
The information below is for guidance. Actual delivery costs and dates depend on the delivery address, weight and time your order is placed. Cut-off time for Overnight Orders is 12 noon.
| Price | Method | Manufacture Time | Delivery Time | Est. Delivery Date |
| --- | --- | --- | --- | --- |
| £3.95 | Royal Mail 2nd Class (Tracked) | 0-1 Days | 2-3 Days | Wed 7 Dec - Fri 9 Dec |
| £4.99 | Royal Mail 1st Class (Tracked) | 0-1 Days | 1-2 Days | Tue 6 Dec - Thu 8 Dec |
| £4.99 | Royal Mail 2nd Class (Tracked) | Today | Next Working Day | Mon 5 Dec |
| £4.99 | Royal Mail 2nd Class (Tracked) | 0-1 Days | 2-3 Days | Wed 7 Dec - Fri 9 Dec |
| £5.99 | Royal Mail 1st Class (Tracked) | 0-1 Days | 1-2 Days | Tue 6 Dec - Thu 8 Dec |
| £6.95 | Royal Mail 1st Class (Tracked) | 0-1 Days | 1-2 Days | Tue 6 Dec - Thu 8 Dec |
| £12.03 | DHL Courier (Economy M-F Pre 6pm) | 0-1 Days | 2-3 Days | Wed 7 Dec - Fri 9 Dec |
| £14.99 | Royal Mail (Special Delivery Overnight M-F Pre 1pm) | Today | Next Working Day | Mon 5 Dec |
| £15.06 | DHL Courier (Overnight M-F Pre 6pm) | 0-1 Days | 0-1 Days | Mon 5 Dec - Wed 7 Dec |
| £17.99 | Royal Mail (Special Delivery on Saturday Pre 1pm) | Monday | Next Saturday | Sat 17 Dec |
| £34.99 | Royal Mail (Special Delivery Overnight M-F Pre 9am) | Today | Next Working Day | Mon 5 Dec |
| £39.99 | Royal Mail (Special Delivery on Saturday Pre 9am) | Monday | Next Saturday | Sat 17 Dec |
More Information
| | |
| --- | --- |
| Despatch | Today (Cut off time 3pm M-F) |
| Brand | Travel Blue |
| RRP | £8.99 |
| Country of Origin | China |
| SKU | FGLUG013WEB-ORA |
| Tariff Code | 6307909899 |
| Tariff Description | Luggage Strap - Woven Webbing |
| Product Weight | 106 g |
| Product Dimensions | 4 x 200cm |
Product Options
Colour
Green Striped
Product Type
Luggage Straps
Suitcase Straps
Luggage Strap > Luggage Belt
Luggage Strap > Luggage Label Straps
Suitcase Straps > Suitcase Belt

Luggage Strap with Integrated Address Label (1.5 Inch Wide)
- Green Striped
FGLUG013WEB-GRE
£8.99
106 g
4 x 200cm
Luggage Strap with Integrated Address Label (1.5 Inch Wide)