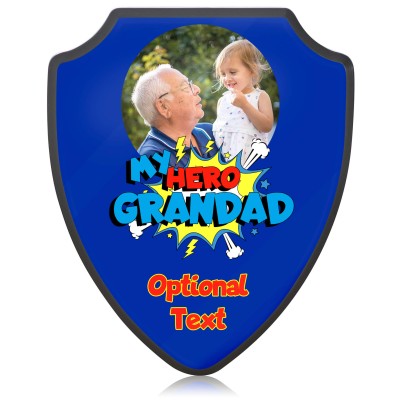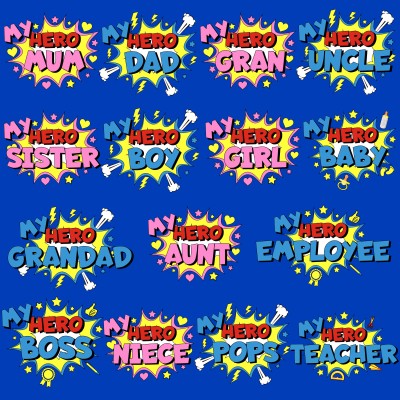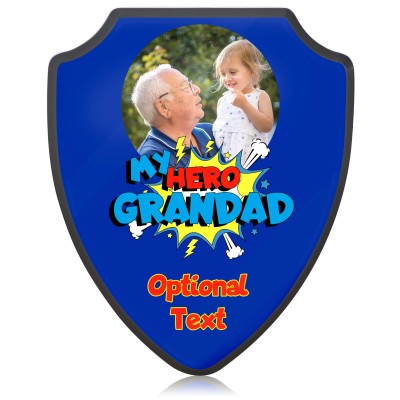 Description
Award Plaque with My Hero exclusive design, photo upload and personalised with text of your choice on a classic award plaque.
UK Personalised Award Plaque.
Exclusive My Hero Design options.
Personalise with text.
Upload your hero's photo.
Trusted HappySnapGifts® brand.
Reviews
Delivery
The information below is for guidance. Actual delivery costs and dates depend on the delivery address, weight and time your order is placed. Cut-off time for Overnight Orders is 12 noon.
| Price | Method | Manufacture Time | Delivery Time | Est. Delivery Date |
| --- | --- | --- | --- | --- |
| £4.99 | Royal Mail 2nd Class (Tracked) | 1-4 Days | 2-3 Days | Thu 8 Dec - Wed 14 Dec |
| £6.95 | Royal Mail 1st Class (Tracked) | 1-4 Days | 1-2 Days | Wed 7 Dec - Tue 13 Dec |
| £12.06 | DHL Courier (Economy M-F Pre 6pm) | 1-4 Days | 2-3 Days | Thu 8 Dec - Wed 14 Dec |
| £14.99 | Royal Mail (Special Delivery Overnight M-F Pre 1pm) | Today | Next Working Day | Mon 5 Dec |
| £15.10 | DHL Courier (Overnight M-F Pre 6pm) | 1-4 Days | 0-1 Days | Tue 6 Dec - Mon 12 Dec |
| £17.99 | Royal Mail (Special Delivery on Saturday Pre 1pm) | Monday | Next Saturday | Sat 17 Dec |
| £34.99 | Royal Mail (Special Delivery Overnight M-F Pre 9am) | Today | Next Working Day | Mon 5 Dec |
| £39.99 | Royal Mail (Special Delivery on Saturday Pre 9am) | Monday | Next Saturday | Sat 17 Dec |
More Information
| | |
| --- | --- |
| Despatch | 1-4 Days (to Personalise) or Upgrade at Checkout for Overnight Delivery |
| Brand | HappySnapGifts® |
| RRP | £24.99 |
| Country of Origin | United Kingdom |
| SKU | FGPLA001MYH-GD1P(Ph1)(P) |
| Tariff Code | 4911910090 |
| Tariff Description | Other Printed Matter (Picture Frames) |
| Product Weight | 413 g |
| Product Dimensions | 23 x 19 x 2cm |
Product Options
| | |
| --- | --- |
| Size & Shape | Shield (22cm) |
| Photos to Print | Photos to Front |
| Fabric | Polyester - Non Fabric |
| My Hero | Grandad, Aunt, Baby, Boss, Boy, Brother, Carer, Dad, Doctor, Employee, Girl, Gran, MP, Mum, Nephew, Niece, Nurse, Pops, Sister, Surgeon, Teacher, Uncle |
| Product Type | Photo Frames > Personalised Photo Frames |
My Hero Photo Plaque
Shield (22cm) (Grandad) (Personalised with Text)
FGPLA001MYH-GD1P(Ph1)(P)
£24.99
413 g
23 x 19 x 2cm
My Hero Photo Plaque
Shield (22cm) (Aunt) (Personalised with Text)
FGPLA001MYH-AU1P(Ph1)(P)
£24.99
413 g
23 x 19 x 2cm
My Hero Photo Plaque
Shield (22cm) (Baby) (Personalised with Text)
FGPLA001MYH-BA1P(Ph1)(P)
£24.99
413 g
23 x 19 x 2cm
My Hero Photo Plaque
Shield (22cm) (Boss) (Personalised with Text)
FGPLA001MYH-BS1P(Ph1)(P)
£24.99
413 g
23 x 19 x 2cm
My Hero Photo Plaque
Shield (22cm) (Boy) (Personalised with Text)
FGPLA001MYH-BO1P(Ph1)(P)
£24.99
413 g
23 x 19 x 2cm
My Hero Photo Plaque
Shield (22cm) (Brother) (Personalised with Text)
FGPLA001MYH-BR1P(Ph1)(P)
£24.99
413 g
23 x 19 x 2cm
My Hero Photo Plaque
Shield (22cm) (Carer) (Personalised with Text)
FGPLA001MYH-CA1P(Ph1)(P)
£24.99
413 g
23 x 19 x 2cm
My Hero Photo Plaque
Shield (22cm) (Dad) (Personalised with Text)
FGPLA001MYH-DA1P(Ph1)(P)
£24.99
413 g
23 x 19 x 2cm
My Hero Photo Plaque
Shield (22cm) (Doctor) (Personalised with Text)
FGPLA001MYH-DR1P(Ph1)(P)
£24.99
413 g
23 x 19 x 2cm
My Hero Photo Plaque
Shield (22cm) (Employee) (Personalised with Text)
FGPLA001MYH-EM1P(Ph1)(P)
£24.99
413 g
23 x 19 x 2cm
My Hero Photo Plaque
Shield (22cm) (Girl) (Personalised with Text)
FGPLA001MYH-GI1P(Ph1)(P)
£24.99
413 g
23 x 19 x 2cm
My Hero Photo Plaque
Shield (22cm) (Gran) (Personalised with Text)
FGPLA001MYH-GN2P(Ph1)(P)
£24.99
413 g
23 x 19 x 2cm
My Hero Photo Plaque
Shield (22cm) (MP) (Personalised with Text)
FGPLA001MYH-MP1P(Ph1)(P)
£24.99
413 g
23 x 19 x 2cm
My Hero Photo Plaque
Shield (22cm) (Mum) (Personalised with Text)
FGPLA001MYH-MU1P(Ph1)(P)
£24.99
413 g
23 x 19 x 2cm
My Hero Photo Plaque
Shield (22cm) (Nephew) (Personalised with Text)
FGPLA001MYH-NE1P(Ph1)(P)
£24.99
413 g
23 x 19 x 2cm
My Hero Photo Plaque
Shield (22cm) (Niece) (Personalised with Text)
FGPLA001MYH-NI1P(Ph1)(P)
£24.99
413 g
23 x 19 x 2cm
My Hero Photo Plaque
Shield (22cm) (Nurse) (Personalised with Text)
FGPLA001MYH-NU1P(Ph1)(P)
£24.99
413 g
23 x 19 x 2cm
My Hero Photo Plaque
Shield (22cm) (Pops) (Personalised with Text)
FGPLA001MYH-PO1P(Ph1)(P)
£24.99
413 g
23 x 19 x 2cm
My Hero Photo Plaque
Shield (22cm) (Sister) (Personalised with Text)
FGPLA001MYH-SI1P(Ph1)(P)
£24.99
413 g
23 x 19 x 2cm
My Hero Photo Plaque
Shield (22cm) (Surgeon) (Personalised with Text)
FGPLA001MYH-SU1P(Ph1)(P)
£24.99
413 g
23 x 19 x 2cm
My Hero Photo Plaque
Shield (22cm) (Teacher) (Personalised with Text)
FGPLA001MYH-TE1P(Ph1)(P)
£24.99
413 g
23 x 19 x 2cm
My Hero Photo Plaque
Shield (22cm) (Uncle) (Personalised with Text)
FGPLA001MYH-UN1P(Ph1)(P)
£24.99
413 g
23 x 19 x 2cm