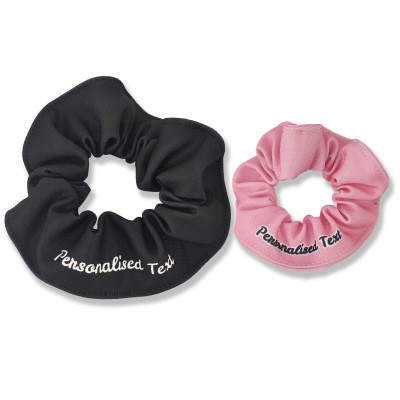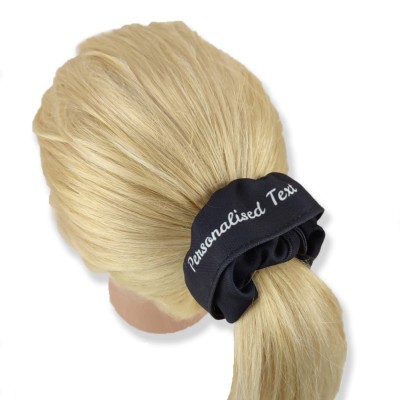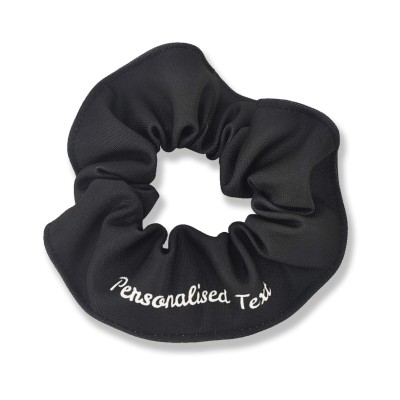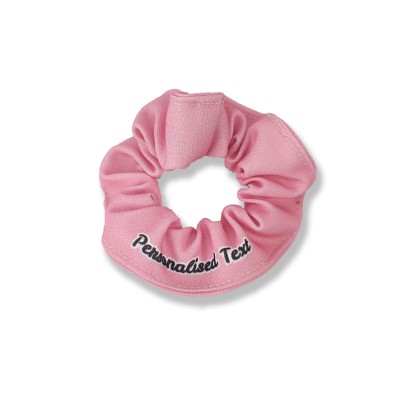 UK Made
Description
Personalised Scrunchies are perfect for creating a cute hairdo and designed for both adults and children. Choose from a wide selection of colours from black scrunchies to pink scrunchies and add your personalised text to create a unique hair scrunchie. Made from a soft water-resistant fabric our ponytail holder not only looks great but will also last a very long time.
UK made Scrunchy.
Personalise your scrunchie with your name or text.
Variety of colours to choose from.
Size options available.
Trusted HappySnapGifts® brand.
Reviews
Delivery
The information below is for guidance. Actual delivery costs and dates depend on the delivery address, weight and time your order is placed. Cut-off time for Overnight Orders is 12 noon.
| Price | Method | Manufacture Time | Delivery Time | Est. Delivery Date |
| --- | --- | --- | --- | --- |
| £4.99 | Royal Mail 2nd Class (Tracked) | 1-4 Days | 2-3 Days | Mon 12 Dec - Fri 16 Dec |
| £6.95 | Royal Mail 1st Class (Tracked) | 1-4 Days | 1-2 Days | Fri 9 Dec - Thu 15 Dec |
| £11.97 | DHL Courier (Economy M-F Pre 6pm) | 1-4 Days | 2-3 Days | Mon 12 Dec - Fri 16 Dec |
| £14.97 | DHL Courier (Overnight M-F Pre 6pm) | 1-4 Days | 0-1 Days | Thu 8 Dec - Wed 14 Dec |
| £14.99 | Royal Mail (Special Delivery Overnight M-F Pre 1pm) | Today | Next Working Day | Thu 8 Dec |
| £17.99 | Royal Mail (Special Delivery on Saturday Pre 1pm) | Tomorrow | This Saturday | Sat 10 Dec |
| £34.99 | Royal Mail (Special Delivery Overnight M-F Pre 9am) | Today | Next Working Day | Thu 8 Dec |
| £39.99 | Royal Mail (Special Delivery on Saturday Pre 9am) | Tomorrow | This Saturday | Sat 10 Dec |
More Information
| | |
| --- | --- |
| Despatch | 1-4 Days (to Personalise) or Upgrade at Checkout for Overnight Delivery |
| Brand | HappySnapGifts® |
| RRP | £5.99 |
| Country of Origin | United Kingdom |
| SKU | FGSCR001(S)PWR-PBA(P) |
| Tariff Code | 6307909899 |
| Tariff Description | Other Made Up Articles (Polyester Fabric) |
| Product Weight | 12 g |
| Product Dimensions | 9 x 9cm |
Product Options
Size
Small Scrunchie 9cm, Large Scrunchie 12cm
Fabric
Water Resistant Polyester
Scrunchie Colour
Baby Pink, Black, Navy Blue, Royal Blue, Sky Blue, Brown, Burgundy, Gold, Rose Gold, Bright Green, Grey, Orange, Fuchsia Pink, Purple, Red, White, Yellow
Product Type
Scrunchies - Personalised
scrunchies name
personalised hair scrunchies

Personalised Scrunchies
Black Water Resistant Polyester Fabric (Personalised with Text)
FGSCR001(S)PWR-BLA(P)
£5.99
12 g
9 x 9cm
Personalised Scrunchies
Black Water Resistant Polyester Fabric (Personalised with Text)
FGSCR001(L)PWR-BLA(P)
£5.99
21 g
12 x 12cm
Personalised Scrunchies
Baby Pink Water Resistant Polyester Fabric (Personalised with Text)
FGSCR001(S)PWR-PBA(P)
£5.99
12 g
9 x 9cm
Personalised Scrunchies
Baby Pink Water Resistant Polyester Fabric (Personalised with Text)
FGSCR001(L)PWR-PBA(P)
£5.99
21 g
12 x 12cm
Personalised Scrunchies
Navy Blue Water Resistant Polyester Fabric (Personalised with Text)
FGSCR001(S)PWR-BNA(P)
£5.99
12 g
9 x 9cm
Personalised Scrunchies
Navy Blue Water Resistant Polyester Fabric (Personalised with Text)
FGSCR001(L)PWR-BNA(P)
£5.99
21 g
12 x 12cm
Personalised Scrunchies
Royal Blue Water Resistant Polyester Fabric (Personalised with Text)
FGSCR001(S)PWR-BRO(P)
£5.99
12 g
9 x 9cm
Personalised Scrunchies
Royal Blue Water Resistant Polyester Fabric (Personalised with Text)
FGSCR001(L)PWR-BRO(P)
£5.99
21 g
12 x 12cm
Personalised Scrunchies
Sky Blue Water Resistant Polyester Fabric (Personalised with Text)
FGSCR001(S)PWR-BSK(P)
£5.99
12 g
9 x 9cm
Personalised Scrunchies
Sky Blue Water Resistant Polyester Fabric (Personalised with Text)
FGSCR001(L)PWR-BSK(P)
£5.99
21 g
12 x 12cm
Personalised Scrunchies
Brown Water Resistant Polyester Fabric (Personalised with Text)
FGSCR001(S)PWR-BRW(P)
£5.99
12 g
9 x 9cm
Personalised Scrunchies
Brown Water Resistant Polyester Fabric (Personalised with Text)
FGSCR001(L)PWR-BRW(P)
£5.99
21 g
12 x 12cm
Personalised Scrunchies
Burgundy Water Resistant Polyester Fabric (Personalised with Text)
FGSCR001(S)PWR-BUR(P)
£5.99
12 g
9 x 9cm
Personalised Scrunchies
Burgundy Water Resistant Polyester Fabric (Personalised with Text)
FGSCR001(L)PWR-BUR(P)
£5.99
21 g
12 x 12cm
Personalised Scrunchies
Gold Water Resistant Polyester Fabric (Personalised with Text)
FGSCR001(S)PWR-GOL(P)
£5.99
12 g
9 x 9cm
Personalised Scrunchies
Gold Water Resistant Polyester Fabric (Personalised with Text)
FGSCR001(L)PWR-GOL(P)
£5.99
21 g
12 x 12cm
Personalised Scrunchies
Rose Gold Water Resistant Polyester Fabric (Personalised with Text)
FGSCR001(S)PWR-RGO(P)
£5.99
12 g
9 x 9cm
Personalised Scrunchies
Rose Gold Water Resistant Polyester Fabric (Personalised with Text)
FGSCR001(L)PWR-RGO(P)
£5.99
21 g
12 x 12cm
Personalised Scrunchies
Bright Green Water Resistant Polyester Fabric (Personalised with Text)
FGSCR001(S)PWR-GBR(P)
£5.99
12 g
9 x 9cm
Personalised Scrunchies
Bright Green Water Resistant Polyester Fabric (Personalised with Text)
FGSCR001(L)PWR-GBR(P)
£5.99
21 g
12 x 12cm
Personalised Scrunchies
Grey Water Resistant Polyester Fabric (Personalised with Text)
FGSCR001(S)PWR-GRY(P)
£5.99
12 g
9 x 9cm
Personalised Scrunchies
Grey Water Resistant Polyester Fabric (Personalised with Text)
FGSCR001(L)PWR-GRY(P)
£5.99
21 g
12 x 12cm
Personalised Scrunchies
Orange Water Resistant Polyester Fabric (Personalised with Text)
FGSCR001(S)PWR-ORA(P)
£5.99
12 g
9 x 9cm
Personalised Scrunchies
Orange Water Resistant Polyester Fabric (Personalised with Text)
FGSCR001(L)PWR-ORA(P)
£5.99
21 g
12 x 12cm
Personalised Scrunchies
Fuchsia Pink Water Resistant Polyester Fabric (Personalised with Text)
FGSCR001(S)PWR-PFU(P)
£5.99
12 g
9 x 9cm
Personalised Scrunchies
Fuchsia Pink Water Resistant Polyester Fabric (Personalised with Text)
FGSCR001(L)PWR-PFU(P)
£5.99
21 g
12 x 12cm
Personalised Scrunchies
Purple Water Resistant Polyester Fabric (Personalised with Text)
FGSCR001(S)PWR-PUR(P)
£5.99
12 g
9 x 9cm
Personalised Scrunchies
Purple Water Resistant Polyester Fabric (Personalised with Text)
FGSCR001(L)PWR-PUR(P)
£5.99
21 g
12 x 12cm
Personalised Scrunchies
Red Water Resistant Polyester Fabric (Personalised with Text)
FGSCR001(S)PWR-RED(P)
£5.99
12 g
9 x 9cm
Personalised Scrunchies
Red Water Resistant Polyester Fabric (Personalised with Text)
FGSCR001(L)PWR-RED(P)
£5.99
21 g
12 x 12cm
Personalised Scrunchies
White Water Resistant Polyester Fabric (Personalised with Text)
FGSCR001(S)PWR-WHI(P)
£5.99
12 g
9 x 9cm
Personalised Scrunchies
White Water Resistant Polyester Fabric (Personalised with Text)
FGSCR001(L)PWR-WHI(P)
£5.99
21 g
12 x 12cm
Personalised Scrunchies
Yellow Water Resistant Polyester Fabric (Personalised with Text)
FGSCR001(S)PWR-YEL(P)
£5.99
12 g
9 x 9cm
Personalised Scrunchies
Yellow Water Resistant Polyester Fabric (Personalised with Text)
FGSCR001(L)PWR-YEL(P)
£5.99
21 g
12 x 12cm