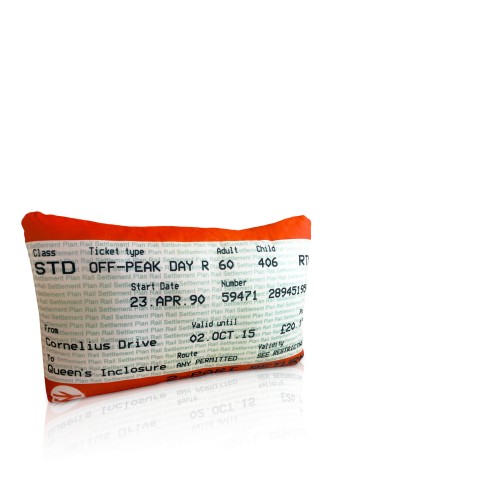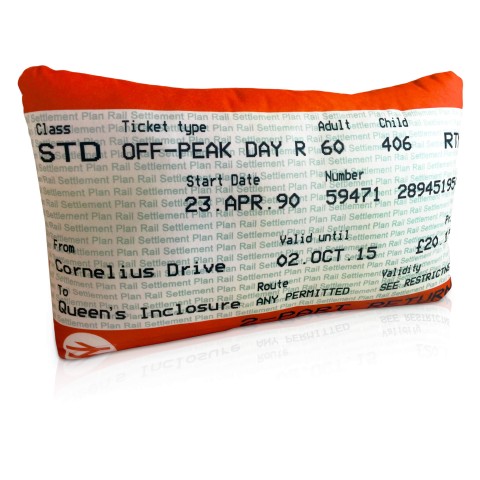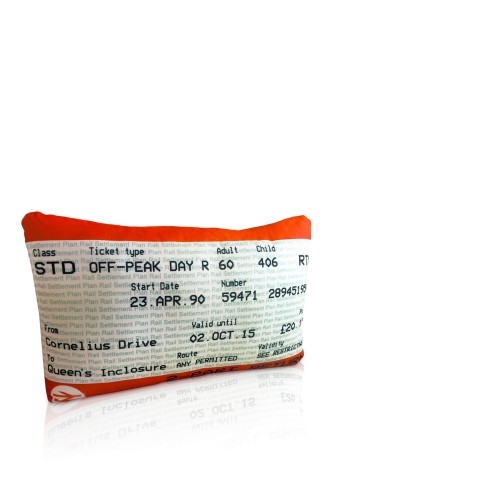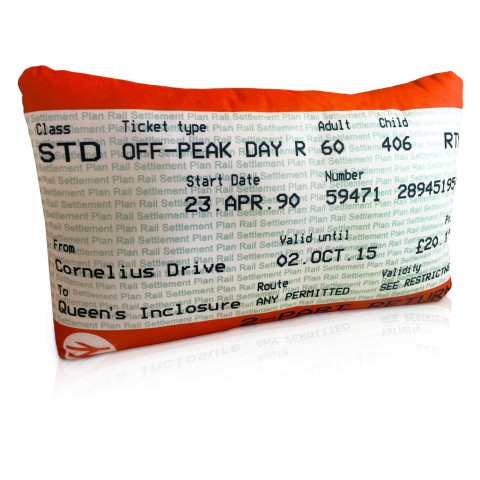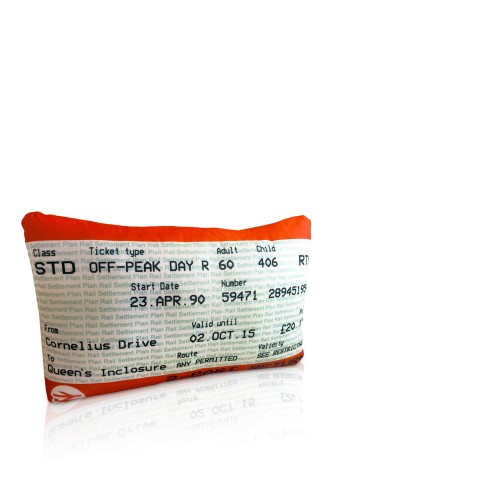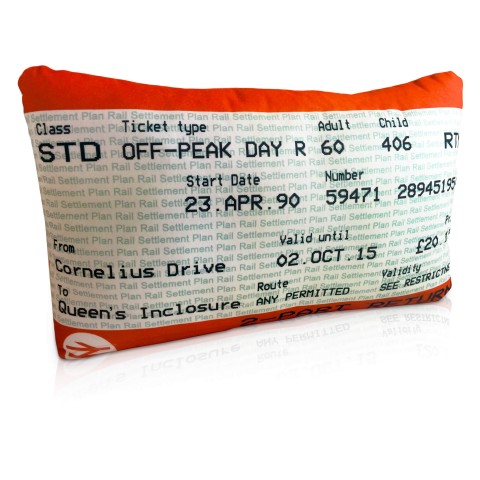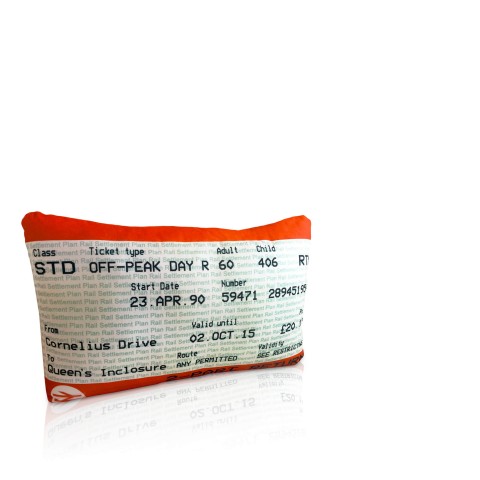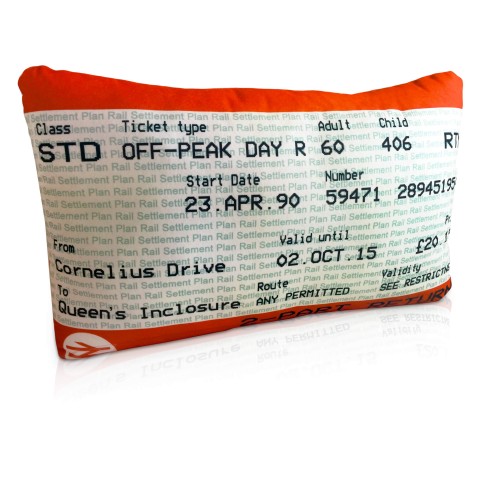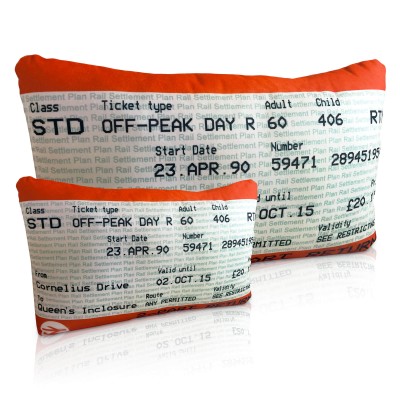 Personalised Train Ticket Cushion
UK Made
BS5852 : 1988
Hypo-Allergenic Filling
Description
Personalised Train Ticket Cushion exclusively produced under license from designer Ashley Allen to commemorate a memorable journey or a fun way to celebrate a special date.
Premium mock-suede fabric
Personalise with your own journey
Ticket cushion size options
BS5852 Hypoallergenic Polyester Fibre Filling
British Made Photo Gifts
Trusted HappySnapGifts® brand
We have created Personalised Train Ticket Cushions that you can complete with any text or journey details to act as a fabulous piece of memorabilia for your day out to a special event.
Ticket Cushions are a lovely personalised gift that is personalised to your own journey, whether this was to a music concert, a day out to the seaside or a week's holiday by rail. Ticket Cushions are so popular a personalised gift and, as we manufacture entirely to order here in the UK, you have many options for the print including the date, from and to destinations and of course how many adults and children went with you on your trip.
Designed by Ashley Allen under licence from ATOC and TfL. For your information the ticket details are representational and may not reflect actual ticket details.
Reviews
Great retirement gift
- I work on the railway and one of my colleagues retired after 43 years. This was a great gift as I was able to put his railway start and finish date on the ticket. He loved it! (Moe, 25/06/21)
Lovely Personalised Cushion
- The order process was straight forward and I was kept informed throughout. The item arrived well before the scheduled arrival date given. The item was well packaged and as ordered. I would recommend HappySnapGifts to others. (Geraint Adams, 09/02/20)
Lovely memento
- Great little momento for a colleague's leaving present. Good quality (anonymous, 05/02/20)
Great Present - fast service
- i ordered the train ticket cushion for delivery the next day It duly arrived on time and the person to whom I gave it was over the moon Well done to all at HappySnaps Gifts (teep1947, 31/01/20)
Birthday gift
- Very pleased with the product. Great quality and arrived within two days. Great service. (David)
Large Train ticket cushion
- Bought this for train mad Grandson for Christmas to accompany a trip to the destination. Looks fabulous. Good quality and well made. (Wendy)
Amazing
- Ive got a train crazy little boy whos almost 8. Ive decorated his bedroom with an underground train theme an this cushion is perfect for it. I can not wait to surprise him (Emma)
Unique addition to a railway themed room
- This personalised railway ticket cushion was easy to design and the customer service throughout was excellent (John Walton)
Best cusion I ever bought
- Great product very well made it's going to be my new go to present for everyone I know it's such a great idea for that personal touch (Caroline wren)
Fab alternative gift for a son bedroom.
- My son loved his personalised cushion,a great gift for kids who like trains and transport. (anonymous)
Amazing pillow!
- I am so pleased with this pillow! I would highly recommend this to anyone with a love for trains! I can't wait to give this to my dad. (anonymous)
Fab present for a train buff
- I bought this cushion for my brother-in-law for Christmas. He was totally chuffed (excuse the pun). It's a great product, especially as you can personalise it. Customer services was also excellent. (Linda)
Unique present that will be a huge hit
- Have just received the large train ticket cushion and it is going to really impress my brother who has everything. Great quality. Arrived quickly and would definitely recommend it for any railway fan. (Denise from Derby)
Ticket cusion
- Received this today for my neighbour who is a train enthusiast as a Christmas present . It is superb and he will love it . Excellent product and delivery (Mr c westwood)
Personalised pillow for my girlfriend
- Great quality, absolutely perfect. Many thanks (Aln)
Superb quality. Perfect!
- I bought this cushion as a Xmas gift. It is excellent quality and looks exactly like a travel card. The fabric is lovely and soft and the cushion has the right amount of filling so it makes it plump which is great. I am absolutely delighted with it. It is the perfect unique gift. (SLC)
Love my train ticket cushion!
- The train ticket cushion is really good quality, arrived nice a quickly and is a quirky addition to my living room. Definitely plan on ordering a couple more :-) (Paul)
Xmas present for trIn loving son
- Lovely cushion. Son loves trains and has been wanting one for ages. Ut not able to find. Really pleased with personalisation. Son is going to love it. (M. Ody)
They're back; Personalised Train Ticket Cushions!
- I'm delighted to say that my collaboration with Clear Prospects/Happy Snap Gifts means that my personalised train ticket cushions are now available once again! The perfect way to create a unique gift, celebrating that special date or memorable journey. Produced here in the UK to the highest standard, with a quality mock suede fabric finish and multiple size options to choose from. Personalise as you wish to create that extra special and unique design! (Ashley Allen)
Directors Review of the Personalised Ticket Cushions
- We have been seeking a way to offer Personalised Ticket Cushions and have secured the agreement with talented designer Ashley Allen to produce these fantastic photo cushions in memory of any event you may have travelled to by rail. The Personalised Ticket Cushions really do look similar to genuine rail tickets and as you can personalise them, they will suit any memory of a concert or holiday or a day out on the trains. (Michael Robinson)
Instructions
We recommend cleaning marks with a damp cloth.
Cleaning with a damp sponge or cloth will be the best way to clean any dirty marks off this product.
Cushions are filled with a luxury polyester fibre that creates a lovely "loftiness" that will bounce back to life.
If you wash the cushion in the washing machine, the fibres tend to move about and clump up which might spoil the look of your cushion.
The print on the outer fabric will not run.
What happens if the Lux. Fibre gets wet or is washed in the machine?
No harm will come to the polyester fibre in theory, getting it wet is inadvisable though don't panic, just dry it out normally at room temperature though don't put it in the dryer. 
We found on testing that if you do put the cushion in the washing machine, it will dry out ok though the tumbling in the washing machine tends to make the fibres all clump together and become less evenly spaced in the cushion.
FAQs
Can I make up dates and destinations on the tickets ?
Yes. Absolutely you can write anything you like in the text and number fields so have fun and create anything you like for your personalised ticket cushions.
How big are the cushions ?
The measurements are shown in the size options. The sizes are for the edges of the cushions so they will always look smaller when filled. We fill with a generous amount of fibre filling for a premium feel.
Can I personalise all the ticket information ?
No. We are restricted to allowing the personalised fields shown in the order options.
Can I have a different shape or size for my ticket cushion ?
No. Our cushions have been carefully approved under our commercial agreement with the license holder so we are restricted to the options shown online. Larger trade orders would be considered at bespoke shapes and sizes though we have to gain commercial approval in advance so please do contact us.
Can I date my cushions in advance ?
Yes. As mentioned, you are free to personalise as you wish and the ticket cushions could be made well in advance.
Delivery
The information below is for guidance. Actual delivery costs and dates depend on the delivery address, weight and time your order is placed. Cut-off time for Overnight Orders is 12 noon.
| Price | Method | Manufacture Time | Delivery Time | Est. Delivery Date |
| --- | --- | --- | --- | --- |
| £4.99 | Royal Mail 2nd Class (Tracked) | 1-4 Days | 2-3 Days | Thu 8 Dec - Wed 14 Dec |
| £6.95 | Royal Mail 1st Class (Tracked) | 1-4 Days | 1-2 Days | Wed 7 Dec - Tue 13 Dec |
| £11.99 | DHL Courier (Economy M-F Pre 6pm) | 1-4 Days | 2-3 Days | Thu 8 Dec - Wed 14 Dec |
| £14.99 | Royal Mail (Special Delivery Overnight M-F Pre 1pm) | Today | Next Working Day | Mon 5 Dec |
| £15.00 | DHL Courier (Overnight M-F Pre 6pm) | 1-4 Days | 0-1 Days | Tue 6 Dec - Mon 12 Dec |
| £17.99 | Royal Mail (Special Delivery on Saturday Pre 1pm) | Monday | Next Saturday | Sat 17 Dec |
| £34.99 | Royal Mail (Special Delivery Overnight M-F Pre 9am) | Today | Next Working Day | Mon 5 Dec |
| £39.99 | Royal Mail (Special Delivery on Saturday Pre 9am) | Monday | Next Saturday | Sat 17 Dec |
More Information
| | |
| --- | --- |
| Despatch | 1-4 Days (to Personalise) or Upgrade at Checkout for Overnight Delivery |
| Brand | HappySnapGifts® |
| RRP | £29.99 |
| Country of Origin | United Kingdom |
| SKU | FGCUS011(R30x19)PSV-(P) |
| Tariff Code | 9404909000 |
| Tariff Description | Cushion - Polyester Fibre Filled (Polyester Cover) |
| Product Weight | 131 g |
| Product Dimensions | 19 x 30 x 7cm |
Product Options
Cushion Size
30cm Regular, 57cm Large
Fabric
Soft Velvet Polyester
Print Theme
Train Ticket
Removable Cover (Click to Select)
Without Removable Cover, Removable Cover +
Aroma (Click to Select)
Unscented, Organic Lavender Buds +
Filling
100% Polyester Fibre
Product Type
Cushion > Personalised Cushion
Personalised Cushions > Train Ticket Cushions
Personalised Cushion Covers > Train Ticket Cushions
Train Ticket Cushions

Personalised Train Ticket Cushion
(30cm Regular) Soft Velvet Polyester Fabric (Personalised with Text)
FGCUS011(R30x19)PSV-(P)
£29.99
131 g
19 x 30 x 7cm
Personalised Train Ticket Cushion
(57cm Large) Soft Velvet Polyester Fabric (Personalised with Text)
FGCUS011(R57x36)PSV-(P)
£49.99
601 g
36 x 57 x 12cm
Personalised Train Ticket Cushion
(30cm Regular) Soft Velvet Polyester Fabric with Removable Cover (Zip) (Personalised with Text)
FGCUS011(R30x19)PSV-(RCZ)(P)
£42.49
278 g
19 x 30 x 7cm
Personalised Train Ticket Cushion
(57cm Large) Soft Velvet Polyester Fabric with Removable Cover (Zip) (Personalised with Text)
FGCUS011(R57x36)PSV-(RCZ)(P)
£62.49
748 g
36 x 57 x 12cm
Personalised Train Ticket Cushion
(30cm Regular) Soft Velvet Polyester Fabric Scented (Organic Lavender Buds) (Personalised with Text)
FGCUS011(R30x19)PSV-(LAV)(P)
£32.49
132 g
19 x 30 x 7cm
Personalised Train Ticket Cushion
(57cm Large) Soft Velvet Polyester Fabric Scented (Organic Lavender Buds) (Personalised with Text)
FGCUS011(R57x36)PSV-(LAV)(P)
£52.49
602 g
36 x 57 x 12cm
Personalised Train Ticket Cushion
(30cm Regular) Soft Velvet Polyester Fabric Scented (Organic Lavender Buds) with Removable Cover (Zip) (Personalised with Text)
FGCUS011(R30x19)PSV-(LAV)(RCZ)(P)
£44.99
279 g
19 x 30 x 7cm
Personalised Train Ticket Cushion
(57cm Large) Soft Velvet Polyester Fabric Scented (Organic Lavender Buds) with Removable Cover (Zip) (Personalised with Text)
FGCUS011(R57x36)PSV-(LAV)(RCZ)(P)
£64.99
749 g
36 x 57 x 12cm
Personalised Train Ticket Cushion