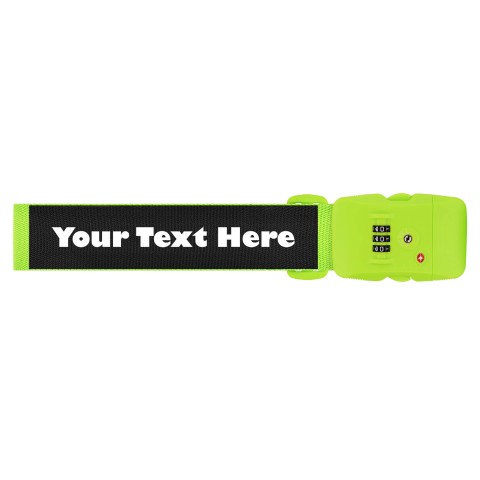 1234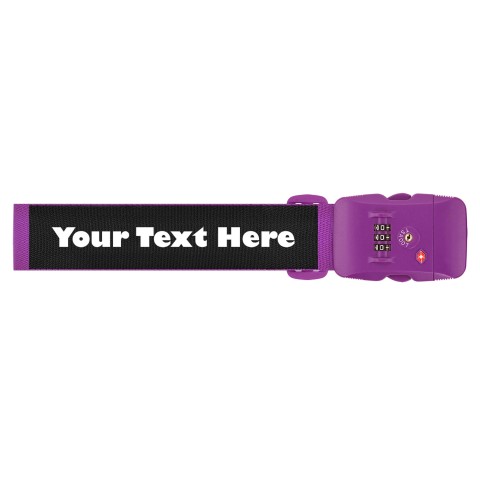 1235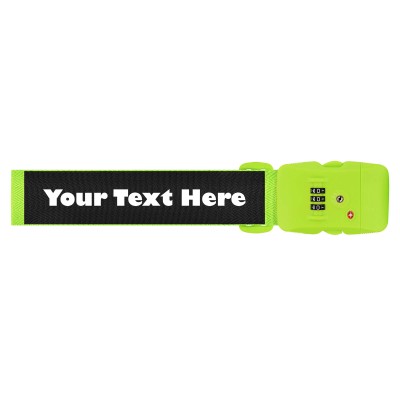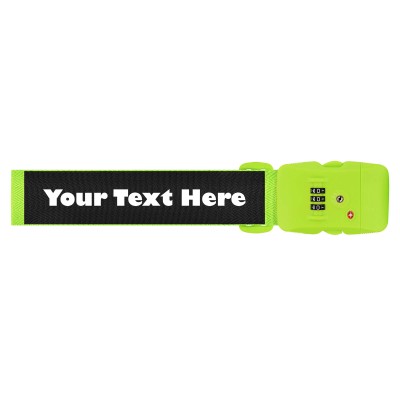 Personalised TSA Combination Luggage Strap from Travel Blue
Description
Personalised TSA Combination Luggage Strap featuring a name or message of your choosing.
TSA approved strap.
5cm wide, 200cm long.
2 year manufacturers guarantee.
Lost and found service, free of charge.
Personalised with your name.
This premium quality TSA-approved combination luggage strap comes with an integrated lock that can only be accessed by authorised security personnel. This strap enables airport security to access your suitcase without damaging the integrated lock.
We offer the Personalised TSA Combination Luggage Strap in two striking colour options, both of which can be easily spotted at the airport carousel. Create something truly unique with our optional personalisation, which allows you to have a name or message printed onto the strap.
Each strap comes with a free lost and found service, which will give you added peace of mind that your luggage is safe during transit. Offered as part of this product is a 24 month manufacturer's guarantee.
Reviews
Luggage straps combination
- An excellent product delivered on time
By James Davidson (Jun 2017)
Excellent Case Strap
- This case strap is of very good quality and with the name of the case owner sown into the strap. On our last cruise, the case in question was mistakenly taken by another passenger at the baggage reclaim, at the cruise terminal. This situation will not now occur again.
By Peter Edwards (Feb 2017)
My husband said he felt special !
- Bought a personalised luggage strap for my husband - showing SILVER FOX he was delighted as this is the name he is always referred to, - due to the surname of FOX. says it will make him feel special when standing at the conveyor belt when waiting to off load suit case.
By Polly Popp (Jan 2017)
Big and Bold.
- A very strong luggage strap with the all important TSA fastening so that,if needed, customs can search your bag without cutting off the strap. I had our surname included to make it easy to grab the right bag from the belt. The name was printed very clearly in bold lettering. Very pleased with my purchase. The only reason that I didn't go for the good deal including padlocks was that our cases have built in TSA locks.
By Barbara Pritchard (Apr 2015)
Personalised Suitcase Strap
- Excellant product and great quality. Speedy delivery too - can't fault it. Product is really useful in helping identify suitcases in baggage claim as well! No misunderstanding whose suitcase it is :-)
By Rebecca Onorati (Jul 2014)
Friends loved their purple personalised luggage straps
- I loved my purchase of the purple personalised luggage strap and my friends liked it that much that they wanted one for themselves, so ordered them one each and they are very happy with them. We match when we go away on holiday now.
By Clare McKimm (May 2014)
FAQs
Is this product Travel Sentry approved?
Yes. This product is approved by Travel Sentry - the Global Standard for Travel Security.
How do I set the combination lock number?
Your TSA combination lock is set to 0-0-0 when first purchased.
1. Open the lock with the default code: 0-0-0.
2. Push the Reset Button to position B and set your desired combination using the Dials.
3. To set your combination, push the Reset Button back to position A.
Do not forget your new combination as there is no master reset available.
Can I personalise this strap with something other than my name?
Yes. You are free to type whatever name, message or phrase you want, as long as it's within the 18-character limit.
How are the straps printed?
We heat press your text on to a black strip which is then sewn carefully on to the strap to make a durable and strong personalisation for your straps.
Can I have different text on each strap?
Yes. Just fill in the text field for the personalised text you want on each strap.
Shipping
The information below is for guidance. Actual delivery costs and dates depend on the delivery address, weight and time your order is placed. Cut-off time for Overnight Orders is 12 noon.
| Price | Method | Manufacture Time | Delivery Time | Est. Delivery Date |
| --- | --- | --- | --- | --- |
| £2.95 | Royal Mail - 2nd Class | 1-3 Days | 2-3 Days | Mon 3 Feb - Thu 6 Feb |
| £3.95 | Royal Mail - 2nd Class | 1-3 Days | 2-4 Days | Mon 3 Feb - Fri 7 Feb |
| £3.95 | Royal Mail - 1st Class | 1-3 Days | 1-2 Days | Fri 31 Jan - Wed 5 Feb |
| £4.99 | Royal Mail - 1st Class | 1-3 Days | 1-3 Days | Fri 31 Jan - Thu 6 Feb |
| £5.95 | Royal Mail - 2nd Class | 1-3 Days | 2-3 Days | Mon 3 Feb - Thu 6 Feb |
| £10.00 | Courier - Economy (M-F Pre 6pm) | 1-3 Days | 2-3 Days | Mon 3 Feb - Thu 6 Feb |
| £12.95 | Courier - Overnight (M-F Pre 6pm) | 1-3 Days | 1-2 Days | Fri 31 Jan - Wed 5 Feb |
| £14.95 | Royal Mail - Special Delivery (Pre 1pm) | Same Day | Next Working Day | Thu 30 Jan |
| £14.95 | Royal Mail - Special Delivery (Saturday Pre 1pm) | Monday | This Saturday | Sat 1 Feb |
| £24.95 | Courier - Economy (M-F Pre 6pm) | 1-3 Days | 2-4 Days | Mon 3 Feb - Fri 7 Feb |
More Information
| | |
| --- | --- |
| Availability | Available to Order |
| Despatch | 1-3 Days (to Personalise) or Upgrade at Checkout for Overnight Delivery |
| Brand | Travel Blue |
| RRP | £27.50 |
| Weight | 203 g |
| Country of Origin | China |
| SKU | FGLUG020 |
| Tariff Code | 6307909899 |
| Tariff Description | Luggage Strap - Woven Webbing |
Personalised TSA Combination Luggage Strap from Travel Blue