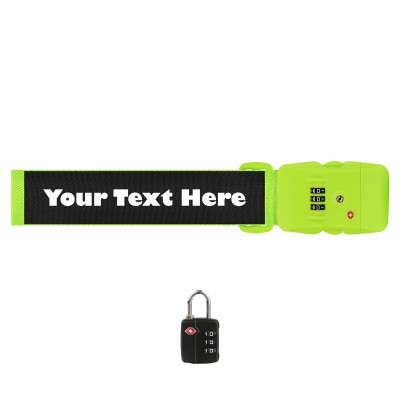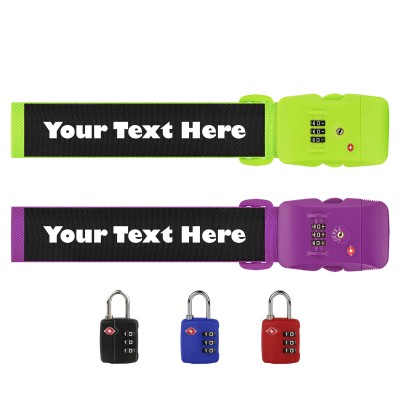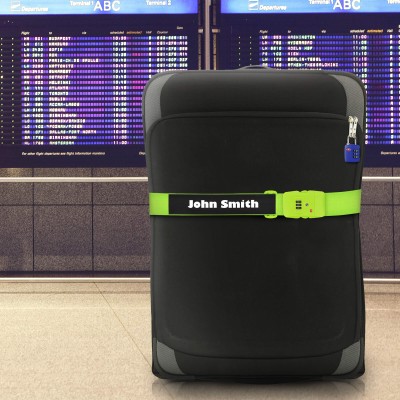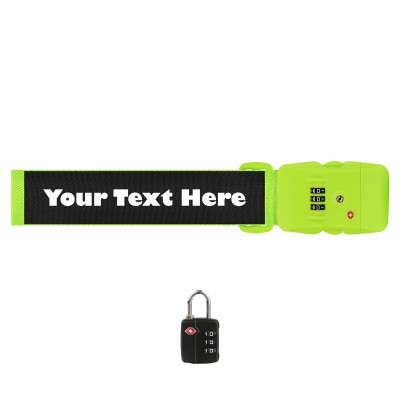 Travel Gift Set (TSA Combination Luggage Strap & TSA Lock)
Description
TSA Combination Luggage Strap and Padlock Travel Set set gives your luggage the best security as our locks are fully TSA approved.
1x TSA Combination Luggage strap.
1x TSA Combination Padlock.
Striking colour options.
Straps are 200cm length.
TSA approved for airport handling.
Free Personalised text version if selected.
Trusted Travel Blue brand.
These excellent security products are both TSA approved and come in bold, vibrant colours for easy recognition. The strong combination dial allows you to set your own unique number and offers the ultimate protection for your luggage.
The TSA screens every traveler's baggage before it is allowed on to the airplane and whilst this is mostly done electronically, often there are times when there is a physical need to inspect the bag.
TSA has worked to develop a series of products which can be easily opened by airport security using a universal master key so that these products can be easily opened without any damage caused.
Each of these super value sets comes with 1x TSA Combination Luggage Strap and 1x TSA Combination Padlock. This set also allows you to mix and match the strap and padlock colours enabling you to create a thoughtful and unique gift idea that is perfect for travelers.
Reviews
just what i was looking for
- your tsa combination luggage straps and locks were just what we wanted for our trip to usa (ken the silverfox)
Directors Review of the TSA Security Set
- I highly recommend this as a set.  Its one of our strongest straps on the site and when sold with the matching TSA padlock, this is a great gift set for any traveller even if travelling outside of areas like the USA where TSA locks are more important. (Michael Robinson)
Instructions
Instructions for changing the combination luggage strap lock number:
Your combination lock is set to 0-0-0 when first purchased.
To change the combination, first set the lock to 0-0-0.
On the back of the buckle move the button from position A to position B.
Now set your own 3 unique numbers.
To fix these numbers change teh button on the back from position B back to A.
Do not forget your new combination as there is no master re-set available.
Delivery
The information below is for guidance. Actual delivery costs and dates depend on the delivery address, weight and time your order is placed. Cut-off time for Overnight Orders is 12 noon.
| Price | Method | Manufacture Time | Delivery Time | Est. Delivery Date |
| --- | --- | --- | --- | --- |
| £4.99 | 2nd Class (Tracked) | 0-3 Days | 2-3 Days | Thu 7 Dec - Wed 13 Dec |
| £7.99 | 1st Class (Tracked) | 0-3 Days | 1-2 Days | Wed 6 Dec - Tue 12 Dec |
| £13.08 | DHL Courier (Economy M-F Pre 6pm) | 0-3 Days | 2-3 Days | Thu 7 Dec - Wed 13 Dec |
| £14.99 | Royal Mail Special Delivery (Overnight Mon-Sat Pre 1pm) | Today | Next Day (Mon-Sat) | Mon 4 Dec |
More Information
| | |
| --- | --- |
| Despatch | Today (Cut off time 3pm) (0-3 Days if Personalised) or Upgrade at Checkout for Overnight Delivery |
| Brand | Travel Blue |
| RRP | £37.98 |
| Country of Origin | China |
| SKU | FGLUG080GRE(Black Padlock) |
| Gtin | 5056261045040 |
| Tariff Code | 6307909899 |
| Tariff Description | Luggage Strap - Woven Webbing |
| Product Weight | 206 g |
| Product Dimensions | 5 x 200cm |
Product Options
Colour
Green Strap, Purple Strap
Product Type
Travel Gift Set
Travel & Outdoors > Personalised Luggage Straps
Personalised Gifts > Personalised Travel Gifts

Travel Gift Set (TSA Combination Luggage Strap & TSA Lock)
- Green Strap - Black Padlock
FGLUG080GRE(Black Padlock)
5056261045040
£37.98
206 g
5 x 200cm
Travel Gift Set (TSA Combination Luggage Strap & TSA Lock)
- Purple Strap - Black Padlock
FGLUG080PUR(Black Padlock)
5056261045064
£37.98
206 g
5 x 200cm
Travel Gift Set (TSA Combination Luggage Strap & TSA Lock)
- Green Strap - Blue Padlock
FGLUG080GRE(Blue Padlock)
5056261044968
£37.98
206 g
5 x 200cm
Travel Gift Set (TSA Combination Luggage Strap & TSA Lock)
- Purple Strap - Blue Padlock
FGLUG080PUR(Blue Padlock)
5056261044982
£37.98
206 g
5 x 200cm
Travel Gift Set (TSA Combination Luggage Strap & TSA Lock)
- Green Strap - Red Padlock
FGLUG080GRE(Red Padlock)
5056261045095
£37.98
206 g
5 x 200cm
Travel Gift Set (TSA Combination Luggage Strap & TSA Lock)
- Purple Strap - Red Padlock
FGLUG080PUR(Red Padlock)
5056261045118
£37.98
206 g
5 x 200cm
Travel Gift Set (TSA Combination Luggage Strap & TSA Lock)
- Green Strap - Yellow Padlock
FGLUG080GRE(Yellow Padlock)
5056261045002
£37.98
206 g
5 x 200cm
Travel Gift Set (TSA Combination Luggage Strap & TSA Lock)
- Purple Strap - Yellow Padlock
FGLUG080PUR(Yellow Padlock)
5056261045026
£37.98
206 g
5 x 200cm
Travel Gift Set (TSA Combination Luggage Strap & TSA Lock)
- Green Strap - Black Padlock (Personalised with Text)
FGLUG080GRE(Black Padlock)(P)
5060089252757
£37.98
206 g
5 x 200cm
Travel Gift Set (TSA Combination Luggage Strap & TSA Lock)
- Purple Strap - Black Padlock (Personalised with Text)
FGLUG080PUR(Black Padlock)(P)
5060089252757
£37.98
206 g
5 x 200cm
Travel Gift Set (TSA Combination Luggage Strap & TSA Lock)
- Green Strap - Blue Padlock (Personalised with Text)
FGLUG080GRE(Blue Padlock)(P)
5060089252757
£37.98
206 g
5 x 200cm
Travel Gift Set (TSA Combination Luggage Strap & TSA Lock)
- Purple Strap - Blue Padlock (Personalised with Text)
FGLUG080PUR(Blue Padlock)(P)
5060089252757
£37.98
206 g
5 x 200cm
Travel Gift Set (TSA Combination Luggage Strap & TSA Lock)
- Green Strap - Red Padlock (Personalised with Text)
FGLUG080GRE(Red Padlock)(P)
5060089252757
£37.98
206 g
5 x 200cm
Travel Gift Set (TSA Combination Luggage Strap & TSA Lock)
- Purple Strap - Red Padlock (Personalised with Text)
FGLUG080PUR(Red Padlock)(P)
5060089252757
£37.98
206 g
5 x 200cm
Travel Gift Set (TSA Combination Luggage Strap & TSA Lock)
- Green Strap - Yellow Padlock (Personalised with Text)
FGLUG080GRE(Yellow Padlock)(P)
5060089252757
£37.98
206 g
5 x 200cm
Travel Gift Set (TSA Combination Luggage Strap & TSA Lock)
- Purple Strap - Yellow Padlock (Personalised with Text)
FGLUG080PUR(Yellow Padlock)(P)
5060089252757
£37.98
206 g
5 x 200cm
Travel Gift Set (TSA Combination Luggage Strap & TSA Lock)