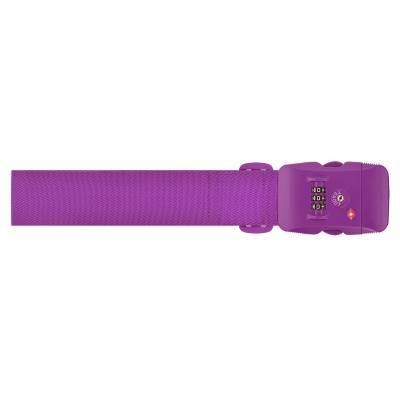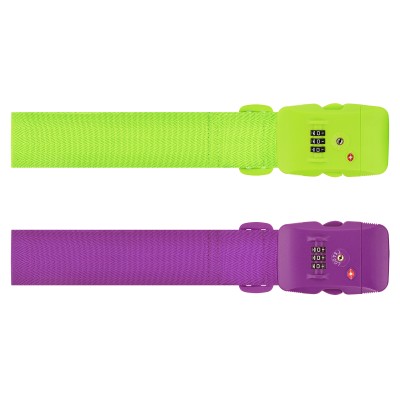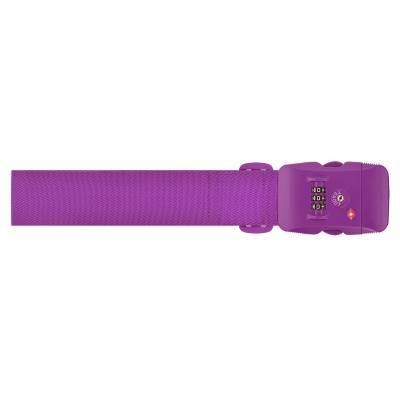 TSA Combination Luggage Strap from Travel Blue
Description
TSA Combination Luggage Strap allows for security personnel to check your luggage without causing any damage.
TSA approved strap.
5cm wide, 200cm long.
Two striking colour options.
2 year manufacturer guarantee.
Free lost and found service.
TSA screens every passenger's baggage before it is placed on an airplane. While their technology allows for them to electronically screen bags, there are times when your luggage may require a physical inspection.
TSA has worked with several companies to develop locks that can be opened by security officers using a universal "master" key. This means that authorised personnel can access your case without damaging or breaking the security lock.
TSA screens every passenger's baggage before it is placed on an airplane. While their technology allows for them to electronically screen bags, there are times when your luggage may require a physical inspection.
We offer this strap in both purple and green, both of which are colours that can be easily spotted at the airport carousel. If you want to ensure your suitcase is safe, secure but still clearly visible at baggage claim, then this is the luggage strap you need.
Included within this product is a 2 year manufacturer's guarantee and a free lost and found service. With this TSA Combination Luggage Strap, you can be sure that your luggage is safe and sound during transit.
Reviews
Brilliant strap
- Perfect strap. Easy to use and lovely bright purple to show up on the luggage carousel (Adrienne Harris, 27/04/23)
Great colour
- Very bright. Will make my cases stand out on the baggage carousel! (Janet)
Your Personalised Luggage Straps are the best we've ever seen!
- The 2 personalised Luggage Straps we recently purchased from you are much better than the last ones we bought from another Supplier. For design, quality and value, plus excellent locking system you're Company is unbeatable! (Leslay80)
TSA Luggage Strap
- Bought 2 of the above luggage straps prior to a trip to the USA. After 4 flights they are fine if not a little dirty. Overall very please with my purchase. (Geoff)
Quality luggage straps
- The T S A Combinationluggage strap is of excellent quality,the lock is easy to set, just remember the setting you create.The colour luminuous green makes it easy to see your case. Top marks, also fast delivery (Eddy)
TSA luggage straps
- Bought 2 of the TSA luggage straps with combination lock to for ease of locating suitcase & added security with lock attached. These were fantastic, was worried that the strap may loosen in transit but no movement at all. The lock was very secure & due to bright coloured strap was very easy to spot immediately. In fact quite a few people asked us where we bought them. (K. Davidson)
Luggage Straps Providing extra security
- Have just purchased more of these straps as they have previously proven themselves during various trips. The advantages are they provide an extra layer of security particularly when the terrorists in the American TSA destroy the normal locks on your case apparently in the interests of security. Also when they are neon green and personalised (I use home postcode) they make bags easy to spot on a baggage belt after a long flight (Greg Harrington)
Bought to secure a Wheelchair
- We were going to Florida for a Holiday and my wife has a wheelchair that had to be secured in a case for the 9 hour journey. We got the JetRest luggage TSA Combination Straps ( Just for fun we personalised them-exellent job ). The straps were good quality and service quick. A few hickups but these were sorted out by staff without any fuss by return of post. I've also bought a normal strap to secure the wheelchair in the car and several other straps/locks, for my daughter who came with us th Florida. Very nice company to deal with ! certainly recomend them ! (Des, South Wales)
Excellent product
- The items arrived promptly and are of good quality and simple to use I used them on a recent trip to Miami and felt confident in doing so. (Francophile)
Nice &Easy
- We were very satisfied with the Combination Luggage Straps we bought that we purchased another two! Your bags are safe but most important of all they are so easy to identify when so many bags look the same. We have had our suitcase taken by someone by mistake and what a hassle sorting it out! Hopefully, this can no longer happen! (Chibby)
stands out from the others
- the strap was great at the airport on our black case making it obvious to identify. It did everything it should do on the instructions and gave a sense of extra security. (cutgem)
Easy to spot!!
- I needed a secure, visible luggage strap and this did the trick. The colour, lime green, was great to spot in amongst the mostly black suitcases on the carousel. The combination lock was easy to programme. I loved the fact I could personalise it with my name. All in all, a great purchase which will last for years. (Shazonhols)
Great luggage strap to enhance my travel
- This luggage strap enhances the look of my travel case rather than some of the bland straps out there that just look shabby after just one trip. I like the fact that I can lock it and customs can open it without cutting the strap off. (James H Dalton Steele)
Luggage strap
- Delivered very quickly, name on strap very clear, combination lock easy to use, would recommend this product with no hesitation (Julia Cox)
Good strong, easily identifiable, luggage strap suitable for the USA
- Excellent service (next day)and was just as required. (Revd.D.R.Witts)
Luggage Straps That Work
- Used these as the cases we use are in good nick but might just be nearing there sell by date so these straps will prolong their life somewhat. The main thing is that they stayed in place, did not stretch and the locks were not damaged in transit. good price too and would recommend. (DC)
Great product
- Bought 2 of these as xmas gifts and so pleased with them I am about to buy 4 more for my family. (Richard)
Must have
- Bought 2 of these for xmas gifts and very pleased, so much that I will buy 2 more for myself and my wife. (Richard)
Great product
- TSA Combination Luggage Strap - Great Product Outstanding Printing - Great Service cant wait to put them to the test. (Gary)
luggage straps
- The straps were ordered and delivered promptly. The quality is very good and we would not hesitate in ordering other products from this company (franrod)
TSA Combination Lock travel straps.
- The combination luggage straps from Jet Rest were first class; very tough quality material and brightly coloured for ease of identity. We also chose to have our name embossed on them, in a contrasting colour, again for ease of identity. A top quality product at a very reasonable price, not to mention the reassurance of the security lock, which was very easy to use. Well done Jet Ret for providing exactly what was required. (Barbara Thurlow)
Luggage Straps
- I was delighted with my personalised luggage straps they arrived very quickly (Jacqui matthews)
luggage strap
- I required a luggage strap that would make by bag easily identifiable from the countless others that are rapidly spewed on to the ramp.This was done by choosing a distinctive colour with my name boldly displayed. I am very pleased with my purchase and am happy to recommend the JETREST.com (stanley fredman)
Instructions
Instructions for changing the combination luggage strap lock number:
Your combination lock is set to 0-0-0 when first purchased.
To change the combination, first set the lock to 0-0-0.
On the back of the buckle move the button from position A to position B.
Now set your own 3 unique numbers.
To fix these numbers change teh button on the back from position B back to A.
Do not forget your new combination as there is no master re-set available.
Delivery
The information below is for guidance. Actual delivery costs and dates depend on the delivery address, weight and time your order is placed. Cut-off time for Overnight Orders is 12 noon.
| Price | Method | Manufacture Time | Delivery Time | Est. Delivery Date |
| --- | --- | --- | --- | --- |
| £4.99 | 2nd Class (Tracked) | 0-1 Days | 2-3 Days | Thu 7 Dec - Mon 11 Dec |
| £6.99 | 1st Class (Tracked) | 0-1 Days | 1-2 Days | Wed 6 Dec - Fri 8 Dec |
| £10.99 | Royal Mail (Special Delivery Overnight Mon-Sat Pre 1pm) | Today | Next Day (Mon-Sat) | Mon 4 Dec |
| £13.05 | DHL Courier (Economy M-F Pre 6pm) | 0-1 Days | 2-3 Days | Thu 7 Dec - Mon 11 Dec |
More Information
| | |
| --- | --- |
| Despatch | Today (Cut off time 3pm M-F) |
| Brand | Travel Blue |
| RRP | £24.99 |
| Country of Origin | China |
| SKU | FGLUG020GRE |
| Gtin | 5018404000439 |
| Tariff Code | 6307909899 |
| Tariff Description | Luggage Strap - Woven Webbing |
| Product Weight | 168 g |
| Product Dimensions | 5 x 200cm |
Product Options
Colour
Purple Strap
Product Type
Luggage Straps
Travel & Outdoors > Personalised Luggage Straps
Personalised Gifts > Personalised Travel Gifts
tsa lock suitcase straps
travel blue luggage straps

TSA Combination Luggage Strap from Travel Blue
- Purple Strap
FGLUG020PUR
5018404000439
£24.99
168 g
5 x 200cm
TSA Combination Luggage Strap from Travel Blue