2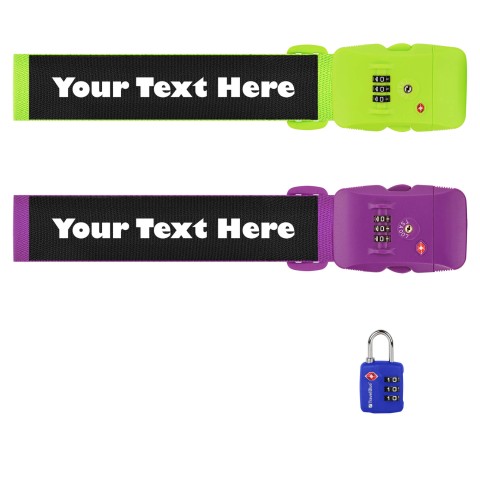 Exclusive TSA Luggage Security Gift Sets
When travelling the thought of your luggage becoming lost or damaged is always a concern but not to worry, with our excellent TSA Luggage Strap and Padlock Set we have you well covered.
We have combined two of the popular TSA products in to one essential gift set, including a TSA Combination Luggage Strap available in neon purple or green and also the sturdy TSA Combination De-Luxe Padlock in bold colours for maximum visibility. Not only this but we include a 10% discount for great savings.
The combination lock on both products is easy to set and allows you to select your own unique number that will prevent anyone from opening your luggage, other than TSA security officials. It is customary when travelling that your baggage will be checked by security and whilst this is usually done electronically, there is sometimes a need to manually check the luggage. With these exclusive TSA Locks it allows airport security to easily open your bags with a master key and avoid causing any damage to your luggage.
We also offer a Personalised TSA Luggage Strap and Padlock Set which can be printed with the text of your choice in a variety of colours for absolutely FREE. The text will be heat pressed on to a black cotton strip which is then sewn securely to the strap, allowing your bags to not only be secure from tampering but also very easy to spot in a busy aiport environment.