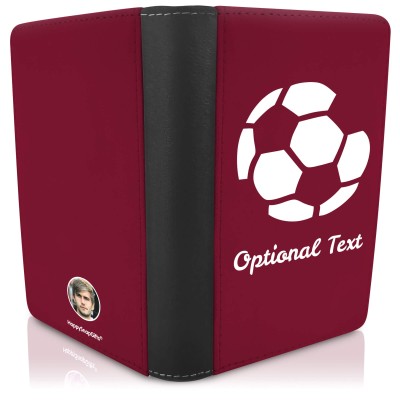 Personalised Passport Cover with Sporting Icon Designs
Description
Personalised Passport Cover with Sporting Icons and colour choice - Perfect Travel Gift for Sporty People.
Personalised Passport Cover.
Loads of colour options.
Sporting Icons.
Personalise with text & a photo.
Trusted HappySnapGifts® brand.
If we're not showing your favourite sporting icon or a colour, get in touch and we'll try to offer what you want for any sports person, adults of children.
Reviews
Delivery
The information below is for guidance. Actual delivery costs and dates depend on the delivery address, weight and time your order is placed. Cut-off time for Overnight Orders is 12 noon.
| Price | Method | Manufacture Time | Delivery Time | Est. Delivery Date |
| --- | --- | --- | --- | --- |
| £3.99 | 2nd Class (Tracked LL) | 0-3 Days | 2-3 Days | Thu 7 Dec - Wed 13 Dec |
| £5.99 | 1st Class (Tracked LL) | 0-3 Days | 1-2 Days | Wed 6 Dec - Tue 12 Dec |
| £12.94 | DHL Courier (Economy M-F Pre 6pm) | 0-3 Days | 2-3 Days | Thu 7 Dec - Wed 13 Dec |
| £14.99 | Royal Mail Special Delivery (Overnight Mon-Sat Pre 1pm) | Today | Next Day (Mon-Sat) | Mon 4 Dec |
More Information
| | |
| --- | --- |
| Despatch | 0-3 Days (to Personalise) or Upgrade at Checkout for Overnight Delivery |
| Brand | HappySnapGifts® |
| RRP | £12.99 |
| Country of Origin | United Kingdom |
| SKU | FGPAS011-FOOBURP(PhB1)(P) |
| Gtin | 5060089254652 |
| Tariff Code | 4202321000 |
| Tariff Description | Travel Goods & Wallets (Passport Cover) |
| Product Weight | 66 g |
| Product Dimensions | 14.5 x 10 x 0.5cm |
Product Options
Size
UK Standard (21cm)
Photos to Print
Photo for the Back
Fabric
Polyester - Non Fabric
Colour
Burgundy, Black, Royal Blue, Sky Blue, Hot Pink (Fuchsia), Red, White
Icon
Football, We Are No. 1, Cricket, Cycling, Golf, Gym, Gymnastics, Hockey, Mountain Biking, Rugby, Running, Skiing, Tennis
Product Type
Passport Covers
Passport Covers > Personalised Passport Covers
Passport Holders > Personalised Passport Holders
Passport Wallet > Personalised Passport Wallet

Personalised Passport Cover with Sporting Icon Designs
(UK Standard 21cm) (Football Icon) Burgundy (Personalised with Text)
FGPAS011-FOOBURP(PhB1)(P)
5060089254652
£12.99
66 g
14.5 x 10 x 0.5cm
Personalised Passport Cover with Sporting Icon Designs
(UK Standard 21cm) (Football Icon) Black (Personalised with Text)
FGPAS011-FOOBLAP(PhB1)(P)
5060089254652
£12.99
66 g
14.5 x 10 x 0.5cm
Personalised Passport Cover with Sporting Icon Designs
(UK Standard 21cm) (Football Icon) Royal Blue (Personalised with Text)
FGPAS011-FOOBROP(PhB1)(P)
5060089254652
£12.99
66 g
14.5 x 10 x 0.5cm
Personalised Passport Cover with Sporting Icon Designs
(UK Standard 21cm) (Football Icon) Sky Blue (Personalised with Text)
FGPAS011-FOOBSKP(PhB1)(P)
5060089254652
£12.99
66 g
14.5 x 10 x 0.5cm
Personalised Passport Cover with Sporting Icon Designs
(UK Standard 21cm) (Football Icon) Hot Pink (Fuchsia) (Personalised with Text)
FGPAS011-FOOPFUP(PhB1)(P)
5060089254652
£12.99
66 g
14.5 x 10 x 0.5cm
Personalised Passport Cover with Sporting Icon Designs
(UK Standard 21cm) (Football Icon) Red (Personalised with Text)
FGPAS011-FOOREDP(PhB1)(P)
5060089254652
£12.99
66 g
14.5 x 10 x 0.5cm
Personalised Passport Cover with Sporting Icon Designs
(UK Standard 21cm) (Football Icon) White (Personalised with Text)
FGPAS011-FOOWHIP(PhB1)(P)
5060089254652
£12.99
66 g
14.5 x 10 x 0.5cm
Personalised Passport Cover with Sporting Icon Designs
(UK Standard 21cm) (We Are No. 1 Icon) Burgundy (Personalised with Text)
FGPAS011-WANBURP(PhB1)(P)
5060089254652
£12.99
66 g
14.5 x 10 x 0.5cm
Personalised Passport Cover with Sporting Icon Designs
(UK Standard 21cm) (We Are No. 1 Icon) Black (Personalised with Text)
FGPAS011-WANBLAP(PhB1)(P)
5060089254652
£12.99
66 g
14.5 x 10 x 0.5cm
Personalised Passport Cover with Sporting Icon Designs
(UK Standard 21cm) (We Are No. 1 Icon) Royal Blue (Personalised with Text)
FGPAS011-WANBROP(PhB1)(P)
5060089254652
£12.99
66 g
14.5 x 10 x 0.5cm
Personalised Passport Cover with Sporting Icon Designs
(UK Standard 21cm) (We Are No. 1 Icon) Sky Blue (Personalised with Text)
FGPAS011-WANBSKP(PhB1)(P)
5060089254652
£12.99
66 g
14.5 x 10 x 0.5cm
Personalised Passport Cover with Sporting Icon Designs
(UK Standard 21cm) (We Are No. 1 Icon) Hot Pink (Fuchsia) (Personalised with Text)
FGPAS011-WANPFUP(PhB1)(P)
5060089254652
£12.99
66 g
14.5 x 10 x 0.5cm
Personalised Passport Cover with Sporting Icon Designs
(UK Standard 21cm) (We Are No. 1 Icon) Red (Personalised with Text)
FGPAS011-WANREDP(PhB1)(P)
5060089254652
£12.99
66 g
14.5 x 10 x 0.5cm
Personalised Passport Cover with Sporting Icon Designs
(UK Standard 21cm) (We Are No. 1 Icon) White (Personalised with Text)
FGPAS011-WANWHIP(PhB1)(P)
5060089254652
£12.99
66 g
14.5 x 10 x 0.5cm
Personalised Passport Cover with Sporting Icon Designs
(UK Standard 21cm) (Cricket Icon) Burgundy (Personalised with Text)
FGPAS011-CRIBURP(PhB1)(P)
5060089254652
£12.99
66 g
14.5 x 10 x 0.5cm
Personalised Passport Cover with Sporting Icon Designs
(UK Standard 21cm) (Cricket Icon) Black (Personalised with Text)
FGPAS011-CRIBLAP(PhB1)(P)
5060089254652
£12.99
66 g
14.5 x 10 x 0.5cm
Personalised Passport Cover with Sporting Icon Designs
(UK Standard 21cm) (Cricket Icon) Royal Blue (Personalised with Text)
FGPAS011-CRIBROP(PhB1)(P)
5060089254652
£12.99
66 g
14.5 x 10 x 0.5cm
Personalised Passport Cover with Sporting Icon Designs
(UK Standard 21cm) (Cricket Icon) Sky Blue (Personalised with Text)
FGPAS011-CRIBSKP(PhB1)(P)
5060089254652
£12.99
66 g
14.5 x 10 x 0.5cm
Personalised Passport Cover with Sporting Icon Designs
(UK Standard 21cm) (Cricket Icon) Hot Pink (Fuchsia) (Personalised with Text)
FGPAS011-CRIPFUP(PhB1)(P)
5060089254652
£12.99
66 g
14.5 x 10 x 0.5cm
Personalised Passport Cover with Sporting Icon Designs
(UK Standard 21cm) (Cricket Icon) Red (Personalised with Text)
FGPAS011-CRIREDP(PhB1)(P)
5060089254652
£12.99
66 g
14.5 x 10 x 0.5cm
Personalised Passport Cover with Sporting Icon Designs
(UK Standard 21cm) (Cricket Icon) White (Personalised with Text)
FGPAS011-CRIWHIP(PhB1)(P)
5060089254652
£12.99
66 g
14.5 x 10 x 0.5cm
Personalised Passport Cover with Sporting Icon Designs
(UK Standard 21cm) (Cycling Icon) Burgundy (Personalised with Text)
FGPAS011-CYCBURP(PhB1)(P)
5060089254652
£12.99
66 g
14.5 x 10 x 0.5cm
Personalised Passport Cover with Sporting Icon Designs
(UK Standard 21cm) (Cycling Icon) Black (Personalised with Text)
FGPAS011-CYCBLAP(PhB1)(P)
5060089254652
£12.99
66 g
14.5 x 10 x 0.5cm
Personalised Passport Cover with Sporting Icon Designs
(UK Standard 21cm) (Cycling Icon) Royal Blue (Personalised with Text)
FGPAS011-CYCBROP(PhB1)(P)
5060089254652
£12.99
66 g
14.5 x 10 x 0.5cm
Personalised Passport Cover with Sporting Icon Designs
(UK Standard 21cm) (Cycling Icon) Sky Blue (Personalised with Text)
FGPAS011-CYCBSKP(PhB1)(P)
5060089254652
£12.99
66 g
14.5 x 10 x 0.5cm
Personalised Passport Cover with Sporting Icon Designs
(UK Standard 21cm) (Cycling Icon) Hot Pink (Fuchsia) (Personalised with Text)
FGPAS011-CYCPFUP(PhB1)(P)
5060089254652
£12.99
66 g
14.5 x 10 x 0.5cm
Personalised Passport Cover with Sporting Icon Designs
(UK Standard 21cm) (Cycling Icon) Red (Personalised with Text)
FGPAS011-CYCREDP(PhB1)(P)
5060089254652
£12.99
66 g
14.5 x 10 x 0.5cm
Personalised Passport Cover with Sporting Icon Designs
(UK Standard 21cm) (Cycling Icon) White (Personalised with Text)
FGPAS011-CYCWHIP(PhB1)(P)
5060089254652
£12.99
66 g
14.5 x 10 x 0.5cm
Personalised Passport Cover with Sporting Icon Designs
(UK Standard 21cm) (Golf Icon) Burgundy (Personalised with Text)
FGPAS011-GOLBURP(PhB1)(P)
5060089254652
£12.99
66 g
14.5 x 10 x 0.5cm
Personalised Passport Cover with Sporting Icon Designs
(UK Standard 21cm) (Golf Icon) Black (Personalised with Text)
FGPAS011-GOLBLAP(PhB1)(P)
5060089254652
£12.99
66 g
14.5 x 10 x 0.5cm
Personalised Passport Cover with Sporting Icon Designs
(UK Standard 21cm) (Golf Icon) Royal Blue (Personalised with Text)
FGPAS011-GOLBROP(PhB1)(P)
5060089254652
£12.99
66 g
14.5 x 10 x 0.5cm
Personalised Passport Cover with Sporting Icon Designs
(UK Standard 21cm) (Golf Icon) Sky Blue (Personalised with Text)
FGPAS011-GOLBSKP(PhB1)(P)
5060089254652
£12.99
66 g
14.5 x 10 x 0.5cm
Personalised Passport Cover with Sporting Icon Designs
(UK Standard 21cm) (Golf Icon) Hot Pink (Fuchsia) (Personalised with Text)
FGPAS011-GOLPFUP(PhB1)(P)
5060089254652
£12.99
66 g
14.5 x 10 x 0.5cm
Personalised Passport Cover with Sporting Icon Designs
(UK Standard 21cm) (Golf Icon) Red (Personalised with Text)
FGPAS011-GOLREDP(PhB1)(P)
5060089254652
£12.99
66 g
14.5 x 10 x 0.5cm
Personalised Passport Cover with Sporting Icon Designs
(UK Standard 21cm) (Golf Icon) White (Personalised with Text)
FGPAS011-GOLWHIP(PhB1)(P)
5060089254652
£12.99
66 g
14.5 x 10 x 0.5cm
Personalised Passport Cover with Sporting Icon Designs
(UK Standard 21cm) with Gym Icon Burgundy (Personalised with Text)
FGPAS011-GYMBURP(PhB1)(P)
5060089254652
£12.99
66 g
14.5 x 10 x 0.5cm
Personalised Passport Cover with Sporting Icon Designs
(UK Standard 21cm) with Gym Icon Black (Personalised with Text)
FGPAS011-GYMBLAP(PhB1)(P)
5060089254652
£12.99
66 g
14.5 x 10 x 0.5cm
Personalised Passport Cover with Sporting Icon Designs
(UK Standard 21cm) with Gym Icon Royal Blue (Personalised with Text)
FGPAS011-GYMBROP(PhB1)(P)
5060089254652
£12.99
66 g
14.5 x 10 x 0.5cm
Personalised Passport Cover with Sporting Icon Designs
(UK Standard 21cm) with Gym Icon Sky Blue (Personalised with Text)
FGPAS011-GYMBSKP(PhB1)(P)
5060089254652
£12.99
66 g
14.5 x 10 x 0.5cm
Personalised Passport Cover with Sporting Icon Designs
(UK Standard 21cm) with Gym Icon Hot Pink (Fuchsia) (Personalised with Text)
FGPAS011-GYMPFUP(PhB1)(P)
5060089254652
£12.99
66 g
14.5 x 10 x 0.5cm
Personalised Passport Cover with Sporting Icon Designs
(UK Standard 21cm) with Gym Icon Red (Personalised with Text)
FGPAS011-GYMREDP(PhB1)(P)
5060089254652
£12.99
66 g
14.5 x 10 x 0.5cm
Personalised Passport Cover with Sporting Icon Designs
(UK Standard 21cm) with Gym Icon White (Personalised with Text)
FGPAS011-GYMWHIP(PhB1)(P)
5060089254652
£12.99
66 g
14.5 x 10 x 0.5cm
Personalised Passport Cover with Sporting Icon Designs
(UK Standard 21cm) (Gymnastics Icon) Burgundy (Personalised with Text)
FGPAS011-GYNBURP(PhB1)(P)
5060089254652
£12.99
66 g
14.5 x 10 x 0.5cm
Personalised Passport Cover with Sporting Icon Designs
(UK Standard 21cm) (Gymnastics Icon) Black (Personalised with Text)
FGPAS011-GYNBLAP(PhB1)(P)
5060089254652
£12.99
66 g
14.5 x 10 x 0.5cm
Personalised Passport Cover with Sporting Icon Designs
(UK Standard 21cm) (Gymnastics Icon) Royal Blue (Personalised with Text)
FGPAS011-GYNBROP(PhB1)(P)
5060089254652
£12.99
66 g
14.5 x 10 x 0.5cm
Personalised Passport Cover with Sporting Icon Designs
(UK Standard 21cm) (Gymnastics Icon) Sky Blue (Personalised with Text)
FGPAS011-GYNBSKP(PhB1)(P)
5060089254652
£12.99
66 g
14.5 x 10 x 0.5cm
Personalised Passport Cover with Sporting Icon Designs
(UK Standard 21cm) (Gymnastics Icon) Hot Pink (Fuchsia) (Personalised with Text)
FGPAS011-GYNPFUP(PhB1)(P)
5060089254652
£12.99
66 g
14.5 x 10 x 0.5cm
Personalised Passport Cover with Sporting Icon Designs
(UK Standard 21cm) (Gymnastics Icon) Red (Personalised with Text)
FGPAS011-GYNREDP(PhB1)(P)
5060089254652
£12.99
66 g
14.5 x 10 x 0.5cm
Personalised Passport Cover with Sporting Icon Designs
(UK Standard 21cm) (Gymnastics Icon) White (Personalised with Text)
FGPAS011-GYNWHIP(PhB1)(P)
5060089254652
£12.99
66 g
14.5 x 10 x 0.5cm
Personalised Passport Cover with Sporting Icon Designs
(UK Standard 21cm) (Hockey Icon) Burgundy (Personalised with Text)
FGPAS011-HOCBURP(PhB1)(P)
5060089254652
£12.99
66 g
14.5 x 10 x 0.5cm
Personalised Passport Cover with Sporting Icon Designs
(UK Standard 21cm) (Hockey Icon) Black (Personalised with Text)
FGPAS011-HOCBLAP(PhB1)(P)
5060089254652
£12.99
66 g
14.5 x 10 x 0.5cm
Personalised Passport Cover with Sporting Icon Designs
(UK Standard 21cm) (Hockey Icon) Royal Blue (Personalised with Text)
FGPAS011-HOCBROP(PhB1)(P)
5060089254652
£12.99
66 g
14.5 x 10 x 0.5cm
Personalised Passport Cover with Sporting Icon Designs
(UK Standard 21cm) (Hockey Icon) Sky Blue (Personalised with Text)
FGPAS011-HOCBSKP(PhB1)(P)
5060089254652
£12.99
66 g
14.5 x 10 x 0.5cm
Personalised Passport Cover with Sporting Icon Designs
(UK Standard 21cm) (Hockey Icon) Hot Pink (Fuchsia) (Personalised with Text)
FGPAS011-HOCPFUP(PhB1)(P)
5060089254652
£12.99
66 g
14.5 x 10 x 0.5cm
Personalised Passport Cover with Sporting Icon Designs
(UK Standard 21cm) (Hockey Icon) Red (Personalised with Text)
FGPAS011-HOCREDP(PhB1)(P)
5060089254652
£12.99
66 g
14.5 x 10 x 0.5cm
Personalised Passport Cover with Sporting Icon Designs
(UK Standard 21cm) (Hockey Icon) White (Personalised with Text)
FGPAS011-HOCWHIP(PhB1)(P)
5060089254652
£12.99
66 g
14.5 x 10 x 0.5cm
Personalised Passport Cover with Sporting Icon Designs
(UK Standard 21cm) (Mountain Biking Icon) Burgundy (Personalised with Text)
FGPAS011-MTBBURP(PhB1)(P)
5060089254652
£12.99
66 g
14.5 x 10 x 0.5cm
Personalised Passport Cover with Sporting Icon Designs
(UK Standard 21cm) (Mountain Biking Icon) Black (Personalised with Text)
FGPAS011-MTBBLAP(PhB1)(P)
5060089254652
£12.99
66 g
14.5 x 10 x 0.5cm
Personalised Passport Cover with Sporting Icon Designs
(UK Standard 21cm) (Mountain Biking Icon) Royal Blue (Personalised with Text)
FGPAS011-MTBBROP(PhB1)(P)
5060089254652
£12.99
66 g
14.5 x 10 x 0.5cm
Personalised Passport Cover with Sporting Icon Designs
(UK Standard 21cm) (Mountain Biking Icon) Sky Blue (Personalised with Text)
FGPAS011-MTBBSKP(PhB1)(P)
5060089254652
£12.99
66 g
14.5 x 10 x 0.5cm
Personalised Passport Cover with Sporting Icon Designs
(UK Standard 21cm) (Mountain Biking Icon) Hot Pink (Fuchsia) (Personalised with Text)
FGPAS011-MTBPFUP(PhB1)(P)
5060089254652
£12.99
66 g
14.5 x 10 x 0.5cm
Personalised Passport Cover with Sporting Icon Designs
(UK Standard 21cm) (Mountain Biking Icon) Red (Personalised with Text)
FGPAS011-MTBREDP(PhB1)(P)
5060089254652
£12.99
66 g
14.5 x 10 x 0.5cm
Personalised Passport Cover with Sporting Icon Designs
(UK Standard 21cm) (Mountain Biking Icon) White (Personalised with Text)
FGPAS011-MTBWHIP(PhB1)(P)
5060089254652
£12.99
66 g
14.5 x 10 x 0.5cm
Personalised Passport Cover with Sporting Icon Designs
(UK Standard 21cm) (Rugby Icon) Burgundy (Personalised with Text)
FGPAS011-RUGBURP(PhB1)(P)
5060089254652
£12.99
66 g
14.5 x 10 x 0.5cm
Personalised Passport Cover with Sporting Icon Designs
(UK Standard 21cm) (Rugby Icon) Black (Personalised with Text)
FGPAS011-RUGBLAP(PhB1)(P)
5060089254652
£12.99
66 g
14.5 x 10 x 0.5cm
Personalised Passport Cover with Sporting Icon Designs
(UK Standard 21cm) (Rugby Icon) Royal Blue (Personalised with Text)
FGPAS011-RUGBROP(PhB1)(P)
5060089254652
£12.99
66 g
14.5 x 10 x 0.5cm
Personalised Passport Cover with Sporting Icon Designs
(UK Standard 21cm) (Rugby Icon) Sky Blue (Personalised with Text)
FGPAS011-RUGBSKP(PhB1)(P)
5060089254652
£12.99
66 g
14.5 x 10 x 0.5cm
Personalised Passport Cover with Sporting Icon Designs
(UK Standard 21cm) (Rugby Icon) Hot Pink (Fuchsia) (Personalised with Text)
FGPAS011-RUGPFUP(PhB1)(P)
5060089254652
£12.99
66 g
14.5 x 10 x 0.5cm
Personalised Passport Cover with Sporting Icon Designs
(UK Standard 21cm) (Rugby Icon) Red (Personalised with Text)
FGPAS011-RUGREDP(PhB1)(P)
5060089254652
£12.99
66 g
14.5 x 10 x 0.5cm
Personalised Passport Cover with Sporting Icon Designs
(UK Standard 21cm) (Rugby Icon) White (Personalised with Text)
FGPAS011-RUGWHIP(PhB1)(P)
5060089254652
£12.99
66 g
14.5 x 10 x 0.5cm
Personalised Passport Cover with Sporting Icon Designs
(UK Standard 21cm) (Running Icon) Burgundy (Personalised with Text)
FGPAS011-RUNBURP(PhB1)(P)
5060089254652
£12.99
66 g
14.5 x 10 x 0.5cm
Personalised Passport Cover with Sporting Icon Designs
(UK Standard 21cm) (Running Icon) Black (Personalised with Text)
FGPAS011-RUNBLAP(PhB1)(P)
5060089254652
£12.99
66 g
14.5 x 10 x 0.5cm
Personalised Passport Cover with Sporting Icon Designs
(UK Standard 21cm) (Running Icon) Royal Blue (Personalised with Text)
FGPAS011-RUNBROP(PhB1)(P)
5060089254652
£12.99
66 g
14.5 x 10 x 0.5cm
Personalised Passport Cover with Sporting Icon Designs
(UK Standard 21cm) (Running Icon) Sky Blue (Personalised with Text)
FGPAS011-RUNBSKP(PhB1)(P)
5060089254652
£12.99
66 g
14.5 x 10 x 0.5cm
Personalised Passport Cover with Sporting Icon Designs
(UK Standard 21cm) (Running Icon) Hot Pink (Fuchsia) (Personalised with Text)
FGPAS011-RUNPFUP(PhB1)(P)
5060089254652
£12.99
66 g
14.5 x 10 x 0.5cm
Personalised Passport Cover with Sporting Icon Designs
(UK Standard 21cm) (Running Icon) Red (Personalised with Text)
FGPAS011-RUNREDP(PhB1)(P)
5060089254652
£12.99
66 g
14.5 x 10 x 0.5cm
Personalised Passport Cover with Sporting Icon Designs
(UK Standard 21cm) (Running Icon) White (Personalised with Text)
FGPAS011-RUNWHIP(PhB1)(P)
5060089254652
£12.99
66 g
14.5 x 10 x 0.5cm
Personalised Passport Cover with Sporting Icon Designs
(UK Standard 21cm) (Skiing Icon) Burgundy (Personalised with Text)
FGPAS011-SKIBURP(PhB1)(P)
5060089254652
£12.99
66 g
14.5 x 10 x 0.5cm
Personalised Passport Cover with Sporting Icon Designs
(UK Standard 21cm) (Skiing Icon) Black (Personalised with Text)
FGPAS011-SKIBLAP(PhB1)(P)
5060089254652
£12.99
66 g
14.5 x 10 x 0.5cm
Personalised Passport Cover with Sporting Icon Designs
(UK Standard 21cm) (Skiing Icon) Royal Blue (Personalised with Text)
FGPAS011-SKIBROP(PhB1)(P)
5060089254652
£12.99
66 g
14.5 x 10 x 0.5cm
Personalised Passport Cover with Sporting Icon Designs
(UK Standard 21cm) (Skiing Icon) Sky Blue (Personalised with Text)
FGPAS011-SKIBSKP(PhB1)(P)
5060089254652
£12.99
66 g
14.5 x 10 x 0.5cm
Personalised Passport Cover with Sporting Icon Designs
(UK Standard 21cm) (Skiing Icon) Hot Pink (Fuchsia) (Personalised with Text)
FGPAS011-SKIPFUP(PhB1)(P)
5060089254652
£12.99
66 g
14.5 x 10 x 0.5cm
Personalised Passport Cover with Sporting Icon Designs
(UK Standard 21cm) (Skiing Icon) Red (Personalised with Text)
FGPAS011-SKIREDP(PhB1)(P)
5060089254652
£12.99
66 g
14.5 x 10 x 0.5cm
Personalised Passport Cover with Sporting Icon Designs
(UK Standard 21cm) (Skiing Icon) White (Personalised with Text)
FGPAS011-SKIWHIP(PhB1)(P)
5060089254652
£12.99
66 g
14.5 x 10 x 0.5cm
Personalised Passport Cover with Sporting Icon Designs
(UK Standard 21cm) (Tennis Icon) Burgundy (Personalised with Text)
FGPAS011-TENBURP(PhB1)(P)
5060089254652
£12.99
66 g
14.5 x 10 x 0.5cm
Personalised Passport Cover with Sporting Icon Designs
(UK Standard 21cm) (Tennis Icon) Black (Personalised with Text)
FGPAS011-TENBLAP(PhB1)(P)
5060089254652
£12.99
66 g
14.5 x 10 x 0.5cm
Personalised Passport Cover with Sporting Icon Designs
(UK Standard 21cm) (Tennis Icon) Royal Blue (Personalised with Text)
FGPAS011-TENBROP(PhB1)(P)
5060089254652
£12.99
66 g
14.5 x 10 x 0.5cm
Personalised Passport Cover with Sporting Icon Designs
(UK Standard 21cm) (Tennis Icon) Sky Blue (Personalised with Text)
FGPAS011-TENBSKP(PhB1)(P)
5060089254652
£12.99
66 g
14.5 x 10 x 0.5cm
Personalised Passport Cover with Sporting Icon Designs
(UK Standard 21cm) (Tennis Icon) Hot Pink (Fuchsia) (Personalised with Text)
FGPAS011-TENPFUP(PhB1)(P)
5060089254652
£12.99
66 g
14.5 x 10 x 0.5cm
Personalised Passport Cover with Sporting Icon Designs
(UK Standard 21cm) (Tennis Icon) Red (Personalised with Text)
FGPAS011-TENREDP(PhB1)(P)
5060089254652
£12.99
66 g
14.5 x 10 x 0.5cm
Personalised Passport Cover with Sporting Icon Designs
(UK Standard 21cm) (Tennis Icon) White (Personalised with Text)
FGPAS011-TENWHIP(PhB1)(P)
5060089254652
£12.99
66 g
14.5 x 10 x 0.5cm
Personalised Passport Cover with Sporting Icon Designs