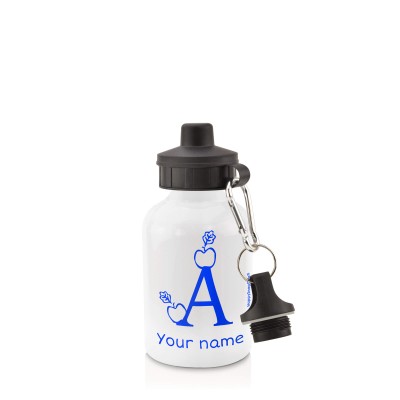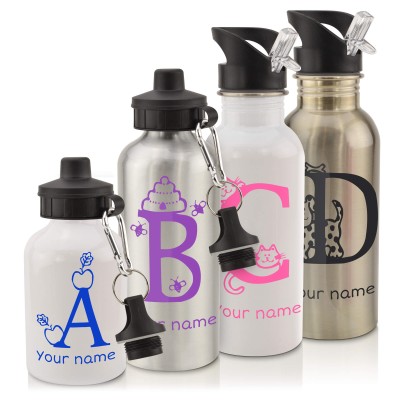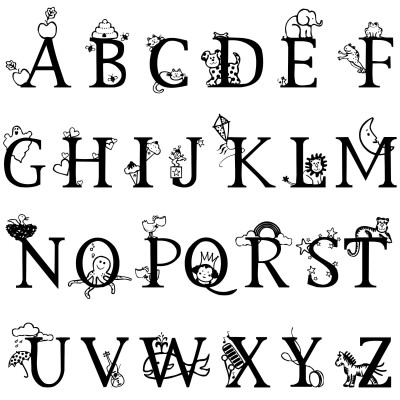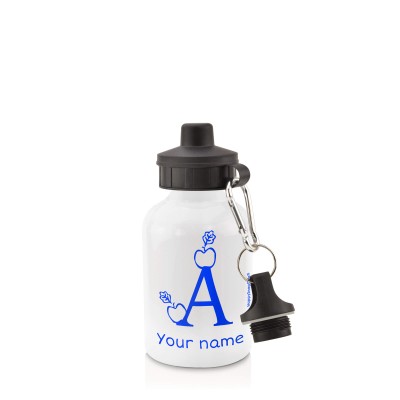 Description
School Water Bottles are personalised with text and the capital letter of your childs name to really make these reusable water bottles stand out at school.
Personalised School Water Bottles.
Choice of cap top or straw styles.
Size options.
Many colours to choose from.
Designed with capital letter in a fancy children's font.
Personalised with the childs name or nickname.
Trusted HappySnapGifts® brand.
Reviews
Delivery
The information below is for guidance. Actual delivery costs and dates depend on the delivery address, weight and time your order is placed. Cut-off time for Overnight Orders is 12 noon.
| Price | Method | Manufacture Time | Delivery Time | Est. Delivery Date |
| --- | --- | --- | --- | --- |
| £4.99 | 2nd Class (Tracked) | 0-3 Days | 2-3 Days | Thu 7 Dec - Wed 13 Dec |
| £7.99 | 1st Class (Tracked) | 0-3 Days | 1-2 Days | Wed 6 Dec - Tue 12 Dec |
| £13.02 | DHL Courier (Economy M-F Pre 6pm) | 0-3 Days | 2-3 Days | Thu 7 Dec - Wed 13 Dec |
| £14.99 | Royal Mail Special Delivery (Overnight Mon-Sat Pre 1pm) | Today | Next Day (Mon-Sat) | Mon 4 Dec |
More Information
| | |
| --- | --- |
| Despatch | 0-3 Days (to Personalise) or Upgrade at Checkout for Overnight Delivery |
| Brand | HappySnapGifts® |
| RRP | £10.99 |
| Country of Origin | United Kingdom |
| SKU | FGBOT006ALP-BRO(P) |
| Gtin | 5060089255604 |
| Tariff Code | 7615101090 |
| Tariff Description | Aluminium and articles thereof |
| Product Weight | 95 g |
| Product Dimensions | 18 x 6 x 6cm |
Product Options
Size & Colour
White (Mini / 16cm / 400ml) + Screw Cap, Silver (Mini / 16cm / 400ml) + Screw Cap, White (600ml) + Screw Cap, Silver (600ml) + Screw Cap, White (600ml) + Drinking Straw, Silver (600ml) + Drinking Straw
Fabric
Polyester - Non Fabric
Theme Colour
Royal Blue, Sky Blue, Black, Bright Green, Burnt Orange, Hot Pink (Fuchsia), Purple, Red
Print Theme
Alphabet
Product Type
Water Bottles
Travel & Outdoors > Water Bottles
Personalised Water Bottle > School Water Bottle
Personalised Water Bottle > Kids Sports Bottle
Personalised Drink Bottles

School Water Bottles
in White (600ml) with Screw Cap with Alphabet Theme Black (Personalised with Text)
FGBOT002ALP-BLA(P)
5056656362998
£12.99
113 g
21 x 7 x 7cm
School Water Bottles
in Silver (600ml) with Screw Cap with Alphabet Theme Black (Personalised with Text)
FGBOT001ALP-BLA(P)
5056656363001
£12.99
113 g
21 x 7 x 7cm
School Water Bottles
in White (600ml) with Drinking Straw with Alphabet Theme Black (Personalised with Text)
FGBOT005ALP-BLA(P)
5056656363018
£14.99
150 g
23 x 7 x 7cm
School Water Bottles
in Silver (600ml) with Drinking Straw with Alphabet Theme Black (Personalised with Text)
FGBOT004ALP-BLA(P)
5056656363025
£14.99
150 g
23 x 7 x 7cm
School Water Bottles
in White (600ml) with Screw Cap with Alphabet Theme Bright Green (Personalised with Text)
FGBOT002ALP-GBR(P)
5056656363032
£12.99
113 g
21 x 7 x 7cm
School Water Bottles
in Silver (600ml) with Screw Cap with Alphabet Theme Bright Green (Personalised with Text)
FGBOT001ALP-GBR(P)
5056656363049
£12.99
113 g
21 x 7 x 7cm
School Water Bottles
in White (600ml) with Drinking Straw with Alphabet Theme Bright Green (Personalised with Text)
FGBOT005ALP-GBR(P)
5056656363056
£14.99
150 g
23 x 7 x 7cm
School Water Bottles
in Silver (600ml) with Drinking Straw with Alphabet Theme Bright Green (Personalised with Text)
FGBOT004ALP-GBR(P)
5056656363063
£14.99
150 g
23 x 7 x 7cm
School Water Bottles
in White (600ml) with Screw Cap with Alphabet Theme Hot Pink (Fuchsia) (Personalised with Text)
FGBOT002ALP-PFU(P)
5056656363070
£12.99
113 g
21 x 7 x 7cm
School Water Bottles
in Silver (600ml) with Screw Cap with Alphabet Theme Hot Pink (Fuchsia) (Personalised with Text)
FGBOT001ALP-PFU(P)
5056656363087
£12.99
113 g
21 x 7 x 7cm
School Water Bottles
in White (600ml) with Drinking Straw with Alphabet Theme Hot Pink (Fuchsia) (Personalised with Text)
FGBOT005ALP-PFU(P)
5056656363094
£14.99
150 g
23 x 7 x 7cm
School Water Bottles
in Silver (600ml) with Drinking Straw with Alphabet Theme Hot Pink (Fuchsia) (Personalised with Text)
FGBOT004ALP-PFU(P)
5056656363100
£14.99
150 g
23 x 7 x 7cm
School Water Bottles
in White (600ml) with Screw Cap with Alphabet Theme Burnt Orange (Personalised with Text)
FGBOT002ALP-ORA(P)
5056656363117
£12.99
113 g
21 x 7 x 7cm
School Water Bottles
in Silver (600ml) with Screw Cap with Alphabet Theme Burnt Orange (Personalised with Text)
FGBOT001ALP-ORA(P)
5056656363124
£12.99
113 g
21 x 7 x 7cm
School Water Bottles
in White (600ml) with Drinking Straw with Alphabet Theme Burnt Orange (Personalised with Text)
FGBOT005ALP-ORA(P)
5056656363131
£14.99
150 g
23 x 7 x 7cm
School Water Bottles
in Silver (600ml) with Drinking Straw with Alphabet Theme Burnt Orange (Personalised with Text)
FGBOT004ALP-ORA(P)
5056656363148
£14.99
150 g
23 x 7 x 7cm
School Water Bottles
in White (600ml) with Screw Cap with Alphabet Theme Royal Blue (Personalised with Text)
FGBOT002ALP-BRO(P)
5056656363155
£12.99
113 g
21 x 7 x 7cm
School Water Bottles
in Silver (600ml) with Screw Cap with Alphabet Theme Royal Blue (Personalised with Text)
FGBOT001ALP-BRO(P)
5056656363162
£12.99
113 g
21 x 7 x 7cm
School Water Bottles
in White (600ml) with Drinking Straw with Alphabet Theme Royal Blue (Personalised with Text)
FGBOT005ALP-BRO(P)
5056656363179
£14.99
150 g
23 x 7 x 7cm
School Water Bottles
in Silver (600ml) with Drinking Straw with Alphabet Theme Royal Blue (Personalised with Text)
FGBOT004ALP-BRO(P)
5056656363186
£14.99
150 g
23 x 7 x 7cm
School Water Bottles
in White (600ml) with Screw Cap with Alphabet Theme Purple (Personalised with Text)
FGBOT002ALP-PUR(P)
5056656363193
£12.99
113 g
21 x 7 x 7cm
School Water Bottles
in Silver (600ml) with Screw Cap with Alphabet Theme Purple (Personalised with Text)
FGBOT001ALP-PUR(P)
5056656363209
£12.99
113 g
21 x 7 x 7cm
School Water Bottles
in White (600ml) with Drinking Straw with Alphabet Theme Purple (Personalised with Text)
FGBOT005ALP-PUR(P)
5056656363216
£14.99
150 g
23 x 7 x 7cm
School Water Bottles
in Silver (600ml) with Drinking Straw with Alphabet Theme Purple (Personalised with Text)
FGBOT004ALP-PUR(P)
5056656363223
£14.99
150 g
23 x 7 x 7cm
School Water Bottles
in White (600ml) with Screw Cap with Alphabet Theme Sky Blue (Personalised with Text)
FGBOT002ALP-BSK(P)
5056656363230
£12.99
113 g
21 x 7 x 7cm
School Water Bottles
in Silver (600ml) with Screw Cap with Alphabet Theme Sky Blue (Personalised with Text)
FGBOT001ALP-BSK(P)
5056656363247
£12.99
113 g
21 x 7 x 7cm
School Water Bottles
in White (600ml) with Drinking Straw with Alphabet Theme Sky Blue (Personalised with Text)
FGBOT005ALP-BSK(P)
5056656363254
£14.99
150 g
23 x 7 x 7cm
School Water Bottles
in Silver (600ml) with Drinking Straw with Alphabet Theme Sky Blue (Personalised with Text)
FGBOT004ALP-BSK(P)
5056656363261
£14.99
150 g
23 x 7 x 7cm
School Water Bottles
in White (600ml) with Screw Cap with Alphabet Theme Red (Personalised with Text)
FGBOT002ALP-RED(P)
5056656363278
£12.99
113 g
21 x 7 x 7cm
School Water Bottles
in Silver (600ml) with Screw Cap with Alphabet Theme Red (Personalised with Text)
FGBOT001ALP-RED(P)
5056656363285
£12.99
113 g
21 x 7 x 7cm
School Water Bottles
in White (600ml) with Drinking Straw with Alphabet Theme Red (Personalised with Text)
FGBOT005ALP-RED(P)
5056656363292
£14.99
150 g
23 x 7 x 7cm
School Water Bottles
in Silver (600ml) with Drinking Straw with Alphabet Theme Red (Personalised with Text)
FGBOT004ALP-RED(P)
5056656363308
£14.99
150 g
23 x 7 x 7cm
School Water Bottles
in White (400ml) with Screw Cap with Alphabet Theme Black (Personalised with Text)
FGBOT006ALP-BLA(P)
5056656363315
£10.99
95 g
18 x 6 x 6cm
School Water Bottles
in Silver (400ml) with Screw Cap with Alphabet Theme Black (Personalised with Text)
FGBOT007ALP-BLA(P)
5056656363322
£10.99
95 g
18 x 6 x 6cm
School Water Bottles
in White (400ml) with Screw Cap with Alphabet Theme Bright Green (Personalised with Text)
FGBOT006ALP-GBR(P)
5056656363339
£10.99
95 g
18 x 6 x 6cm
School Water Bottles
in Silver (400ml) with Screw Cap with Alphabet Theme Bright Green (Personalised with Text)
FGBOT007ALP-GBR(P)
5056656363346
£10.99
95 g
18 x 6 x 6cm
School Water Bottles
in White (400ml) with Screw Cap with Alphabet Theme Hot Pink (Fuchsia) (Personalised with Text)
FGBOT006ALP-PFU(P)
5056656363353
£10.99
95 g
18 x 6 x 6cm
School Water Bottles
in Silver (400ml) with Screw Cap with Alphabet Theme Hot Pink (Fuchsia) (Personalised with Text)
FGBOT007ALP-PFU(P)
5056656363360
£10.99
95 g
18 x 6 x 6cm
School Water Bottles
in White (400ml) with Screw Cap with Alphabet Theme Burnt Orange (Personalised with Text)
FGBOT006ALP-ORA(P)
5056656363377
£10.99
95 g
18 x 6 x 6cm
School Water Bottles
in Silver (400ml) with Screw Cap with Alphabet Theme Burnt Orange (Personalised with Text)
FGBOT007ALP-ORA(P)
5056656363384
£10.99
95 g
18 x 6 x 6cm
School Water Bottles
in White (400ml) with Screw Cap with Alphabet Theme Royal Blue (Personalised with Text)
FGBOT006ALP-BRO(P)
5060089255604
£10.99
95 g
18 x 6 x 6cm
School Water Bottles
in Silver (400ml) with Screw Cap with Alphabet Theme Royal Blue (Personalised with Text)
FGBOT007ALP-BRO(P)
5056656363391
£10.99
95 g
18 x 6 x 6cm
School Water Bottles
in White (400ml) with Screw Cap with Alphabet Theme Purple (Personalised with Text)
FGBOT006ALP-PUR(P)
5056656363407
£10.99
95 g
18 x 6 x 6cm
School Water Bottles
in Silver (400ml) with Screw Cap with Alphabet Theme Purple (Personalised with Text)
FGBOT007ALP-PUR(P)
5056656363414
£10.99
95 g
18 x 6 x 6cm
School Water Bottles
in White (400ml) with Screw Cap with Alphabet Theme Sky Blue (Personalised with Text)
FGBOT006ALP-BSK(P)
5056656363421
£10.99
95 g
18 x 6 x 6cm
School Water Bottles
in Silver (400ml) with Screw Cap with Alphabet Theme Sky Blue (Personalised with Text)
FGBOT007ALP-BSK(P)
5056656363438
£10.99
95 g
18 x 6 x 6cm
School Water Bottles
in White (400ml) with Screw Cap with Alphabet Theme Red (Personalised with Text)
FGBOT006ALP-RED(P)
5056656363445
£10.99
95 g
18 x 6 x 6cm
School Water Bottles
in Silver (400ml) with Screw Cap with Alphabet Theme Red (Personalised with Text)
FGBOT007ALP-RED(P)
5056656363452
£10.99
95 g
18 x 6 x 6cm
School Water Bottles