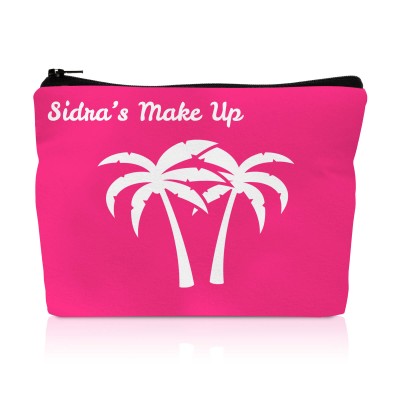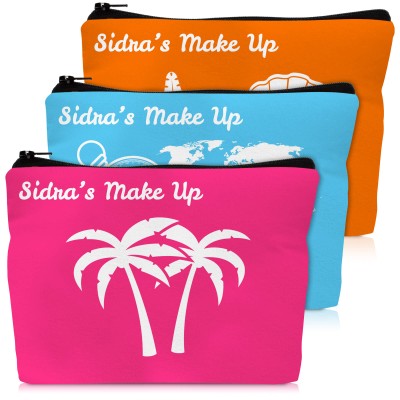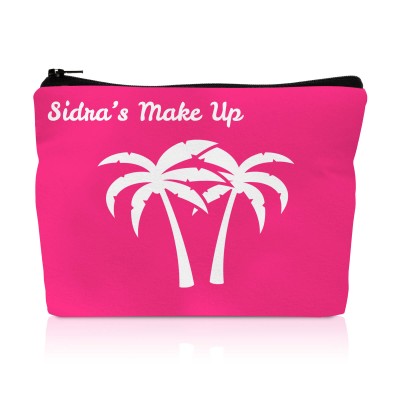 UK Made
Zips - Oeko-Tex
Description
Travel Makeup Bag personalised with text and fun icon of your choosing makes for a great companion for your travels.
UK Made Personalised Makeup Bag.
Different sizes to choose from.
Icon and colour options.
Add your own personalised text or message.
Beautiful colours will make your cosmetic travel bag stand out.
Trusted HappySnapGifts® UK Made brand.
This Makeup travel case is made from a mock-suede fabric to ensure it lasts and the colour does not fade over time. Each Makeup Brush Holder comes with a quality black zipper to keep all your makeup safe.
Over time you will of course want to clean your Makeup Bag, no problem, put it in the washing machine and it will be ready to use again and look just as good as it did brand new!
Reviews
Delivery
The information below is for guidance. Actual delivery costs and dates depend on the delivery address, weight and time your order is placed. Cut-off time for Overnight Orders is 12 noon.
| Price | Method | Manufacture Time | Delivery Time | Est. Delivery Date |
| --- | --- | --- | --- | --- |
| £3.99 | 2nd Class (Tracked LL) | 0-3 Days | 2-3 Days | Mon 25 Sep - Fri 29 Sep |
| £5.99 | 1st Class (Tracked LL) | 0-3 Days | 1-2 Days | Fri 22 Sep - Thu 28 Sep |
| £12.94 | DHL Courier (Economy M-F Pre 6pm) | 0-3 Days | 2-3 Days | Mon 25 Sep - Fri 29 Sep |
| £12.99 | Royal Mail Special Delivery (Overnight Mon-Sat Pre 1pm) | Tomorrow | Next Day (Mon-Sat) | Mon 25 Sep |
More Information
| | |
| --- | --- |
| Despatch | 0-3 Days (to Personalise) or Upgrade at Checkout for Overnight Delivery |
| Brand | HappySnapGifts® |
| RRP | £12.99 |
| Country of Origin | United Kingdom |
| SKU | FGCOS004(R20x14)PMS--PALPFU(P) |
| Gtin | 5056656306121 |
| Tariff Code | 42029291 |
| Tariff Description | Bag - Toilet Bag |
| Product Weight | 30 g |
| Product Dimensions | 14 x 20 x 5cm |
Product Options
Makeup Bag Size
Small (20cm x 14cm), Large (30cm x 20cm)
Fabric
Mock Suede Polyester
Colour
Hot Pink (Fuchsia), Sky Blue, Burnt Orange, Teal, Purple, Bright Green, Red, Tartan Check, Black
Icon
Palm Trees, Globe & Compass, Starfish & Shell, Drinks, Aeroplanes, Sunglasses
Product Type
Bag - Personalised Makeup Bag
Personalised Gifts > Personalised Bags
Personalised Cosmetic Bag
Cosmetic Bag

Travel Makeup Bag
Small (20cm x 14cm) (Drinks Icon) Hot Pink (Fuchsia) Mock Suede Polyester Fabric (Personalised with Text)
FGCOS004(R20x14)PMS--DRIPFU(P)
5056656306114
£12.99
30 g
14 x 20 x 5cm
Travel Makeup Bag
Large (30cm x 20cm) (Drinks Icon) Hot Pink (Fuchsia) Mock Suede Polyester Fabric (Personalised with Text)
FGCOS004(R30x20)PMS--DRIPFU(P)
5056656306114
£14.99
48 g
20 x 30 x 5cm
Travel Makeup Bag
Small (20cm x 14cm) (Drinks Icon) Sky Blue Mock Suede Polyester Fabric (Personalised with Text)
FGCOS004(R20x14)PMS--DRIBSK(P)
5056656306114
£12.99
30 g
14 x 20 x 5cm
Travel Makeup Bag
Large (30cm x 20cm) (Drinks Icon) Sky Blue Mock Suede Polyester Fabric (Personalised with Text)
FGCOS004(R30x20)PMS--DRIBSK(P)
5056656306114
£14.99
48 g
20 x 30 x 5cm
Travel Makeup Bag
Small (20cm x 14cm) (Drinks Icon) Burnt Orange Mock Suede Polyester Fabric (Personalised with Text)
FGCOS004(R20x14)PMS--DRIORA(P)
5056656306114
£12.99
30 g
14 x 20 x 5cm
Travel Makeup Bag
Large (30cm x 20cm) (Drinks Icon) Burnt Orange Mock Suede Polyester Fabric (Personalised with Text)
FGCOS004(R30x20)PMS--DRIORA(P)
5056656306114
£14.99
48 g
20 x 30 x 5cm
Travel Makeup Bag
Small (20cm x 14cm) (Drinks Icon) Teal Mock Suede Polyester Fabric (Personalised with Text)
FGCOS004(R20x14)PMS--DRITEA(P)
5056656306114
£12.99
30 g
14 x 20 x 5cm
Travel Makeup Bag
Large (30cm x 20cm) (Drinks Icon) Teal Mock Suede Polyester Fabric (Personalised with Text)
FGCOS004(R30x20)PMS--DRITEA(P)
5056656306114
£14.99
48 g
20 x 30 x 5cm
Travel Makeup Bag
Small (20cm x 14cm) (Drinks Icon) Purple Mock Suede Polyester Fabric (Personalised with Text)
FGCOS004(R20x14)PMS--DRIPUR(P)
5056656306114
£12.99
30 g
14 x 20 x 5cm
Travel Makeup Bag
Large (30cm x 20cm) (Drinks Icon) Purple Mock Suede Polyester Fabric (Personalised with Text)
FGCOS004(R30x20)PMS--DRIPUR(P)
5056656306114
£14.99
48 g
20 x 30 x 5cm
Travel Makeup Bag
Small (20cm x 14cm) (Drinks Icon) Bright Green Mock Suede Polyester Fabric (Personalised with Text)
FGCOS004(R20x14)PMS--DRIGBR(P)
5056656306114
£12.99
30 g
14 x 20 x 5cm
Travel Makeup Bag
Large (30cm x 20cm) (Drinks Icon) Bright Green Mock Suede Polyester Fabric (Personalised with Text)
FGCOS004(R30x20)PMS--DRIGBR(P)
5056656306114
£14.99
48 g
20 x 30 x 5cm
Travel Makeup Bag
Small (20cm x 14cm) (Drinks Icon) Red Mock Suede Polyester Fabric (Personalised with Text)
FGCOS004(R20x14)PMS--DRIRED(P)
5056656306114
£12.99
30 g
14 x 20 x 5cm
Travel Makeup Bag
Large (30cm x 20cm) (Drinks Icon) Red Mock Suede Polyester Fabric (Personalised with Text)
FGCOS004(R30x20)PMS--DRIRED(P)
5056656306114
£14.99
48 g
20 x 30 x 5cm
Travel Makeup Bag
Small (20cm x 14cm) (Drinks Icon) - Tartan Check Mock Suede Polyester Fabric (Personalised with Text)
FGCOS004(R20x14)PMS--DRITA01(P)
5056656306114
£12.99
30 g
14 x 20 x 5cm
Travel Makeup Bag
Large (30cm x 20cm) (Drinks Icon) - Tartan Check Mock Suede Polyester Fabric (Personalised with Text)
FGCOS004(R30x20)PMS--DRITA01(P)
5056656306114
£14.99
48 g
20 x 30 x 5cm
Travel Makeup Bag
Small (20cm x 14cm) (Drinks Icon) Black Mock Suede Polyester Fabric (Personalised with Text)
FGCOS004(R20x14)PMS--DRIBLA(P)
5056656306114
£12.99
30 g
14 x 20 x 5cm
Travel Makeup Bag
Large (30cm x 20cm) (Drinks Icon) Black Mock Suede Polyester Fabric (Personalised with Text)
FGCOS004(R30x20)PMS--DRIBLA(P)
5056656306114
£14.99
48 g
20 x 30 x 5cm
Travel Makeup Bag
Small (20cm x 14cm) (Globe and Compass Icon) Hot Pink (Fuchsia) Mock Suede Polyester Fabric (Personalised with Text)
FGCOS004(R20x14)PMS-GLCPFU(P)
5056656306114
£12.99
30 g
14 x 20 x 5cm
Travel Makeup Bag
Large (30cm x 20cm) (Globe and Compass Icon) Hot Pink (Fuchsia) Mock Suede Polyester Fabric (Personalised with Text)
FGCOS004(R30x20)PMS-GLCPFU(P)
5056656306114
£14.99
48 g
20 x 30 x 5cm
Travel Makeup Bag
Small (20cm x 14cm) (Globe and Compass Icon) Sky Blue Mock Suede Polyester Fabric (Personalised with Text)
FGCOS004(R20x14)PMS-GLCBSK(P)
5056656306114
£12.99
30 g
14 x 20 x 5cm
Travel Makeup Bag
Large (30cm x 20cm) (Globe and Compass Icon) Sky Blue Mock Suede Polyester Fabric (Personalised with Text)
FGCOS004(R30x20)PMS-GLCBSK(P)
5056656306114
£14.99
48 g
20 x 30 x 5cm
Travel Makeup Bag
Small (20cm x 14cm) (Globe and Compass Icon) Burnt Orange Mock Suede Polyester Fabric (Personalised with Text)
FGCOS004(R20x14)PMS-GLCORA(P)
5056656306114
£12.99
30 g
14 x 20 x 5cm
Travel Makeup Bag
Large (30cm x 20cm) (Globe and Compass Icon) Burnt Orange Mock Suede Polyester Fabric (Personalised with Text)
FGCOS004(R30x20)PMS-GLCORA(P)
5056656306114
£14.99
48 g
20 x 30 x 5cm
Travel Makeup Bag
Small (20cm x 14cm) (Globe and Compass Icon) Teal Mock Suede Polyester Fabric (Personalised with Text)
FGCOS004(R20x14)PMS-GLCTEA(P)
5056656306114
£12.99
30 g
14 x 20 x 5cm
Travel Makeup Bag
Large (30cm x 20cm) (Globe and Compass Icon) Teal Mock Suede Polyester Fabric (Personalised with Text)
FGCOS004(R30x20)PMS-GLCTEA(P)
5056656306114
£14.99
48 g
20 x 30 x 5cm
Travel Makeup Bag
Small (20cm x 14cm) (Globe and Compass Icon) Purple Mock Suede Polyester Fabric (Personalised with Text)
FGCOS004(R20x14)PMS-GLCPUR(P)
5056656306114
£12.99
30 g
14 x 20 x 5cm
Travel Makeup Bag
Large (30cm x 20cm) (Globe and Compass Icon) Purple Mock Suede Polyester Fabric (Personalised with Text)
FGCOS004(R30x20)PMS-GLCPUR(P)
5056656306114
£14.99
48 g
20 x 30 x 5cm
Travel Makeup Bag
Small (20cm x 14cm) (Globe and Compass Icon) Bright Green Mock Suede Polyester Fabric (Personalised with Text)
FGCOS004(R20x14)PMS-GLCGBR(P)
5056656306114
£12.99
30 g
14 x 20 x 5cm
Travel Makeup Bag
Large (30cm x 20cm) (Globe and Compass Icon) Bright Green Mock Suede Polyester Fabric (Personalised with Text)
FGCOS004(R30x20)PMS-GLCGBR(P)
5056656306114
£14.99
48 g
20 x 30 x 5cm
Travel Makeup Bag
Small (20cm x 14cm) (Globe and Compass Icon) Red Mock Suede Polyester Fabric (Personalised with Text)
FGCOS004(R20x14)PMS-GLCRED(P)
5056656306114
£12.99
30 g
14 x 20 x 5cm
Travel Makeup Bag
Large (30cm x 20cm) (Globe and Compass Icon) Red Mock Suede Polyester Fabric (Personalised with Text)
FGCOS004(R30x20)PMS-GLCRED(P)
5056656306114
£14.99
48 g
20 x 30 x 5cm
Travel Makeup Bag
Small (20cm x 14cm) (Globe and Compass Icon) - Tartan Check Mock Suede Polyester Fabric (Personalised with Text)
FGCOS004(R20x14)PMS-GLCTA01(P)
5056656306114
£12.99
30 g
14 x 20 x 5cm
Travel Makeup Bag
Large (30cm x 20cm) (Globe and Compass Icon) - Tartan Check Mock Suede Polyester Fabric (Personalised with Text)
FGCOS004(R30x20)PMS-GLCTA01(P)
5056656306114
£14.99
48 g
20 x 30 x 5cm
Travel Makeup Bag
Small (20cm x 14cm) (Globe and Compass Icon) Black Mock Suede Polyester Fabric (Personalised with Text)
FGCOS004(R20x14)PMS-GLCBLA(P)
5056656306114
£12.99
30 g
14 x 20 x 5cm
Travel Makeup Bag
Large (30cm x 20cm) (Globe and Compass Icon) Black Mock Suede Polyester Fabric (Personalised with Text)
FGCOS004(R30x20)PMS-GLCBLA(P)
5056656306114
£14.99
48 g
20 x 30 x 5cm
Travel Makeup Bag
Small (20cm x 14cm) (Palm Trees Icon) Hot Pink (Fuchsia) Mock Suede Polyester Fabric (Personalised with Text)
FGCOS004(R20x14)PMS--PALPFU(P)
5056656306121
£12.99
30 g
14 x 20 x 5cm
Travel Makeup Bag
Large (30cm x 20cm) (Palm Trees Icon) Hot Pink (Fuchsia) Mock Suede Polyester Fabric (Personalised with Text)
FGCOS004(R30x20)PMS--PALPFU(P)
5056656306114
£14.99
48 g
20 x 30 x 5cm
Travel Makeup Bag
Small (20cm x 14cm) (Palm Trees Icon) Sky Blue Mock Suede Polyester Fabric (Personalised with Text)
FGCOS004(R20x14)PMS--PALBSK(P)
5056656306114
£12.99
30 g
14 x 20 x 5cm
Travel Makeup Bag
Large (30cm x 20cm) (Palm Trees Icon) Sky Blue Mock Suede Polyester Fabric (Personalised with Text)
FGCOS004(R30x20)PMS--PALBSK(P)
5056656306114
£14.99
48 g
20 x 30 x 5cm
Travel Makeup Bag
Small (20cm x 14cm) (Palm Trees Icon) Burnt Orange Mock Suede Polyester Fabric (Personalised with Text)
FGCOS004(R20x14)PMS--PALORA(P)
5056656306114
£12.99
30 g
14 x 20 x 5cm
Travel Makeup Bag
Large (30cm x 20cm) (Palm Trees Icon) Burnt Orange Mock Suede Polyester Fabric (Personalised with Text)
FGCOS004(R30x20)PMS--PALORA(P)
5056656306114
£14.99
48 g
20 x 30 x 5cm
Travel Makeup Bag
Small (20cm x 14cm) (Palm Trees Icon) Teal Mock Suede Polyester Fabric (Personalised with Text)
FGCOS004(R20x14)PMS--PALTEA(P)
5056656306114
£12.99
30 g
14 x 20 x 5cm
Travel Makeup Bag
Large (30cm x 20cm) (Palm Trees Icon) Teal Mock Suede Polyester Fabric (Personalised with Text)
FGCOS004(R30x20)PMS--PALTEA(P)
5056656306114
£14.99
48 g
20 x 30 x 5cm
Travel Makeup Bag
Small (20cm x 14cm) (Palm Trees Icon) Purple Mock Suede Polyester Fabric (Personalised with Text)
FGCOS004(R20x14)PMS--PALPUR(P)
5056656306114
£12.99
30 g
14 x 20 x 5cm
Travel Makeup Bag
Large (30cm x 20cm) (Palm Trees Icon) Purple Mock Suede Polyester Fabric (Personalised with Text)
FGCOS004(R30x20)PMS--PALPUR(P)
5056656306114
£14.99
48 g
20 x 30 x 5cm
Travel Makeup Bag
Small (20cm x 14cm) (Palm Trees Icon) Bright Green Mock Suede Polyester Fabric (Personalised with Text)
FGCOS004(R20x14)PMS--PALGBR(P)
5056656306114
£12.99
30 g
14 x 20 x 5cm
Travel Makeup Bag
Large (30cm x 20cm) (Palm Trees Icon) Bright Green Mock Suede Polyester Fabric (Personalised with Text)
FGCOS004(R30x20)PMS--PALGBR(P)
5056656306114
£14.99
48 g
20 x 30 x 5cm
Travel Makeup Bag
Small (20cm x 14cm) (Palm Trees Icon) Red Mock Suede Polyester Fabric (Personalised with Text)
FGCOS004(R20x14)PMS--PALRED(P)
5056656306114
£12.99
30 g
14 x 20 x 5cm
Travel Makeup Bag
Large (30cm x 20cm) (Palm Trees Icon) Red Mock Suede Polyester Fabric (Personalised with Text)
FGCOS004(R30x20)PMS--PALRED(P)
5056656306114
£14.99
48 g
20 x 30 x 5cm
Travel Makeup Bag
Small (20cm x 14cm) (Palm Trees Icon) - Tartan Check Mock Suede Polyester Fabric (Personalised with Text)
FGCOS004(R20x14)PMS--PALTA01(P)
5056656306114
£12.99
30 g
14 x 20 x 5cm
Travel Makeup Bag
Large (30cm x 20cm) (Palm Trees Icon) - Tartan Check Mock Suede Polyester Fabric (Personalised with Text)
FGCOS004(R30x20)PMS--PALTA01(P)
5056656306114
£14.99
48 g
20 x 30 x 5cm
Travel Makeup Bag
Small (20cm x 14cm) (Palm Trees Icon) Black Mock Suede Polyester Fabric (Personalised with Text)
FGCOS004(R20x14)PMS--PALBLA(P)
5056656306114
£12.99
30 g
14 x 20 x 5cm
Travel Makeup Bag
Large (30cm x 20cm) (Palm Trees Icon) Black Mock Suede Polyester Fabric (Personalised with Text)
FGCOS004(R30x20)PMS--PALBLA(P)
5056656306114
£14.99
48 g
20 x 30 x 5cm
Travel Makeup Bag
Small (20cm x 14cm) (Plane Icon) Hot Pink (Fuchsia) Mock Suede Polyester Fabric (Personalised with Text)
FGCOS004(R20x14)PMS--PLAPFU(P)
5056656306114
£12.99
30 g
14 x 20 x 5cm
Travel Makeup Bag
Large (30cm x 20cm) (Plane Icon) Hot Pink (Fuchsia) Mock Suede Polyester Fabric (Personalised with Text)
FGCOS004(R30x20)PMS--PLAPFU(P)
5056656306114
£14.99
48 g
20 x 30 x 5cm
Travel Makeup Bag
Small (20cm x 14cm) (Plane Icon) Sky Blue Mock Suede Polyester Fabric (Personalised with Text)
FGCOS004(R20x14)PMS--PLABSK(P)
5056656306114
£12.99
30 g
14 x 20 x 5cm
Travel Makeup Bag
Large (30cm x 20cm) (Plane Icon) Sky Blue Mock Suede Polyester Fabric (Personalised with Text)
FGCOS004(R30x20)PMS--PLABSK(P)
5056656306114
£14.99
48 g
20 x 30 x 5cm
Travel Makeup Bag
Small (20cm x 14cm) (Plane Icon) Burnt Orange Mock Suede Polyester Fabric (Personalised with Text)
FGCOS004(R20x14)PMS--PLAORA(P)
5056656306114
£12.99
30 g
14 x 20 x 5cm
Travel Makeup Bag
Large (30cm x 20cm) (Plane Icon) Burnt Orange Mock Suede Polyester Fabric (Personalised with Text)
FGCOS004(R30x20)PMS--PLAORA(P)
5056656306114
£14.99
48 g
20 x 30 x 5cm
Travel Makeup Bag
Small (20cm x 14cm) (Plane Icon) Teal Mock Suede Polyester Fabric (Personalised with Text)
FGCOS004(R20x14)PMS--PLATEA(P)
5056656306114
£12.99
30 g
14 x 20 x 5cm
Travel Makeup Bag
Large (30cm x 20cm) (Plane Icon) Teal Mock Suede Polyester Fabric (Personalised with Text)
FGCOS004(R30x20)PMS--PLATEA(P)
5056656306114
£14.99
48 g
20 x 30 x 5cm
Travel Makeup Bag
Small (20cm x 14cm) (Plane Icon) Purple Mock Suede Polyester Fabric (Personalised with Text)
FGCOS004(R20x14)PMS--PLAPUR(P)
5056656306114
£12.99
30 g
14 x 20 x 5cm
Travel Makeup Bag
Large (30cm x 20cm) (Plane Icon) Purple Mock Suede Polyester Fabric (Personalised with Text)
FGCOS004(R30x20)PMS--PLAPUR(P)
5056656306114
£14.99
48 g
20 x 30 x 5cm
Travel Makeup Bag
Small (20cm x 14cm) (Plane Icon) Bright Green Mock Suede Polyester Fabric (Personalised with Text)
FGCOS004(R20x14)PMS--PLAGBR(P)
5056656306114
£12.99
30 g
14 x 20 x 5cm
Travel Makeup Bag
Large (30cm x 20cm) (Plane Icon) Bright Green Mock Suede Polyester Fabric (Personalised with Text)
FGCOS004(R30x20)PMS--PLAGBR(P)
5056656306114
£14.99
48 g
20 x 30 x 5cm
Travel Makeup Bag
Small (20cm x 14cm) (Plane Icon) Red Mock Suede Polyester Fabric (Personalised with Text)
FGCOS004(R20x14)PMS--PLARED(P)
5056656306114
£12.99
30 g
14 x 20 x 5cm
Travel Makeup Bag
Large (30cm x 20cm) (Plane Icon) Red Mock Suede Polyester Fabric (Personalised with Text)
FGCOS004(R30x20)PMS--PLARED(P)
5056656306114
£14.99
48 g
20 x 30 x 5cm
Travel Makeup Bag
Small (20cm x 14cm) (Plane Icon) - Tartan Check Mock Suede Polyester Fabric (Personalised with Text)
FGCOS004(R20x14)PMS--PLATA01(P)
5056656306114
£12.99
30 g
14 x 20 x 5cm
Travel Makeup Bag
Large (30cm x 20cm) (Plane Icon) - Tartan Check Mock Suede Polyester Fabric (Personalised with Text)
FGCOS004(R30x20)PMS--PLATA01(P)
5056656306114
£14.99
48 g
20 x 30 x 5cm
Travel Makeup Bag
Small (20cm x 14cm) (Plane Icon) Black Mock Suede Polyester Fabric (Personalised with Text)
FGCOS004(R20x14)PMS--PLABLA(P)
5056656306114
£12.99
30 g
14 x 20 x 5cm
Travel Makeup Bag
Large (30cm x 20cm) (Plane Icon) Black Mock Suede Polyester Fabric (Personalised with Text)
FGCOS004(R30x20)PMS--PLABLA(P)
5056656306114
£14.99
48 g
20 x 30 x 5cm
Travel Makeup Bag
Small (20cm x 14cm) (Starfish Icon) Hot Pink (Fuchsia) Mock Suede Polyester Fabric (Personalised with Text)
FGCOS004(R20x14)PMS-STSPFU(P)
5056656306114
£12.99
30 g
14 x 20 x 5cm
Travel Makeup Bag
Large (30cm x 20cm) (Starfish Icon) Hot Pink (Fuchsia) Mock Suede Polyester Fabric (Personalised with Text)
FGCOS004(R30x20)PMS-STSPFU(P)
5056656306114
£14.99
48 g
20 x 30 x 5cm
Travel Makeup Bag
Small (20cm x 14cm) (Starfish Icon) Sky Blue Mock Suede Polyester Fabric (Personalised with Text)
FGCOS004(R20x14)PMS-STSBSK(P)
5056656306114
£12.99
30 g
14 x 20 x 5cm
Travel Makeup Bag
Large (30cm x 20cm) (Starfish Icon) Sky Blue Mock Suede Polyester Fabric (Personalised with Text)
FGCOS004(R30x20)PMS-STSBSK(P)
5056656306114
£14.99
48 g
20 x 30 x 5cm
Travel Makeup Bag
Small (20cm x 14cm) (Starfish Icon) Burnt Orange Mock Suede Polyester Fabric (Personalised with Text)
FGCOS004(R20x14)PMS-STSORA(P)
5056656306114
£12.99
30 g
14 x 20 x 5cm
Travel Makeup Bag
Large (30cm x 20cm) (Starfish Icon) Burnt Orange Mock Suede Polyester Fabric (Personalised with Text)
FGCOS004(R30x20)PMS-STSORA(P)
5056656306114
£14.99
48 g
20 x 30 x 5cm
Travel Makeup Bag
Small (20cm x 14cm) (Starfish Icon) Teal Mock Suede Polyester Fabric (Personalised with Text)
FGCOS004(R20x14)PMS-STSTEA(P)
5056656306114
£12.99
30 g
14 x 20 x 5cm
Travel Makeup Bag
Large (30cm x 20cm) (Starfish Icon) Teal Mock Suede Polyester Fabric (Personalised with Text)
FGCOS004(R30x20)PMS-STSTEA(P)
5056656306114
£14.99
48 g
20 x 30 x 5cm
Travel Makeup Bag
Small (20cm x 14cm) (Starfish Icon) Purple Mock Suede Polyester Fabric (Personalised with Text)
FGCOS004(R20x14)PMS-STSPUR(P)
5056656306114
£12.99
30 g
14 x 20 x 5cm
Travel Makeup Bag
Large (30cm x 20cm) (Starfish Icon) Purple Mock Suede Polyester Fabric (Personalised with Text)
FGCOS004(R30x20)PMS-STSPUR(P)
5056656306114
£14.99
48 g
20 x 30 x 5cm
Travel Makeup Bag
Small (20cm x 14cm) (Starfish Icon) Bright Green Mock Suede Polyester Fabric (Personalised with Text)
FGCOS004(R20x14)PMS-STSGBR(P)
5056656306114
£12.99
30 g
14 x 20 x 5cm
Travel Makeup Bag
Large (30cm x 20cm) (Starfish Icon) Bright Green Mock Suede Polyester Fabric (Personalised with Text)
FGCOS004(R30x20)PMS-STSGBR(P)
5056656306114
£14.99
48 g
20 x 30 x 5cm
Travel Makeup Bag
Small (20cm x 14cm) (Starfish Icon) Red Mock Suede Polyester Fabric (Personalised with Text)
FGCOS004(R20x14)PMS-STSRED(P)
5056656306114
£12.99
30 g
14 x 20 x 5cm
Travel Makeup Bag
Large (30cm x 20cm) (Starfish Icon) Red Mock Suede Polyester Fabric (Personalised with Text)
FGCOS004(R30x20)PMS-STSRED(P)
5056656306114
£14.99
48 g
20 x 30 x 5cm
Travel Makeup Bag
Small (20cm x 14cm) (Starfish Icon) - Tartan Check Mock Suede Polyester Fabric (Personalised with Text)
FGCOS004(R20x14)PMS-STSTA01(P)
5056656306114
£12.99
30 g
14 x 20 x 5cm
Travel Makeup Bag
Large (30cm x 20cm) (Starfish Icon) - Tartan Check Mock Suede Polyester Fabric (Personalised with Text)
FGCOS004(R30x20)PMS-STSTA01(P)
5056656306114
£14.99
48 g
20 x 30 x 5cm
Travel Makeup Bag
Small (20cm x 14cm) (Starfish Icon) Black Mock Suede Polyester Fabric (Personalised with Text)
FGCOS004(R20x14)PMS-STSBLA(P)
5056656306114
£12.99
30 g
14 x 20 x 5cm
Travel Makeup Bag
Large (30cm x 20cm) (Starfish Icon) Black Mock Suede Polyester Fabric (Personalised with Text)
FGCOS004(R30x20)PMS-STSBLA(P)
5056656306114
£14.99
48 g
20 x 30 x 5cm
Travel Makeup Bag
Small (20cm x 14cm) (Sunglasses Icon) Hot Pink (Fuchsia) Mock Suede Polyester Fabric (Personalised with Text)
FGCOS004(R20x14)PMS--SUGPFU(P)
5056656306114
£12.99
30 g
14 x 20 x 5cm
Travel Makeup Bag
Large (30cm x 20cm) (Sunglasses Icon) Hot Pink (Fuchsia) Mock Suede Polyester Fabric (Personalised with Text)
FGCOS004(R30x20)PMS--SUGPFU(P)
5056656306114
£14.99
48 g
20 x 30 x 5cm
Travel Makeup Bag
Small (20cm x 14cm) (Sunglasses Icon) Sky Blue Mock Suede Polyester Fabric (Personalised with Text)
FGCOS004(R20x14)PMS--SUGBSK(P)
5056656306114
£12.99
30 g
14 x 20 x 5cm
Travel Makeup Bag
Large (30cm x 20cm) (Sunglasses Icon) Sky Blue Mock Suede Polyester Fabric (Personalised with Text)
FGCOS004(R30x20)PMS--SUGBSK(P)
5056656306114
£14.99
48 g
20 x 30 x 5cm
Travel Makeup Bag
Small (20cm x 14cm) (Sunglasses Icon) Burnt Orange Mock Suede Polyester Fabric (Personalised with Text)
FGCOS004(R20x14)PMS--SUGORA(P)
5056656306114
£12.99
30 g
14 x 20 x 5cm
Travel Makeup Bag
Large (30cm x 20cm) (Sunglasses Icon) Burnt Orange Mock Suede Polyester Fabric (Personalised with Text)
FGCOS004(R30x20)PMS--SUGORA(P)
5056656306114
£14.99
48 g
20 x 30 x 5cm
Travel Makeup Bag
Small (20cm x 14cm) (Sunglasses Icon) Teal Mock Suede Polyester Fabric (Personalised with Text)
FGCOS004(R20x14)PMS--SUGTEA(P)
5056656306114
£12.99
30 g
14 x 20 x 5cm
Travel Makeup Bag
Large (30cm x 20cm) (Sunglasses Icon) Teal Mock Suede Polyester Fabric (Personalised with Text)
FGCOS004(R30x20)PMS--SUGTEA(P)
5056656306114
£14.99
48 g
20 x 30 x 5cm
Travel Makeup Bag
Small (20cm x 14cm) (Sunglasses Icon) Purple Mock Suede Polyester Fabric (Personalised with Text)
FGCOS004(R20x14)PMS--SUGPUR(P)
5056656306114
£12.99
30 g
14 x 20 x 5cm
Travel Makeup Bag
Large (30cm x 20cm) (Sunglasses Icon) Purple Mock Suede Polyester Fabric (Personalised with Text)
FGCOS004(R30x20)PMS--SUGPUR(P)
5056656306114
£14.99
48 g
20 x 30 x 5cm
Travel Makeup Bag
Small (20cm x 14cm) (Sunglasses Icon) Bright Green Mock Suede Polyester Fabric (Personalised with Text)
FGCOS004(R20x14)PMS--SUGGBR(P)
5056656306114
£12.99
30 g
14 x 20 x 5cm
Travel Makeup Bag
Large (30cm x 20cm) (Sunglasses Icon) Bright Green Mock Suede Polyester Fabric (Personalised with Text)
FGCOS004(R30x20)PMS--SUGGBR(P)
5056656306114
£14.99
48 g
20 x 30 x 5cm
Travel Makeup Bag
Small (20cm x 14cm) (Sunglasses Icon) Red Mock Suede Polyester Fabric (Personalised with Text)
FGCOS004(R20x14)PMS--SUGRED(P)
5056656306114
£12.99
30 g
14 x 20 x 5cm
Travel Makeup Bag
Large (30cm x 20cm) (Sunglasses Icon) Red Mock Suede Polyester Fabric (Personalised with Text)
FGCOS004(R30x20)PMS--SUGRED(P)
5056656306114
£14.99
48 g
20 x 30 x 5cm
Travel Makeup Bag
Small (20cm x 14cm) (Sunglasses Icon) - Tartan Check Mock Suede Polyester Fabric (Personalised with Text)
FGCOS004(R20x14)PMS--SUGTA01(P)
5056656306114
£12.99
30 g
14 x 20 x 5cm
Travel Makeup Bag
Large (30cm x 20cm) (Sunglasses Icon) - Tartan Check Mock Suede Polyester Fabric (Personalised with Text)
FGCOS004(R30x20)PMS--SUGTA01(P)
5056656306114
£14.99
48 g
20 x 30 x 5cm
Travel Makeup Bag
Small (20cm x 14cm) (Sunglasses Icon) Black Mock Suede Polyester Fabric (Personalised with Text)
FGCOS004(R20x14)PMS--SUGBLA(P)
5056656306114
£12.99
30 g
14 x 20 x 5cm
Travel Makeup Bag
Large (30cm x 20cm) (Sunglasses Icon) Black Mock Suede Polyester Fabric (Personalised with Text)
FGCOS004(R30x20)PMS--SUGBLA(P)
5056656306114
£14.99
48 g
20 x 30 x 5cm
Travel Makeup Bag