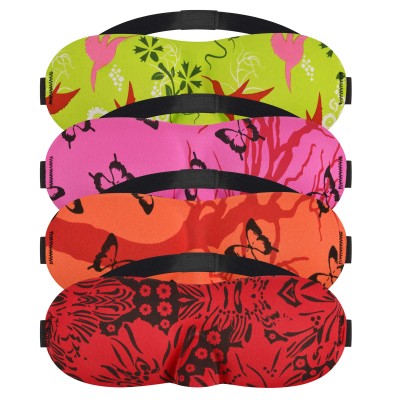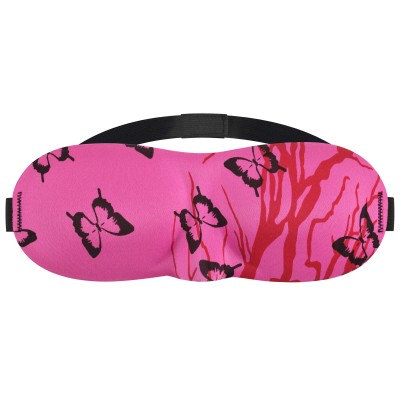 Description
3D Sleep Masks made from a premium thick contoured fabric as one of the most luxurious 3D Beauty Masks in stunning Printed Design Options.
Contoured Beauty Sleep Mask.
Stunning Printed Designs.
Premium quality moulded fabrics.
UK Stock on Fast Despatch.
Trusted HappySnapGifts® brand.
Reviews
The answer to a good day's sleep on night duty.
- These are excellent masks. More expensive than the other 3D masks they sell, but much higher quality. More depth and comfort to wear. You can open & close your eyes wearing these. (Paddi, 06/06/21)
protect from flat eyelashes
- As i have long natural eyelashes normal eye masks kept flattening them, so this 3D one was perfect when it came to the needed purpose but also blocking the light and being able to get a good sleep. (Alesha, 28/02/20)
Stops my lashes touching the mask
- I need eye masks to get a good night sleep, but hate the feeling of them pushing against your eyes, these are the solution and mean I can open my eyes when using the mask without my lashes getting squashed. (Chelsea , 28/02/20)
3D Sleep Mask are AMAZING!
- I bought a pack of 2 of these 3d sleep masks for me and my gf. We chose the shoe flower on red colour. Best sleep we have ever had on a plane!!! (Freddy L, 26/02/20)
Delivery
The information below is for guidance. Actual delivery costs and dates depend on the delivery address, weight and time your order is placed. Cut-off time for Overnight Orders is 12 noon.
| Price | Method | Manufacture Time | Delivery Time | Est. Delivery Date |
| --- | --- | --- | --- | --- |
| £3.95 | 2nd Class (Tracked) | 0-1 Days | 2-3 Days | Thu 30 Mar - Mon 3 Apr |
| £4.99 | 1st Class (Tracked) | 0-1 Days | 1-2 Days | Wed 29 Mar - Fri 31 Mar |
| £12.94 | DHL Courier (Economy M-F Pre 6pm) | 0-1 Days | 2-3 Days | Thu 30 Mar - Mon 3 Apr |
| £12.99 | Royal Mail (Special Delivery Overnight Mon-Sat Pre 1pm) | Today | Next Day (Mon-Sat) | Mon 27 Mar |
| £15.03 | DHL Courier (Overnight M-F Pre 6pm) | Today | Next Working Day | Mon 27 Mar |
| £34.99 | Royal Mail (Special Delivery Overnight Mon-Sat Pre 9am) | Today | Next Day (Mon-Sat) | Mon 27 Mar |
More Information
| | |
| --- | --- |
| Despatch | Today (Cut off time 3pm M-F) |
| Brand | HappySnapGifts® |
| RRP | £9.99 |
| Country of Origin | Sri Lanka |
| SKU | EMTJR007 |
| Tariff Code | 6307909899 |
| Tariff Description | Eye Mask - Polyester Fabric Woven |
| Product Weight | 18 g |
| Product Dimensions | 8.5 x 24cm |
Product Options
Eye Mask Colour
Butterfly on Fuchsia, Butterfly on Tangerine, Shoe Flower on Purple, Shoe Flower on Red, Hummingbird on Green
Product Offer
Pack of 1, Pack of 2 +, Pack of 4 +
Product Type
Eye Mask
Travel & Outdoors > Personalised Travel Gifts
Home > Eye Masks
3D Eye Masks
Personalised Eye Masks

3D Sleep Mask
- Butterfly on Fuchsia Pink
EMTJR007
£9.99
18 g
8.5 x 24cm
3D Sleep Mask
- Butterfly on Fuchsia Pink (Pack of 2)
EMTJR007x2
£17.99
54 g
8.5 x 24cm
3D Sleep Mask
- Butterfly on Fuchsia Pink (Pack of 4)
EMTJR007x4
£29.99
90 g
8.5 x 24cm
3D Sleep Mask
- Shoe Flower on Purple
EMTJR003
£9.99
18 g
8.5 x 24cm
3D Sleep Mask
- Shoe Flower on Purple (Pack of 2)
EMTJR003x2
£17.99
54 g
8.5 x 24cm
3D Sleep Mask
- Shoe Flower on Purple (Pack of 4)
EMTJR003x4
£29.99
90 g
8.5 x 24cm
3D Sleep Mask
- Shoe Flower on Red
EMTJR008
£9.99
18 g
8.5 x 24cm
3D Sleep Mask
- Shoe Flower on Red (Pack of 2)
EMTJR008x2
£17.99
54 g
8.5 x 24cm
3D Sleep Mask
- Shoe Flower on Red (Pack of 4)
EMTJR008x4
£29.99
90 g
8.5 x 24cm
3D Sleep Mask
- Butterfly on Fuchsia Pink (Personalised with Text)
EMTJR007(P)
£12.94
18 g
8.5 x 24cm
3D Sleep Mask
- Butterfly on Fuchsia Pink (Personalised with Text) (Pack of 2)
EMTJR007(P)x2
£20.94
54 g
8.5 x 24cm
3D Sleep Mask
- Butterfly on Fuchsia Pink (Personalised with Text) (Pack of 4)
EMTJR007(P)x4
£32.94
90 g
8.5 x 24cm
3D Sleep Mask
- Butterfly on Tangerine (Personalised with Text)
EMTJR006(P)
£12.90
18 g
8.5 x 24cm
3D Sleep Mask
- Butterfly on Tangerine (Personalised with Text) (Pack of 2)
EMTJR006(P)x2
£20.90
54 g
8.5 x 24cm
3D Sleep Mask
- Butterfly on Tangerine (Personalised with Text) (Pack of 4)
EMTJR006(P)x4
£32.90
90 g
8.5 x 24cm
3D Sleep Mask
- Shoe Flower on Purple (Personalised with Text)
EMTJR003(P)
£12.94
18 g
8.5 x 24cm
3D Sleep Mask
- Shoe Flower on Purple (Personalised with Text) (Pack of 2)
EMTJR003(P)x2
£20.94
54 g
8.5 x 24cm
3D Sleep Mask
- Shoe Flower on Purple (Personalised with Text) (Pack of 4)
EMTJR003(P)x4
£32.94
90 g
8.5 x 24cm
3D Sleep Mask
- Shoe Flower on Red (Personalised with Text)
EMTJR008(P)
£12.94
18 g
8.5 x 24cm
3D Sleep Mask
- Shoe Flower on Red (Personalised with Text) (Pack of 2)
EMTJR008(P)x2
£20.94
54 g
8.5 x 24cm
3D Sleep Mask
- Shoe Flower on Red (Personalised with Text) (Pack of 4)
EMTJR008(P)x4
£32.94
90 g
8.5 x 24cm
3D Sleep Mask
- Hummingbird on Green (Personalised with Text)
EMTJR004(P)
£12.90
18 g
8.5 x 24cm
3D Sleep Mask
- Hummingbird on Green (Personalised with Text) (Pack of 2)
EMTJR004(P)x2
£20.90
54 g
8.5 x 24cm
3D Sleep Mask
- Hummingbird on Green (Personalised with Text) (Pack of 4)
EMTJR004(P)x4
£32.90
90 g
8.5 x 24cm