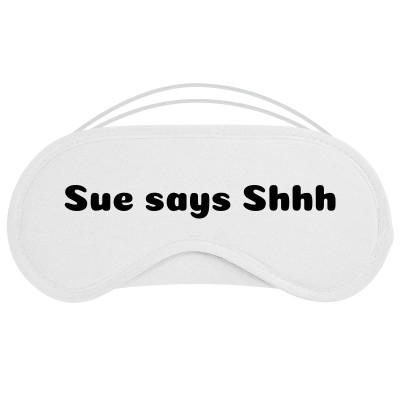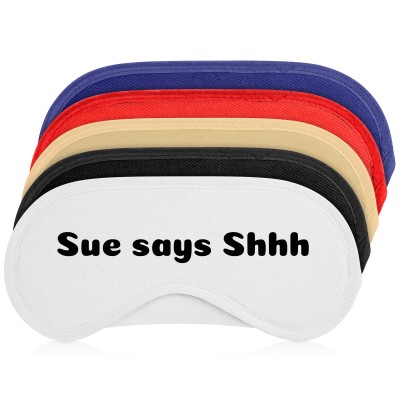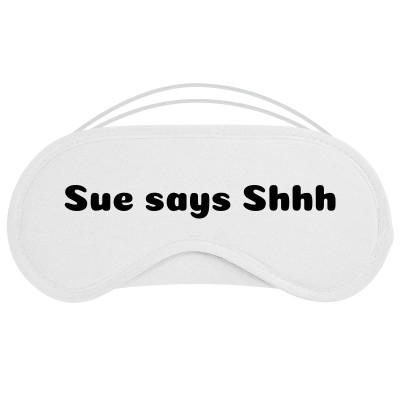 Description
Cotton Eye Masks by HappySnapGifts® as a beauty or sleep mask with colour options and personalisation.
Luxury cotton eye masks.
Made from 100% cotton.
Colour options for the cotton masks.
Double elastic fastening.
Foam lining blocks out light.
Personalise eye masks with your name.
Approx. 18cm x 9cm.
Trusted HappySnapGifts® brand.
The Cotton Eye Mask by HappySnapGifts® is a convenient and non-invasive sleep aid made from 100% cotton.
Each cotton eye shade comes with an integrated nose piece, which prevents light from seeping through the bottom of the mask. This eye mask is secured during sleep via a double elastic fastening. This guarantees a really comfortable fit, each and every time you use it.
Inside each sleep mask is a light-blocking foam lining which makes it perfect for shift workers, frequent flyers or those requiring total darkness during sleep.
Reviews
Great night's sleep
- Probably the most comfortable, well made and best value product on the market - I bought 2, but haven't needed to use the second one yet! (Jay, 22/11/21)
Perfect mask
- This mask is excellent. It is comfortable, blocks out all the light and the cotton feels good on the skin (Jan, 16/06/21)
At last sleep
- Perfect mask sleep like a baby (chihauhaugirl, 26/10/20)
Cotton Eye Mask - Blue
- Well made, effective light blocking and prompt delivery (Sandra , 18/10/20)
Very pleased
- I ordered this mask because I wanted a cotton one as the ones I had before were made of a material incompatible with face creams and would stain my pillow black. This mask does the job well with no staining. (Mirella , 26/08/20)
Amazing and good quality
- Cane quickly and my boyfriend loved it (Grace, 15/08/20)
Comfortable and soft
- Blocks all lights, comfortable and soft. Very nice product at a very reasonable price (Renzo, 23/07/20)
EXCELLENT EYE-MASKS
- EXCELLENT WEBSITE,EXCELLENT PRODUCT,EXCELLENT PRICE AND EXCELLENT COMMUNICATIONS.THANK YOU AND GOODNIGHT. zzzzzzzz (BLINDED BY THE LIGHT BRIGADE)
great purchase
- Fabulous well made eye mask , a bonus you get two for price of one . Choice of colours aswell. Bought for my Daughter as a Christmas stocking filler will be well pleased . : * ) (anonymous)
Cotton eye mask
- Great product. Helps me so much to get to sleep as keep light from outside out of my eyes. Total darkness is what I needed & I'm getting it now with this mask (Shirley Griffin)
Excellent Eye Mask
- Cannot fault this eye mask. Excellent product and would buy again. (Lisa)
Speedy service
- Just really want to comment on the company & how prompt they were with processing & delivering my item. Thank you. (Kathy)
My husband can now sleep again
- Very good service, good quality, comfortable, well made product. Would buy again. (Lin)
Excellent Eye Masks
- My hubby loves these eye masks. They are comfy, elastic doesn't dig in and keeps its stretch. They don't let it any light in. I don't sleep very well and like to read when awake. I can put the light on and it doesn't disturb him. This is my 2nd order and i will keep purchasing when needed. I would certainly recommend these to everyone. (Peta)
Comfortable
- The eye masks are very comfortable to wear and well designed. (anonymous)
Good product - fast delivery
- I wanted washable cotton eyemasks for sleeping. These are exactly that - and are comfortable to wear. They arrived quickly too. (barbara)
Delivery
The information below is for guidance. Actual delivery costs and dates depend on the delivery address, weight and time your order is placed. Cut-off time for Overnight Orders is 12 noon.
| Price | Method | Manufacture Time | Delivery Time | Est. Delivery Date |
| --- | --- | --- | --- | --- |
| £3.99 | 2nd Class (Tracked LL) | 0-3 Days | 2-3 Days | Mon 25 Sep - Fri 29 Sep |
| £5.99 | 1st Class (Tracked LL) | 0-3 Days | 1-2 Days | Fri 22 Sep - Thu 28 Sep |
| £12.91 | DHL Courier (Economy M-F Pre 6pm) | 0-3 Days | 2-3 Days | Mon 25 Sep - Fri 29 Sep |
| £12.99 | Royal Mail Special Delivery (Overnight Mon-Sat Pre 1pm) | Tomorrow | Next Day (Mon-Sat) | Mon 25 Sep |
More Information
| | |
| --- | --- |
| Despatch | Today (Cut off time 3pm) (0-3 Days if Personalised) or Upgrade at Checkout for Overnight Delivery |
| Brand | HappySnapGifts® |
| RRP | £2.99 |
| Country of Origin | United Kingdom |
| SKU | EMCOT001 |
| Gtin | 5056656325214 |
| Tariff Code | 6307909899 |
| Tariff Description | Eye Mask - Cotton Fabric Woven |
| Product Weight | 10 g |
| Product Dimensions | 9 x 18cm |
Product Options
Fabric
Cotton
Eye Mask Colour
White, Black, Beige, Red, Blue, Pink, Purple
Product Type
Eye Mask
Travel & Outdoors > Personalised Travel Gifts
Home > Eye Masks
Personalised Eye Masks
Cotton Eye Masks

Cotton Beauty Eye Mask
- White
EMCOT001
5056656325214
£2.99
10 g
9 x 18cm
Cotton Beauty Eye Mask
- Black
EMCOT005
5056656327454
£2.99
10 g
9 x 18cm
Cotton Beauty Eye Mask
- Beige
EMCOT007
5056656327478
£2.99
10 g
9 x 18cm
Cotton Beauty Eye Mask
- Red
EMCOT003
5056656327492
£2.99
10 g
9 x 18cm
Cotton Beauty Eye Mask
- Blue
EMCOT006
5056656327508
£2.99
10 g
9 x 18cm
Cotton Beauty Eye Mask
- Pink
EMCOT004
5056656327515
£2.99
10 g
9 x 18cm
Cotton Beauty Eye Mask
- Purple
EMCOT008
5056656327522
£2.99
10 g
9 x 18cm
Cotton Beauty Eye Mask
- White (Personalised with Text)
EMCOT001(P)
5056656327409
£3.99
10 g
9 x 18cm
Cotton Beauty Eye Mask
- Black (Personalised with Text)
EMCOT005(P)
5056656327416
£3.99
10 g
9 x 18cm
Cotton Beauty Eye Mask
- Beige (Personalised with Text)
EMCOT007(P)
5056656327423
£3.99
10 g
9 x 18cm
Cotton Beauty Eye Mask
- Red (Personalised with Text)
EMCOT003(P)
5056656327430
£3.99
10 g
9 x 18cm
Cotton Beauty Eye Mask
- Blue (Personalised with Text)
EMCOT006(P)
5056656327447
£3.99
10 g
9 x 18cm
Cotton Beauty Eye Mask
- Pink (Personalised with Text)
EMCOT004(P)
5056656327461
£3.99
10 g
9 x 18cm
Cotton Beauty Eye Mask
- Purple (Personalised with Text)
EMCOT008(P)
5056656327485
£3.99
10 g
9 x 18cm