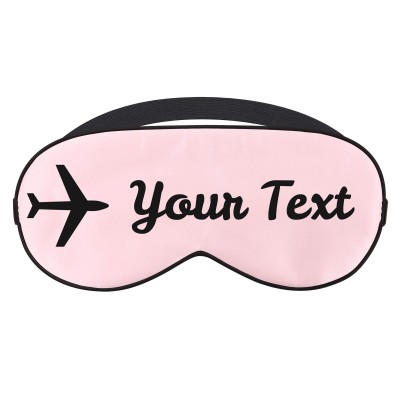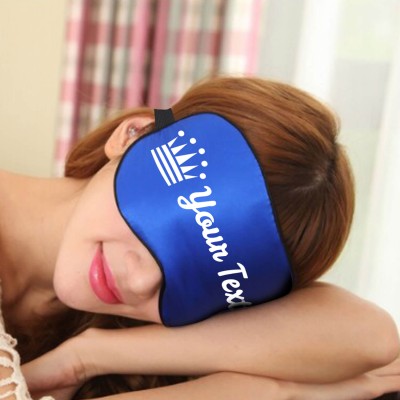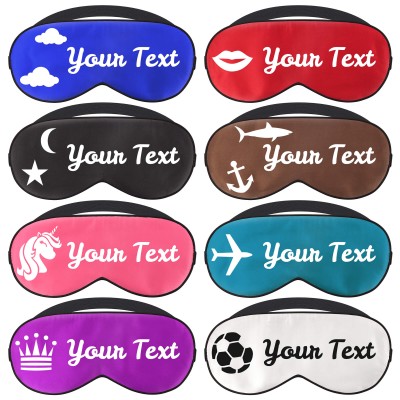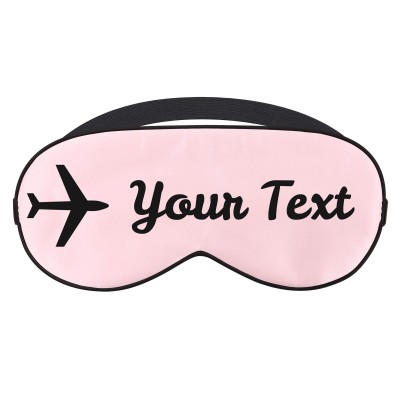 Personalised Luxury Silk Eye Mask with Themed Design
Description
Personalised Silk Sleep Eye Masks from HappySnapGifts® are naturally hypoallergenic and can be personalised with a name, phrase or slogan of your choosing.
Personalised with your wording.
Cute and charming designs.
Hypoallergenic mulberry silk.
Fully adjustable elastic fastening.
12-character limit.
Trusted HappySnapGifts® brand.
The Personalised Silk Sleep Eye Mask from HappySnapGifts® features your name, phrase or slogan and is available in a myriad of charming and cute colours and designs. Made from luxurious mulberry silk, this sleeping eye mask is as functional as it is gorgeous. Express both your creativity and personality with these exquisite and ornate blackout eye blinds.
This non-invasive, yet effective sleep aid comes with an integrated elastic fastening strap. It's fully adjustable which means it's really comfortable and will stay in place regardless of whatever position you sleep in. The Personalised Silk Sleep Eye Mask from The JetRest is both super soft and featherlight and will block out every little morsel of light.
Personalised eye masks by HappySnapGifts® make for a wonderful and thoughtful gift idea. If you have friends or family that are frequent flyers, seasoned travelers or poor sleepers, then surprise them with the priceless gift of good health and deep, restful sleep. Create something that is a reflection of your personality with these beautiful personalised blind folds.
Reviews
My wife is blessed!
- Christmas 2017 I purchased a personalised sleep mask from Jetrest for my wife - she was delighted. So I repeated the exercise this year - and she was again delighted! I'm a very satisfied customer!! (George Jarvis)
Mother to be adored this
- Quality item.Perfect personalisation.Speedy delivery (Carol Cumbria)
Personalised Silk Sleep Eye Mask featuring Your Name, Phrase or Slogan
- I created this personalized eye mask for my fiancé for valentines day as a cheeky gift and he loved it and wears it every night. It was exactly what I hoped for and is of a good quality. The website is simple and easy to use and I have already recommended it to a couple of colleagues of mine who saw the mask and loved it themselves. Excellent (Sharon McGowan)
My friend is really pleased with the mask
- Excellent product and service (Chrissie)
my daughter loved this
- Very pleased with this mask and we had her name put on it (Sharon withers)
My wife pleasantly surprised
- I bought a personalised seep mask for my wife, as a sort of joke. Much to my surprise she really liked the look of it & she finds it comfortable to wear. A successful choice of present! (George Jarvis)
My fiancee loved his present
- My fiancee loves sleeping with an eye mask so ordered a personlised eye mask with 'Cariad Mawr' as that is what I refer to him as. Superb quality and the design is spot on! It is also easily adjustable. Was also delivered as promised. Lovely simple present with a personal touch. Thank you. (Jemma)
Awesome gift
- I bought the personalised sleep mask for my sister as a gift for her 30th birthday! She certainly wasn't impressed with the message I put on the mask but I couldn't have picked a better company to buy this from - the quality is just the best, the price is very reasonable and the mask was delivered next day. I'm tempted to buy another one (minus the evil nickname) so that my sis can actually wear it on the plane! (Gina)
Comfy and smart
- fits well, is comfortable, keeps the light out and the personalisation looks great but also means you know which one is yours to help stop eye infections spreading (anonymous)
Great unique Christmas gift
- I ordered this eye mask for my daughter and had her name on it. I made a mistake with the colour of the lettering and the company called to clarify what I wanted which I thought was great. Item delievered when stated. The quality of the eye mask is great and my daughter loves it. Thank you (Lorraine)
Fantastic Christmas present
- Brilliant. I got this as a novelty personalised gift for my wife. The quality is great and it came on time. Really pleased. (Justin)
Great product
- This was a present for my daughter. The material is soft and gentle on the skin. It offers good blackout properties and looks amazing. (Jude)
Sleep masks
- Really pleased, arrived within a few days, colours were as I requested, personalisations were exact and Material lovely quality. Would buy from this company again. (Ann Ling)
Fabulous quality, loads of choice
- I bought this for my 21-year old daughter. It came in a wide range of colours and formats. I personalised it with her name. It arrived in perfect condition, on time and was as promised in the photo. She's very happy with it and uses it every night! (Caroline S)
Great product
- Personalised eye mask, arrived really quickly.great quality and really cute. (Sarah)
Aaa
- I like it, thank you! (Guoda)
A special surprise
- fanstastic! My friends who collects eye masks absolutely loved her personalised one! It was of very high quality and looked fantastic! Would highly recommend this as a special gift! (Catherine)
Cute sleep mask
- The mask arrived on time and looked just as expected. The embroidery of the name I requested looked really good and the moon and stars design, also embroidered, were really nice. The mask itself is a good size and adjustable. I bought it as a gift so I'm not sure how comfortable it is. (Caroline Andrews)
Highly recommend
- I recently ordered a personalised silk sleep eye mask which quickly arrived in excellent condition and was exactly what i had designed it to be. I gave it to a friend as a gift and she also adored it and said its very comfy! Would highly recommend this website to others and will be sure to use it again if need be. (Lauren)
Customer Service Review of Personalised Silk Sleep Eye Mask featuring Your Name, Phrase or Slogan
- These gorgeous silk sleep masks are great if you're looking to think outside the box in terms of gift ideas. An eye mask such as this one can be a live saver if you struggle to get a decent night's sleep. You can personalise this eye mask with up to 12-characters, which is more than enough for a slogan, catchphrase or name. At its core, this is a super functional sleeping mask with a tremendous blackout effect. It really does block out every smidgen of light. The double elasticated fastening means it's super comfortable to wear, which is really important when you're wearing it every night.  My favourite thing about these blind folds is the fact that you can mix and match eye mask and text colours and create something that is a true expression of your personality. You can be as creative (or as boring) as you want but rest assured, whatever you create will be made to the same impeccable standards you've come to expect from The JetRest.  (Lance Plachciak)
Delivery
The information below is for guidance. Actual delivery costs and dates depend on the delivery address, weight and time your order is placed. Cut-off time for Overnight Orders is 12 noon.
| Price | Method | Manufacture Time | Delivery Time | Est. Delivery Date |
| --- | --- | --- | --- | --- |
| £4.99 | 2nd Class (Tracked) | 0-3 Days | 2-3 Days | Mon 25 Sep - Fri 29 Sep |
| £6.99 | 1st Class (Tracked) | 0-3 Days | 1-2 Days | Fri 22 Sep - Thu 28 Sep |
| £10.99 | Royal Mail (Special Delivery Overnight Mon-Sat Pre 1pm) | Tomorrow | Next Day (Mon-Sat) | Mon 25 Sep |
| £12.92 | DHL Courier (Economy M-F Pre 6pm) | 0-3 Days | 2-3 Days | Mon 25 Sep - Fri 29 Sep |
More Information
| | |
| --- | --- |
| Despatch | 0-3 Days (to Personalise) or Upgrade at Checkout for Overnight Delivery |
| Brand | HappySnapGifts® |
| Country of Origin | United Kingdom |
| SKU | EMSIL004(P)(ARP) |
| Gtin | 5056656340804 |
| Tariff Code | 6214100090 |
| Tariff Description | Eye Mask - Silk Fabric Woven |
| Product Weight | 18 g |
| Product Dimensions | 11 x 23cm |
Product Options
Fabric
Silk
Eye Mask Colour
Baby Pink, Black, Brown, Fuchsia Pink, Peacock Blue, Purple, Red, White
Design
Aeroplanes, Moon & Stars, Princess, Clouds, Sunglasses, Footy, Little Diva, Love Hearts, Sharks and Anchor
Product Type
Eye Mask
Travel & Outdoors > Personalised Travel Gifts
Home > Eye Masks
Personalised Eye Masks
Personalised Silk Masks

Personalised Luxury Silk Eye Mask with Themed Design
with Moon & Stars Theme - Red (Personalised with Text)
EMSIL005(P)(MOO)
5056261011328
£12.99
18 g
11 x 23cm
Personalised Luxury Silk Eye Mask with Themed Design
with Moon & Stars Theme - Black (Personalised with Text)
EMSIL002(P)(MOO)
5056261011328
£12.99
18 g
11 x 23cm
Personalised Luxury Silk Eye Mask with Themed Design
with Moon & Stars Theme - Brown (Personalised with Text)
EMSIL006(P)(MOO)
5056261011328
£12.99
18 g
11 x 23cm
Personalised Luxury Silk Eye Mask with Themed Design
with Moon & Stars Theme - Fuchsia Pink (Personalised with Text)
EMSIL001(P)(MOO)
5056261011328
£12.99
18 g
11 x 23cm
Personalised Luxury Silk Eye Mask with Themed Design
with Moon & Stars Theme - Peacock Blue (Personalised with Text)
EMSIL008(P)(MOO)
5056261011328
£12.99
18 g
11 x 23cm
Personalised Luxury Silk Eye Mask with Themed Design
with Moon & Stars Theme - Purple (Personalised with Text)
EMSIL003(P)(MOO)
5056261011328
£12.99
18 g
11 x 23cm
Personalised Luxury Silk Eye Mask with Themed Design
with Moon & Stars Theme - White (Personalised with Text)
EMSIL010(P)(MOO)
5056261011328
£12.99
18 g
11 x 23cm
Personalised Luxury Silk Eye Mask with Themed Design
with Princess Theme - Red (Personalised with Text)
EMSIL005(P)(PRI)
5056261011328
£12.99
18 g
11 x 23cm
Personalised Luxury Silk Eye Mask with Themed Design
with Princess Theme - Black (Personalised with Text)
EMSIL002(P)(PRI)
5056261011328
£12.99
18 g
11 x 23cm
Personalised Luxury Silk Eye Mask with Themed Design
with Princess Theme - Brown (Personalised with Text)
EMSIL006(P)(PRI)
5056261011328
£12.99
18 g
11 x 23cm
Personalised Luxury Silk Eye Mask with Themed Design
with Princess Theme - Fuchsia Pink (Personalised with Text)
EMSIL001(P)(PRI)
5056261011328
£12.99
18 g
11 x 23cm
Personalised Luxury Silk Eye Mask with Themed Design
with Princess Theme - Peacock Blue (Personalised with Text)
EMSIL008(P)(PRI)
5056261011328
£12.99
18 g
11 x 23cm
Personalised Luxury Silk Eye Mask with Themed Design
with Princess Theme - Purple (Personalised with Text)
EMSIL003(P)(PRI)
5056261011328
£12.99
18 g
11 x 23cm
Personalised Luxury Silk Eye Mask with Themed Design
with Princess Theme - White (Personalised with Text)
EMSIL010(P)(PRI)
5056261011328
£12.99
18 g
11 x 23cm
Personalised Luxury Silk Eye Mask with Themed Design
with Aeroplane Design - Red (Personalised with Text)
EMSIL005(P)(ARP)
5056261011328
£12.99
18 g
11 x 23cm
Personalised Luxury Silk Eye Mask with Themed Design
with Aeroplane Design - Black (Personalised with Text)
EMSIL002(P)(ARP)
5056261011328
£12.99
18 g
11 x 23cm
Personalised Luxury Silk Eye Mask with Themed Design
with Aeroplane Design - Brown (Personalised with Text)
EMSIL006(P)(ARP)
5056261011328
£12.99
18 g
11 x 23cm
Personalised Luxury Silk Eye Mask with Themed Design
with Aeroplane Design - Fuchsia Pink (Personalised with Text)
EMSIL001(P)(ARP)
5056261011328
£12.99
18 g
11 x 23cm
Personalised Luxury Silk Eye Mask with Themed Design
with Aeroplane Design - Peacock Blue (Personalised with Text)
EMSIL008(P)(ARP)
5056261011328
£12.99
18 g
11 x 23cm
Personalised Luxury Silk Eye Mask with Themed Design
with Aeroplane Design - Purple (Personalised with Text)
EMSIL003(P)(ARP)
5056261011328
£12.99
18 g
11 x 23cm
Personalised Luxury Silk Eye Mask with Themed Design
with Aeroplane Design - White (Personalised with Text)
EMSIL010(P)(ARP)
5056261011328
£12.99
18 g
11 x 23cm
Personalised Luxury Silk Eye Mask with Themed Design
with Clouds Theme - Red (Personalised with Text)
EMSIL005(P)(CLO)
5056261011328
£12.99
18 g
11 x 23cm
Personalised Luxury Silk Eye Mask with Themed Design
with Clouds Theme - Black (Personalised with Text)
EMSIL002(P)(CLO)
5056261011328
£12.99
18 g
11 x 23cm
Personalised Luxury Silk Eye Mask with Themed Design
with Clouds Theme - Brown (Personalised with Text)
EMSIL006(P)(CLO)
5056261011328
£12.99
18 g
11 x 23cm
Personalised Luxury Silk Eye Mask with Themed Design
with Clouds Theme - Fuchsia Pink (Personalised with Text)
EMSIL001(P)(CLO)
5056261011328
£12.99
18 g
11 x 23cm
Personalised Luxury Silk Eye Mask with Themed Design
with Clouds Theme - Peacock Blue (Personalised with Text)
EMSIL008(P)(CLO)
5056261011328
£12.99
18 g
11 x 23cm
Personalised Luxury Silk Eye Mask with Themed Design
with Clouds Theme - Purple (Personalised with Text)
EMSIL003(P)(CLO)
5056261011328
£12.99
18 g
11 x 23cm
Personalised Luxury Silk Eye Mask with Themed Design
with Clouds Theme - White (Personalised with Text)
EMSIL010(P)(CLO)
5056261011328
£12.99
18 g
11 x 23cm
Personalised Luxury Silk Eye Mask with Themed Design
with Sunglasses Theme - Red (Personalised with Text)
EMSIL005(P)(SUG)
5056261011328
£12.99
18 g
11 x 23cm
Personalised Luxury Silk Eye Mask with Themed Design
with Sunglasses Theme - Black (Personalised with Text)
EMSIL002(P)(SUG)
5056261011328
£12.99
18 g
11 x 23cm
Personalised Luxury Silk Eye Mask with Themed Design
with Sunglasses Theme - Brown (Personalised with Text)
EMSIL006(P)(SUG)
5056261011328
£12.99
18 g
11 x 23cm
Personalised Luxury Silk Eye Mask with Themed Design
with Sunglasses Theme - Fuchsia Pink (Personalised with Text)
EMSIL001(P)(SUG)
5056261011328
£12.99
18 g
11 x 23cm
Personalised Luxury Silk Eye Mask with Themed Design
with Sunglasses Theme - Peacock Blue (Personalised with Text)
EMSIL008(P)(SUG)
5056261011328
£12.99
18 g
11 x 23cm
Personalised Luxury Silk Eye Mask with Themed Design
with Sunglasses Theme - Purple (Personalised with Text)
EMSIL003(P)(SUG)
5056261011328
£12.99
18 g
11 x 23cm
Personalised Luxury Silk Eye Mask with Themed Design
with Sunglasses Theme - White (Personalised with Text)
EMSIL010(P)(SUG)
5056261011328
£12.99
18 g
11 x 23cm
Personalised Luxury Silk Eye Mask with Themed Design
Football Theme - Red (Personalised with Text)
EMSIL005(P)(FOM)
5056261011328
£12.99
18 g
11 x 23cm
Personalised Luxury Silk Eye Mask with Themed Design
Football Theme - Black (Personalised with Text)
EMSIL002(P)(FOM)
5056261011328
£12.99
18 g
11 x 23cm
Personalised Luxury Silk Eye Mask with Themed Design
Football Theme - Brown (Personalised with Text)
EMSIL006(P)(FOM)
5056261011328
£12.99
18 g
11 x 23cm
Personalised Luxury Silk Eye Mask with Themed Design
Football Theme - Fuchsia Pink (Personalised with Text)
EMSIL001(P)(FOM)
5056261011328
£12.99
18 g
11 x 23cm
Personalised Luxury Silk Eye Mask with Themed Design
Football Theme - Peacock Blue (Personalised with Text)
EMSIL008(P)(FOM)
5056261011328
£12.99
18 g
11 x 23cm
Personalised Luxury Silk Eye Mask with Themed Design
Football Theme - Purple (Personalised with Text)
EMSIL003(P)(FOM)
5056261011328
£12.99
18 g
11 x 23cm
Personalised Luxury Silk Eye Mask with Themed Design
Football Theme - White (Personalised with Text)
EMSIL010(P)(FOM)
5056261011328
£12.99
18 g
11 x 23cm
Personalised Luxury Silk Eye Mask with Themed Design
with Little Diva Theme - Red (Personalised with Text)
EMSIL005(P)(LID)
5056261011328
£12.99
18 g
11 x 23cm
Personalised Luxury Silk Eye Mask with Themed Design
with Little Diva Theme - Black (Personalised with Text)
EMSIL002(P)(LID)
5056261011328
£12.99
18 g
11 x 23cm
Personalised Luxury Silk Eye Mask with Themed Design
with Little Diva Theme - Brown (Personalised with Text)
EMSIL006(P)(LID)
5056261011328
£12.99
18 g
11 x 23cm
Personalised Luxury Silk Eye Mask with Themed Design
with Little Diva Theme - Fuchsia Pink (Personalised with Text)
EMSIL001(P)(LID)
5056261011328
£12.99
18 g
11 x 23cm
Personalised Luxury Silk Eye Mask with Themed Design
with Little Diva Theme - Peacock Blue (Personalised with Text)
EMSIL008(P)(LID)
5056261011328
£12.99
18 g
11 x 23cm
Personalised Luxury Silk Eye Mask with Themed Design
with Little Diva Theme - Purple (Personalised with Text)
EMSIL003(P)(LID)
5056261011328
£12.99
18 g
11 x 23cm
Personalised Luxury Silk Eye Mask with Themed Design
with Little Diva Theme - White (Personalised with Text)
EMSIL010(P)(LID)
5056261011328
£12.99
18 g
11 x 23cm
Personalised Luxury Silk Eye Mask with Themed Design
with Love Hearts Theme - Red (Personalised with Text)
EMSIL005(P)(LOV)
5056261011328
£12.99
18 g
11 x 23cm
Personalised Luxury Silk Eye Mask with Themed Design
with Love Hearts Theme - Black (Personalised with Text)
EMSIL002(P)(LOV)
5056261011328
£12.99
18 g
11 x 23cm
Personalised Luxury Silk Eye Mask with Themed Design
with Love Hearts Theme - Brown (Personalised with Text)
EMSIL006(P)(LOV)
5056261011328
£12.99
18 g
11 x 23cm
Personalised Luxury Silk Eye Mask with Themed Design
with Love Hearts Theme - Fuchsia Pink (Personalised with Text)
EMSIL001(P)(LOV)
5056261011328
£12.99
18 g
11 x 23cm
Personalised Luxury Silk Eye Mask with Themed Design
with Love Hearts Theme - Peacock Blue (Personalised with Text)
EMSIL008(P)(LOV)
5056261011328
£12.99
18 g
11 x 23cm
Personalised Luxury Silk Eye Mask with Themed Design
with Love Hearts Theme - Purple (Personalised with Text)
EMSIL003(P)(LOV)
5056261011328
£12.99
18 g
11 x 23cm
Personalised Luxury Silk Eye Mask with Themed Design
with Love Hearts Theme - White (Personalised with Text)
EMSIL010(P)(LOV)
5056261011328
£12.99
18 g
11 x 23cm
Personalised Luxury Silk Eye Mask with Themed Design
with Sharks and Anchor Print - Red (Personalised with Text)
EMSIL005(P)(SHA)
5056261011328
£12.99
18 g
11 x 23cm
Personalised Luxury Silk Eye Mask with Themed Design
with Sharks and Anchor Print - Black (Personalised with Text)
EMSIL002(P)(SHA)
5056261011328
£12.99
18 g
11 x 23cm
Personalised Luxury Silk Eye Mask with Themed Design
with Sharks and Anchor Print - Brown (Personalised with Text)
EMSIL006(P)(SHA)
5056261011328
£12.99
18 g
11 x 23cm
Personalised Luxury Silk Eye Mask with Themed Design
with Sharks and Anchor Print - Fuchsia Pink (Personalised with Text)
EMSIL001(P)(SHA)
5056261011328
£12.99
18 g
11 x 23cm
Personalised Luxury Silk Eye Mask with Themed Design
with Sharks and Anchor Print - Peacock Blue (Personalised with Text)
EMSIL008(P)(SHA)
5056261011328
£12.99
18 g
11 x 23cm
Personalised Luxury Silk Eye Mask with Themed Design
with Sharks and Anchor Print - Purple (Personalised with Text)
EMSIL003(P)(SHA)
5056261011328
£12.99
18 g
11 x 23cm
Personalised Luxury Silk Eye Mask with Themed Design
with Sharks and Anchor Print - White (Personalised with Text)
EMSIL010(P)(SHA)
5056261011328
£12.99
18 g
11 x 23cm
Personalised Luxury Silk Eye Mask with Themed Design
with Moon & Stars Theme - Baby Pink (Personalised with Text)
EMSIL009(P)(MOO)
5056261011328
£12.99
18 g
11 x 23cm
Personalised Luxury Silk Eye Mask with Themed Design
with Princess Theme - Baby Pink (Personalised with Text)
EMSIL009(P)(PRI)
5056261011328
£12.99
18 g
11 x 23cm
Personalised Luxury Silk Eye Mask with Themed Design
with Aeroplane Design - Baby Pink (Personalised with Text)
EMSIL009(P)(ARP)
5056261011328
£12.99
18 g
11 x 23cm
Personalised Luxury Silk Eye Mask with Themed Design
with Clouds Theme - Baby Pink (Personalised with Text)
EMSIL009(P)(CLO)
5056261011328
£12.99
18 g
11 x 23cm
Personalised Luxury Silk Eye Mask with Themed Design
with Sunglasses Theme - Baby Pink (Personalised with Text)
EMSIL009(P)(SUG)
5056261011328
£12.99
18 g
11 x 23cm
Personalised Luxury Silk Eye Mask with Themed Design
Football Theme - Baby Pink (Personalised with Text)
EMSIL009(P)(FOM)
5056261011328
£12.99
18 g
11 x 23cm
Personalised Luxury Silk Eye Mask with Themed Design
with Little Diva Theme - Baby Pink (Personalised with Text)
EMSIL009(P)(LID)
5056261011328
£12.99
18 g
11 x 23cm
Personalised Luxury Silk Eye Mask with Themed Design
with Love Hearts Theme - Baby Pink (Personalised with Text)
EMSIL009(P)(LOV)
5056261011328
£12.99
18 g
11 x 23cm
Personalised Luxury Silk Eye Mask with Themed Design
with Sharks and Anchor Print - Baby Pink (Personalised with Text)
EMSIL009(P)(SHA)
5056261011328
£12.99
18 g
11 x 23cm
Personalised Luxury Silk Eye Mask with Themed Design