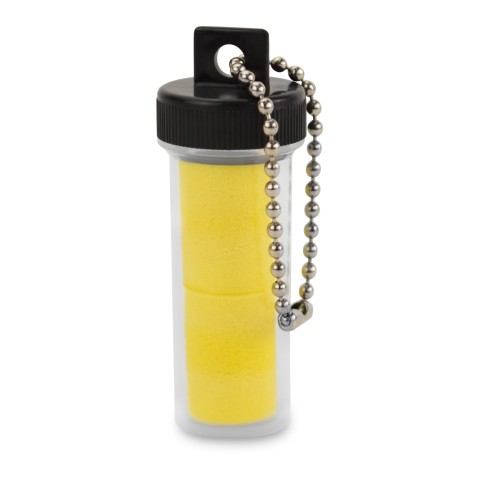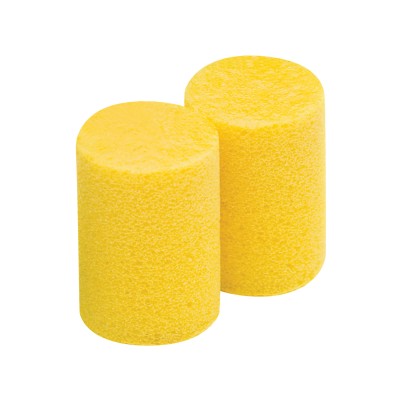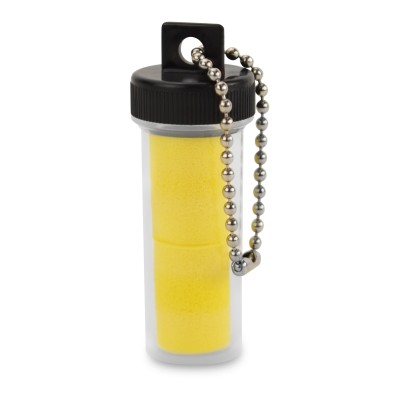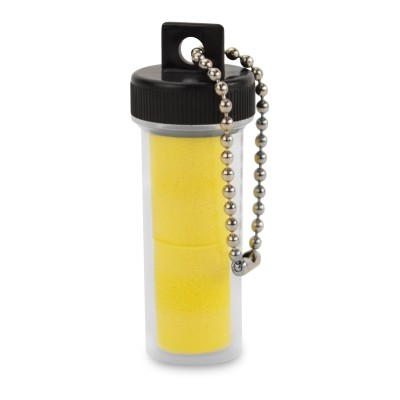 3M Classic Earplugs in Keychain Case
BS EN 352
Description
3M Soft Foam Ear Plugs are a cost-effective deal offering you super comfortable earplugs in convenient carry vial.
Super value 3M Earplugs.
Very comfortable soft foam earplugs.
1 pair of earplugs per case.
Clear plastic vial to keep earplugs clean when not in use.
Fantastic for work, sleep & travel, sport & recreation and many other activities.
Trusted 3M brand.
The 3M Soft Foam Ear Plugs are a fantastic aid for hearing protection and ear safety. We offer these earplugs in a plastic case as standard. Perfect for weary travelers, these premium quality earplugs are certified to EU standards and come inside a convenient plastic carry vial.
These earplugs are a real necessity if you're a musician, operator of heavy machinery, or just someone who's looking for a better night's sleep. Manufactured from soft, energy absorbing polymer foam, Soft Foam Ear Plugs are reusable and made to last.
Each pair of earplugs come with a plastic vial container, a screw-top lid, and a keychain attachment. These soft foam earplugs meet EU Directive 89/686/EEC and are examined against EN353-2.
Reviews
Ear plugs
- Good quality and sleep much better thanks! (Louise)
Good quality
- Good quality and handy container. (Anne R)
Ear Plugs
- Can't sleep without these now - thanks JetRest! (MLP)
can't be without these earplugs!
- I am a night shift worker and cannot sleep without these now. I have tried a couple of different earplugs from Boots, but these are by far the most comfortable and effective. (anonymous)
Earplugs - what else?
- Basic earplugs. Worked a treat, although struggled at times to keep the Glastonbury din out! Nice little storage case - would probably have lost them after the first night otherwise. (anonymous)
Delivery
The information below is for guidance. Actual delivery costs and dates depend on the delivery address, weight and time your order is placed. Cut-off time for Overnight Orders is 12 noon.
| Price | Method | Manufacture Time | Delivery Time | Est. Delivery Date |
| --- | --- | --- | --- | --- |
| £3.95 | 2nd Class (Tracked) | 0-1 Days | 2-3 Days | Fri 9 Jun - Tue 13 Jun |
| £4.99 | 1st Class (Tracked) | 0-1 Days | 1-2 Days | Thu 8 Jun - Mon 12 Jun |
| £10.99 | Royal Mail (Special Delivery Overnight Mon-Sat Pre 1pm) | Tomorrow | Next Day (Mon-Sat) | Fri 9 Jun |
| £12.98 | DHL Courier (Economy M-F Pre 6pm) | 0-1 Days | 2-3 Days | Fri 9 Jun - Tue 13 Jun |
| £15.07 | DHL Courier (Overnight M-F Pre 6pm) | Tomorrow | Next Working Day | Fri 9 Jun |
| £34.99 | Royal Mail (Special Delivery Overnight Mon-Sat Pre 9am) | Tomorrow | Next Day (Mon-Sat) | Fri 9 Jun |
More Information
| | |
| --- | --- |
| Despatch | Today (Cut off time 3pm M-F) |
| Brand | 3M |
| RRP | £1.95 |
| Country of Origin | China |
| SKU | EAR005x1 |
| Gtin | 5060089250302 |
| Tariff Code | 3926909790 |
| Tariff Description | Foam Ear Plugs |
| Product Weight | 5 g |
| Product Dimensions | 6 x 2 x 2cm |
Product Options
Pack Size
1 Pair, 10 Pairs, 25 Pairs, 50 Pairs, 100 Pairs
Product Type
Ear Plugs
Travel Gifts > Earplugs

3M Classic Earplugs in Keychain Case
(Pack of 1)
EAR005x1
5060089250302
£1.95
5 g
6 x 2 x 2cm
3M Classic Earplugs in Keychain Case
(Pack of 10)
EAR005x10
5056656305230
£14.95
50 g
6 x 2 x 2cm
3M Classic Earplugs in Keychain Case
(Pack of 100)
EAR005x100
5056656305247
£109.99
500 g
6 x 2 x 2cm
3M Classic Earplugs in Keychain Case
- Pack of 25
EAR005x25
5056656305254
£29.99
125 g
6 x 2 x 2cm
3M Classic Earplugs in Keychain Case
- Pack of 50
EAR005x50
5056656305261
£54.95
250 g
6 x 2 x 2cm
3M Classic Earplugs in Keychain Case