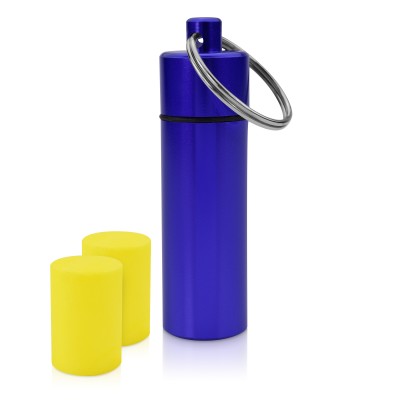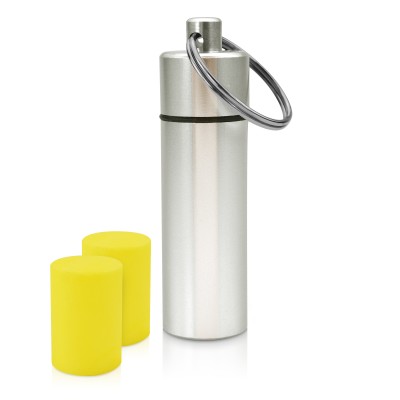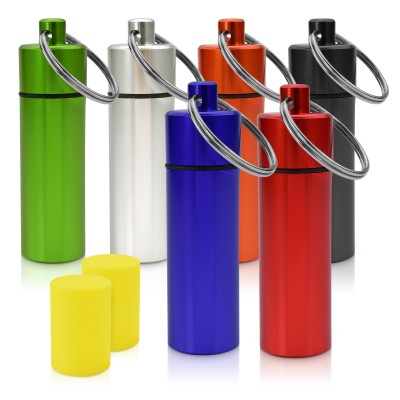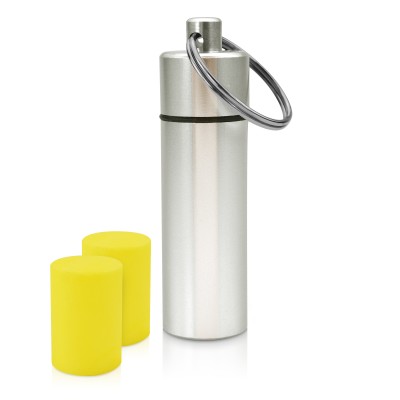 Description
Buy 1 Get 1 Free The JetRest® Earplugs in Metal Case are the perfect solution for unwanted noise. Each pair of earplugs is made from super soft foam that contours to the inside of the ears and are supplier in a strong metal case with water resistant screw-top and keyring attachment.
Disposable foam ear plugs, shaped for easy insertion.
Smooth outer surface for better hygiene.
Suitable for most DIY, travelling and sleeping uses.
2 Earplugs per metal case.
Metal Case comes with a screw fit top with water resistant seal.
The JetRest Earplugs in Metal Case are perfect for many uses such as:
Sleeping.
Studying.
Shop noises.
Work.
Travel.
Loud events.
Molded with state-of-the-art, super low-pressure foam earplugs made in bright easy-to-find yellow colour.
Bright coloured metal cases made to a high-shine finish to protect your earplugs when not in use.
Reviews
Perfect for Motorcycling
- These earplugs work very well. The secure metal container easily attaches to a keyring, providing perfect storage when they're not in use. (ZigZag, 14/10/20)
Fantastic earplugs holder
- I've attached this robust and user friendly earplugs case to my water bottle and use it daily during group cycling classes as a receptacle for my music plugs to reduce the noise levels. Excellent product and reliable company too from whom I have purchased goods before which have always arrived promptly and of an excellent quality, thank you. (Gezza, 04/10/20)
Metal case
- Excellent (Mark , 13/09/20)
Ear Plugs and Case
- This is a nicely machined aluminium screw caped case that comes with good quality ear plugs and a split ring so it can be fastened to your keys. I bought two, one for my work keys and the other for my motorbike. The product is simple, effective and good value. (Doxforddan, 02/07/20)
Excellent little product presented and stored in a lovely metal case ;-)
- I can't fault this lovely and presentable little product. I am using earplugs for many years and started during my sailing years as a Radio Officer on Merchant Navy vessels. As I've said: nice and soft earplugs in a lovely metal case. Would buy in a future :-) (Vinko Radonici)
Delivery
The information below is for guidance. Actual delivery costs and dates depend on the delivery address, weight and time your order is placed. Cut-off time for Overnight Orders is 12 noon.
| Price | Method | Manufacture Time | Delivery Time | Est. Delivery Date |
| --- | --- | --- | --- | --- |
| £3.99 | 2nd Class (Tracked LL) | 0-1 Days | 2-3 Days | Thu 7 Dec - Mon 11 Dec |
| £5.99 | 1st Class (Tracked LL) | 0-1 Days | 1-2 Days | Wed 6 Dec - Fri 8 Dec |
| £12.94 | DHL Courier (Economy M-F Pre 6pm) | 0-1 Days | 2-3 Days | Thu 7 Dec - Mon 11 Dec |
| £14.99 | Royal Mail Special Delivery (Overnight Mon-Sat Pre 1pm) | Today | Next Day (Mon-Sat) | Mon 4 Dec |
More Information
| | |
| --- | --- |
| Despatch | Today (Cut off time 3pm M-F) |
| Brand | The JetRest® |
| Country of Origin | China |
| SKU | FGEAR005 |
| Gtin | 5056261021730 |
| Tariff Code | 3926909790 |
| Tariff Description | Foam Ear Plugs |
| Product Weight | 12 g |
| Product Dimensions | 6 x 1 x 1cm |
Product Options
Colour
Silver, Green, Blue, Orange, Red
Product Type
Earplugs
Travel Gifts > Earplugs

Earplugs in Metal Case
- Blue
FGEAR004
5056261021754
£2.95
12 g
6 x 1 x 1cm
Earplugs in Metal Case
- Green
FGEAR007
5056261021723
£2.95
12 g
6 x 1 x 1cm
Earplugs in Metal Case
- Orange
FGEAR006
5056261053977
£2.95
12 g
6 x 1 x 1cm
Earplugs in Metal Case
- Silver
FGEAR005
5056261021730
£2.95
12 g
6 x 1 x 1cm
Earplugs in Metal Case
- Red
FGEAR003
5056261021761
£2.95
12 g
6 x 1 x 1cm
Earplugs in Metal Case