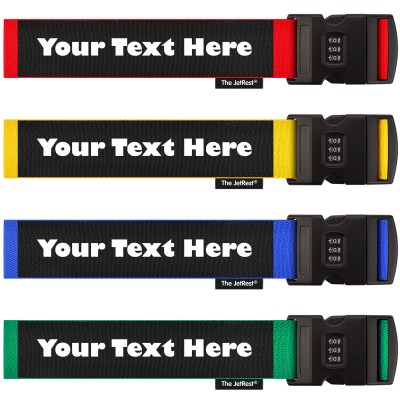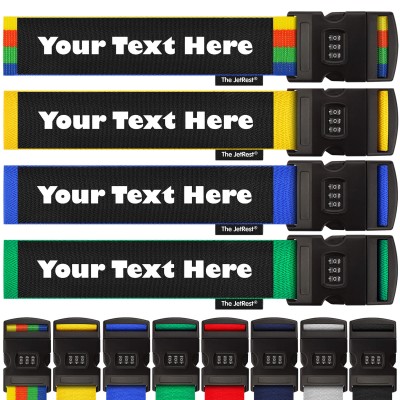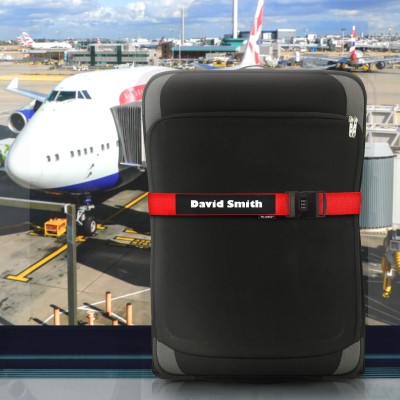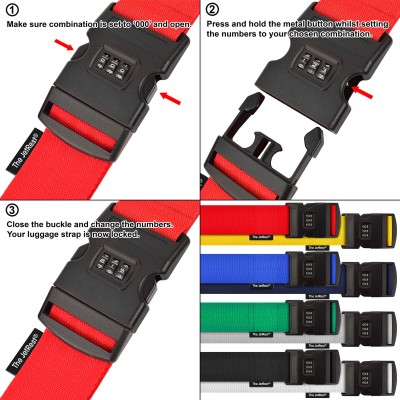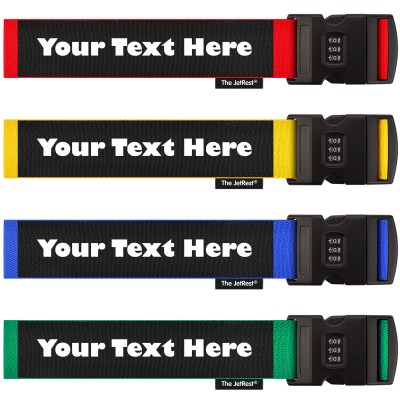 4 Pack of Personalised Luggage Straps with Combination Lock (UK Made)
UK Made
Description
Pack of 4 Personalised Luggage Straps with Combination Locks made in the UK and available in a wide range of bright colours and size options.
Extra Value Personalised Luggage Straps.
UK Made.
Pack contains 4 Straps.
Personalise with the text, phrase or slogan of your choice.
Size options.
Trusted JetRest® brand.
Reviews
Great Product
- I've bought from Jetrest many times and it's always terrific product, delivered on time with good quality for the price. I thoroughly recommend them (Andy S, 31/08/23)
Good product and service
- I was very pleased with the ordering process and the product supplied. There was one belt where the closing mechanism seems to be the wrong way round, requiring a twist in the belt, but that's not the end of the world. (Brian Cooke, 18/08/23)
Perfect for travel
- Brilliant product, so much easier to find your luggage after flight with bright colours, names or initials clearly printed on them, no chance of anyone collecting your suitcase in error! (Michelle, 05/07/23)
Case belts
- Very good product and excellent after sale service sorting out small problem (Ray, 31/12/20)
Great service
- Great service. I was contacted about some missing text, and as soon as that was sorted, the order was completed and sent to me quickly. I haven't used the luggage straps yet, but when I do I shall be confident of spotting my luggage easily. (Cathy, 17/10/20)
Johann
- With our own wording on the belt, easy to pick out on the luggage carousel! (Johann, 05/06/20)
Julian Shaw
- A1 service. (Julian Shaw, 05/06/20)
Better than expected
- Found these on Instagram and they looked ideal for what I needed them for, was worried about the text not being sewn on but I have had no problem at all with them. (Jack H, 28/02/20)
Bright & Colourful Secure & Strong Suitcase Straps
- Purchased these personalised luggage straps as they were similar to the ones we had purchased several years ago. To use on a extended Cruise Holiday, makes it so much easier & quicker to identified your luggage. Excellent quality, price & quick delivery. Highly recommended. (Denise , 28/02/20)
Family Trip
- Bought these for me, my wife and 2 children for a trip to France, made spotting our luggage at the airport super easy. (Michael S, 27/02/20)
Best ever luggage straps
- Bought this 4 pack of personalised luggage straps and they work a treat, probably the best straps Ive used and fantastic to know its my luggage when I see it coming at the airport. Highly recommended. (Jimmy, 26/02/20)
Instructions
Instructions for changing the combination luggage strap lock number:
Your combination lock is set to 0-0-0 when first purchased.
To change the combination, first open the lock using 0-0-0.
Press and hold the round button on the inside while changing the numbers.
Only release the button when you are happy with the new number.
Do not forget your new combination as there is no master re-set available.
FAQs
Can the luggage strap fit different size suitcases?
Yes. Luggage Straps have an adjustable buckle and will fit the vast majority of sizes.  Simply order a longer version if required in the options.
Are the Luggage Straps easy to remove?
Yes. Luggage Straps come with a buckle that is easy to release.
Can I have my luggage strap made to a different length?
Yes. We manufacture all of our luggage straps in our factory so can make them as a bespoke item to your own requirements. If the luggage strap is to be made longer, please place your order and select the size you would like.
Delivery
The information below is for guidance. Actual delivery costs and dates depend on the delivery address, weight and time your order is placed. Cut-off time for Overnight Orders is 12 noon.
| Price | Method | Manufacture Time | Delivery Time | Est. Delivery Date |
| --- | --- | --- | --- | --- |
| £3.99 | 2nd Class (Tracked LL) | 0-3 Days | 2-3 Days | Mon 25 Sep - Fri 29 Sep |
| £5.99 | 1st Class (Tracked LL) | 0-3 Days | 1-2 Days | Fri 22 Sep - Thu 28 Sep |
| £12.99 | Royal Mail Special Delivery (Overnight Mon-Sat Pre 1pm) | Tomorrow | Next Day (Mon-Sat) | Mon 25 Sep |
| £13.18 | DHL Courier (Economy M-F Pre 6pm) | 0-3 Days | 2-3 Days | Mon 25 Sep - Fri 29 Sep |
More Information
| | |
| --- | --- |
| Despatch | 0-3 Days (to Personalise) or Upgrade at Checkout for Overnight Delivery |
| Brand | The JetRest® |
| RRP | £39.99 |
| Country of Origin | United Kingdom |
| SKU | FGLUG064(x4)(180)WEB-R-Y-RB-G(P) |
| Gtin | 5056261043213 |
| Tariff Code | 6307909899 |
| Tariff Description | Luggage Strap - Woven Webbing |
| Product Weight | 492 g |
| Product Dimensions | 5 x 180cm |
Product Options
Size
180cm, 250cm, 300cm
Colour
Mixed Pack (Red, Yellow, Royal, Green), Mixed Pack (Striped, Red, Yellow, Royal), Mixed Pack (Black, White, Grey, Navy), Mixed Pack (Black, White, Black, White), Striped, Red, Yellow, Royal Blue, Navy Blue, Green, Silver Grey, Black, White
Product Type
Luggage Straps
Travel & Outdoors > Personalised Luggage Straps
Personalised Gifts > Personalised Travel Gifts
lockable suitcase straps
personalised lockable luggage straps

4 Pack of Personalised Luggage Straps with Combination Lock (UK Made)
(180cm) - Mixed Colour Pack (Red, Yellow, Royal, Green) (Personalised with Text)
FGLUG064(x4)(180)WEB-R-Y-RB-G(P)
5056261043213
£39.99
492 g
5 x 180cm
4 Pack of Personalised Luggage Straps with Combination Lock (UK Made)
(250cm) - Mixed Colour Pack (Red, Yellow, Royal, Green) (Personalised with Text)
FGLUG064(x4)(250)WEB-R-Y-RB-G(P)
5056261043244
£44.99
592 g
5 x 250cm
4 Pack of Personalised Luggage Straps with Combination Lock (UK Made)
(300cm) - Mixed Colour Pack (Red, Yellow, Royal, Green) (Personalised with Text)
FGLUG064(x4)(300)WEB-R-Y-RB-G(P)
5056261043275
£49.99
648 g
5 x 300cm
4 Pack of Personalised Luggage Straps with Combination Lock (UK Made)
(180cm) - Red (Personalised with Text)
FGLUG064(x4)(180)(WN50-RED)(P)
5056261043305
£39.99
492 g
5 x 180cm
4 Pack of Personalised Luggage Straps with Combination Lock (UK Made)
(250cm) - Red (Personalised with Text)
FGLUG064(x4)(250)(WN50-RED)(P)
5056261043336
£44.99
592 g
5 x 250cm
4 Pack of Personalised Luggage Straps with Combination Lock (UK Made)
(300cm) - Red (Personalised with Text)
FGLUG064(x4)(300)(WN50-RED)(P)
5056261043367
£49.99
648 g
5 x 300cm
4 Pack of Personalised Luggage Straps with Combination Lock (UK Made)
(180cm) - Yellow (Personalised with Text)
FGLUG064(x4)(180)(WN50-YEL)(P)
5056261043381
£39.99
492 g
5 x 180cm
4 Pack of Personalised Luggage Straps with Combination Lock (UK Made)
(250cm) - Yellow (Personalised with Text)
FGLUG064(x4)(250)(WN50-YEL)(P)
5056261043404
£44.99
592 g
5 x 250cm
4 Pack of Personalised Luggage Straps with Combination Lock (UK Made)
(300cm) - Yellow (Personalised with Text)
FGLUG064(x4)(300)(WN50-YEL)(P)
5056261043428
£49.99
648 g
5 x 300cm
4 Pack of Personalised Luggage Straps with Combination Lock (UK Made)
(180cm) - Royal Blue (Personalised with Text)
FGLUG064(x4)(180)(WN50-BRO)(P)
5056261043442
£39.99
492 g
5 x 180cm
4 Pack of Personalised Luggage Straps with Combination Lock (UK Made)
(250cm) - Royal Blue (Personalised with Text)
FGLUG064(x4)(250)(WN50-BRO)(P)
5056261043466
£44.99
592 g
5 x 250cm
4 Pack of Personalised Luggage Straps with Combination Lock (UK Made)
(300cm) - Royal Blue (Personalised with Text)
FGLUG064(x4)(300)(WN50-BRO)(P)
5056261043220
£49.99
648 g
5 x 300cm
4 Pack of Personalised Luggage Straps with Combination Lock (UK Made)
(180cm) - Navy Blue (Personalised with Text)
FGLUG064(x4)(180)(WN50-BNA)(P)
5056261043251
£39.99
492 g
5 x 180cm
4 Pack of Personalised Luggage Straps with Combination Lock (UK Made)
(250cm) - Navy Blue (Personalised with Text)
FGLUG064(x4)(250)(WN50-BNA)(P)
5056261043282
£44.99
592 g
5 x 250cm
4 Pack of Personalised Luggage Straps with Combination Lock (UK Made)
(300cm) - Navy Blue (Personalised with Text)
FGLUG064(x4)(300)(WN50-BNA)(P)
5056261043312
£49.99
648 g
5 x 300cm
4 Pack of Personalised Luggage Straps with Combination Lock (UK Made)
(180cm) - Green (Personalised with Text)
FGLUG064(x4)(180)(WN50-GBG)(P)
5056261043343
£39.99
492 g
5 x 180cm
4 Pack of Personalised Luggage Straps with Combination Lock (UK Made)
(250cm) - Green (Personalised with Text)
FGLUG064(x4)(250)(WN50-GBG)(P)
5056261043374
£44.99
592 g
5 x 250cm
4 Pack of Personalised Luggage Straps with Combination Lock (UK Made)
(300cm) - Green (Personalised with Text)
FGLUG064(x4)(300)(WN50-GBG)(P)
5056261043398
£49.99
648 g
5 x 300cm
4 Pack of Personalised Luggage Straps with Combination Lock (UK Made)
(180cm) - Silver Grey (Personalised with Text)
FGLUG064(x4)(180)(WN50-GLG)(P)
5056261043411
£39.99
492 g
5 x 180cm
4 Pack of Personalised Luggage Straps with Combination Lock (UK Made)
(250cm) - Silver Grey (Personalised with Text)
FGLUG064(x4)(250)(WN50-GLG)(P)
5056261043435
£44.99
592 g
5 x 250cm
4 Pack of Personalised Luggage Straps with Combination Lock (UK Made)
(300cm) - Silver Grey (Personalised with Text)
FGLUG064(x4)(300)(WN50-GLG)(P)
5056261043459
£49.99
648 g
5 x 300cm
4 Pack of Personalised Luggage Straps with Combination Lock (UK Made)
(180cm) - Black (Personalised with Text)
FGLUG064(x4)(180)(WN50-BLK)(P)
5056261043206
£39.99
492 g
5 x 180cm
4 Pack of Personalised Luggage Straps with Combination Lock (UK Made)
(250cm) - Black (Personalised with Text)
FGLUG064(x4)(250)(WN50-BLK)(P)
5056261043237
£44.99
592 g
5 x 250cm
4 Pack of Personalised Luggage Straps with Combination Lock (UK Made)
(300cm) - Black (Personalised with Text)
FGLUG064(x4)(300)(WN50-BLK)(P)
5056261043268
£49.99
648 g
5 x 300cm
4 Pack of Personalised Luggage Straps with Combination Lock (UK Made)
(180cm) - White (Personalised with Text)
FGLUG064(x4)(180)(WN50-WHI)(P)
5056261043299
£39.99
492 g
5 x 180cm
4 Pack of Personalised Luggage Straps with Combination Lock (UK Made)
(250cm) - White (Personalised with Text)
FGLUG064(x4)(250)(WN50-WHI)(P)
5056261043329
£44.99
592 g
5 x 250cm
4 Pack of Personalised Luggage Straps with Combination Lock (UK Made)
(300cm) - White (Personalised with Text)
FGLUG064(x4)(300)(WN50-WHI)(P)
5056261043350
£49.99
648 g
5 x 300cm
4 Pack of Personalised Luggage Straps with Combination Lock (UK Made)
(180cm) Striped (Personalised with Text)
FGLUG064(x4)(180)(WN50-STR)(P)
5056261075344
£39.99
492 g
5 x 180cm
4 Pack of Personalised Luggage Straps with Combination Lock (UK Made)
(250cm) Striped (Personalised with Text)
FGLUG064(x4)(250)(WN50-STR)(P)
5056261075443
£44.99
592 g
5 x 250cm
4 Pack of Personalised Luggage Straps with Combination Lock (UK Made)
(300cm) Striped (Personalised with Text)
FGLUG064(x4)(300)(WN50-STR)(P)
5056261075450
£49.99
648 g
5 x 300cm
4 Pack of Personalised Luggage Straps with Combination Lock (UK Made)
(180cm) - Mixed Pack (Striped, Red, Yellow, Royal) (Personalised with Text)
FGLUG064(x4)(180)WEB-STR-R-Y-RB(P)
5060089256236
£39.99
493 g
5 x 180cm
4 Pack of Personalised Luggage Straps with Combination Lock (UK Made)
(250cm) - Mixed Pack (Striped, Red, Yellow, Royal) (Personalised with Text)
FGLUG064(x4)(250)WEB-STR-R-Y-RB(P)
5060089256212
£44.99
593 g
5 x 250cm
4 Pack of Personalised Luggage Straps with Combination Lock (UK Made)
(300cm) - Mixed Pack (Striped, Red, Yellow, Royal) (Personalised with Text)
FGLUG064(x4)(300)WEB-STR-R-Y-RB(P)
5060089253785
£49.99
649 g
5 x 300cm
4 Pack of Personalised Luggage Straps with Combination Lock (UK Made)
(180cm) - Mixed Pack (Black, White, Grey, Navy) (Personalised with Text)
FGLUG064(x4)(180)WEB-BL-W-GY-NB(P)
5060089253501
£39.99
493 g
5 x 180cm
4 Pack of Personalised Luggage Straps with Combination Lock (UK Made)
(250cm) - Mixed Pack (Black, White, Grey, Navy) (Personalised with Text)
FGLUG064(x4)(250)WEB-BL-W-GY-NB(P)
5060089256205
£44.99
593 g
5 x 250cm
4 Pack of Personalised Luggage Straps with Combination Lock (UK Made)
(300cm) - Mixed Pack (Black, White, Grey, Navy) (Personalised with Text)
FGLUG064(x4)(300)WEB-BL-W-GY-NB(P)
5060089256182
£49.99
649 g
5 x 300cm
4 Pack of Personalised Luggage Straps with Combination Lock (UK Made)
(180cm) - Mixed Pack (Black and White) (Personalised with Text)
FGLUG064(x4)(180)WEB-BLX2-WX2(P)
5060089256229
£39.99
493 g
5 x 180cm
4 Pack of Personalised Luggage Straps with Combination Lock (UK Made)
(250cm) - Mixed Pack (Black and White) (Personalised with Text)
FGLUG064(x4)(250)WEB-BLX2-WX2(P)
5060089256199
£44.99
593 g
5 x 250cm
4 Pack of Personalised Luggage Straps with Combination Lock (UK Made)
(300cm) - Mixed Pack (Black and White) (Personalised with Text)
FGLUG064(x4)(300)WEB-BLX2-WX2(P)
5060089256175
£49.99
649 g
5 x 300cm
4 Pack of Personalised Luggage Straps with Combination Lock (UK Made)