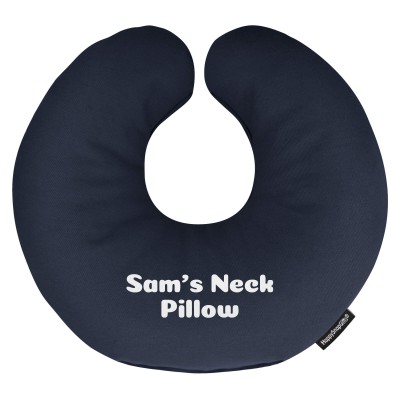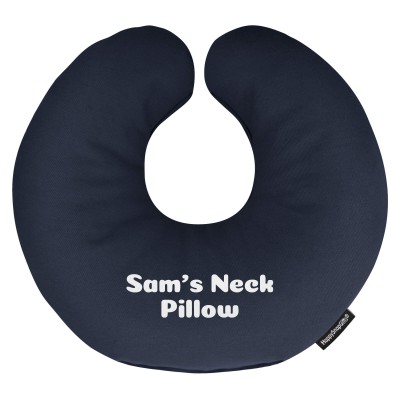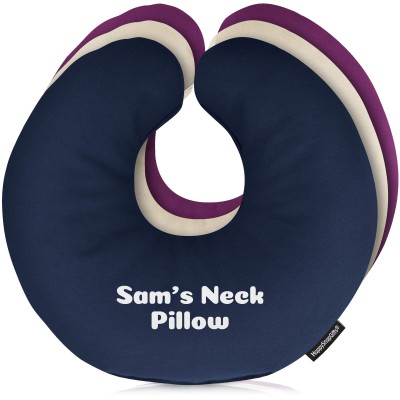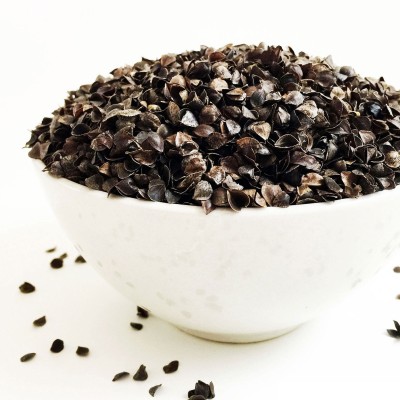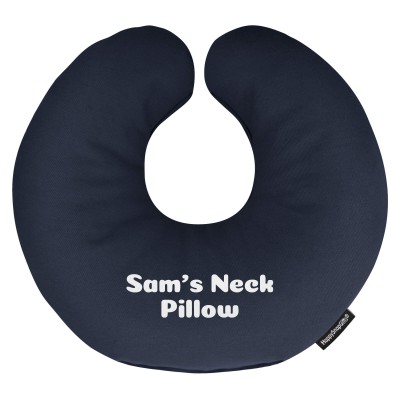 Buckwheat Pillow (U-Shaped)
UK Made
Natural Filling
Organic Options *
Description
Buckwheat Neck Pillow is U-Shaped with Natural filling offering support for the head and neck area. Perfect for both travel and home.
UK Made u-shaped pillow.
Filled with natural buckwheat.
Approx. 35cm x 35cm x 5cm.
Many fabric and colour options.
Optional personalised text.
Organic fabric & lavender choices.
Exceptional support for the head and neck.
Trusted HappySnapGifts® UK Made brand.
This super versatile U-Shape Neck Pillow from HappySnapGifts® is filled generously with triple screen cleaned, natural buckwheat husks. Manufactured in our factory in the UK, this exceptional buckwheat cushion offers phenomenal levels of support for the head and neck area and can make long and arduous journeys restful.
Buckwheat pillows have been very popular in the USA for many years due to their diverse range of uses. This stunning buckwheat cushion makes for an effective neck pillow, travel pillow, lumbar support and leg spacer; among other uses.
We manufacture all our buckwheat pillows using durable polycotton or cotton fabric that is designed to withstand consistent repeated use. We offer this lovely neck pillow in an assortment of striking colour options and fill each one with the optimum amount of buckwheat hulls, based on constructive customer feedback.
Natural buckwheat pillows can be a real investment in your long term health as they offer a level of comfort and support that a fibre or feather filling cushion simply cannot provide. Consistent use may even help to alleviate strains, aches and cramps associated with poor support.
If you're looking for a thoughtful and unique gift for a friend or family member, then please consider our personalisation options. We can personalise your Organic Buckwheat U-Shape Travel and Neck Pillow with a name, message or catchphrase of your choosing. Surprise that special someone with a truly memorable gift idea.
Reviews
I love it
- Great product (Macanuda, 03/05/22)
Relax
- Very good, my quality sleep is a lot better (Alfie Mumford , 26/05/21)
Neck
- I bought this for my ex he uses it all the time it helps his neck (Sally, 07/04/21)
More than pleased
- Very good quality. Gives the right amount of support, I use this daily and have found it invaluable for support and comfort. (B Cole, 21/08/20)
Neck
- I have a friend staying with me, he has left body dementia and he has his neck pillow all the time (Sally, 11/07/20)
Neck
- Same as above (Sally, 11/07/20)
Neck pillow
- There is plenty right with this neck pillow. It is malleable, comfortable and robust. (Richard, 06/07/20)
Customer Service Review of WheatyBags Organic Buckwheat U-Shape Travel and Neck Pillow
- If you're having poor luck with your fibre, feather or memory foam pillow, then consider a buckwheat cushion. They don't collapse under the weight of your head and provide exceptional support for your neck. We've designed this pillow to a classic U-shape, which means it makes for an excellent neck pillow, travel cushion, lumbar support and leg spacer. We fill this cushion with 100% organic buckwheat hulls and use no synthetic fillings whatsoever. As is the case with our other buckwheat cushions, we manufacture this travel pillow in our British factory. Rest assured that we make each of our lovely cushions to the highest possible standards, using only the most robust and enduring polycotton and cotton fabric. Buy with full confidence. (Lance Plachciak)
Instructions
DO NOT HEAT THIS PRODUCT IN THE MICROWAVE. This Buckwheat Pillow is NOT intended to be used hot or heated in the microwave. Buckwheat Pillows are a pillow for comfort and rest whether in a chair, the bed or floor.
Please do not machine wash this product or get it wet.  If it becomes marked or dirty, please take good care not to wet the inner contents and wipe clean with a damp cloth.
Removable Covers: If you purchase this Product with the "Removable Cover" for cleaning, the outer removable cover will be supplied in the fabric and colour of your choice.  The inner pack will be manufactured from a fabric and colour of our choice depending on supplies available at the time of manufacture (usually our natural value cotton fabric depending on the product).
Do not wash or get the inner buckwheat or other filled products wet.
CARELESSNESS CAUSES FIRE.
Do not wash or get the inner buckwheat or other filled products wet.
For 100% Cotton, 100% Polycotton & 100% Polyester Fabrics (eg Fleece) Removable Covers.
Remove the outer cover before carefully cleaning the outer cover only.
Only warm hand or machine wash and cold rinse the removable cover.
Wash with like colours max. 40 degree temperature.
For best results, lay flat on a suitable surface to air-dry.
Do not bleach.
1 spot iron (Cotton / Fleece) or 2 spot iron (Polycotton).
Do not tumble dry.
FAQs
Can Buckwheat Filled Products be heated in the microwave?
No. Buckwheat products are intended for sleep and rest only and must never be heated or cooled.
Is the Buckwheat used Organic?
No. We use "Low Impact Crops" of Buckwheat to help balance the extraordinarily high cost that truly organic Buckwheat would add to the products by using a Low Impact Grown Crop of Buckwheat.  Low Impact means the crop is not sprayed with any pesticides and therefore helps reduce costs but maintain the ethics of the buckwheat we use.
What are buckwheat hulls used?
Buckwheat Hulls are the outer husk of the all-natural buckwheat plants.  Buckwheat isn't actually wheat at all but a fruit and the husk is the outer parts of the hull that protects the wheat inside.
How do Buckwheat Cushions feel ?
Buckwheat filled cushions have a firm feel though certainly not hard; the hulls inside move about just like a fibre filled cushion would and mold to shape as your body rests against the cushion.  All our buckwheat cushions will provide a firm support, far more so than a feather filled cushion or one with polyester fibre and they are definitely worth a try if you have never had one before as they are totally organic and natural.
Can this product be washed?
Please refer to the "Instructions" tab for detailed information on cleaning this product and any care label sewn into the product itself.
What are the Organic Fabric Options?
Where shown, this product has an Organic Fabric Option. We purchase organic fabric from trusted UK Fabric Merchants who are registered under the Global Organic Textile Standard (GOTS) to enable full traceability of the fabric we use through to the final product you are purchasing today.
Is the Lavender Organic?
Yes. We purchase Organic Lavender from our Grain & Seed Merchant in the UK and they have sourced genuine lavender buds for our heat packs.  This is not a scent, we add the flower buds from Organic Lavender for the most exquisite fragrance.
Delivery
The information below is for guidance. Actual delivery costs and dates depend on the delivery address, weight and time your order is placed. Cut-off time for Overnight Orders is 12 noon.
| Price | Method | Manufacture Time | Delivery Time | Est. Delivery Date |
| --- | --- | --- | --- | --- |
| £4.99 | 2nd Class (Tracked) | 0-3 Days | 2-3 Days | Mon 25 Sep - Fri 29 Sep |
| £6.99 | 1st Class (Tracked) | 0-3 Days | 1-2 Days | Fri 22 Sep - Thu 28 Sep |
| £12.99 | Royal Mail Special Delivery (Overnight Mon-Sat Pre 1pm) | Tomorrow | Next Day (Mon-Sat) | Mon 25 Sep |
| £13.21 | DHL Courier (Economy M-F Pre 6pm) | 0-3 Days | 2-3 Days | Mon 25 Sep - Fri 29 Sep |
More Information
| | |
| --- | --- |
| Despatch | Today (Cut off time 3pm) (0-3 Days if Personalised) or Upgrade at Checkout for Overnight Delivery |
| Brand | HappySnapGifts® |
| RRP | £14.99 |
| Country of Origin | United Kingdom |
| SKU | FGBUC004(B)(U35)COT-BNA |
| Gtin | 5056261000650 |
| Tariff Code | 10081000 |
| Tariff Description | Pillow - Buckwheat Filled with Fabric Cover |
| Product Weight | 600 g |
| Product Dimensions | 32 x 35 x 6.5cm |
Product Options
Size
35cm
Filling
Buckwheat
Fabric
Cotton, Luxury Cotton, Organic Cotton
Fabric Colour
Navy Blue, Royal Blue, Natural, Hot Pink, Purple, Red, Gothic Blue, Chocolate
Aroma (Click to Select)
Unscented, Organic Lavender Buds +
Product Type
Buckwheat - Pillow
buckwheat cushion
buckwheat neck pillow
buckwheat travel pillow

Buckwheat Pillow (U-Shaped)
(35cm) - Navy Blue Cotton Fabric
FGBUC004(B)(U35)COT-BNA
5056261000650
£14.99
600 g
32 x 35 x 6.5cm
Buckwheat Pillow (U-Shaped)
(35cm) - Navy Blue Cotton Fabric (Personalised with Text)
FGBUC004(B)(U35)COT-BNA(P)
5056261000797
£17.94
600 g
32 x 35 x 6.5cm
Buckwheat Pillow (U-Shaped)
(35cm) - Royal Blue Cotton Fabric
FGBUC004(B)(U35)COT-BRO
5056261000643
£14.99
600 g
32 x 35 x 6.5cm
Buckwheat Pillow (U-Shaped)
(35cm) - Royal Blue Cotton Fabric (Personalised with Text)
FGBUC004(B)(U35)COT-BRO(P)
5056261000827
£17.94
600 g
32 x 35 x 6.5cm
Buckwheat Pillow (U-Shaped)
(35cm) - Natural Cotton Fabric
FGBUC004(B)(U35)COT-NAT
5056261000636
£14.99
600 g
32 x 35 x 6.5cm
Buckwheat Pillow (U-Shaped)
(35cm) - Natural Cotton Fabric (Personalised with Text)
FGBUC004(B)(U35)COT-NAT(P)
5056261000858
£17.94
600 g
32 x 35 x 6.5cm
Buckwheat Pillow (U-Shaped)
(35cm) - Hot Pink Cotton Fabric
FGBUC004(B)(U35)COT-PBU
5056261000629
£14.99
600 g
32 x 35 x 6.5cm
Buckwheat Pillow (U-Shaped)
(35cm) - Hot Pink Cotton Fabric (Personalised with Text)
FGBUC004(B)(U35)COT-PBU(P)
5056261000889
£17.94
600 g
32 x 35 x 6.5cm
Buckwheat Pillow (U-Shaped)
(35cm) - Purple Cotton Fabric
FGBUC004(B)(U35)COT-PUR
5056261000667
£14.99
600 g
32 x 35 x 6.5cm
Buckwheat Pillow (U-Shaped)
(35cm) - Purple Cotton Fabric (Personalised with Text)
FGBUC004(B)(U35)COT-PUR(P)
5056261063112
£17.94
600 g
32 x 35 x 6.5cm
Buckwheat Pillow (U-Shaped)
(35cm) - Red Cotton Fabric
FGBUC004(B)(U35)COT-RED
5056261000674
£14.99
600 g
32 x 35 x 6.5cm
Buckwheat Pillow (U-Shaped)
(35cm) - Red Cotton Fabric (Personalised with Text)
FGBUC004(B)(U35)COT-RED(P)
5056261000773
£17.94
600 g
32 x 35 x 6.5cm
Buckwheat Pillow (U-Shaped)
(35cm) - Gothic Blue Luxury Cotton Fabric
FGBUC004(B)(U35)COL-BGO
5056261000681
£24.99
600 g
32 x 35 x 6.5cm
Buckwheat Pillow (U-Shaped)
(35cm) - Gothic Blue Luxury Cotton Fabric (Personalised with Text)
FGBUC004(B)(U35)COL-BGO(P)
5056261000728
£27.94
600 g
32 x 35 x 6.5cm
Buckwheat Pillow (U-Shaped)
(35cm) - Chocolate Luxury Cotton Fabric
FGBUC004(B)(U35)COL-BMO
5056261000698
£24.99
600 g
32 x 35 x 6.5cm
Buckwheat Pillow (U-Shaped)
(35cm) - Chocolate Luxury Cotton Fabric (Personalised with Text)
FGBUC004(B)(U35)COL-BMO(P)
5056261000735
£27.94
600 g
32 x 35 x 6.5cm
Buckwheat Pillow (U-Shaped)
(35cm) - Natural Organic Cotton
FGBUC004(B)(U35)COO-NAT
5056261063150
£21.99
600 g
32 x 35 x 6.5cm
Buckwheat Pillow (U-Shaped)
(35cm) - Natural Organic Cotton (Personalised with Text)
FGBUC004(B)(U35)COO-NAT(P)
5056261063167
£24.94
600 g
32 x 35 x 6.5cm
Buckwheat Pillow (U-Shaped)
(35cm) - Navy Blue Cotton Fabric Scented (Organic Lavender Buds)
FGBUC004(B)(U35)COT-BNA(LAV)
5056261000896
£15.99
601 g
32 x 35 x 6.5cm
Buckwheat Pillow (U-Shaped)
(35cm) - Navy Blue Cotton Fabric Scented (Organic Lavender Buds) (Personalised with Text)
FGBUC004(B)(U35)COT-BNA(LAV)(P)
5056261063105
£18.94
601 g
32 x 35 x 6.5cm
Buckwheat Pillow (U-Shaped)
(35cm) - Royal Blue Cotton Fabric Scented (Organic Lavender Buds)
FGBUC004(B)(U35)COT-BRO(LAV)
5056261063129
£15.99
601 g
32 x 35 x 6.5cm
Buckwheat Pillow (U-Shaped)
(35cm) - Royal Blue Cotton Fabric Scented (Organic Lavender Buds) (Personalised with Text)
FGBUC004(B)(U35)COT-BRO(LAV)(P)
5056261000766
£18.94
601 g
32 x 35 x 6.5cm
Buckwheat Pillow (U-Shaped)
(35cm) - Natural Cotton Fabric Scented (Organic Lavender Buds)
FGBUC004(B)(U35)COT-NAT(LAV)
5056261000780
£15.99
601 g
32 x 35 x 6.5cm
Buckwheat Pillow (U-Shaped)
(35cm) - Natural Cotton Fabric Scented (Organic Lavender Buds) (Personalised with Text)
FGBUC004(B)(U35)COT-NAT(LAV)(P)
5056261000803
£18.94
601 g
32 x 35 x 6.5cm
Buckwheat Pillow (U-Shaped)
(35cm) - Hot Pink Cotton Fabric Scented (Organic Lavender Buds)
FGBUC004(B)(U35)COT-PBU(LAV)
5056261000810
£15.99
601 g
32 x 35 x 6.5cm
Buckwheat Pillow (U-Shaped)
(35cm) - Hot Pink Cotton Fabric Scented (Organic Lavender Buds) (Personalised with Text)
FGBUC004(B)(U35)COT-PBU(LAV)(P)
5056261000834
£18.94
601 g
32 x 35 x 6.5cm
Buckwheat Pillow (U-Shaped)
(35cm) - Purple Cotton Fabric Scented (Organic Lavender Buds)
FGBUC004(B)(U35)COT-PUR(LAV)
5056261000841
£15.99
601 g
32 x 35 x 6.5cm
Buckwheat Pillow (U-Shaped)
(35cm) - Purple Cotton Fabric Scented (Organic Lavender Buds) (Personalised with Text)
FGBUC004(B)(U35)COT-PUR(LAV)(P)
5056261000865
£18.94
601 g
32 x 35 x 6.5cm
Buckwheat Pillow (U-Shaped)
(35cm) - Red Cotton Fabric Scented (Organic Lavender Buds)
FGBUC004(B)(U35)COT-RED(LAV)
5056261000872
£15.99
601 g
32 x 35 x 6.5cm
Buckwheat Pillow (U-Shaped)
(35cm) - Red Cotton Fabric Scented (Organic Lavender Buds) (Personalised with Text)
FGBUC004(B)(U35)COT-RED(LAV)(P)
5056261000902
£18.94
601 g
32 x 35 x 6.5cm
Buckwheat Pillow (U-Shaped)
(35cm) - Gothic Blue Luxury Cotton Fabric Scented (Organic Lavender Buds)
FGBUC004(B)(U35)COL-BGO(LAV)
5056261000742
£25.99
601 g
32 x 35 x 6.5cm
Buckwheat Pillow (U-Shaped)
(35cm) - Gothic Blue Luxury Cotton Fabric Scented (Organic Lavender Buds) (Personalised with Text)
FGBUC004(B)(U35)COL-BGO(LAV)(P)
5056261000759
£28.94
601 g
32 x 35 x 6.5cm
Buckwheat Pillow (U-Shaped)
(35cm) - Chocolate Luxury Cotton Fabric Scented (Organic Lavender Buds)
FGBUC004(B)(U35)COL-BMO(LAV)
5056261000704
£25.99
601 g
32 x 35 x 6.5cm
Buckwheat Pillow (U-Shaped)
(35cm) - Chocolate Luxury Cotton Fabric Scented (Organic Lavender Buds) (Personalised with Text)
FGBUC004(B)(U35)COL-BMO(LAV)(P)
5056261000711
£28.94
601 g
32 x 35 x 6.5cm
Buckwheat Pillow (U-Shaped)
(35cm) - Natural Organic Cotton Scented (Organic Lavender Buds)
FGBUC004(B)(U35)COO-NAT(LAV)
5056261063136
£22.99
601 g
32 x 35 x 6.5cm
Buckwheat Pillow (U-Shaped)
(35cm) - Natural Organic Cotton Scented (Organic Lavender Buds) (Personalised with Text)
FGBUC004(B)(U35)COO-NAT(LAV)(P)
5056261063143
£25.94
601 g
32 x 35 x 6.5cm
Buckwheat Pillow (U-Shaped)