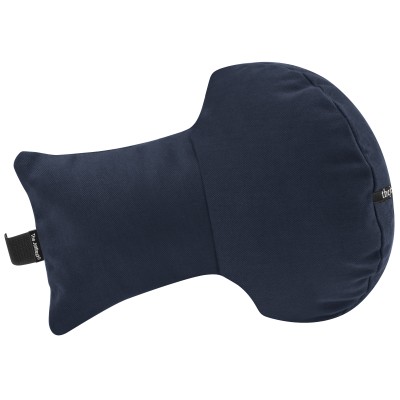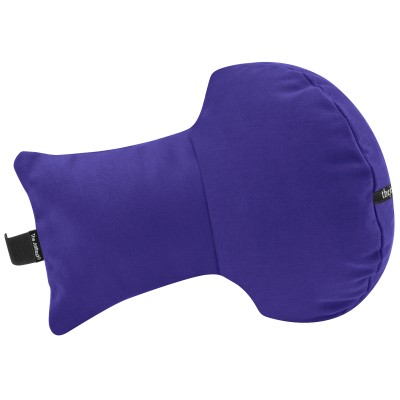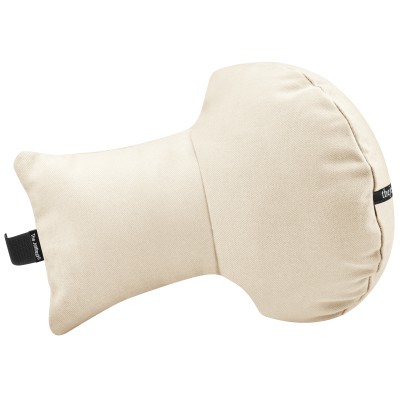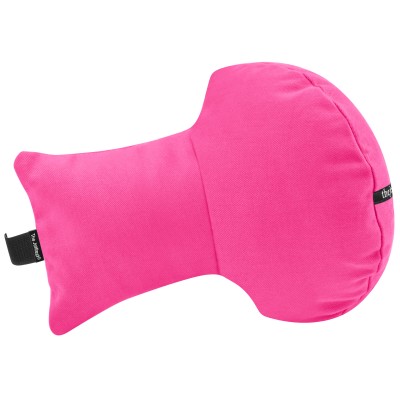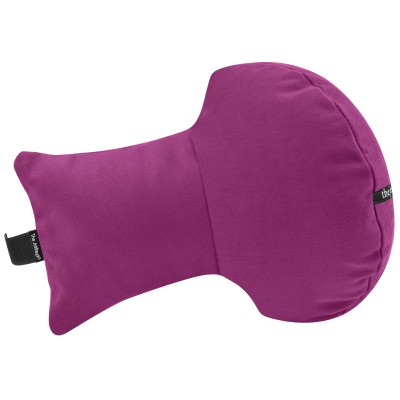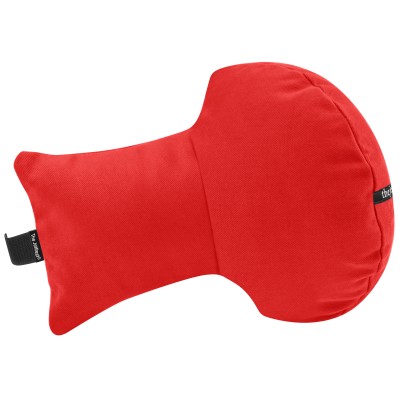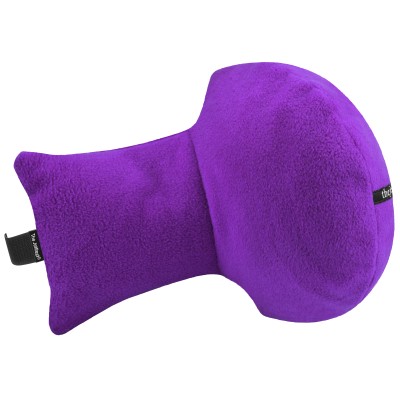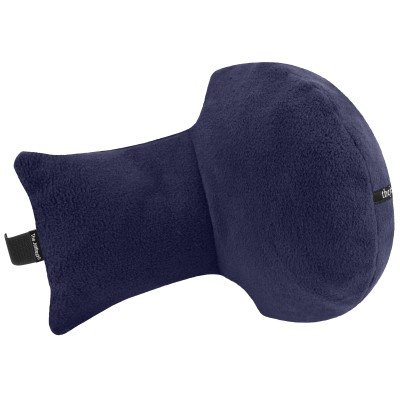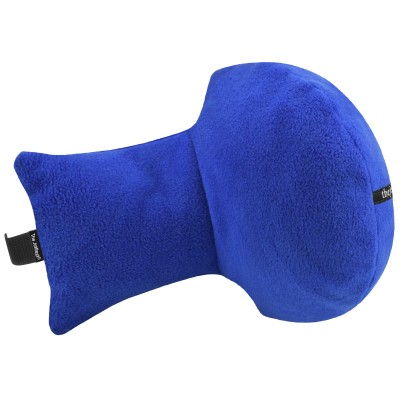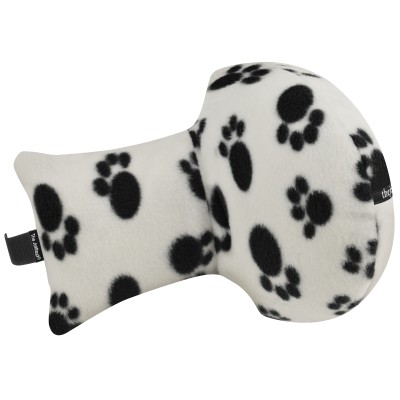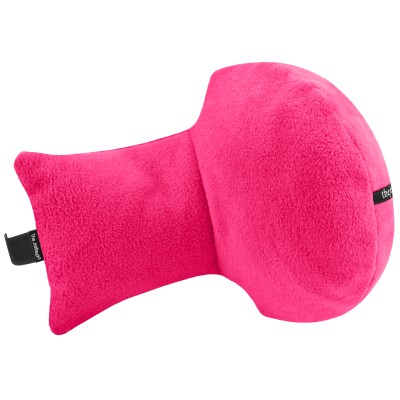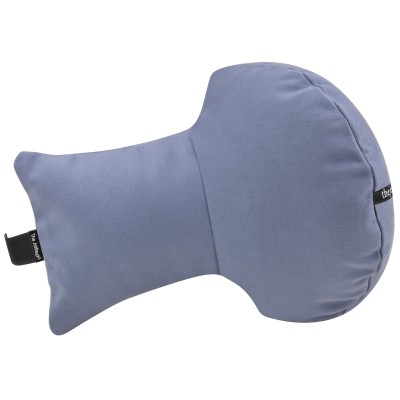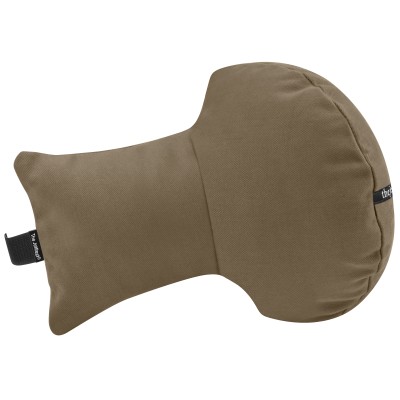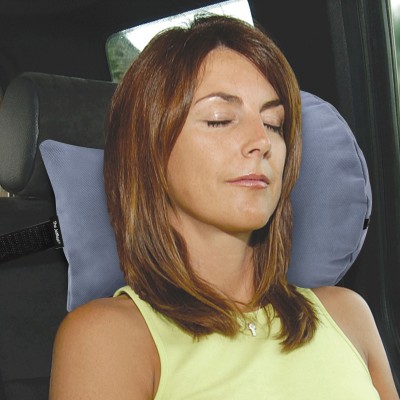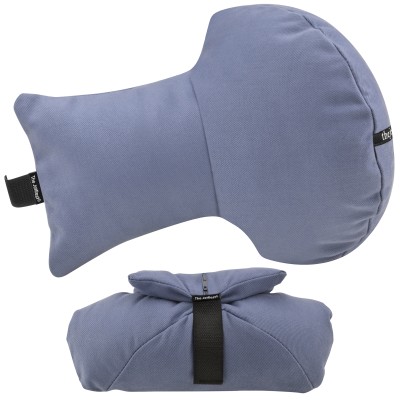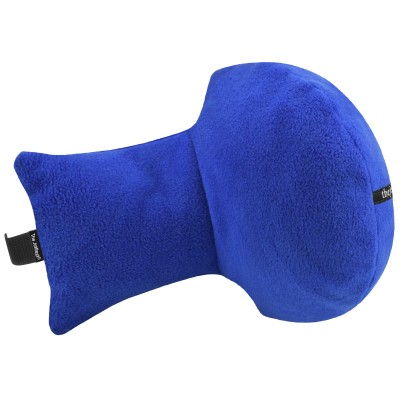 The JetRest® Original Travel Pillow
UK Made
BS5852 : 1988
Hypo-Allergenic Filling
Zips - Oeko-Tex
Organic Options *
Description
The JetRest® Travel Pillow that cushions the head upright naturally and is made from soft fabrics and luxury fibre filling that compacts down when travelling.
Unique patented L-shaped neck pillow.
Supports the head in an upright position.
Works on any high backed seat (planes, trains, coaches and cars).
Removable covers for cleaning.
Polyester fibre filling (BS5850 approved).
Rolls up with fastening strap to save space.
Comes in many fabric and colour choices.
UK Made.
Trusted JetRest® brand
The JetRest® Neck Pillow is designed as a travel pillow to cushion the head upright naturally on any high backed seat such as a plane, train, coach or car seat.
The JetRest® Travel Pillow was designed specifically to be used against taller seats and stays in place simply by leaning back against the seat. The body's own weight pins the cushion naturally to the seat back and supports the head and neck as you lol off to sleep.
Space Saving tip: The JetRest® Neck Pillow rolls up by use of the fastening strap that is sewn onto the product.
Cotton or Fleece covers - to be cool or warm ?
We have created many designs and cover options for The JetRest® including cottons and fleeces. Cotton tends to be cooler and fleece warmer though both sell in equal numbers though men in general seem to prefer the cottons and ladies the fleece as a general neck pillow guide.
Take a look at the benefits by looking at the travel pillow on our site as there are many. The JetRest cushions the head upright naturally and helps to avoid neck strain. It uses the body's own weight to hold it in place and there is no need to lean against a window. The JetRest is made from luxurious fabric, has removable covers for cleaning and we manufacture the pillow here in the UK.
How I invented The JetRest... a personal story from Michael Robinson at Clear Prospects Ltd.
In 1994 I was backpacking around the world; I made 14 flights in 12 months and have no idea how many thousands of miles I travelled on coaches across India and Australia in particular. I was 24 and left an 8-year career with Barclays Bank as knew there had to be more to life.
I have so many stories as you'd imagine though one thing for sure was I never gained any comfort using an inflatable u-shaped travel pillow though 2 years abroad and after the expensive patent, I designed and launched The JetRest as my own personal travel pillow.
Travel Pillows need to be comfortable, more so than a cushion from home. As the L-shape worked for me, I thought that The JetRest needed to be made in really soft fabrics and not plastic. Fibre filling was the next challenge and after literally months of searching, I found a manufacturer in the UK with a super-soft yet really springy fibre that is also hypo-allergenic so won't have people sneezing. Of course it also passes the UK fire tests (BS5852).
Months of research, designing my brand, looking at packaging and now, years later, The JetRest is surely the best travel pillow around and is still being manufactured in-house in my own factory in the UK.
Thank you for your support.
Reviews
Best Travel Pillow Ever
- I have tired a couple of travel pillows but the Jetrest one is the best. I have used it several times for train travel. Its unique style provides comfort and support for resting your head. Extremely portable. Bought one for a friend who is looking forward to using it. (Marjory, 23/02/23)
Wonderful pillow,
- It does what it says. Fantastic neck support for travelling but also I use it every day . No further neck pain. (Yvonne Locke , 01/12/22)
Very comfortable
- I have purchased a number of Jet Rest pillows. I find them very comfortable both for traveling and when I'm watching TV. I just wish that they came with an easy carry bag (Phoebe, 19/04/22)
Jet Test
- I've had these pillows for at least 15 years and love them as does my 102 year old mother. This purchase was a replacement pillow for my mother. Use everywhere - at home, in the car, on a plane etc. So comfortable for resting and quietly snoozing. I'd recommend them to everyone. (Sari, 20/10/21)
Jet rest pillow - great product
- Ordered my second pillow after the first one finally gave out after years of use. I wouldn't travel without it. (Fran, 04/02/21)
Comfort
- Ideal neck head support for bed sofa or travelling.Supper good for stroke or disabled people. (D, 23/09/20)
Mp
- Unfortunately not been able to test pillow on plane but looks and feels good.like the freedom of position it offers and should be cooler than models that hug the neck. Can't wait for end of lock down to see if I'm right. (Mp, 09/06/20)
Di
- i have tried almost e wry travel pillow out there and this is the only one that really works. It cradles you face and allows yo to relax and sleep without neck pain. My husband broke 9 ribs in an accident and had to sleep in a chair. Once he tried this pillow he finally got some rest to heal. Trust me! Order it! You will love it!! (Di , 09/06/20)
AlphaLimaEchoXray
- Was a gift and is in use quite often! (AlphaLimaEchoXray, 08/06/20)
Chrissysue
- Super product, really comfy. This is my second purchase, really pleased with this product (Chrissysue, 05/06/20)
Charlotte
- Bought this for our flight to America, this was brilliant!!so much more practical that the normal neck cushions, and packs away nice and tidy. (Charlotte , 03/06/20)
So comfy
- At last something that makes long haul and travel restful. Compact with handy back which has space for glasses case and sleep mask. Will be popping this in the car for long journeys too. (Canny shopper)
The best neck pillow ever.
- I love my new neck pillow! I use it for naps on the sofa and can't wait for my holiday flight to try it out there. (Audrey clark)
I absolutely love these cushions.
- I bought one of these on their BOGOF offer, they have been invaluable when going on a long journey, as I am disabled they help me to get to sleep without put anymore stain on my already very painful body, I wake up feeling very refreshed and the added hint of lavender help me nod off. Once agin Thank you The Jet Rest Company. (Me74)
Great design and great quality
- I was given one of these pillows a couple of years ago as a gift. It's by far the best design I've experienced - super comfy, stops your head rolling onto the person in the neighbouring seat, and rolls down to probably close to a quarter the size of other neck cushions (making it great for packing away on your travels). This order was to get one as a gift for my husband (who has always been jealous of mine). Beautiful workmanship and quality - highly recommended. (Anna York)
Jet Rests
- Jet rests are my go to gift for those friends who have everything!!!! We first brought them many years ago for ourselves as we travel a lot. They are great on long hall trips but also good in the car. All round fab product !!!! (Mrs Esther Arnold)
Comfortable pillow
- Great value! Had one about 15 years; its still good but needed "updating". Have used my old one a lot, very comfortable, nests my neck for a good rest. (S Waddington)
LOVE this product!
- We have three of these pillows and I can't rate them highly enough. They're a must for long haul travel. (Emma Hall)
My grand childeren have now ther own
- I asked for two different colours for my grand childeren. Within 30 minutes I got the anwser that it was oke. Perfect sales office and graet service. t (PiJo)
Great pillow for anywhere
- Bought this travel pillow for my holiday but I have been using it for when I have a nap on my recliner and in bed as well. This is a great product!! (Malcolm McLachlan)
Comfortable & comforting
- Ordered just in time for a long haul flight & arrived in double quick time. Liked the material & lavender scent. Very supportive. Also came in useful after a fall whichjarred my shoulder & used it as a support whilst sleeping on holiday.packed up neatly in back packs. Bought 2 for 1, excellent. (anonymous)
I love the Jet rest cushion
- I have already bought 2 of these for myself and recommended them to others. These 4 I bought for my family who have a long car journey ahead of them. (Tricia)
Fantastic & Made in the UK
- Fantastic & Made in the UK. Great product design & well made, great to buy UK manufactured products,instead of China. #SupportBritishGoods (Martutd)
Fab for flights
- Bought as a gift so was pleased with the buy one get one free, which means we can both have them on our flights. They fold in half so will fit in hand luggage. Haven't used them yet so cannot comment on use but they look like they will make a great head rest on forthcoming flights. Excellent communication throughout order & delivery. (Sandy)
Great product
- Just used these pillows on an International flight and they were brilliant, very comfortable and don't take up too much room in your bag (Karen Jackett)
I can't wait
- This travel pillow is exactly as described and I can't wait to use it. Delivery was quick and the items were well packed. (Decima Horsfall)
Excellent product
- Love this travel pillow! Really comfortable, great size, very practical (JackieD)
a good product
- an ideal product for passenger car travel, also bus and air travel,very comfortable. (john)
There are many uses for this amazing travel pillow
- I bought this comfortable travel pillow for my long haul flight and now use it daily while watching TV, and also at night when I read in bed. Just as well I got one free as my daughter loves hers too. The price is good, the extra pillow is an amazing gift. Highly recommended. (Barbara Stibbe)
Great little product
- Great little product, perfect for travelling on the train. Fitted nicely into my hand luggage too ! (Suzanne Prime)
Worth buying with lavender
- Really loved using this cushion on long haul flight, especially with the lavender insert. Great for leaning against window or partner. Definitely recommend. (Maggie B.)
Soft and supportive
- Ordered this on recommendation from a friend who has used one whist flying between New Zealand and UK. As my daughter and her Dad are soon to make the same journey I was delighted to see that I would be getting two for the price of one. They arrived quickly and I was amazed they were such good quality. They are extremely soft and give good side support to the head and neck and roll up to easily be stored in hand luggage. For transatlantic journeys they are going to be an item we will never be without. (Heather)
Love it so comfortable
- Great travel item comfortable and easily stored. Pleased I bought it (anonymous)
Don't Travel Without your JetRest
- 2nd time I have ordered this great pillow - it works really well and I sleep much better on the plane using it. Prompt service too. And the new aromatherapy pocket adds a nice smell. (Cary)
Useful Travel pillow
- Purchased this pillow to use onboard a long haul flight. They are nice and soft and pack up well. Pleased I bought one. (Sharon Hills)
vegas
- I bought this for my daughter who was going to vegas. the flight was 10 hours long and she said it was so useful and comfortable to use. thank you jetrest. (oldie traveller)
Cushion
- I brought this cushion for my holidays next year so I have not used them yet, I got a great offer buy one get one free so that is a great deal I would give them 5 out of 5 (Bunny Rabbit)
We love these cushions
- Great buy love them (Senga)
Perfect for keeping your head and neck comfortable on a plane or sunbed
- Beautifully soft cover, firm cushion, just the job when you're reading on a sunbed and don't want an aching neck. Wraps up nicely to fit in a bag. (Yvonne)
Love it
- Just used for the first time on a long-haul flight. Just brilliant it does what is says, it supports your head and is very snuggly. I find the horse shoe style pillows still allows my head to loll, the Jet rest kept me up right .Perfect. Thank you (Maudie)
lost in transit
- Left the original one brought a few years ago on the plane so had to buy another one as it has been so useful, I am short and it really helps me sleep and get comfortable (anonymous)
Comfy sleeps
- Haven't used these yet but tried them out on the sofa & sure they will be much used on our long bus journey to the airport & on the flight. (Christine)
Very comforyable
- Most comfortable travel pillow i have used. I have a lot of neck pain and find it difficult to get comfortable when flying but was able to tuck this in around my neck, it is very soft but also supportive. (Kari)
Excellent product
- I wish I'd know about this company before sending double on an inferior product. I have one for every family member now, and found mine very useful even in my own bed after minor surgery meant I had to sleep upright for a while. Highly recommended. (Gilly Combe)
Jet rest travel Pillow
- worked out well as was camping for a few nights and needed a small compact pillow that was easy to carry and use and this worked out a treat.  (Gerry)
comfortable support
- I bought this having used one for several years and wanted to have a change. I got the purple in the soft fabric having previously had the blue denim. Very comfortable. (Crawley Pauline)
Loving it
- Good for travelling on planes, comfy. (Mumstermuffin)
It really worked
- I have used several flight sleep pillows and this one is the first one that actually allowed me to go to sleep and stay asleep! Eye mask on, ear plugs in and the lavender infused jetrest. Bingo - I managed a 5hr sleep on a long haul flight in economy. Hooray! (Nina Anderton)
Very comfortable travel pillow
- Product arrived promptly and in perfect condition. I haven't had a chance to use it for travel yet, but have tried it out on a high backed seat similar is size to an airline seat and it is very comfortable. Much nicer than the blow up ones I've used previously. The covering fabric is very good quality (I ordered the natural cotton). There is a Velcro strap to fasten round it to keep it to a manageable size prior to use. All in all a good product, and I can't wait to try it out on my next flight. (Val)
Great idea
- Bought these pillow on the 2 for 1 offer, one for me and one for a present. Good quality and the concept is great so looking forward to being able to get a comfortable doze on my next flight without waking up with a creaking neck! Great service from ordereding through to delivery. Definitely recommend. (Yorkie)
Excited to use
- Bought these for our long haul flight which is in September so not used yet. Really excited about trying them , a had a go at home and they are very comfortable Swift service (Janet)
Love this neck cushion!
- Purchased theses neck cushions for long flights after a recommend from a friend,& have not been disappointed! Much better than the normal cushions & wouldn't travel without now. Can also be used on coaches & cars etc. (JillySue)
Sooo comfortable
- I bought the jetrest cushion for my recent trip to Hong Kong and it was perfect. Unlike the "donut " shaped cushions, it fits perfectly into the neck. I bought 2 & my friend adored hers, even though she was sceptical at first. I need to buy a replacement as my son has " borrowed " mine for his trip to S. America ! (Gill)
Ideal for long flight or afternoon nap on sofa.
- I am really pleased with this purchase and can't wait to use on my next flight. The holiday company changed my flight times which means I will be flying through the night. I find the full neck pillows uncomfortable so this pillow is just perfect. And as I purchased the extra lavender fragrance I'll hopefully have no trouble sleeping! (Chris)
Most comfortable ever
- The most comfortable and stabilising neck cushion ever. Good for long or short haul planes, coaches, in car travel and doubles up as a sun bed pillow on the beach or poolside. Wraps neatly around the strap of your in flight bag for carrying. Never loan it to a friend or you may never get it back although the buy one get one free offer made it an affordable Christmas present this year for several of my friends. (Jhs)
Good quality well designed airplane pillow
- Was pleased with the quality and value (got 2 for 1)....not travelled yet but feels like it will "do the job" and hopefully will get some sleep on the plane. (Jan W, Leeds)
Love it
- I fly frequently and this pillow is a life saver, get a seat next to the window, and snooze away with this bad boy, love it. (Gary Smith)
Nice travel pillow
- Very good quality and very comfortable. (Jerry)
upgraded cushion for in flight comfort
- I am so far pleased with the cushion ..I love the feel of the material and the pop of colour is cheerful.. (shazza)
Wonderfull
- I have using the travel pilliw for years and friends borrowed mine. So now I thought it about time to give a couple away (Bert)
I'm so happy I bought this
- An excellent product i got the buy 2 for one deal and I'm so glad that I did one pillow on its own is great for traveling but I always find hotel pillows uncomfortable and find it hard to sleep. Not this time. I attached my two travel pillows together with the Velcro fastening. Put them on top of the flat hotel pillow and hey presto. A perfect nights sleep (Sue)
Very comfy worth every penny
- I've not yet used the jet rest on a plane but I have in my living room and it is very comfy!!:) (Natalie)
Best travel pillow by far
- I have used the conventional travel pillows before and found them ineffective for a tall person like me. The JetRest Original allowed me to be comfortable and sleep better on a long flight. You can just sink into it. I recommend for anybody unsure (Sam)
Simples!
- Couldn't wait to use my JetRest and was not disappointed. I always carry my own travel pillow, could never get on with the inflatables,tried a load of different sized pillows with varying success, usually for total comfort I had to take a full size pillow... this is perfect, nice and compact; once set in place there's support for the back of your head and that holds in place the real gem here....I can lean into it and bang....I'm off...how did I sleep?..I closed my eyes and it happened naturally! (Raymond Robson)
Jet rest travel cushion - just brilliant
- I don't understand why this cushion is not for sale in all the big travel outlets. It is far more effective and much more comfortable than more standard designs. I use it on all long journeys, and it really does keep your head comfortably upright and supported. This is my second one. The first lasted for years, and I was so relieved that they were still available. Slightly heavier denim-colored fabric is fine, and will probably last even longer! Thanks, Jetrest. (Pam)
Able to rest while travelling
- I have had one of these for sometime and it is the best travel pillow I have ever used. I bought these for my friends ready for Christmas. (Shirley)
Good purchase
- Very pleased with this product, well made and certainly does the job, nice and comfortable too. (Roger Greatwood)
The travel cushion you cant travel without !
- This cushion made all the difference when we were on the plane. just the thing when your up against the window and fancy a bit of shut eye! (richard barry)
Looking for long distance travel pillows
- Great customer service,items arrived earlier than expected. Haven't tried the travel pillows yet apart from trying them out in front of TVs,they seem as though they will do the trick for long flights to USA and Australia. (Liz McNair)
Comfy cushion
- I have not yet used this cushion on holiday, but have tried it at home and it feels very comfy, I can't wait to try it out on our long holiday flight to Asia . (Pamela Neal)
looks like it will be fabulous
- purchased this travel pillow not yet used it but have tried it sitting on the sofa at home and I think it will do the job intended very nicely (Janice Tollitt)
Best ever in-flight cushion
- I bought a new one recently to replace the JetRest I had had for years and loved for its softness, comfort and user-friendliness. It's so light and rolls up in a moment to pack away. I use it as a neck support and pillow on flights, and a pillow in hotels. Definitely miles better than the more rigid bulky offerings available. (Sarah from Surrey)
Perfect for long journeys
- I've been using Jet Rest cushion for years now on all long journeys (plane or train) and wouldn't be without it. It makes long haul flights bearable, and combined with an eye mask you can doze quite well in any seat. (LP_uk)
Better than luggin a pillow onto the plane
- The JetRest, by virtue of its compactness, is ideal for aircraft travel or long distance road/train travel. Very comfortable, less bulky than a pillow and smart in appearance. Try & buy!!three (GregO'Neill)
Sooo comfy
- This is a great shape for fitting into your neck with a little pillow to lean against. Great design! (Snoozeedog)
Travel Pillow
- Bought this as I am going on a long flight to Canada and want to be as comfy as poss, so I haven't used it as such but have tried it out and really seems to be so much more comfy than the horse shoe shaped ones. It's a nice soft material too. Also bought the ear plugs so I might even be able to sleep on a flight for the first time ever - hopefully :-) (Brenda)
Amazing Travel Pillow
- I found this product online somehow and started reading the reviews, which sounded fantastic. I always have trouble with flights and sleeping and that dreaded head droop, and I hate the usual blow up u shaped pillows, they just don't seem to work! I'm getting married soon and our honeymoon involves 4 flights, 2 of which are long haul so any rest we can get would be amazing. We both tried the pillow when it arrived and it is so comfortable, looking forward to using this on our honeymoon! My dad always has troubles too and needs something to support his neck even when he is relaxing at home reading, I gave him one of these yesterday and he is keeping it (high praise from my dad). So, I'm going to buy another to replace the one I gave to my dad, but also so my mum can have one :) (Hanna)
Really useful pillow
- Jet Rest travel pillow was well wrapped and delivered quickly. I had the added bonus of a buy one get one free. Lovely comfortable pillow which supports your head and neck. No more stiff necks whilst travelling. Nice choice of colours too. (Meg)
great cofort
- I bought this for myself and husband we go on coach holidays and we can never doze and always have stiff neck and back not with this product it is brilliant so comfortable and easy to transport and use. I am so glad I found your site. I have recommended it to family and friends. Thank you for a great product (perusal)
Air plane head rests
- Bought at 2 for the price of 1. Very comfortable and will be used often. (Richard)
Travel pillow
- Bought the denim travel pillow for our long haul flight to Australia later this year, so haven't tried them out yet. Big bonus getting one free. They feel soft and supportive. Looking forward to using them (Elaine)
Fab and very comfortable (and usable) cushion!
- Not like other cushions......... great shape, practical and comfortable!!!! Would defo recommend this company and in particular, this type of travel pillow!!! Very happy with my purchase. (Jacspratt)
Ideal!
- Haven't used it on a flight yet but have tried it out in my living room and I think it's great! No bulky 'collar ' behind your neck as in traditional styles of travel pillow. (Honeycake)
A good flight's sleep?
- This works a treat when I'm sitting on my sofa so I have great hopes for the upcoming long haul Flight. I don't know how it works but it does! (Mrs F)
finally some sleep on a plane!
- I used this a week ago on a flight to Florida and it was great! I've bought the conventional travel pillows and they just don't hold my head. this stopped me falling forward and I got 4 hours sleep when I normally get none! def recommend! (anonymous)
Excellent product
- The jet rest is an excellent product. I lost mine during my last trip and the first thing I did on coming home is order a new one, since I can not imagine travelling for longer hours without it. Regards. (Wolter)
My favourite travel accessory
- This is the most comfortable neck rest I've ever found and it goes everywhere with me. It looks unusual but you need t try it. It's so squashy my grown up daughter fights me for it! (Jayne)
Good product & good value
- Had similar product a few years ago which I managed to leave behind on a plane so very happy to get this very comfortable replacement. Best design I've found in terms of sleeping on flights, etc where you don't want to lean on your fellow passengers! (Lesley)
A Christmas Present
- I bought my grandson this travel pillow as it rolled up to make for convenient travelling. He loved it. It was just what he wanted as he's going travelling abroad with his school soon. (Maggie)
Brilliant product
- I used my travel pillow during my flight to Australia. I bought the denim one which was cool and comfortable. It was so much better than the usual neck pillow and I managed to sleep well using it. I would thoroughly recommend this design. (Sue Gibson)
This is the 3rd one I've purchased!!!
- I take my JetRest everywhere with me and have purchased two for my husband and son. We all think they are brilliant - so comfortable and compact. (Julie Godley)
Amazing
- We used these cushions on our night flight back from Cyprus. All I can say is that when the lights came on we both woke up and assumed we were about an hour into our flight and maybe it was refreshment time. We were actually just going in to land! What a difference landing at 2.00am after actually sleeping on the plane. Brilliant. (Sandra O)
Wow
- Being able to choose the material is such a bonus, cool cotton or warm fleece. And as an extra the Devine waft of lavender from inside the Jet Rest made it all the more appealing. Have used it on annual long haul flight to Bangkok it was brilliant. (Sally)
Helped me sleep on long haul flight!
- Great item, so much more comfortable than conventional shaped neck pillows as allows you to lean on it properly. Lovely soft fabric. Big help in recent long haul flight. (anonymous)
This is by far the best Travel Pillow companion.
- Several years ago I saw this item in a store at Heathrow Airport(UK) . I was attracted to this item because it was not the standard alien collar pillow you in every travel store. The quality of the fleece and the packaging made it complete. I am a big traveler for work and somehow on one of my flights I forgot it on board. I bought another one and 2 years later lost this one also, I just ordered 2 more 1 for me and another for my daughter but in the Denim material. Great item!!! (B. McCahill)
Simply the best
- This is without question the most comfortable and efficient headrest on the market. (Bandahoward)
At last a comfortable travel pillow
- an excellent and simple design, this pillow is comfortable and truly portable. The filling is comfy yet supportive. We all used them on our recent trip to Spain. Highly recommended. (Cathie)
Great head rest, but a bit bulky
- Great head rest if not a little bulky as carry on luggage. I would recommendthis site inflatable travel cushion as it compacts easily for carry on hand luggage. We bought this item as well as the travel cushion and found the travel cushion better overal. (anonymous)
Long lasting essential
- I got a travel pillow not long after the company was formed. Let me tell you this has been the best item I've ever travelled with. More useful than a toothbrush, this has kept me relaxed on a plethora of vehicle types on four different continents during 15 years of regular travel - and it is still going! Totally marvellous and highly recommended. (Mike Macleod)
I've bought four of these for friends etcetc because I love mine!
- Really comfortable and easy to take away- wouldn't travel without it (Jane Davalle)
More Reviews
Instructions
We recommend cleaning marks with a damp cloth.
Cleaning with a damp sponge or cloth will be the best way to clean any dirty marks off this product.
Cushions are filled with a luxury polyester fibre that creates a lovely "loftiness" that will bounce back to life.
If you wash the cushion in the washing machine, the fibres tend to move about and clump up which might spoil the look of your cushion.
The print on the outer fabric will not run.
What happens if the Lux. Fibre gets wet or is washed in the machine?
No harm will come to the polyester fibre in theory, getting it wet is inadvisable though don't panic, just dry it out normally at room temperature though don't put it in the dryer. 
We found on testing that if you do put the cushion in the washing machine, it will dry out ok though the tumbling in the washing machine tends to make the fibres all clump together and become less evenly spaced in the cushion.
FAQs
What are the Organic Fabric Options?
Where shown, this product has an Organic Fabric Option. We purchase organic fabric from trusted UK Fabric Merchants who are registered under the Global Organic Textile Standard (GOTS) to enable full traceability of the fabric we use through to the final product you are purchasing today.
How does the pillow stay in place on a seat?
The JetRest® stays in place with the body's own weight leaning back against the back of the product.  The unique L-Shape design means part of the travel cushion is behind your neck and simply by leaning back against this part, it stays in place.
Do I need a window seat for the travel pillow to work?
No. The JetRest® has a unique L-shape design and part fo the pillow is placed to the side of the head.  It stays put by leaning back against any high backed seat and the side part of the cushion is the part that will support your head upright naturally. You just turn it over to the other side if you want to rest the other way - your head can only go to one side at once.
Can this product be washed?
Please refer to the "Instructions" tab for detailed information on cleaning this product and any care label sewn into the product itself.
Delivery
The information below is for guidance. Actual delivery costs and dates depend on the delivery address, weight and time your order is placed. Cut-off time for Overnight Orders is 12 noon.
| Price | Method | Manufacture Time | Delivery Time | Est. Delivery Date |
| --- | --- | --- | --- | --- |
| £4.99 | 2nd Class (Tracked) | 0-1 Days | 2-3 Days | Mon 25 Sep - Wed 27 Sep |
| £6.99 | 1st Class (Tracked) | 0-1 Days | 1-2 Days | Fri 22 Sep - Tue 26 Sep |
| £12.99 | Royal Mail Special Delivery (Overnight Mon-Sat Pre 1pm) | Tomorrow | Next Day (Mon-Sat) | Mon 25 Sep |
| £13.02 | DHL Courier (Economy M-F Pre 6pm) | 0-1 Days | 2-3 Days | Mon 25 Sep - Wed 27 Sep |
More Information
| | |
| --- | --- |
| Despatch | Today (Cut off time 3pm M-F) |
| Brand | The JetRest® |
| Filling | Fibre |
| Country of Origin | United Kingdom |
| SKU | FGPIL010FLE-BRO |
| Gtin | 5056656346004 |
| Tariff Code | 9404909000 |
| Tariff Description | Travel Pillow - Filled with Polyester Fibre |
| Product Weight | 226 g |
| Product Dimensions | 42 x 20 x 14cm |
Product Options
Fabric
Fleece, Cotton, Luxury Cotton, Organic Cotton
Fabric Colour
Royal Blue, Navy Blue, Purple, Hot Pink (Fuchsia), Paws Print, Natural, Red, Hot Pink, Chocolate, Gothic Blue
Filling
100% Polyester Fibre
Product Type
Travel Pillow
Travel Pillows > Travel Neck Pillows
travel cushion
airplane pillow
car neck pillow

The JetRest® Original Travel Pillow
- Navy Blue Cotton Fabric
FGPIL010COT-BNA
5056261053830
£19.99
226 g
42 x 20 x 14cm
The JetRest® Original Travel Pillow
- Royal Blue Cotton Fabric
FGPIL010COT-BRO
5056261053847
£19.99
226 g
42 x 20 x 14cm
The JetRest® Original Travel Pillow
- Natural Cotton Fabric
FGPIL010COT-NAT
5056261053854
£19.99
226 g
42 x 20 x 14cm
The JetRest® Original Travel Pillow
- Hot Pink Cotton Fabric
FGPIL010COT-PBU
5056261053861
£19.99
226 g
42 x 20 x 14cm
The JetRest® Original Travel Pillow
- Purple Cotton Fabric
FGPIL010COT-PUR
5056261053878
£19.99
226 g
42 x 20 x 14cm
The JetRest® Original Travel Pillow
- Red Cotton Fabric
FGPIL010COT-RED
5056261053885
£19.99
226 g
42 x 20 x 14cm
The JetRest® Original Travel Pillow
- Purple Fleece Fabric
FGPIL010FLE-PUR
5056261053915
£19.99
226 g
42 x 20 x 14cm
The JetRest® Original Travel Pillow
- Navy Blue Fleece Fabric
FGPIL010FLE-BNA
5056261053922
£19.99
226 g
42 x 20 x 14cm
The JetRest® Original Travel Pillow
- Royal Blue Fleece Fabric
FGPIL010FLE-BRO
5056656346004
£19.99
226 g
42 x 20 x 14cm
The JetRest® Original Travel Pillow
- Paws Fleece Fabric
FGPIL010FLE-PW01
5056261053953
£21.99
226 g
42 x 20 x 14cm
The JetRest® Original Travel Pillow
- Hot Pink (Fuchsia) Fleece Fabric
FGPIL010FLE-PFU
5056261053892
£19.99
226 g
42 x 20 x 14cm
The JetRest® Original Travel Pillow
- Gothic Blue Luxury Cotton Fabric
FGPIL010COL-BGO
5056261053816
£29.99
226 g
42 x 20 x 14cm
The JetRest® Original Travel Pillow
- Chocolate Luxury Cotton Fabric
FGPIL010COL-BMO
5056261053823
£29.99
226 g
42 x 20 x 14cm
The JetRest® Original Travel Pillow
- Natural Organic Cotton
FGPIL010COO-NAT
5056261053960
£26.99
226 g
42 x 20 x 14cm
The JetRest® Original Travel Pillow