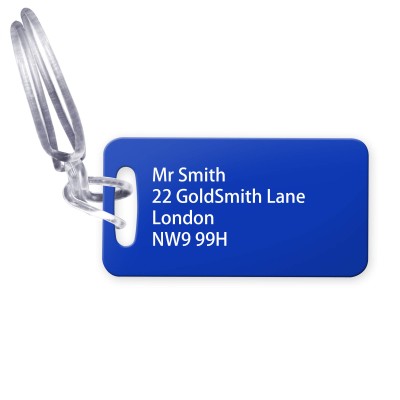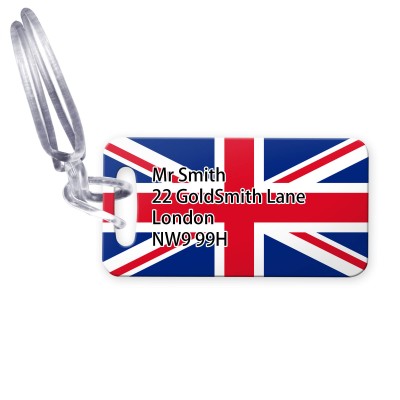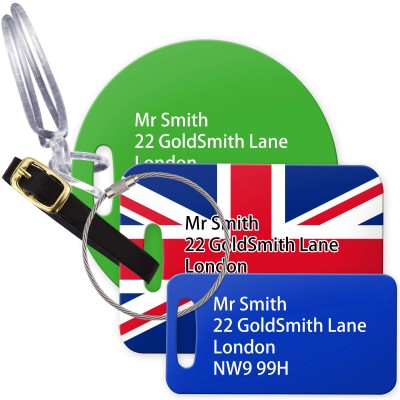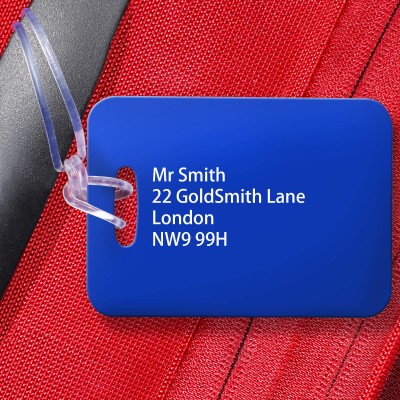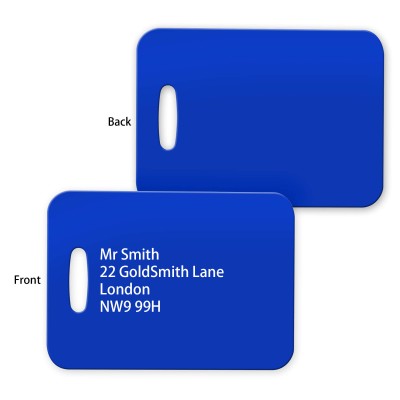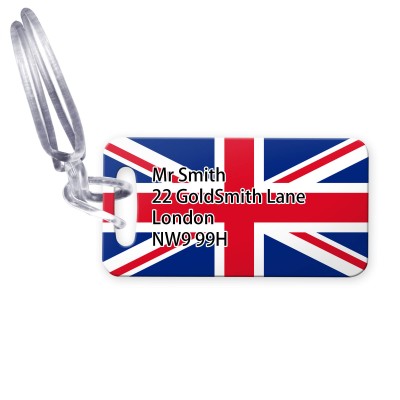 Personalised Luggage Tags
Description
Personalised Luggage Tags made to order in our UK factory.
Bright colour options to help suitcases stand out.
Luggage Tag size and shape options.
Trusted HappySnapGifts® brand
Luggage Tags are a great way to help identify your luggage when it is sent abroad on holiday. We have had great success selling our brightly coloured luggage straps and have launched these matching tags to help personalise your luggage even further.
Available in a range of bright colours, The HappySnapGifts® Personalised Luggage Tags are printed with your name and address, your phone number or perhaps your email but either way, we only print the text that you ask us to print with your order. Some customers just have their mobile phone number on the tags by way of identification, though if you do this, we suggest you also include the country code as well as you can't assume your luggage tag will only be read in your own country. The country code for the UK would usually be written as "00 44 (0)" or "+44 (0)" just before your luggage tag phone number with the "0" representing the dial code we use in the UK.
We supply many tags and they are very popular personalised gifts for travellers and can be bought alone, or perhaps purchased with our matching luggage straps to form a personalised travel gift.
Reviews
luggage tags
- Perfect - just what we needed (richard s, 24/08/23)
Dr
- Excellent service and so easy to book (Bill McGinnis CBE DL, 19/04/23)
Stylish & Robust
- I had these made for a 3 week road trip to the USA. The tags are legible and also visible at baggage claim. They endured three weeks of loading / unloading from the car without damage and in fact still look as new. (Simon Perkins, 08/07/22)
luggage lable
- good vaule good desin (harvey, 07/06/22)
Great durable & colourful tags
- Very pleased with these tags, nice and bright and very strong. Fast service and delivery too. (Sandra, 12/11/20)
good idea
- These tags match the multistriped luggage straps although are not as bright. However they are good quality and a useful way to label a suitcase. Personalisation very helpful and well presented. Customer service centre very helpful when I called for personalisation. (Pauline)
very pleased
- Good quality should last. (PJ)
Brilliant product
- Exc product with speedy delivery would defiantly recommend (Kathy)
Brilliant product
- Really look product and speedy delivery. Would defefiantly recommend seller and label (Kathy)
excellent
- really strong and hard wearing. Very clear writing, extremely pleased..EXCELLENT! (janet piper)
Top product
- Items arrived on time Wipe clean definitely buy again (Gary Freemantle.)
excellent luggage tags
- good quality and swift delivery. Well done! (andrew eite)
Great Tags
- Strong, sturdy luggage tags that should last for years. (Adam Robinson)
Easy ID
- The tags are ideal as they are brightly coloured and very sturdy. Much better than paper slips tucked into flimsy leather or plastic tags! (Jane Armes)
Janet
- Excellent product and first class service (Janet)
Stocking fillers
- I bought these travel tags for my family to put in their stockings as they travel a lot Excellent service and nice product (Beryl)
Directors Review of the Personalised Luggage Tags
- These great super-shiny luggage tags match the colours of all The JetRest range of Luggage Straps and come personalised with any text you like, and even offer fastener options. Brightly coloured luggage accessories really help your suitcases to stand out among the crowds on any carousel and straps and tags go a long way to help take the stress out of a journey by letting you see your bags well in advance. Yellow is probably our best selling luggage strap colour, and now you can have a tag to match. (Michael Robinson)
Delivery
The information below is for guidance. Actual delivery costs and dates depend on the delivery address, weight and time your order is placed. Cut-off time for Overnight Orders is 12 noon.
| Price | Method | Manufacture Time | Delivery Time | Est. Delivery Date |
| --- | --- | --- | --- | --- |
| £3.99 | 2nd Class (Tracked LL) | 0-3 Days | 2-3 Days | Thu 7 Dec - Wed 13 Dec |
| £5.99 | 1st Class (Tracked LL) | 0-3 Days | 1-2 Days | Wed 6 Dec - Tue 12 Dec |
| £12.91 | DHL Courier (Economy M-F Pre 6pm) | 0-3 Days | 2-3 Days | Thu 7 Dec - Wed 13 Dec |
| £14.99 | Royal Mail Special Delivery (Overnight Mon-Sat Pre 1pm) | Today | Next Day (Mon-Sat) | Mon 4 Dec |
More Information
| | |
| --- | --- |
| Despatch | 0-3 Days (to Personalise) or Upgrade at Checkout for Overnight Delivery |
| Brand | HappySnapGifts® |
| RRP | £9.99 |
| Country of Origin | United Kingdom |
| SKU | FGLUG024RWB(CL)(P) |
| Gtin | 5056656346905 |
| Tariff Code | 3926909790 |
| Tariff Description | Luggage Tag |
| Product Weight | 18 g |
| Product Dimensions | 9 x 4.5cm |
Product Options
Size
9cm x 4.5cm, 10cm x 7cm, 10cm Circle
Fabric
Polyester - Non Fabric
Theme Colour
Union Jack, Tartan Check, Paws Print, Black, Royal Blue, Sky Blue, Burnt Orange, Bright Green, Baby Pink, Hot Pink (Fuchsia), Purple, Red, White, Yellow
Finishings
Clear Loop, Leather Strap +, Metal Loop +
Product Type
Luggage Tags
Travel & Outdoors > Travel Gifts

Personalised Luggage Tags
(9cm x 4.5cm) Baby Pink with Clear Loop (Personalised with Text)
FGLUG024PBA(CL)(P)
5056261074019
£9.99
18 g
9 x 4.5cm
Personalised Luggage Tags
(10cm x 7cm) Baby Pink with Clear Loop (Personalised with Text)
FGLUG025PBA(CL)(P)
5056261074125
£10.99
36 g
10 x 7cm
Personalised Luggage Tags
(10cm Circle) Baby Pink with Clear Loop (Personalised with Text)
FGLUG026PBA(CL)(P)
5056261074231
£11.99
36 g
10 x 10cm
Personalised Luggage Tags
(9cm x 4.5cm) Baby Pink with Leather Strap (Personalised with Text)
FGLUG024PBA(LS)(P)
5056261074446
£11.99
26 g
9 x 4.5cm
Personalised Luggage Tags
(10cm x 7cm) Baby Pink with Leather Strap (Personalised with Text)
FGLUG025PBA(LS)(P)
5056261074484
£12.99
44 g
10 x 7cm
Personalised Luggage Tags
(10cm Circle) Baby Pink with Leather Strap (Personalised with Text)
FGLUG026PBA(LS)(P)
5056261074521
£13.99
44 g
10 x 10cm
Personalised Luggage Tags
(9cm x 4.5cm) Black with Clear Loop (Personalised with Text)
FGLUG024BLA(CL)(P)
5056261074026
£9.99
18 g
9 x 4.5cm
Personalised Luggage Tags
(10cm x 7cm) Black with Clear Loop (Personalised with Text)
FGLUG025BLA(CL)(P)
5056261074132
£10.99
36 g
10 x 7cm
Personalised Luggage Tags
(10cm Circle) Black with Clear Loop (Personalised with Text)
FGLUG026BLA(CL)(P)
5056261074248
£11.99
36 g
10 x 10cm
Personalised Luggage Tags
(9cm x 4.5cm) Black with Leather Strap (Personalised with Text)
FGLUG024BLA(LS)(P)
5056261074620
£11.99
26 g
9 x 4.5cm
Personalised Luggage Tags
(10cm x 7cm) Black with Leather Strap (Personalised with Text)
FGLUG025BLA(LS)(P)
5056261074668
£12.99
44 g
10 x 7cm
Personalised Luggage Tags
(10cm Circle) Black with Leather Strap (Personalised with Text)
FGLUG026BLA(LS)(P)
5056261074378
£13.99
44 g
10 x 10cm
Personalised Luggage Tags
(9cm x 4.5cm) Bright Green with Clear Loop (Personalised with Text)
FGLUG024GBR(CL)(P)
5056261074033
£9.99
18 g
9 x 4.5cm
Personalised Luggage Tags
(10cm x 7cm) Bright Green with Clear Loop (Personalised with Text)
FGLUG025GBR(CL)(P)
5056261074149
£10.99
36 g
10 x 7cm
Personalised Luggage Tags
(10cm Circle) Bright Green with Clear Loop (Personalised with Text)
FGLUG026GBR(CL)(P)
5056261074255
£11.99
36 g
10 x 10cm
Personalised Luggage Tags
(9cm x 4.5cm) Bright Green with Leather Strap (Personalised with Text)
FGLUG024GBR(LS)(P)
5056261074491
£11.99
26 g
9 x 4.5cm
Personalised Luggage Tags
(10cm x 7cm) Bright Green with Leather Strap (Personalised with Text)
FGLUG025GBR(LS)(P)
5056261074538
£12.99
44 g
10 x 7cm
Personalised Luggage Tags
(10cm Circle) Bright Green with Leather Strap (Personalised with Text)
FGLUG026GBR(LS)(P)
5056261074569
£13.99
44 g
10 x 10cm
Personalised Luggage Tags
(9cm x 4.5cm) Hot Pink (Fuchsia) with Clear Loop (Personalised with Text)
FGLUG024PFU(CL)(P)
5056261074040
£9.99
18 g
9 x 4.5cm
Personalised Luggage Tags
(10cm x 7cm) Hot Pink (Fuchsia) with Clear Loop (Personalised with Text)
FGLUG025PFU(CL)(P)
5056261074156
£10.99
36 g
10 x 7cm
Personalised Luggage Tags
(10cm Circle) Hot Pink (Fuchsia) with Clear Loop (Personalised with Text)
FGLUG026PFU(CL)(P)
5056261074262
£11.99
36 g
10 x 10cm
Personalised Luggage Tags
(9cm x 4.5cm) Hot Pink (Fuchsia) with Leather Strap (Personalised with Text)
FGLUG024PFU(LS)(P)
5056261074347
£11.99
26 g
9 x 4.5cm
Personalised Luggage Tags
(10cm x 7cm) Hot Pink (Fuchsia) with Leather Strap (Personalised with Text)
FGLUG025PFU(LS)(P)
5056261074385
£12.99
44 g
10 x 7cm
Personalised Luggage Tags
(10cm Circle) Hot Pink (Fuchsia) with Leather Strap (Personalised with Text)
FGLUG026PFU(LS)(P)
5056261074415
£13.99
44 g
10 x 10cm
Personalised Luggage Tags
(9cm x 4.5cm) Burnt Orange with Clear Loop (Personalised with Text)
FGLUG024ORA(CL)(P)
5056261074057
£9.99
18 g
9 x 4.5cm
Personalised Luggage Tags
(10cm x 7cm) Burnt Orange with Clear Loop (Personalised with Text)
FGLUG025ORA(CL)(P)
5056261074163
£10.99
36 g
10 x 7cm
Personalised Luggage Tags
(10cm Circle) Burnt Orange with Clear Loop (Personalised with Text)
FGLUG026ORA(CL)(P)
5056261074279
£11.99
36 g
10 x 10cm
Personalised Luggage Tags
(9cm x 4.5cm) Burnt Orange with Leather Strap (Personalised with Text)
FGLUG024ORA(LS)(P)
5056261074545
£11.99
26 g
9 x 4.5cm
Personalised Luggage Tags
(10cm x 7cm) Burnt Orange with Leather Strap (Personalised with Text)
FGLUG025ORA(LS)(P)
5056261074576
£12.99
44 g
10 x 7cm
Personalised Luggage Tags
(10cm Circle) Burnt Orange with Leather Strap (Personalised with Text)
FGLUG026ORA(LS)(P)
5056261074590
£13.99
44 g
10 x 10cm
Personalised Luggage Tags
(9cm x 4.5cm) Purple with Clear Loop (Personalised with Text)
FGLUG024PUR(CL)(P)
5056261074064
£9.99
18 g
9 x 4.5cm
Personalised Luggage Tags
(10cm x 7cm) Purple with Clear Loop (Personalised with Text)
FGLUG025PUR(CL)(P)
5056261074170
£10.99
36 g
10 x 7cm
Personalised Luggage Tags
(10cm Circle) Purple with Clear Loop (Personalised with Text)
FGLUG026PUR(CL)(P)
5056261074286
£11.99
36 g
10 x 10cm
Personalised Luggage Tags
(9cm x 4.5cm) Purple with Leather Strap (Personalised with Text)
FGLUG024PUR(LS)(P)
5056261074392
£11.99
26 g
9 x 4.5cm
Personalised Luggage Tags
(10cm x 7cm) Purple with Leather Strap (Personalised with Text)
FGLUG025PUR(LS)(P)
5056261074422
£12.99
44 g
10 x 7cm
Personalised Luggage Tags
(10cm Circle) Purple with Leather Strap (Personalised with Text)
FGLUG026PUR(LS)(P)
5056261074453
£13.99
44 g
10 x 10cm
Personalised Luggage Tags
(9cm x 4.5cm) Red with Clear Loop (Personalised with Text)
FGLUG024RED(CL)(P)
5056261074071
£9.99
18 g
9 x 4.5cm
Personalised Luggage Tags
(10cm x 7cm) Red with Clear Loop (Personalised with Text)
FGLUG025RED(CL)(P)
5056261074187
£10.99
36 g
10 x 7cm
Personalised Luggage Tags
(10cm Circle) Red with Clear Loop (Personalised with Text)
FGLUG026RED(CL)(P)
5056261074293
£11.99
36 g
10 x 10cm
Personalised Luggage Tags
(9cm x 4.5cm) Red with Leather Strap (Personalised with Text)
FGLUG024RED(LS)(P)
5056261074583
£11.99
26 g
9 x 4.5cm
Personalised Luggage Tags
(10cm x 7cm) Red with Leather Strap (Personalised with Text)
FGLUG025RED(LS)(P)
5056261074606
£12.99
44 g
10 x 7cm
Personalised Luggage Tags
(10cm Circle) Red with Leather Strap (Personalised with Text)
FGLUG026RED(LS)(P)
5056261074637
£13.99
44 g
10 x 10cm
Personalised Luggage Tags
(9cm x 4.5cm) Royal Blue with Clear Loop (Personalised with Text)
FGLUG024BRO(CL)(P)
5060089251934
£9.99
18 g
9 x 4.5cm
Personalised Luggage Tags
(10cm x 7cm) Royal Blue with Clear Loop (Personalised with Text)
FGLUG025BRO(CL)(P)
5056261074194
£10.99
36 g
10 x 7cm
Personalised Luggage Tags
(10cm Circle) Royal Blue with Clear Loop (Personalised with Text)
FGLUG026BRO(CL)(P)
5056261074309
£11.99
36 g
10 x 10cm
Personalised Luggage Tags
(9cm x 4.5cm) Royal Blue with Leather Strap (Personalised with Text)
FGLUG024BRO(LS)(P)
5056261074439
£11.99
26 g
9 x 4.5cm
Personalised Luggage Tags
(10cm x 7cm) Royal Blue with Leather Strap (Personalised with Text)
FGLUG025BRO(LS)(P)
5056261074460
£12.99
44 g
10 x 7cm
Personalised Luggage Tags
(10cm Circle) Royal Blue with Leather Strap (Personalised with Text)
FGLUG026BRO(LS)(P)
5056261074507
£13.99
44 g
10 x 10cm
Personalised Luggage Tags
(9cm x 4.5cm) Sky Blue with Clear Loop (Personalised with Text)
FGLUG024BSK(CL)(P)
5056261074095
£9.99
18 g
9 x 4.5cm
Personalised Luggage Tags
(10cm x 7cm) Sky Blue with Clear Loop (Personalised with Text)
FGLUG025BSK(CL)(P)
5056261074200
£10.99
36 g
10 x 7cm
Personalised Luggage Tags
(10cm Circle) Sky Blue with Clear Loop (Personalised with Text)
FGLUG026BSK(CL)(P)
5056261074316
£11.99
36 g
10 x 10cm
Personalised Luggage Tags
(9cm x 4.5cm) Sky Blue with Leather Strap (Personalised with Text)
FGLUG024BSK(LS)(P)
5056261074613
£11.99
26 g
9 x 4.5cm
Personalised Luggage Tags
(10cm x 7cm) Sky Blue with Leather Strap (Personalised with Text)
FGLUG025BSK(LS)(P)
5056261074644
£12.99
44 g
10 x 7cm
Personalised Luggage Tags
(10cm Circle) Sky Blue with Leather Strap (Personalised with Text)
FGLUG026BSK(LS)(P)
5056261074354
£13.99
44 g
10 x 10cm
Personalised Luggage Tags
(9cm x 4.5cm) White with Clear Loop (Personalised with Text)
FGLUG024WHI(CL)(P)
5056261074101
£9.99
18 g
9 x 4.5cm
Personalised Luggage Tags
(10cm x 7cm) White with Clear Loop (Personalised with Text)
FGLUG025WHI(CL)(P)
5056261074217
£10.99
36 g
10 x 7cm
Personalised Luggage Tags
(10cm Circle) White with Clear Loop (Personalised with Text)
FGLUG026WHI(CL)(P)
5056261074323
£11.99
36 g
10 x 10cm
Personalised Luggage Tags
(9cm x 4.5cm) White with Leather Strap (Personalised with Text)
FGLUG024WHI(LS)(P)
5056261074477
£11.99
26 g
9 x 4.5cm
Personalised Luggage Tags
(10cm x 7cm) White with Leather Strap (Personalised with Text)
FGLUG025WHI(LS)(P)
5056261074514
£12.99
44 g
10 x 7cm
Personalised Luggage Tags
(10cm Circle) White with Leather Strap (Personalised with Text)
FGLUG026WHI(LS)(P)
5056261074552
£13.99
44 g
10 x 10cm
Personalised Luggage Tags
(9cm x 4.5cm) Yellow with Clear Loop (Personalised with Text)
FGLUG024YEL(CL)(P)
5056261074118
£9.99
18 g
9 x 4.5cm
Personalised Luggage Tags
(10cm x 7cm) Yellow with Clear Loop (Personalised with Text)
FGLUG025YEL(CL)(P)
5056261074224
£10.99
36 g
10 x 7cm
Personalised Luggage Tags
(10cm Circle) Yellow with Clear Loop (Personalised with Text)
FGLUG026YEL(CL)(P)
5056261074330
£11.99
36 g
10 x 10cm
Personalised Luggage Tags
(9cm x 4.5cm) Yellow with Leather Strap (Personalised with Text)
FGLUG024YEL(LS)(P)
5056261074651
£11.99
26 g
9 x 4.5cm
Personalised Luggage Tags
(10cm x 7cm) Yellow with Leather Strap (Personalised with Text)
FGLUG025YEL(LS)(P)
5056261074361
£12.99
44 g
10 x 7cm
Personalised Luggage Tags
(10cm Circle) Yellow with Leather Strap (Personalised with Text)
FGLUG026YEL(LS)(P)
5056261074408
£13.99
44 g
10 x 10cm
Personalised Luggage Tags
(9cm x 4.5cm) Royal Blue with Metal Loop (Personalised with Text)
FGLUG024BRO(ML)(P)
5060089253433
£11.99
20 g
9 x 4.5cm
Personalised Luggage Tags
(10cm x 7cm) Royal Blue with Metal Loop (Personalised with Text)
FGLUG025BRO(ML)(P)
5060089253358
£12.99
38 g
10 x 7cm
Personalised Luggage Tags
(10cm Circle) Royal Blue with Metal Loop (Personalised with Text)
FGLUG026BRO(ML)(P)
5060089253174
£13.99
38 g
10 x 10cm
Personalised Luggage Tags
(9cm x 4.5cm) Sky Blue with Metal Loop (Personalised with Text)
FGLUG024BSK(ML)(P)
5060089252849
£11.99
20 g
9 x 4.5cm
Personalised Luggage Tags
(10cm x 7cm) Sky Blue with Metal Loop (Personalised with Text)
FGLUG025BSK(ML)(P)
5060089252856
£12.99
38 g
10 x 7cm
Personalised Luggage Tags
(10cm Circle) Sky Blue with Metal Loop (Personalised with Text)
FGLUG026BSK(ML)(P)
5060089252214
£13.99
38 g
10 x 10cm
Personalised Luggage Tags
(9cm x 4.5cm) Black with Metal Loop (Personalised with Text)
FGLUG024BLA(ML)(P)
5060089251927
£11.99
20 g
9 x 4.5cm
Personalised Luggage Tags
(10cm x 7cm) Black with Metal Loop (Personalised with Text)
FGLUG025BLA(ML)(P)
5060089251958
£12.99
38 g
10 x 7cm
Personalised Luggage Tags
(10cm Circle) Black with Metal Loop (Personalised with Text)
FGLUG026BLA(ML)(P)
5060089257400
£13.99
38 g
10 x 10cm
Personalised Luggage Tags
(9cm x 4.5cm) Bright Green with Metal Loop (Personalised with Text)
FGLUG024GBR(ML)(P)
5060089253938
£11.99
20 g
9 x 4.5cm
Personalised Luggage Tags
(10cm x 7cm) Bright Green with Metal Loop (Personalised with Text)
FGLUG025GBR(ML)(P)
5060089250104
£12.99
38 g
10 x 7cm
Personalised Luggage Tags
(10cm Circle) Bright Green with Metal Loop (Personalised with Text)
FGLUG026GBR(ML)(P)
5060089253402
£13.99
38 g
10 x 10cm
Personalised Luggage Tags
(9cm x 4.5cm) Burnt Orange with Metal Loop (Personalised with Text)
FGLUG024ORA(ML)(P)
5060089250319
£11.99
20 g
9 x 4.5cm
Personalised Luggage Tags
(10cm x 7cm) Burnt Orange with Metal Loop (Personalised with Text)
FGLUG025ORA(ML)(P)
5060089252887
£12.99
38 g
10 x 7cm
Personalised Luggage Tags
(10cm Circle) Burnt Orange with Metal Loop (Personalised with Text)
FGLUG026ORA(ML)(P)
5060089253297
£13.99
38 g
10 x 10cm
Personalised Luggage Tags
(9cm x 4.5cm) Baby Pink with Metal Loop (Personalised with Text)
FGLUG024PBA(ML)(P)
5060089251972
£11.99
20 g
9 x 4.5cm
Personalised Luggage Tags
(10cm x 7cm) Baby Pink with Metal Loop (Personalised with Text)
FGLUG025PBA(ML)(P)
5060089251699
£12.99
38 g
10 x 7cm
Personalised Luggage Tags
(10cm Circle) Baby Pink with Metal Loop (Personalised with Text)
FGLUG026PBA(ML)(P)
5060089251965
£13.99
38 g
10 x 10cm
Personalised Luggage Tags
(9cm x 4.5cm) Hot Pink (Fuchsia) with Metal Loop (Personalised with Text)
FGLUG024PFU(ML)(P)
5060089251682
£11.99
20 g
9 x 4.5cm
Personalised Luggage Tags
(10cm x 7cm) Hot Pink (Fuchsia) with Metal Loop (Personalised with Text)
FGLUG025PFU(ML)(P)
5060089250456
£12.99
38 g
10 x 7cm
Personalised Luggage Tags
(10cm Circle) Hot Pink (Fuchsia) with Metal Loop (Personalised with Text)
FGLUG026PFU(ML)(P)
5060089253945
£13.99
38 g
10 x 10cm
Personalised Luggage Tags
(9cm x 4.5cm) Purple with Metal Loop (Personalised with Text)
FGLUG024PUR(ML)(P)
5060089254508
£11.99
20 g
9 x 4.5cm
Personalised Luggage Tags
(10cm x 7cm) Purple with Metal Loop (Personalised with Text)
FGLUG025PUR(ML)(P)
5060089253396
£12.99
38 g
10 x 7cm
Personalised Luggage Tags
(10cm Circle) Purple with Metal Loop (Personalised with Text)
FGLUG026PUR(ML)(P)
5060089252863
£13.99
38 g
10 x 10cm
Personalised Luggage Tags
(9cm x 4.5cm) Red with Metal Loop (Personalised with Text)
FGLUG024RED(ML)(P)
5060089253198
£11.99
20 g
9 x 4.5cm
Personalised Luggage Tags
(10cm x 7cm) Red with Metal Loop (Personalised with Text)
FGLUG025RED(ML)(P)
5060089252795
£12.99
38 g
10 x 7cm
Personalised Luggage Tags
(10cm Circle) Red with Metal Loop (Personalised with Text)
FGLUG026RED(ML)(P)
5060089252351
£13.99
38 g
10 x 10cm
Personalised Luggage Tags
(9cm x 4.5cm) White with Metal Loop (Personalised with Text)
FGLUG024WHI(ML)(P)
5060089251903
£11.99
20 g
9 x 4.5cm
Personalised Luggage Tags
(10cm x 7cm) White with Metal Loop (Personalised with Text)
FGLUG025WHI(ML)(P)
5060089251910
£12.99
38 g
10 x 7cm
Personalised Luggage Tags
(10cm Circle) White with Metal Loop (Personalised with Text)
FGLUG026WHI(ML)(P)
5060089257417
£13.99
38 g
10 x 10cm
Personalised Luggage Tags
(9cm x 4.5cm) Yellow with Metal Loop (Personalised with Text)
FGLUG024YEL(ML)(P)
5060089253983
£11.99
20 g
9 x 4.5cm
Personalised Luggage Tags
(10cm x 7cm) Yellow with Metal Loop (Personalised with Text)
FGLUG025YEL(ML)(P)
5060089250371
£12.99
38 g
10 x 7cm
Personalised Luggage Tags
(10cm Circle) Yellow with Metal Loop (Personalised with Text)
FGLUG026YEL(ML)(P)
5060089253419
£13.99
38 g
10 x 10cm
Personalised Luggage Tags
(9cm x 4.5cm) - Union Jack with Clear Loop (Personalised with Text)
FGLUG024RWB(CL)(P)
5056656346905
£9.99
18 g
9 x 4.5cm
Personalised Luggage Tags
(10cm x 7cm) - Union Jack with Clear Loop (Personalised with Text)
FGLUG025RWB(CL)(P)
5056656348329
£10.99
36 g
10 x 7cm
Personalised Luggage Tags
(10cm Circle) - Union Jack with Clear Loop (Personalised with Text)
FGLUG026RWB(CL)(P)
5056656348336
£11.99
36 g
10 x 10cm
Personalised Luggage Tags
(9cm x 4.5cm) - Union Jack with Leather Strap (Personalised with Text)
FGLUG024RWB(LS)(P)
5056656348343
£11.99
26 g
9 x 4.5cm
Personalised Luggage Tags
(10cm x 7cm) - Union Jack with Leather Strap (Personalised with Text)
FGLUG025RWB(LS)(P)
5056656348350
£12.99
44 g
10 x 7cm
Personalised Luggage Tags
(10cm Circle) - Union Jack with Leather Strap (Personalised with Text)
FGLUG026RWB(LS)(P)
5056656348367
£13.99
44 g
10 x 10cm
Personalised Luggage Tags
(9cm x 4.5cm) - Union Jack with Metal Loop (Personalised with Text)
FGLUG024RWB(ML)(P)
5056656348374
£11.99
20 g
9 x 4.5cm
Personalised Luggage Tags
(10cm x 7cm) - Union Jack with Metal Loop (Personalised with Text)
FGLUG025RWB(ML)(P)
5056656348381
£12.99
38 g
10 x 7cm
Personalised Luggage Tags
(10cm Circle) - Union Jack with Metal Loop (Personalised with Text)
FGLUG026RWB(ML)(P)
5056656348398
£13.99
38 g
10 x 10cm
Personalised Luggage Tags
(9cm x 4.5cm) - Paws Print with Clear Loop (Personalised with Text)
FGLUG024PW01(CL)(P)
5056656348404
£9.99
18 g
9 x 4.5cm
Personalised Luggage Tags
(10cm x 7cm) - Paws Print with Clear Loop (Personalised with Text)
FGLUG025PW01(CL)(P)
5056656348411
£10.99
36 g
10 x 7cm
Personalised Luggage Tags
(10cm Circle) - Paws Print with Clear Loop (Personalised with Text)
FGLUG026PW01(CL)(P)
5056656348428
£11.99
36 g
10 x 10cm
Personalised Luggage Tags
(9cm x 4.5cm) - Paws Print with Leather Strap (Personalised with Text)
FGLUG024PW01(LS)(P)
5056656348435
£11.99
26 g
9 x 4.5cm
Personalised Luggage Tags
(10cm x 7cm) - Paws Print with Leather Strap (Personalised with Text)
FGLUG025PW01(LS)(P)
5056656348442
£12.99
44 g
10 x 7cm
Personalised Luggage Tags
(10cm Circle) - Paws Print with Leather Strap (Personalised with Text)
FGLUG026PW01(LS)(P)
5056656348459
£13.99
44 g
10 x 10cm
Personalised Luggage Tags
(9cm x 4.5cm) - Paws Print with Metal Loop (Personalised with Text)
FGLUG024PW01(ML)(P)
5056656348466
£11.99
20 g
9 x 4.5cm
Personalised Luggage Tags
(10cm x 7cm) - Paws Print with Metal Loop (Personalised with Text)
FGLUG025PW01(ML)(P)
5056656348473
£12.99
38 g
10 x 7cm
Personalised Luggage Tags
(10cm Circle) - Paws Print with Metal Loop (Personalised with Text)
FGLUG026PW01(ML)(P)
5056656348480
£13.99
38 g
10 x 10cm
Personalised Luggage Tags
(9cm x 4.5cm) - Tartan Check with Clear Loop (Personalised with Text)
FGLUG024TA01(CL)(P)
5056656348497
£9.99
18 g
9 x 4.5cm
Personalised Luggage Tags
(10cm x 7cm) - Tartan Check with Clear Loop (Personalised with Text)
FGLUG025TA01(CL)(P)
5056656348503
£10.99
36 g
10 x 7cm
Personalised Luggage Tags
(10cm Circle) - Tartan Check with Clear Loop (Personalised with Text)
FGLUG026TA01(CL)(P)
5056656348510
£11.99
36 g
10 x 10cm
Personalised Luggage Tags
(9cm x 4.5cm) - Tartan Check with Leather Strap (Personalised with Text)
FGLUG024TA01(LS)(P)
5056656348527
£11.99
26 g
9 x 4.5cm
Personalised Luggage Tags
(10cm x 7cm) - Tartan Check with Leather Strap (Personalised with Text)
FGLUG025TA01(LS)(P)
5056656348534
£12.99
44 g
10 x 7cm
Personalised Luggage Tags
(10cm Circle) - Tartan Check with Leather Strap (Personalised with Text)
FGLUG026TA01(LS)(P)
5056656348541
£13.99
44 g
10 x 10cm
Personalised Luggage Tags
(9cm x 4.5cm) - Tartan Check with Metal Loop (Personalised with Text)
FGLUG024TA01(ML)(P)
5056656348558
£11.99
20 g
9 x 4.5cm
Personalised Luggage Tags
(10cm x 7cm) - Tartan Check with Metal Loop (Personalised with Text)
FGLUG025TA01(ML)(P)
5056656348565
£12.99
38 g
10 x 7cm
Personalised Luggage Tags
(10cm Circle) - Tartan Check with Metal Loop (Personalised with Text)
FGLUG026TA01(ML)(P)
5056656348572
£13.99
38 g
10 x 10cm
Personalised Luggage Tags