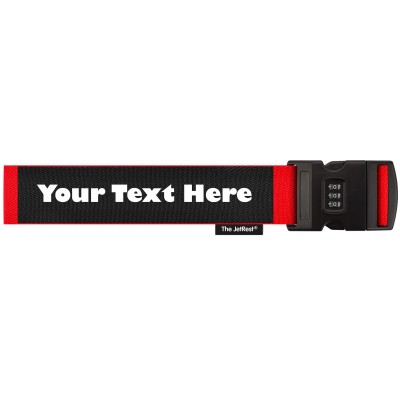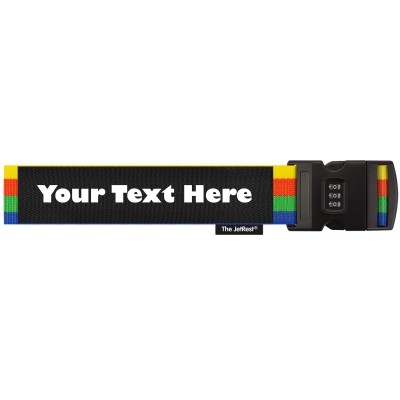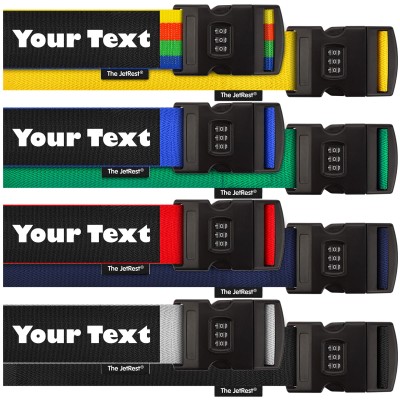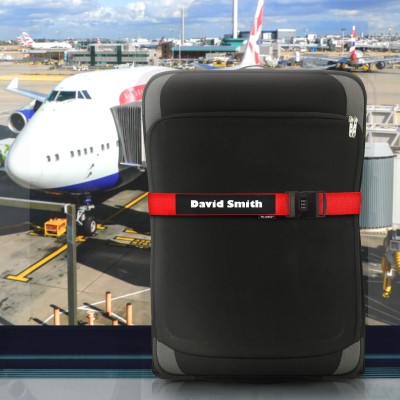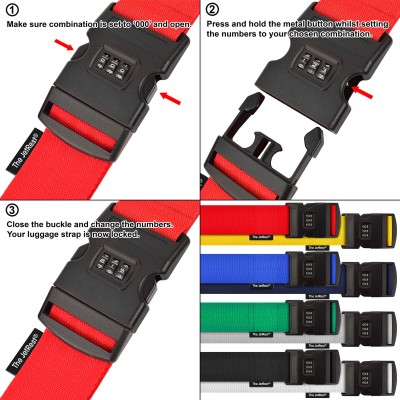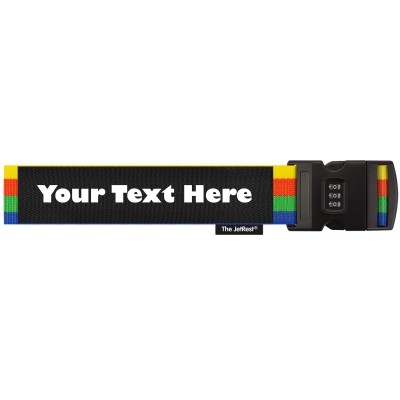 Personalised Luggage Strap Combination Lock (UK Made Suitcase Straps)
UK Made
Description
Personalised Luggage Strap with Combination Lock is UK Made and available in many colour and size options and personalised with the text of your choice.
UK Made Luggage Strap.
Strong Combination lock with 3 dials and metal inner workings.
Many colour choices.
Size options.
Trusted JetRest® brand.
Reviews
Strap
- Good product arrived quickly. Found case easy at airport. (Greg, 20/08/23)
Luggage straps
- Great service,well made fast delivery (Mr C , 20/08/23)
My new luggage strap
- Lovely strong strap and so easy to recognise now on the carousel (Christine, 19/02/23)
Luggage strap
- Quick delivery, easy to identify luggage on the carousel and secures case with combination lock. (Elaine, 29/01/23)
Great produce
- Excellent product, excellent service I would definitely recommend this item. (Al, 19/12/20)
Ordering and delivery process was painless
- I have not yet been able to put this strap to any use (so only 4 stars for now) due to covid-19 outbreak as holiday plans on hold. That said, it seems a sturdy piece of kit but only time will tell. Ordering and delivery process was painless and I would use "The JetRest" website again. (ChrisB, 13/06/20)
Meluk
- Spent ages looking for a personalised luggage strap time go with a set of new luggage. Found that this company had a good range of straps in several colors. The order arrived quickly and was accurate in terms if the inscription. (Meluk, 09/06/20)
Robbo
- Well done great product (Robbo, 09/06/20)
Marilyn Chemkhi
- This locking strap will help my find my suitcase with ease. It will certainly tell people my name. (Marilyn Chemkhi , 05/06/20)
Mr. B
- Helped greatly at Cancun airport to easily identifying our luggage in in the mass of other cases that all look the same. (Mr. B, 03/06/20)
keeps luggage safe
- used my luggage strap for my trip to Spain and they made sure my suitcase was visible at the airport and the lock made sure my luggage was kept safe. (Kevin M, 28/02/20)
Excellent way of finding your suitcase at the airport
- I bought these for my family last Christmas and they all loved them. The name or phrase can be very clearly seen when searching for your luggage on the carousel. Strap is nice and bright too. Reasonably priced too. (JA Snape, 28/02/20)
Strong luggage straps
- Super strong these straps, and Mary and I can spot our luggage as they are personalised with our names. (Eddie, 26/02/20)
I love it
- Kept my luggage safe during my holiday to china. (Mohamed Anwar, 26/02/20)
Instructions
Instructions for changing the combination luggage strap lock number:
Your combination lock is set to 0-0-0 when first purchased.
To change the combination, first open the lock using 0-0-0.
Press and hold the round button on the inside while changing the numbers.
Only release the button when you are happy with the new number.
Do not forget your new combination as there is no master re-set available.
FAQs
Can the luggage strap fit different size suitcases?
Yes. Luggage Straps have an adjustable buckle and will fit the vast majority of sizes.  Simply order a longer version if required in the options.
Are the Luggage Straps easy to remove?
Yes. Luggage Straps come with a buckle that is easy to release.
Can I have my luggage strap made to a different length?
Yes. We manufacture all of our luggage straps in our factory so can make them as a bespoke item to your own requirements. If the luggage strap is to be made longer, please place your order and select the size you would like.
Can I personalise this strap with something other than my name?
Yes. You are free to type whatever name, message or phrase you want, as long as it's within the 18-character limit.
How are the straps printed?
We heat press your text on to a black strip which is then sewn carefully on to the strap to make a durable and strong personalisation for your straps.
Can I have different text on each strap?
Yes. Just fill in the text field for the personalised text you want on each strap.
Delivery
The information below is for guidance. Actual delivery costs and dates depend on the delivery address, weight and time your order is placed. Cut-off time for Overnight Orders is 12 noon.
| Price | Method | Manufacture Time | Delivery Time | Est. Delivery Date |
| --- | --- | --- | --- | --- |
| £3.99 | 2nd Class (Tracked LL) | 0-3 Days | 2-3 Days | Mon 25 Sep - Fri 29 Sep |
| £5.99 | 1st Class (Tracked LL) | 0-3 Days | 1-2 Days | Fri 22 Sep - Thu 28 Sep |
| £12.99 | Royal Mail Special Delivery (Overnight Mon-Sat Pre 1pm) | Tomorrow | Next Day (Mon-Sat) | Mon 25 Sep |
| £13.00 | DHL Courier (Economy M-F Pre 6pm) | 0-3 Days | 2-3 Days | Mon 25 Sep - Fri 29 Sep |
More Information
| | |
| --- | --- |
| Despatch | 0-3 Days (to Personalise) or Upgrade at Checkout for Overnight Delivery |
| Brand | The JetRest® |
| RRP | £9.99 |
| Country of Origin | United Kingdom |
| SKU | FGLUG064(180)(WN50-STR)(P) |
| Gtin | 5056261075320 |
| Tariff Code | 6307909899 |
| Tariff Description | Luggage Strap - Woven Webbing |
| Product Weight | 123 g |
| Product Dimensions | 5 x 180cm |
Product Options
Size
180cm, 250cm, 300cm
Colour
Striped, Red, Yellow, Royal Blue, Navy Blue, Green, Silver Grey, Black, White
Product Type
Luggage Straps
Travel & Outdoors > Personalised Luggage Straps
Personalised Gifts > Personalised Travel Gifts
personalised suitcase straps
lockable suitcase straps

Personalised Luggage Strap Combination Lock (UK Made Suitcase Straps)
(180cm) - Red (Personalised with Text)
FGLUG064(180)(WN50-RED)(P)
5056261075511
£9.99
123 g
5 x 180cm
Personalised Luggage Strap Combination Lock (UK Made Suitcase Straps)
(250cm) - Red (Personalised with Text)
FGLUG064(250)(WN50-RED)(P)
5056261075542
£10.99
148 g
5 x 250cm
Personalised Luggage Strap Combination Lock (UK Made Suitcase Straps)
(300cm) - Red (Personalised with Text)
FGLUG064(300)(WN50-RED)(P)
5056261075573
£11.99
162 g
5 x 300cm
Personalised Luggage Strap Combination Lock (UK Made Suitcase Straps)
(180cm) - Yellow (Personalised with Text)
FGLUG064(180)(WN50-YEL)(P)
5056261075597
£9.99
123 g
5 x 180cm
Personalised Luggage Strap Combination Lock (UK Made Suitcase Straps)
(250cm) - Yellow (Personalised with Text)
FGLUG064(250)(WN50-YEL)(P)
5056261075610
£10.99
148 g
5 x 250cm
Personalised Luggage Strap Combination Lock (UK Made Suitcase Straps)
(300cm) - Yellow (Personalised with Text)
FGLUG064(300)(WN50-YEL)(P)
5056261075634
£11.99
162 g
5 x 300cm
Personalised Luggage Strap Combination Lock (UK Made Suitcase Straps)
(180cm) - Royal Blue (Personalised with Text)
FGLUG064(180)(WN50-BRO)(P)
5056261075658
£9.99
123 g
5 x 180cm
Personalised Luggage Strap Combination Lock (UK Made Suitcase Straps)
(250cm) - Royal Blue (Personalised with Text)
FGLUG064(250)(WN50-BRO)(P)
5056261075672
£10.99
148 g
5 x 250cm
Personalised Luggage Strap Combination Lock (UK Made Suitcase Straps)
(300cm) - Royal Blue (Personalised with Text)
FGLUG064(300)(WN50-BRO)(P)
5056261075696
£11.99
162 g
5 x 300cm
Personalised Luggage Strap Combination Lock (UK Made Suitcase Straps)
(180cm) - Navy Blue (Personalised with Text)
FGLUG064(180)(WN50-BNA)(P)
5056261075719
£9.99
123 g
5 x 180cm
Personalised Luggage Strap Combination Lock (UK Made Suitcase Straps)
(250cm) - Navy Blue (Personalised with Text)
FGLUG064(250)(WN50-BNA)(P)
5056261075733
£10.99
148 g
5 x 250cm
Personalised Luggage Strap Combination Lock (UK Made Suitcase Straps)
(300cm) - Navy Blue (Personalised with Text)
FGLUG064(300)(WN50-BNA)(P)
5056261075528
£11.99
162 g
5 x 300cm
Personalised Luggage Strap Combination Lock (UK Made Suitcase Straps)
(180cm) - Green (Personalised with Text)
FGLUG064(180)(WN50-GBG)(P)
5056261075559
£9.99
123 g
5 x 180cm
Personalised Luggage Strap Combination Lock (UK Made Suitcase Straps)
(250cm) - Green (Personalised with Text)
FGLUG064(250)(WN50-GBG)(P)
5056261075580
£10.99
148 g
5 x 250cm
Personalised Luggage Strap Combination Lock (UK Made Suitcase Straps)
(300cm) - Green (Personalised with Text)
FGLUG064(300)(WN50-GBG)(P)
5056261075603
£11.99
162 g
5 x 300cm
Personalised Luggage Strap Combination Lock (UK Made Suitcase Straps)
(180cm) - Silver Grey (Personalised with Text)
FGLUG064(180)(WN50-GLG)(P)
5056261075627
£9.99
123 g
5 x 180cm
Personalised Luggage Strap Combination Lock (UK Made Suitcase Straps)
(250cm) - Silver Grey (Personalised with Text)
FGLUG064(250)(WN50-GLG)(P)
5056261075641
£10.99
148 g
5 x 250cm
Personalised Luggage Strap Combination Lock (UK Made Suitcase Straps)
(300cm) - Silver Grey (Personalised with Text)
FGLUG064(300)(WN50-GLG)(P)
5056261075665
£11.99
162 g
5 x 300cm
Personalised Luggage Strap Combination Lock (UK Made Suitcase Straps)
(180cm) - Black (Personalised with Text)
FGLUG064(180)(WN50-BLK)(P)
5056261075689
£9.99
123 g
5 x 180cm
Personalised Luggage Strap Combination Lock (UK Made Suitcase Straps)
(250cm) - Black (Personalised with Text)
FGLUG064(250)(WN50-BLK)(P)
5056261075702
£10.99
148 g
5 x 250cm
Personalised Luggage Strap Combination Lock (UK Made Suitcase Straps)
(300cm) - Black (Personalised with Text)
FGLUG064(300)(WN50-BLK)(P)
5056261075726
£11.99
162 g
5 x 300cm
Personalised Luggage Strap Combination Lock (UK Made Suitcase Straps)
(180cm) - White (Personalised with Text)
FGLUG064(180)(WN50-WHI)(P)
5056261075504
£9.99
123 g
5 x 180cm
Personalised Luggage Strap Combination Lock (UK Made Suitcase Straps)
(250cm) - White (Personalised with Text)
FGLUG064(250)(WN50-WHI)(P)
5056261075535
£10.99
148 g
5 x 250cm
Personalised Luggage Strap Combination Lock (UK Made Suitcase Straps)
(300cm) - White (Personalised with Text)
FGLUG064(300)(WN50-WHI)(P)
5056261075566
£11.99
162 g
5 x 300cm
Personalised Luggage Strap Combination Lock (UK Made Suitcase Straps)
(180cm) Striped (Personalised with Text)
FGLUG064(180)(WN50-STR)(P)
5056261075320
£9.99
123 g
5 x 180cm
Personalised Luggage Strap Combination Lock (UK Made Suitcase Straps)
(250cm) Striped (Personalised with Text)
FGLUG064(250)(WN50-STR)(P)
5056261075467
£10.99
148 g
5 x 250cm
Personalised Luggage Strap Combination Lock (UK Made Suitcase Straps)
(300cm) Striped (Personalised with Text)
FGLUG064(300)(WN50-STR)(P)
5056261075474
£11.99
162 g
5 x 300cm
Personalised Luggage Strap Combination Lock (UK Made Suitcase Straps)