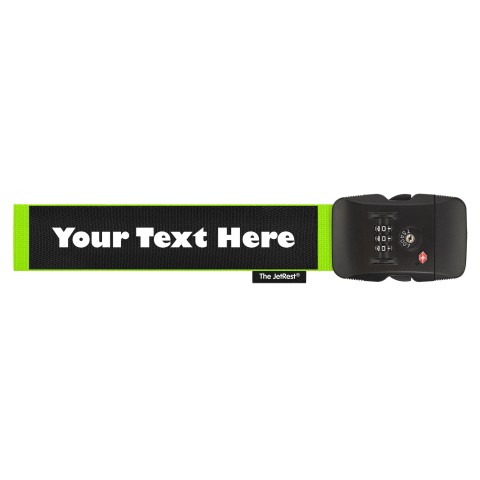 1095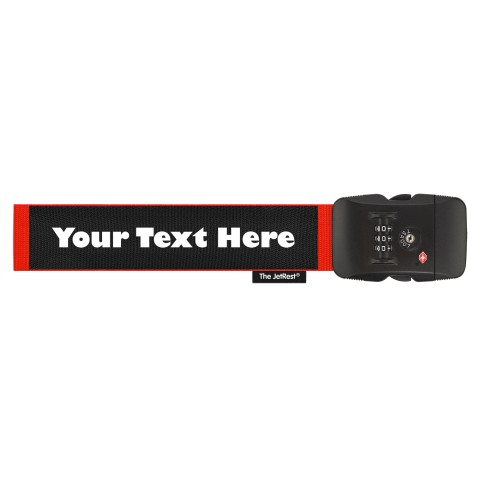 1094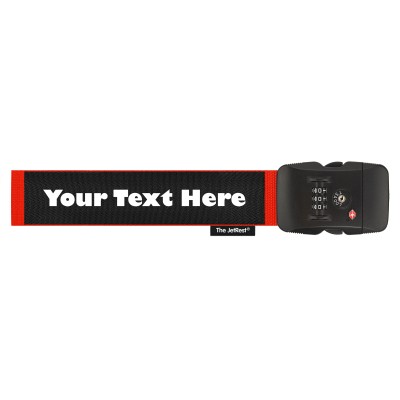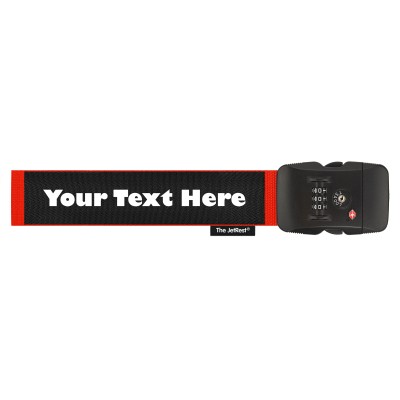 Personalised TSA Combination Luggage Strap
Description
The JetRest® Personalised TSA Combination Luggage Strap with Integrated TSA (Travel Sentry Approved) Lock.
TSA lock approved by Travel Sentry.
3-digit resettable combination lock.
Ultra visible, super rugged green webbing.
180cm long x 5cm wide.
Fits most types of luggage sizes.
Personalised with your name
Trusted JetRest® brand
The JetRest® Travel Sentry Approved Luggage Belt with Integrated TSA Lock provides frequent flyers and holiday goers with that much needed peace of mind when traveling. This luggage strap allows authorised airport security personnel to access your case for inspection, without damaging your lock or compromising the integrity of your suitcase.
We've designed this striking suitcase strap using a intensely bright green webbing for maximum visibility. Using customer feedback, we've determined that the colour green was the most easily identifiable for a luggage strap, even for those suffering from poor or short sighted vision.
Designed to travel the world over, this stunning suitcase strap with integrated TSA lock is really simple to setup or reset. A full set of easy-to-digest instructions are provided with each and every strap, so rest assured you won't have any trouble getting going.
We offer this strap in a 180cm length as standard, which we believe fits the vast majority of suitcase and luggage sizes. Of course, this strap can be fully adjusted and made smaller to fit duffel bags and other smaller carry-ons. If you're at all unsure, we recommend measuring your baggage prior to purchase.
Reviews
Luggage Straps
- Excellent product good quality and fantastic colour from telephone call to order so easy and friendly staff very helpful delivery the same arrrived as stated will certainly use again well done and thank you.
By Linda (Nov 2018)
Seasoned Travellers
- Excellent customer service with very quick delivery. Have just been away for a short break and used one of the straps. Very strong and much easier to use a combination lock than the straps we have used previously that have keys. These are also wider than our old straps, extremely pleased with them and won't hesitate to recommend and even order some more as they are particularly good value for money. Thank you.
By anonymous (Oct 2017)
excellent
- never bought anything like this before, so wasn't sure what to expect. I am over the moon with the product. It's very strong and simple to use, and it's good that if your luggage needs checking by the airline/customs they can do that with the universal lock..... EXCELLENT!
By janet piper (Jul 2017)
Excellent Quality Luggage Strap
- Delighted, my luggage straps arrived today(part of the buy one get free promotion). I wasn't sure if they would be of good quality as this is an excellent price, however I couldn't be more wrong. Strong and sturdy, lovely and bright can't wait to use them. After embarrassingly picking up someones case off the conveyor belt at the airport last year as their case was identical to mine, I know that this is now a thing of the past! Super fast delivery only 2 days from ordering and plenty of updates on dispatch so I knew what was happenning. Really pleased and would recommend not just the luggage straps but the great customer service to others. Thank you! Denise
By Denise (Apr 2017)
Holiday security
- Delighted with the four locking luggage straps I ordered. Delivered in two days. Sending my luggage in advance this year and the straps will give additional security.
By Jonathan Ward (Mar 2017)
Fastened up
- The luggage straps with locks very well made and the locks seem secure. Good buy well satisfied
By Ian G (Nov 2016)
FAQs
Can I personalise this strap with something other than my name?
Yes. You are free to type whatever name, message or phrase you want, as long as it's within the 18-character limit.
How are the straps printed?
We heat press your text on to a black strip which is then sewn carefully on to the strap to make a durable and strong personalisation for your straps.
Can I have different text on each strap?
Yes. Just fill in the text field for the personalised text you want on each strap.
Is this product Travel Sentry approved?
Yes. This product is approved by Travel Sentry - the Global Standard for Travel Security.
How do I set the combination lock number?
Your TSA combination lock is set to 0-0-0 when first purchased.
1. Open the lock with the default code: 0-0-0.
2. Push the Reset Button to position B and set your desired combination using the Dials.
3. To set your combination, push the Reset Button back to position A.
Do not forget your new combination as there is no master reset available.
Shipping
The information below is for guidance. Actual delivery costs and dates depend on the delivery address, weight and time your order is placed. Cut-off time for Overnight Orders is 12 noon.
| Price | Method | Manufacture Time | Delivery Time | Est. Delivery Date |
| --- | --- | --- | --- | --- |
| £2.95 | Royal Mail - 2nd Class | 1-3 Days | 2-3 Days | Mon 3 Feb - Thu 6 Feb |
| £3.95 | Royal Mail - 2nd Class | 1-3 Days | 2-4 Days | Mon 3 Feb - Fri 7 Feb |
| £3.95 | Royal Mail - 1st Class | 1-3 Days | 1-2 Days | Fri 31 Jan - Wed 5 Feb |
| £4.99 | Royal Mail - 1st Class | 1-3 Days | 1-3 Days | Fri 31 Jan - Thu 6 Feb |
| £5.95 | Royal Mail - 2nd Class | 1-3 Days | 2-3 Days | Mon 3 Feb - Thu 6 Feb |
| £10.00 | Courier - Economy (M-F Pre 6pm) | 1-3 Days | 2-3 Days | Mon 3 Feb - Thu 6 Feb |
| £12.95 | Courier - Overnight (M-F Pre 6pm) | 1-3 Days | 1-2 Days | Fri 31 Jan - Wed 5 Feb |
| £14.95 | Royal Mail - Special Delivery (Pre 1pm) | Same Day | Next Working Day | Thu 30 Jan |
| £14.95 | Royal Mail - Special Delivery (Saturday Pre 1pm) | Monday | This Saturday | Sat 1 Feb |
| £24.95 | Courier - Economy (M-F Pre 6pm) | 1-3 Days | 2-4 Days | Mon 3 Feb - Fri 7 Feb |
More Information
| | |
| --- | --- |
| Availability | Available to Order |
| Despatch | 1-3 Days (to Personalise) or Upgrade at Checkout for Overnight Delivery |
| Brand | The JetRest |
| RRP | £12.95 |
| Weight | 177 g |
| Country of Origin | China |
| SKU | FGLUG |
| Tariff Code | 6307909899 |
| Tariff Description | Luggage Strap - Woven Webbing |
Personalised TSA Combination Luggage Strap