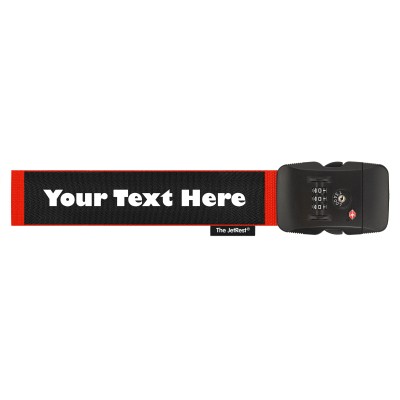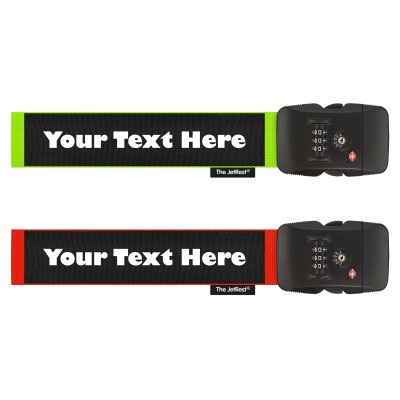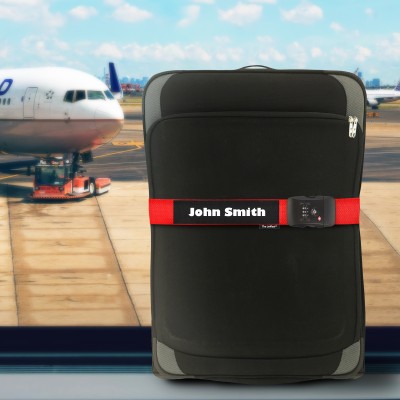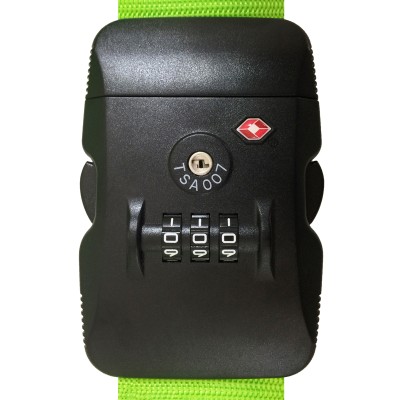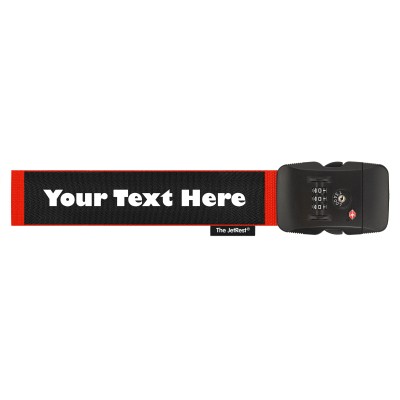 Personalised TSA Combination Luggage Strap
Description
The JetRest® Personalised TSA Combination Luggage Strap with Integrated TSA (Travel Sentry Approved) Lock.
TSA lock approved by Travel Sentry.
3-digit resettable combination lock.
Ultra visible, super rugged green webbing.
180cm long x 5cm wide.
Fits most types of luggage sizes.
Personalised with your name
Trusted JetRest® brand
The JetRest® Travel Sentry Approved Luggage Belt with Integrated TSA Lock provides frequent flyers and holiday goers with that much needed peace of mind when traveling. This luggage strap allows authorised airport security personnel to access your case for inspection, without damaging your lock or compromising the integrity of your suitcase.
We've designed this striking suitcase strap using a intensely bright green webbing for maximum visibility. Using customer feedback, we've determined that the colour green was the most easily identifiable for a luggage strap, even for those suffering from poor or short sighted vision.
Designed to travel the world over, this stunning suitcase strap with integrated TSA lock is really simple to setup or reset. A full set of easy-to-digest instructions are provided with each and every strap, so rest assured you won't have any trouble getting going.
We offer this strap in a 180cm length as standard, which we believe fits the vast majority of suitcase and luggage sizes. Of course, this strap can be fully adjusted and made smaller to fit duffel bags and other smaller carry-ons. If you're at all unsure, we recommend measuring your baggage prior to purchase.
Reviews
Best Quality - 5 *
- This is the 2nd time I've bought luggage straps from this company. The quality is 5*. Strong, stylish and ideal for a traveller who likes to know that their case is safe and is also noticeable from 100 yards!! (SusieC, 26/07/23)
Combination strap
- Given as part of a birthday present, seems to be working well for the birthday boy who has been away x 3 times with it. (LoobyLoo, 29/08/22)
Excellent Straps
- The straps are easy to use and stand out on an airport conveyer. (Jackie, 12/08/22)
Smart security
- Excellent luggage straps that are robust and clearly seen. I have purchased several, although they last very well, even subjected to the rough handling at airports! (Sue, 25/06/22)
Personalised Luggage Straps
- This was my second purchase as I have been distributing these straps to my ever growing family. The straps really stand out in the baggage collection areas and the lock gives a positive sense of security. (David, 13/05/22)
Personalised TSA Combination Luggage Strap - Green (Personalised with Text)
- Web site easy to use. Items dispatched very quickly. Received when expected. Quality of items extremely good Cannot fault this in any way (Howard, 21/06/21)
Luggage strap
- Very happy with strap. Looking forward to using it (Jason, 10/04/21)
Personalised Luggage Strap
- Bought one as a Xmas present. Received the goods in a good time scale. Although i have not as yet been able to put the goods into practice I have found the strap to be of good solid quality and since purchased another three straps which were also recieved within the alocated time scales. (Graa, 14/01/21)
Luggage Straps
- Excellent product good quality and fantastic colour from telephone call to order so easy and friendly staff very helpful delivery the same arrrived as stated will certainly use again well done and thank you. (Linda)
Seasoned Travellers
- Excellent customer service with very quick delivery. Have just been away for a short break and used one of the straps. Very strong and much easier to use a combination lock than the straps we have used previously that have keys. These are also wider than our old straps, extremely pleased with them and won't hesitate to recommend and even order some more as they are particularly good value for money. Thank you. (anonymous)
excellent
- never bought anything like this before, so wasn't sure what to expect. I am over the moon with the product. It's very strong and simple to use, and it's good that if your luggage needs checking by the airline/customs they can do that with the universal lock..... EXCELLENT! (janet piper)
Excellent Quality Luggage Strap
- Delighted, my luggage straps arrived today(part of the buy one get free promotion). I wasn't sure if they would be of good quality as this is an excellent price, however I couldn't be more wrong. Strong and sturdy, lovely and bright can't wait to use them. After embarrassingly picking up someones case off the conveyor belt at the airport last year as their case was identical to mine, I know that this is now a thing of the past! Super fast delivery only 2 days from ordering and plenty of updates on dispatch so I knew what was happenning. Really pleased and would recommend not just the luggage straps but the great customer service to others. Thank you! Denise (Denise)
Holiday security
- Delighted with the four locking luggage straps I ordered. Delivered in two days. Sending my luggage in advance this year and the straps will give additional security. (Jonathan Ward)
Fastened up
- The luggage straps with locks very well made and the locks seem secure. Good buy well satisfied (Ian G)
Luggage Straps make my luggage easily identified
- Good service delivered promptly and good quality straps (Jane)
First class luggage strap
- A well made product with a decent combination lock. Recommended (Chris Wedlake)
Bright colour,
- TSA straps arrived quickly. The product is good quality and the strap is bright green making luggage identification easier. (JPW)
Top quality product
- Excellent service from this company ,excellent product ,received in Good time would recommend (Roger Greatwood)
Great Item
- Unfortunately 1 of the combination straps only worked @ default setting 000. However phone call to advise company resulted in replacement being sent very speedily. Fantastic company to have dealings with. Highly Recommendable. Very pleased with the product also. (Hamifrew)
Keeping my luggage
- Very good bit of kit. (Jeremy)
very pleased
- Excellent service item just what I wanted (valerie)
Luggage straps with security lock.
- I puchased 2 of the Luggage Straps with TSA lock. Delivery was excellent, only 2 days from ordering. The product looks very well designed, neat, robust and well made. It is also very easy to use/install. A Quality Product. (Lionel Mills)
Lockable luggage Strap
- This luggage strap has solved the problem with my last model. I left UK with a strap but when I arrived the strap had gone. The JetRest strap has a combination lock so the release cannot be accidental. It also has a TSA access lock which matches the suitcase. I am very happy with this purchase after 3 flights already. (Patrick Gardner)
luggage strap
- delivered on time, as described on the web site, just what I wanted. Thanks (Guy Whetherly)
Customer Service Review of Travel Sentry Approved Luggage Strap with TSA Combination Lock
- As you can't put a price on your personal belongings, investing in a high quality suitcase belt such as this advisable, especially if you're looking to travel abroad in the not too distant future. Approved by Travel Sentry - The Global Standard for Travel Security, this luggage strap contains a TSA lock that can be opened by authorised airport security personnel, without them damaging your luggage. We offer this suitcase strap in a super bright red colour, which will enable you to spend less time at baggage claim looking for your suitcase. Streamline your airport experience with the Travel Sentry Approved Luggage Strap by The JetRest. Please take note of our value discount bulk packs, redeemable on the product page.  (Lance Plachciak)
More Reviews
Instructions
Instructions for changing the combination luggage strap lock number:
Your combination lock is set to 0-0-0 when first purchased.
To change the combination, first set the lock to 0-0-0.
On the back of the buckle move the button from position A to position B.
Now set your own 3 unique numbers.
To fix these numbers change teh button on the back from position B back to A.
Do not forget your new combination as there is no master re-set available.
FAQs
Can I personalise this strap with something other than my name?
Yes. You are free to type whatever name, message or phrase you want, as long as it's within the 18-character limit.
How are the straps printed?
We heat press your text on to a black strip which is then sewn carefully on to the strap to make a durable and strong personalisation for your straps.
Can I have different text on each strap?
Yes. Just fill in the text field for the personalised text you want on each strap.
Is this product Travel Sentry approved?
Yes. This product is approved by Travel Sentry - the Global Standard for Travel Security.
How do I set the combination lock number?
Your TSA combination lock is set to 0-0-0 when first purchased.
1. Open the lock with the default code: 0-0-0.
2. Push the Reset Button to position B and set your desired combination using the Dials.
3. To set your combination, push the Reset Button back to position A.
Do not forget your new combination as there is no master reset available.
Delivery
The information below is for guidance. Actual delivery costs and dates depend on the delivery address, weight and time your order is placed. Cut-off time for Overnight Orders is 12 noon.
| Price | Method | Manufacture Time | Delivery Time | Est. Delivery Date |
| --- | --- | --- | --- | --- |
| £4.99 | 2nd Class (Tracked) | 0-3 Days | 2-3 Days | Mon 25 Sep - Fri 29 Sep |
| £6.99 | 1st Class (Tracked) | 0-3 Days | 1-2 Days | Fri 22 Sep - Thu 28 Sep |
| £12.99 | Royal Mail Special Delivery (Overnight Mon-Sat Pre 1pm) | Tomorrow | Next Day (Mon-Sat) | Mon 25 Sep |
| £13.01 | DHL Courier (Economy M-F Pre 6pm) | 0-3 Days | 2-3 Days | Mon 25 Sep - Fri 29 Sep |
More Information
| | |
| --- | --- |
| Despatch | 0-3 Days (to Personalise) or Upgrade at Checkout for Overnight Delivery |
| Brand | The JetRest® |
| RRP | £14.99 |
| Country of Origin | China |
| SKU | FGLUG061(P) |
| Gtin | 5056656340668 |
| Tariff Code | 6307909899 |
| Tariff Description | Luggage Strap - Woven Webbing |
| Product Weight | 142 g |
| Product Dimensions | 5 x 180cm |
Product Options
Colour
Red, Green Strap
Product Type
Luggage Straps
Travel & Outdoors > Personalised Luggage Straps
Personalised Gifts > Personalised Travel Gifts
TSA Lock Luggage Straps
TSA Lock Suitcase Straps

Personalised TSA Combination Luggage Strap
- Red (Personalised with Text)
FGLUG061(P)
5056656340668
£14.99
142 g
5 x 180cm
Personalised TSA Combination Luggage Strap
- Green (Personalised with Text)
FGLUG056(P)
5056656340675
£14.99
142 g
5 x 180cm
Personalised TSA Combination Luggage Strap