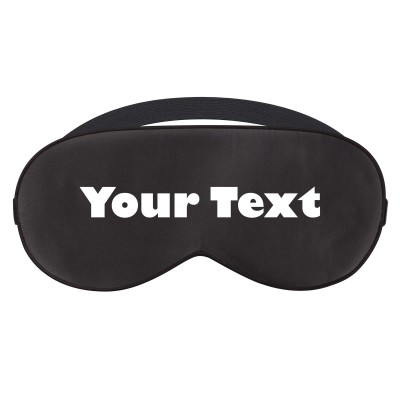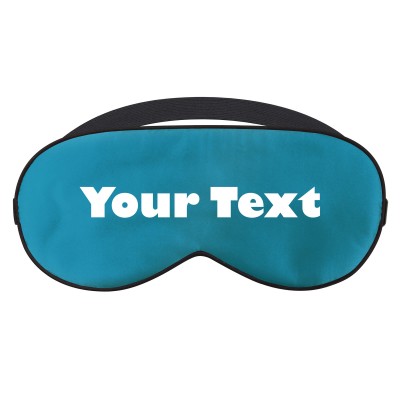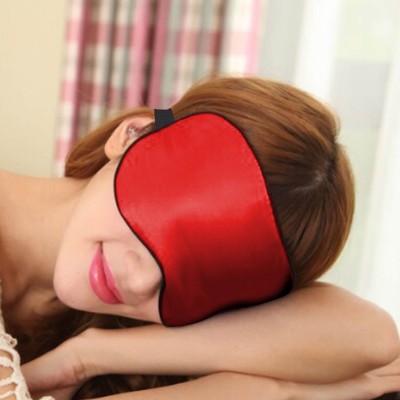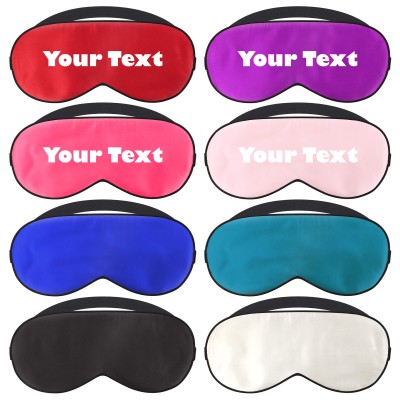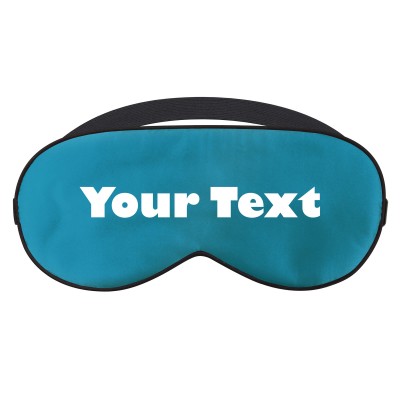 Description
100% Pure Mulberry Silk Luxury Sleep Eye Mask by HappySnapGifts® is available in an assortment of striking colours and is naturally hypoallergenic.
Silk eye mask sleeping mask.
Made from 100% silk.
Natural hypoallergenic mulberry silk eye masks.
Fully adjustable elastic fastening.
Stunning selection of colour options.
Blocks out all ambient light.
Trusted HappySnapGifts® brand.
The HappySnapGifts® 100% Pure Mulberry Silk Luxury Sleep Eye Mask is the perfect companion for those that are looking for a non-invasive sleep aid to help them get a better night's rest. Whether you're a frequent flyer or restless shift worker, this lovely silk eye mask could be exactly what you've been looking for. As this gorgeous sleeping mask is made from 100% silk, it is naturally hypoallergenic and suitable for those who suffer from chronic allergies or skin disorders.
This stunning yet practical sleep aid comes with a convenient elastic fastening strap, which is fully adjustable. This assures that you get the perfect fit, each and every time you use it. The HappySnapGifts® 100% Pure Mulberry Silk Luxury Sleep Eye Mask has been designed to a classic, tried and tested shape, which maximises coverage, providing you with the much needed darkness you require. The interior of the mask is made from black silk, which augments the black-out effect during sleep.
Reviews
Soft eye mask
- Great to wear during hot weather as stay soft and cool (CB, 19/08/23)
Great Eye Mask
- This eye mask feels lovely and soft and on a night keeps the light from disturbing my sleep especially in the Summer. I would highly reccomend it. (Eli, 13/06/23)
Comfy
- My second purchase of this very comfortable of this eye mask. (Dawn, 21/10/21)
Nightiime comfort
- This eye mask was well made soft and improved my sleep and did not give me wrinkled eye skin collection was easy and very pleasant staff thank you (Barb, 14/10/21)
Lovely mask
- Essential at this time of year even though i have blackout curtains,can wear all night without overheating. (Suz, 16/05/21)
Great!!!
- Simple, sleek and fit for the job. Great value for the high quality and extremely soft. (Oly , 02/05/21)
Big!
- Large eye mask, which means virtually no light gets in. Nice fabric, very soft. Comfortable fit. (TJ, 13/03/21)
Personalised eye mask
- Great item, good quality, arrived quickly (Heather , 14/01/21)
Wonderful
- Best piece of on-line ordering I've done for ages. Sensible delivery cost and arrived quickly. But best point is that the mask is perfect. No cute or cuddly twiddles but if you want a comfortable and dark mask, it is perfect. PS I never write reviews but felt I had to on this one. Thanks so much, JetRest. (MB, 07/01/21)
Eye mask
- 5 stars - very comfortable to wear and very effective. had a great nights sleep! (JJ, 09/09/20)
Perfect
- We love these eye masks, so lightweight, soft, and a perfect fit. Keep out all light. Price is great too. Over the years I have tried lots of others, but now I've found these will never use anything else, just fab! (Jo, 15/08/20)
Fantastic
- I've been looking for a very lightweight eye mask for a while, I sent off for one elsewhere, and was very disappointed with it, too heavy and uncomfortable, made my face sweaty. Remembered this site, as I have bought flight pillows previously which are excellent. It is really good, I am so pleased with it, light as a feather, completely covers eyes, cool to wear, and a fab colour. I am about to order more for the family. (Jo)
stylish eyemask
- Brilliant very comfortable have bought two as presents would recommend (Jennifer speck)
Great eye masks
- Purchased for a trip to Iceland in the summer when it doesn't get dark... These eye masks were great, kept the light out, comfortable to wear and didn't leave any marks on the face. Great product, would buy again. Also delivery was very quick. (Louise)
Without question, the best available eye masks
- These eye masks are top quality, good looking, light as a feather to wear. Breathable so you don't get get sweaty round the eyes. They last for years: I can't remember how long ago I bought our first batch and the whole family has several each now - for home, holiday house and one kept at work. Highly recommended, beautiful silk. (GB Perth)
Great product/service
- These are great eye masks and good value for money. The service is very friendly and efficient. (Julia)
Attractive, functional, comfortable eye mask
- Lovely product, reasonably priced and quick delivery. (Dawn)
Worked well
- Very gentle to wear on head, lovely colours, worked well (Maggie B.)
A very useful purchase
- Bought this to replace my old eye mask. Very soft and lovely colour (Veronika Wellings / Mapetite)
Beautiful Silk Eye Masks
- These eye masks feel beautiful against the skin, and are very comfortable to wear. They also hand wash in cool water very well. I will definitely be ordering some more! (Judith)
Great service and product
- The luxury silk eye masks are great and arrived promptly. Emails were received tracking the progress of the order. Fantastic. (anonymous)
Comfortable sleep mask
- I'm finding the silk sleep mask comfortably soft to wear and effective in blocking out light. (Sissy)
Great eye mask
- I couldn't decide which eye mask to buy from the selection on offer so eventually opted for one of the silk ones. It arrived quickly and is very comfortable. The mask is very light and fairly large so cuts out the light pretty well. Very happy with my purchase. (anonymous)
Best silk eyemask I have used.
- I have used other brands in the past, but for comfort this is the best. No hard ridges, wide and comfortable, not overfilled, so cool enough on hot nights. I wash them on a deicate cycle, they need no ironing and dry quickly. Best to have two of them. A great purchase. (anonymous)
I love my Mulberry Silk Luxury Sleep Eye Mask
- Excellent product and at a great price. I am now sleeping better wearing my silk eye mask as it totally covers the daylight which used to keep me awake. Also, silk is the best fabric to wear on your face as it is very delicate and mite free! Definitely will recommend the products to family and friends. (Kristina Wallis)
A good product
- I have never really got on with eye masks as I have found then a bit uncomfortable. My husband and I are doctors and we are currently living in a flat with very thin curtains which makes sleeping in the day when on night duty difficult. I bought is both one of these masks and we are now eye mask converts! They are comfy and good quality and block out light well. Recommended even if you are sceptical about the comfort of an eye mask like I was (Night worker)
A great high quality product
- I would highly recommend both this product and the company. The eye masks were a generous size and lovely quality. Product ordering was easy, straightforward and I received the eye masks within two days of ordering them (Susan Macdonald)
Soft eye mask
- This mask is silk and feels wonderful next to the skin. I have tried shaped eye masks before, but my eyelashes seemed to come in contact with the edge which caused irritation. This mask doesn't irritate my eyes at all. (Val)
Eye Mask
- The sleep eye bask was exactly what I needed and expected. (Patricia Waters)
Silk eye masks
- These are really excellent - large very soft and comfortable. The best I have ever used. (Jen)
Love the silky feeling
- This is a very helpful product in our too light bedroom. It is difficult now to sleep without it. (Sue Eaglen)
Great buy
- I have never used a sleep mask before this. I can honestly say I don't know i'm wearing it. Its so soft and does the job perfectly. I will certainly buy again. (Nancy)
Love this eye mask
- Great eye mask very comfortable and fits well also got the earplugs for an extra £1 bonus of buy one get one free (Mark Lam)
good eye mask
- bought the silk eye mask which came with free earplugs - good quality and much cheaper than the mask I had lost and for which this was a replacement also delivered really quickly (anonymous)
Beautiful quality!
- Extremely pleased with my purchase. (SH Surrey)
best eye mask I've had
- this is such a comfortable eye mask and such fantastic value for money too. I bought it in black and its very effective at blocking out the light. Highly recommended. (LindaH)
Adorable eye mask
- love this product, beautiful silk, can get no better! Great price and super service. Will order again. Thank you. (anonymous)
Excellent product
- Arrived really quickly and very pleased with my eye mask. Soft and comfy and with the sun coming up early now summer is on its way it helps me sleep in when I need to. (Pudding)
My daughter needs an eye mask to sleep!!!
- My daughter (adult) can only sleep with an eye mask as any light affects her sleep pattern. She has tried many types but has found that things like shape and material have never given her a product that has performed to her complete satisfaction. Until now. The silk, comfortable (easily adjusted) mask purchased from JetRest has met her every requirement. She now enjoys peaceful, sleep filled nights. Excellent product. Plus a very speedy delivery service after initial placement of order. (George Kelley)
my daughter loves this silk eye mask
- JetRest were 100% efficient, the mask arrived within 48 hours. My daughter loves it especially when she is sleeping during the day (she is often on night duty in A & E) (Margaret Davis)
Luxury
- This is the nicest mask I've used - lovely and soft with a narrow adjustable strap. There's a range of nice colours from which I chose a lovely purple. The silk fabric is not sweaty as with many masks. (Diane)
Effective and comfortable
- I got this for camping-I like the great outdoors but not waking up with the sun at 5am. This mask was comfortable, covered eyes and surround, and being made of silk felt good against my skin. Most importantly it cut out the light. Others I have had have been too thin or have had rough seams or lumpy bits. This I liked the range of colours too-I got the teal. Very happy with it.  (Yasmin)
Sumptious, silky eye mask.
- So silky, so luxurious, so comfy & keeps out all light. Cannot recommend highly enough. (Lawrie)
Silk eye mask
- Beautiful product, much better quality and size than previous silk eye masks that I have bought. Feels lovely against the skin (Colette F)
My wife is very happy with this product.
- My wife has been using a sleep mask that she had free on a BA flight years ago. It finally gave up the ghost and we bought the new one from Jetrest. She now wishes she bought one years ago as it is so soft and comfortable. 10/10 as far as she is concerned. Ordered two but only one arrived. No quibble when I informed Jetrest they just sent another immediately. (Martin1234321)
eye mask
- having searched high and low for a decent eye mask...this one wins hands down. big and comfortable and looks nice too. (Sarah)
very comfortable
- This eye mask fits over a large space so keeps the eyes covered well. It's comfortable to wear and adjustable. I would buy again. (anonymous)
Clear Prospects Ltd Review of The JetRest Luxury Silk Eye Mask
- I deal with quite a lot of eye masks as we stock many varieties but I have never come across one as soft as this. They are genuinely 100% silk and you can really tell as the feel against the skin is incredible. This has to be one of the most comfortable sleep masks that we currently have and I can't recommend them highly enough. (Joe Kiernan)
More Reviews
Delivery
The information below is for guidance. Actual delivery costs and dates depend on the delivery address, weight and time your order is placed. Cut-off time for Overnight Orders is 12 noon.
| Price | Method | Manufacture Time | Delivery Time | Est. Delivery Date |
| --- | --- | --- | --- | --- |
| £3.99 | 2nd Class (Tracked LL) | 0-1 Days | 2-3 Days | Mon 25 Sep - Wed 27 Sep |
| £5.99 | 1st Class (Tracked LL) | 0-1 Days | 1-2 Days | Fri 22 Sep - Tue 26 Sep |
| £12.92 | DHL Courier (Economy M-F Pre 6pm) | 0-1 Days | 2-3 Days | Mon 25 Sep - Wed 27 Sep |
| £12.99 | Royal Mail Special Delivery (Overnight Mon-Sat Pre 1pm) | Tomorrow | Next Day (Mon-Sat) | Mon 25 Sep |
More Information
| | |
| --- | --- |
| Despatch | Today (Cut off time 3pm M-F) |
| Brand | HappySnapGifts® |
| Country of Origin | United Kingdom |
| SKU | EMSIL008 |
| Gtin | 5056656340699 |
| Tariff Code | 6214100090 |
| Tariff Description | Eye Mask - Silk Fabric Woven |
| Product Weight | 18 g |
| Product Dimensions | 11 x 23cm |
Product Options
Fabric
Silk
Eye Mask Colour
Peacock Blue, Baby Pink, Black, Brown, Fuchsia Pink, Purple, Red, White
Product Type
Eye Mask
Travel & Outdoors > Personalised Travel Gifts
Home > Eye Masks
Personalised Eye Masks
Silk eye masks

Luxury Silk Eye Mask
- Black
EMSIL002
5056656353651
£9.99
18 g
11 x 23cm
Luxury Silk Eye Mask
- White
EMSIL010
5056656353668
£9.99
18 g
11 x 23cm
Luxury Silk Eye Mask
- Red
EMSIL005
5056656353675
£9.99
18 g
11 x 23cm
Luxury Silk Eye Mask
- Purple
EMSIL003
5056656353682
£9.99
18 g
11 x 23cm
Luxury Silk Eye Mask
- Fuchsia Pink
EMSIL001
5056656353699
£9.99
18 g
11 x 23cm
Luxury Silk Eye Mask
- Brown
EMSIL006
5056656353705
£9.99
18 g
11 x 23cm
Luxury Silk Eye Mask
- Peacock Blue
EMSIL008
5056656340699
£9.99
18 g
11 x 23cm
Luxury Silk Eye Mask
- Black (Personalised with Text)
EMSIL002(P)
5056656353729
£12.94
18 g
11 x 23cm
Luxury Silk Eye Mask
- White (Personalised with Text)
EMSIL010(P)
5056656353736
£12.94
18 g
11 x 23cm
Luxury Silk Eye Mask
- Red (Personalised with Text)
EMSIL005(P)
5056656353743
£12.94
18 g
11 x 23cm
Luxury Silk Eye Mask
- Purple (Personalised with Text)
EMSIL003(P)
5056656353750
£12.94
18 g
11 x 23cm
Luxury Silk Eye Mask
- Fuchsia Pink (Personalised with Text)
EMSIL001(P)
5056656353767
£12.94
18 g
11 x 23cm
Luxury Silk Eye Mask
- Brown (Personalised with Text)
EMSIL006(P)
5056656353774
£12.94
18 g
11 x 23cm
Luxury Silk Eye Mask
- Peacock Blue (Personalised with Text)
EMSIL008(P)
5056656353781
£12.94
18 g
11 x 23cm
Luxury Silk Eye Mask
- Baby Pink
EMSIL009
5056656353712
£9.99
18 g
11 x 23cm
Luxury Silk Eye Mask
- Baby Pink (Personalised with Text)
EMSIL009(P)
5056656353798
£12.94
18 g
11 x 23cm
Luxury Silk Eye Mask