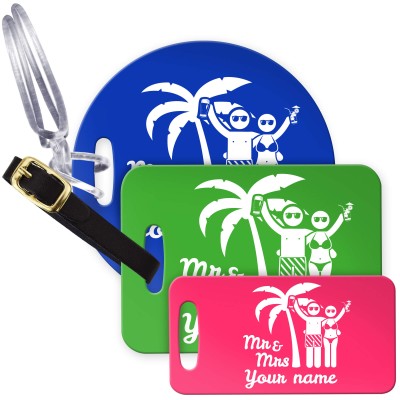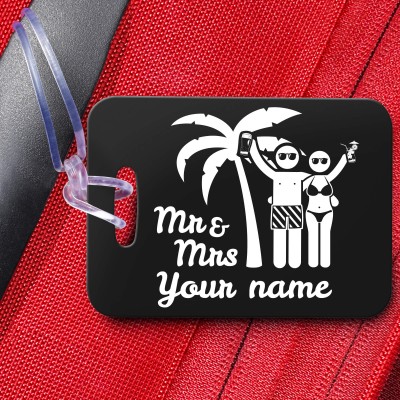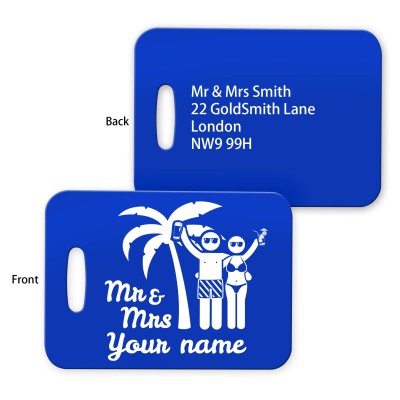 Description
Mr & Mrs Luggage Tags are a fun novelty set of luggage tags that are personalised with text, have our unique "honeymoon" icon and come in a range of bright colours.
Personalised Couples Luggage Tags.
Includes Mrs & Mrs Luggage Tags, Mr & Mr etc. to suit any couple.
Fun "holiday / cheers" icon.
Many bright colour options.
Personalise with text.
Great Travel Gift.
Trusted HappySnapGifts® brand.
Reviews
Delivery
The information below is for guidance. Actual delivery costs and dates depend on the delivery address, weight and time your order is placed. Cut-off time for Overnight Orders is 12 noon.
| Price | Method | Manufacture Time | Delivery Time | Est. Delivery Date |
| --- | --- | --- | --- | --- |
| £3.99 | 2nd Class (Tracked LL) | 0-3 Days | 2-3 Days | Mon 25 Sep - Fri 29 Sep |
| £5.99 | 1st Class (Tracked LL) | 0-3 Days | 1-2 Days | Fri 22 Sep - Thu 28 Sep |
| £12.91 | DHL Courier (Economy M-F Pre 6pm) | 0-3 Days | 2-3 Days | Mon 25 Sep - Fri 29 Sep |
| £12.99 | Royal Mail Special Delivery (Overnight Mon-Sat Pre 1pm) | Tomorrow | Next Day (Mon-Sat) | Mon 25 Sep |
More Information
| | |
| --- | --- |
| Despatch | 0-3 Days (to Personalise) or Upgrade at Checkout for Overnight Delivery |
| Brand | HappySnapGifts® |
| RRP | £9.99 |
| Country of Origin | United Kingdom |
| SKU | FGLUG024-CHEBRO(CL)(P) |
| Gtin | 5060089255543 |
| Tariff Code | 3926909790 |
| Tariff Description | Luggage Tag |
| Product Weight | 18 g |
| Product Dimensions | 9 x 4.5cm |
Product Options
Size
9cm x 4.5cm, 10cm x 7cm, 10cm Circle
Fabric
Polyester - Non Fabric
Colour
Royal Blue, Black, Bright Green, Burnt Orange, Hot Pink (Fuchsia), Purple, Red
Couple
Mr & Mrs, Mr & Mr, Mrs & Mrs
Finishings
Clear Loop, Leather Strap +
Product Type
Luggage Tags
Travel & Outdoors > Travel Gifts
personalised luggage tags

Mr & Mrs Luggage Tags
(9cm x 4.5cm) (Mr & Mrs Cheers) Bright Green with Clear Loop (Personalised with Text)
FGLUG024-CHEGBR(CL)(P)
5060089255543
£9.99
18 g
9 x 4.5cm
Mr & Mrs Luggage Tags
(10cm x 7cm) (Mr & Mrs Cheers) Bright Green with Clear Loop (Personalised with Text)
FGLUG025-CHEGBR(CL)(P)
5060089255543
£10.99
36 g
10 x 7cm
Mr & Mrs Luggage Tags
(10cm Circle) (Mr & Mrs Cheers) Bright Green with Clear Loop (Personalised with Text)
FGLUG026-CHEGBR(CL)(P)
5060089255543
£11.99
36 g
10 x 10cm
Mr & Mrs Luggage Tags
(9cm x 4.5cm) (Mr & Mrs Cheers) Bright Green with Leather Strap (Personalised with Text)
FGLUG024-CHEGBR(LS)(P)
5060089255543
£11.99
26 g
9 x 4.5cm
Mr & Mrs Luggage Tags
(10cm x 7cm) (Mr & Mrs Cheers) Bright Green with Leather Strap (Personalised with Text)
FGLUG025-CHEGBR(LS)(P)
5060089255543
£12.99
44 g
10 x 7cm
Mr & Mrs Luggage Tags
(10cm Circle) (Mr & Mrs Cheers) Bright Green with Leather Strap (Personalised with Text)
FGLUG026-CHEGBR(LS)(P)
5060089255543
£13.99
44 g
10 x 10cm
Mr & Mrs Luggage Tags
(9cm x 4.5cm) (Mr & Mrs Cheers) Hot Pink (Fuchsia) with Clear Loop (Personalised with Text)
FGLUG024-CHEPFU(CL)(P)
5060089255543
£9.99
18 g
9 x 4.5cm
Mr & Mrs Luggage Tags
(10cm x 7cm) (Mr & Mrs Cheers) Hot Pink (Fuchsia) with Clear Loop (Personalised with Text)
FGLUG025-CHEPFU(CL)(P)
5060089255543
£10.99
36 g
10 x 7cm
Mr & Mrs Luggage Tags
(10cm Circle) (Mr & Mrs Cheers) Hot Pink (Fuchsia) with Clear Loop (Personalised with Text)
FGLUG026-CHEPFU(CL)(P)
5060089255543
£11.99
36 g
10 x 10cm
Mr & Mrs Luggage Tags
(9cm x 4.5cm) (Mr & Mrs Cheers) Hot Pink (Fuchsia) with Leather Strap (Personalised with Text)
FGLUG024-CHEPFU(LS)(P)
5060089255543
£11.99
26 g
9 x 4.5cm
Mr & Mrs Luggage Tags
(10cm x 7cm) (Mr & Mrs Cheers) Hot Pink (Fuchsia) with Leather Strap (Personalised with Text)
FGLUG025-CHEPFU(LS)(P)
5060089255543
£12.99
44 g
10 x 7cm
Mr & Mrs Luggage Tags
(10cm Circle) (Mr & Mrs Cheers) Hot Pink (Fuchsia) with Leather Strap (Personalised with Text)
FGLUG026-CHEPFU(LS)(P)
5060089255543
£13.99
44 g
10 x 10cm
Mr & Mrs Luggage Tags
(9cm x 4.5cm) (Mr & Mrs Cheers) Burnt Orange with Clear Loop (Personalised with Text)
FGLUG024-CHEORA(CL)(P)
5060089255543
£9.99
18 g
9 x 4.5cm
Mr & Mrs Luggage Tags
(10cm x 7cm) (Mr & Mrs Cheers) Burnt Orange with Clear Loop (Personalised with Text)
FGLUG025-CHEORA(CL)(P)
5060089255543
£10.99
36 g
10 x 7cm
Mr & Mrs Luggage Tags
(10cm Circle) (Mr & Mrs Cheers) Burnt Orange with Clear Loop (Personalised with Text)
FGLUG026-CHEORA(CL)(P)
5060089255543
£11.99
36 g
10 x 10cm
Mr & Mrs Luggage Tags
(9cm x 4.5cm) (Mr & Mrs Cheers) Burnt Orange with Leather Strap (Personalised with Text)
FGLUG024-CHEORA(LS)(P)
5060089255543
£11.99
26 g
9 x 4.5cm
Mr & Mrs Luggage Tags
(10cm x 7cm) (Mr & Mrs Cheers) Burnt Orange with Leather Strap (Personalised with Text)
FGLUG025-CHEORA(LS)(P)
5060089255543
£12.99
44 g
10 x 7cm
Mr & Mrs Luggage Tags
(10cm Circle) (Mr & Mrs Cheers) Burnt Orange with Leather Strap (Personalised with Text)
FGLUG026-CHEORA(LS)(P)
5060089255543
£13.99
44 g
10 x 10cm
Mr & Mrs Luggage Tags
(9cm x 4.5cm) (Mr & Mrs Cheers) Purple with Clear Loop (Personalised with Text)
FGLUG024-CHEPUR(CL)(P)
5060089255543
£9.99
18 g
9 x 4.5cm
Mr & Mrs Luggage Tags
(10cm x 7cm) (Mr & Mrs Cheers) Purple with Clear Loop (Personalised with Text)
FGLUG025-CHEPUR(CL)(P)
5060089255543
£10.99
36 g
10 x 7cm
Mr & Mrs Luggage Tags
(10cm Circle) (Mr & Mrs Cheers) Purple with Clear Loop (Personalised with Text)
FGLUG026-CHEPUR(CL)(P)
5060089255543
£11.99
36 g
10 x 10cm
Mr & Mrs Luggage Tags
(9cm x 4.5cm) (Mr & Mrs Cheers) Purple with Leather Strap (Personalised with Text)
FGLUG024-CHEPUR(LS)(P)
5060089255543
£11.99
26 g
9 x 4.5cm
Mr & Mrs Luggage Tags
(10cm x 7cm) (Mr & Mrs Cheers) Purple with Leather Strap (Personalised with Text)
FGLUG025-CHEPUR(LS)(P)
5060089255543
£12.99
44 g
10 x 7cm
Mr & Mrs Luggage Tags
(10cm Circle) (Mr & Mrs Cheers) Purple with Leather Strap (Personalised with Text)
FGLUG026-CHEPUR(LS)(P)
5060089255543
£13.99
44 g
10 x 10cm
Mr & Mrs Luggage Tags
(9cm x 4.5cm) (Mr & Mrs Cheers) Red with Clear Loop (Personalised with Text)
FGLUG024-CHERED(CL)(P)
5060089255543
£9.99
18 g
9 x 4.5cm
Mr & Mrs Luggage Tags
(10cm x 7cm) (Mr & Mrs Cheers) Red with Clear Loop (Personalised with Text)
FGLUG025-CHERED(CL)(P)
5060089255543
£10.99
36 g
10 x 7cm
Mr & Mrs Luggage Tags
(10cm Circle) (Mr & Mrs Cheers) Red with Clear Loop (Personalised with Text)
FGLUG026-CHERED(CL)(P)
5060089255543
£11.99
36 g
10 x 10cm
Mr & Mrs Luggage Tags
(9cm x 4.5cm) (Mr & Mrs Cheers) Red with Leather Strap (Personalised with Text)
FGLUG024-CHERED(LS)(P)
5060089255543
£11.99
26 g
9 x 4.5cm
Mr & Mrs Luggage Tags
(10cm x 7cm) (Mr & Mrs Cheers) Red with Leather Strap (Personalised with Text)
FGLUG025-CHERED(LS)(P)
5060089255543
£12.99
44 g
10 x 7cm
Mr & Mrs Luggage Tags
(10cm Circle) (Mr & Mrs Cheers) Red with Leather Strap (Personalised with Text)
FGLUG026-CHERED(LS)(P)
5060089255543
£13.99
44 g
10 x 10cm
Mr & Mrs Luggage Tags
(9cm x 4.5cm) (Mr & Mrs Cheers) Black with Clear Loop (Personalised with Text)
FGLUG024-CHEBLA(CL)(P)
5060089255543
£9.99
18 g
9 x 4.5cm
Mr & Mrs Luggage Tags
(10cm x 7cm) (Mr & Mrs Cheers) Black with Clear Loop (Personalised with Text)
FGLUG025-CHEBLA(CL)(P)
5060089255543
£10.99
36 g
10 x 7cm
Mr & Mrs Luggage Tags
(10cm Circle) (Mr & Mrs Cheers) Black with Clear Loop (Personalised with Text)
FGLUG026-CHEBLA(CL)(P)
5060089255543
£11.99
36 g
10 x 10cm
Mr & Mrs Luggage Tags
(9cm x 4.5cm) (Mr & Mrs Cheers) Black with Leather Strap (Personalised with Text)
FGLUG024-CHEBLA(LS)(P)
5060089255543
£11.99
26 g
9 x 4.5cm
Mr & Mrs Luggage Tags
(10cm x 7cm) (Mr & Mrs Cheers) Black with Leather Strap (Personalised with Text)
FGLUG025-CHEBLA(LS)(P)
5060089255543
£12.99
44 g
10 x 7cm
Mr & Mrs Luggage Tags
(10cm Circle) (Mr & Mrs Cheers) Black with Leather Strap (Personalised with Text)
FGLUG026-CHEBLA(LS)(P)
5060089255543
£13.99
44 g
10 x 10cm
Mr & Mrs Luggage Tags
(9cm x 4.5cm) (Mr & Mr Cheers) Bright Green with Clear Loop (Personalised with Text)
FGLUG024-MMGBR(CL)(P)
5060089255543
£9.99
18 g
9 x 4.5cm
Mr & Mrs Luggage Tags
(10cm x 7cm) (Mr & Mr Cheers) Bright Green with Clear Loop (Personalised with Text)
FGLUG025-MMGBR(CL)(P)
5060089255543
£10.99
36 g
10 x 7cm
Mr & Mrs Luggage Tags
(10cm Circle) (Mr & Mr Cheers) Bright Green with Clear Loop (Personalised with Text)
FGLUG026-MMGBR(CL)(P)
5060089255543
£11.99
36 g
10 x 10cm
Mr & Mrs Luggage Tags
(9cm x 4.5cm) (Mr & Mr Cheers) Bright Green with Leather Strap (Personalised with Text)
FGLUG024-MMGBR(LS)(P)
5060089255543
£11.99
26 g
9 x 4.5cm
Mr & Mrs Luggage Tags
(10cm x 7cm) (Mr & Mr Cheers) Bright Green with Leather Strap (Personalised with Text)
FGLUG025-MMGBR(LS)(P)
5060089255543
£12.99
44 g
10 x 7cm
Mr & Mrs Luggage Tags
(10cm Circle) (Mr & Mr Cheers) Bright Green with Leather Strap (Personalised with Text)
FGLUG026-MMGBR(LS)(P)
5060089255543
£13.99
44 g
10 x 10cm
Mr & Mrs Luggage Tags
(9cm x 4.5cm) (Mr & Mr Cheers) Hot Pink (Fuchsia) with Clear Loop (Personalised with Text)
FGLUG024-MMPFU(CL)(P)
5060089255543
£9.99
18 g
9 x 4.5cm
Mr & Mrs Luggage Tags
(10cm x 7cm) (Mr & Mr Cheers) Hot Pink (Fuchsia) with Clear Loop (Personalised with Text)
FGLUG025-MMPFU(CL)(P)
5060089255543
£10.99
36 g
10 x 7cm
Mr & Mrs Luggage Tags
(10cm Circle) (Mr & Mr Cheers) Hot Pink (Fuchsia) with Clear Loop (Personalised with Text)
FGLUG026-MMPFU(CL)(P)
5060089255543
£11.99
36 g
10 x 10cm
Mr & Mrs Luggage Tags
(9cm x 4.5cm) (Mr & Mr Cheers) Hot Pink (Fuchsia) with Leather Strap (Personalised with Text)
FGLUG024-MMPFU(LS)(P)
5060089255543
£11.99
26 g
9 x 4.5cm
Mr & Mrs Luggage Tags
(10cm x 7cm) (Mr & Mr Cheers) Hot Pink (Fuchsia) with Leather Strap (Personalised with Text)
FGLUG025-MMPFU(LS)(P)
5060089255543
£12.99
44 g
10 x 7cm
Mr & Mrs Luggage Tags
(10cm Circle) (Mr & Mr Cheers) Hot Pink (Fuchsia) with Leather Strap (Personalised with Text)
FGLUG026-MMPFU(LS)(P)
5060089255543
£13.99
44 g
10 x 10cm
Mr & Mrs Luggage Tags
(9cm x 4.5cm) (Mr & Mr Cheers) Burnt Orange with Clear Loop (Personalised with Text)
FGLUG024-MMORA(CL)(P)
5060089255543
£9.99
18 g
9 x 4.5cm
Mr & Mrs Luggage Tags
(10cm x 7cm) (Mr & Mr Cheers) Burnt Orange with Clear Loop (Personalised with Text)
FGLUG025-MMORA(CL)(P)
5060089255543
£10.99
36 g
10 x 7cm
Mr & Mrs Luggage Tags
(10cm Circle) (Mr & Mr Cheers) Burnt Orange with Clear Loop (Personalised with Text)
FGLUG026-MMORA(CL)(P)
5060089255543
£11.99
36 g
10 x 10cm
Mr & Mrs Luggage Tags
(9cm x 4.5cm) (Mr & Mr Cheers) Burnt Orange with Leather Strap (Personalised with Text)
FGLUG024-MMORA(LS)(P)
5060089255543
£11.99
26 g
9 x 4.5cm
Mr & Mrs Luggage Tags
(10cm x 7cm) (Mr & Mr Cheers) Burnt Orange with Leather Strap (Personalised with Text)
FGLUG025-MMORA(LS)(P)
5060089255543
£12.99
44 g
10 x 7cm
Mr & Mrs Luggage Tags
(10cm Circle) (Mr & Mr Cheers) Burnt Orange with Leather Strap (Personalised with Text)
FGLUG026-MMORA(LS)(P)
5060089255543
£13.99
44 g
10 x 10cm
Mr & Mrs Luggage Tags
(9cm x 4.5cm) (Mr & Mr Cheers) Purple with Clear Loop (Personalised with Text)
FGLUG024-MMPUR(CL)(P)
5060089255543
£9.99
18 g
9 x 4.5cm
Mr & Mrs Luggage Tags
(10cm x 7cm) (Mr & Mr Cheers) Purple with Clear Loop (Personalised with Text)
FGLUG025-MMPUR(CL)(P)
5060089255543
£10.99
36 g
10 x 7cm
Mr & Mrs Luggage Tags
(10cm Circle) (Mr & Mr Cheers) Purple with Clear Loop (Personalised with Text)
FGLUG026-MMPUR(CL)(P)
5060089255543
£11.99
36 g
10 x 10cm
Mr & Mrs Luggage Tags
(9cm x 4.5cm) (Mr & Mr Cheers) Purple with Leather Strap (Personalised with Text)
FGLUG024-MMPUR(LS)(P)
5060089255543
£11.99
26 g
9 x 4.5cm
Mr & Mrs Luggage Tags
(10cm x 7cm) (Mr & Mr Cheers) Purple with Leather Strap (Personalised with Text)
FGLUG025-MMPUR(LS)(P)
5060089255543
£12.99
44 g
10 x 7cm
Mr & Mrs Luggage Tags
(10cm Circle) (Mr & Mr Cheers) Purple with Leather Strap (Personalised with Text)
FGLUG026-MMPUR(LS)(P)
5060089255543
£13.99
44 g
10 x 10cm
Mr & Mrs Luggage Tags
(9cm x 4.5cm) (Mr & Mr Cheers) Red with Clear Loop (Personalised with Text)
FGLUG024-MMRED(CL)(P)
5060089255543
£9.99
18 g
9 x 4.5cm
Mr & Mrs Luggage Tags
(10cm x 7cm) (Mr & Mr Cheers) Red with Clear Loop (Personalised with Text)
FGLUG025-MMRED(CL)(P)
5060089255543
£10.99
36 g
10 x 7cm
Mr & Mrs Luggage Tags
(10cm Circle) (Mr & Mr Cheers) Red with Clear Loop (Personalised with Text)
FGLUG026-MMRED(CL)(P)
5060089255543
£11.99
36 g
10 x 10cm
Mr & Mrs Luggage Tags
(9cm x 4.5cm) (Mr & Mr Cheers) Red with Leather Strap (Personalised with Text)
FGLUG024-MMRED(LS)(P)
5060089255543
£11.99
26 g
9 x 4.5cm
Mr & Mrs Luggage Tags
(10cm x 7cm) (Mr & Mr Cheers) Red with Leather Strap (Personalised with Text)
FGLUG025-MMRED(LS)(P)
5060089255543
£12.99
44 g
10 x 7cm
Mr & Mrs Luggage Tags
(10cm Circle) (Mr & Mr Cheers) Red with Leather Strap (Personalised with Text)
FGLUG026-MMRED(LS)(P)
5060089255543
£13.99
44 g
10 x 10cm
Mr & Mrs Luggage Tags
(9cm x 4.5cm) (Mr & Mr Cheers) Black with Clear Loop (Personalised with Text)
FGLUG024-MMBLA(CL)(P)
5060089255543
£9.99
18 g
9 x 4.5cm
Mr & Mrs Luggage Tags
(10cm x 7cm) (Mr & Mr Cheers) Black with Clear Loop (Personalised with Text)
FGLUG025-MMBLA(CL)(P)
5060089255543
£10.99
36 g
10 x 7cm
Mr & Mrs Luggage Tags
(10cm Circle) (Mr & Mr Cheers) Black with Clear Loop (Personalised with Text)
FGLUG026-MMBLA(CL)(P)
5060089255543
£11.99
36 g
10 x 10cm
Mr & Mrs Luggage Tags
(9cm x 4.5cm) (Mr & Mr Cheers) Black with Leather Strap (Personalised with Text)
FGLUG024-MMBLA(LS)(P)
5060089255543
£11.99
26 g
9 x 4.5cm
Mr & Mrs Luggage Tags
(10cm x 7cm) (Mr & Mr Cheers) Black with Leather Strap (Personalised with Text)
FGLUG025-MMBLA(LS)(P)
5060089255543
£12.99
44 g
10 x 7cm
Mr & Mrs Luggage Tags
(10cm Circle) (Mr & Mr Cheers) Black with Leather Strap (Personalised with Text)
FGLUG026-MMBLA(LS)(P)
5060089255543
£13.99
44 g
10 x 10cm
Mr & Mrs Luggage Tags
(9cm x 4.5cm) (Mrs & Mrs Cheers) Bright Green with Clear Loop (Personalised with Text)
FGLUG024-LLGBR(CL)(P)
5060089255543
£9.99
18 g
9 x 4.5cm
Mr & Mrs Luggage Tags
(10cm x 7cm) (Mrs & Mrs Cheers) Bright Green with Clear Loop (Personalised with Text)
FGLUG025-LLGBR(CL)(P)
5060089255543
£10.99
36 g
10 x 7cm
Mr & Mrs Luggage Tags
(10cm Circle) (Mrs & Mrs Cheers) Bright Green with Clear Loop (Personalised with Text)
FGLUG026-LLGBR(CL)(P)
5060089255543
£11.99
36 g
10 x 10cm
Mr & Mrs Luggage Tags
(9cm x 4.5cm) (Mrs & Mrs Cheers) Bright Green with Leather Strap (Personalised with Text)
FGLUG024-LLGBR(LS)(P)
5060089255543
£11.99
26 g
9 x 4.5cm
Mr & Mrs Luggage Tags
(10cm x 7cm) (Mrs & Mrs Cheers) Bright Green with Leather Strap (Personalised with Text)
FGLUG025-LLGBR(LS)(P)
5060089255543
£12.99
44 g
10 x 7cm
Mr & Mrs Luggage Tags
(10cm Circle) (Mrs & Mrs Cheers) Bright Green with Leather Strap (Personalised with Text)
FGLUG026-LLGBR(LS)(P)
5060089255543
£13.99
44 g
10 x 10cm
Mr & Mrs Luggage Tags
(9cm x 4.5cm) (Mrs & Mrs Cheers) Hot Pink (Fuchsia) with Clear Loop (Personalised with Text)
FGLUG024-LLPFU(CL)(P)
5060089255543
£9.99
18 g
9 x 4.5cm
Mr & Mrs Luggage Tags
(10cm x 7cm) (Mrs & Mrs Cheers) Hot Pink (Fuchsia) with Clear Loop (Personalised with Text)
FGLUG025-LLPFU(CL)(P)
5060089255543
£10.99
36 g
10 x 7cm
Mr & Mrs Luggage Tags
(10cm Circle) (Mrs & Mrs Cheers) Hot Pink (Fuchsia) with Clear Loop (Personalised with Text)
FGLUG026-LLPFU(CL)(P)
5060089255543
£11.99
36 g
10 x 10cm
Mr & Mrs Luggage Tags
(9cm x 4.5cm) (Mrs & Mrs Cheers) Hot Pink (Fuchsia) with Leather Strap (Personalised with Text)
FGLUG024-LLPFU(LS)(P)
5060089255543
£11.99
26 g
9 x 4.5cm
Mr & Mrs Luggage Tags
(10cm x 7cm) (Mrs & Mrs Cheers) Hot Pink (Fuchsia) with Leather Strap (Personalised with Text)
FGLUG025-LLPFU(LS)(P)
5060089255543
£12.99
44 g
10 x 7cm
Mr & Mrs Luggage Tags
(10cm Circle) (Mrs & Mrs Cheers) Hot Pink (Fuchsia) with Leather Strap (Personalised with Text)
FGLUG026-LLPFU(LS)(P)
5060089255543
£13.99
44 g
10 x 10cm
Mr & Mrs Luggage Tags
(9cm x 4.5cm) (Mrs & Mrs Cheers) Burnt Orange with Clear Loop (Personalised with Text)
FGLUG024-LLORA(CL)(P)
5060089255543
£9.99
18 g
9 x 4.5cm
Mr & Mrs Luggage Tags
(10cm x 7cm) (Mrs & Mrs Cheers) Burnt Orange with Clear Loop (Personalised with Text)
FGLUG025-LLORA(CL)(P)
5060089255543
£10.99
36 g
10 x 7cm
Mr & Mrs Luggage Tags
(10cm Circle) (Mrs & Mrs Cheers) Burnt Orange with Clear Loop (Personalised with Text)
FGLUG026-LLORA(CL)(P)
5060089255543
£11.99
36 g
10 x 10cm
Mr & Mrs Luggage Tags
(9cm x 4.5cm) (Mrs & Mrs Cheers) Burnt Orange with Leather Strap (Personalised with Text)
FGLUG024-LLORA(LS)(P)
5060089255543
£11.99
26 g
9 x 4.5cm
Mr & Mrs Luggage Tags
(10cm x 7cm) (Mrs & Mrs Cheers) Burnt Orange with Leather Strap (Personalised with Text)
FGLUG025-LLORA(LS)(P)
5060089255543
£12.99
44 g
10 x 7cm
Mr & Mrs Luggage Tags
(10cm Circle) (Mrs & Mrs Cheers) Burnt Orange with Leather Strap (Personalised with Text)
FGLUG026-LLORA(LS)(P)
5060089255543
£13.99
44 g
10 x 10cm
Mr & Mrs Luggage Tags
(9cm x 4.5cm) (Mrs & Mrs Cheers) Purple with Clear Loop (Personalised with Text)
FGLUG024-LLPUR(CL)(P)
5060089255543
£9.99
18 g
9 x 4.5cm
Mr & Mrs Luggage Tags
(10cm x 7cm) (Mrs & Mrs Cheers) Purple with Clear Loop (Personalised with Text)
FGLUG025-LLPUR(CL)(P)
5060089255543
£10.99
36 g
10 x 7cm
Mr & Mrs Luggage Tags
(10cm Circle) (Mrs & Mrs Cheers) Purple with Clear Loop (Personalised with Text)
FGLUG026-LLPUR(CL)(P)
5060089255543
£11.99
36 g
10 x 10cm
Mr & Mrs Luggage Tags
(9cm x 4.5cm) (Mrs & Mrs Cheers) Purple with Leather Strap (Personalised with Text)
FGLUG024-LLPUR(LS)(P)
5060089255543
£11.99
26 g
9 x 4.5cm
Mr & Mrs Luggage Tags
(10cm x 7cm) (Mrs & Mrs Cheers) Purple with Leather Strap (Personalised with Text)
FGLUG025-LLPUR(LS)(P)
5060089255543
£12.99
44 g
10 x 7cm
Mr & Mrs Luggage Tags
(10cm Circle) (Mrs & Mrs Cheers) Purple with Leather Strap (Personalised with Text)
FGLUG026-LLPUR(LS)(P)
5060089255543
£13.99
44 g
10 x 10cm
Mr & Mrs Luggage Tags
(9cm x 4.5cm) (Mrs & Mrs Cheers) Red with Clear Loop (Personalised with Text)
FGLUG024-LLRED(CL)(P)
5060089255543
£9.99
18 g
9 x 4.5cm
Mr & Mrs Luggage Tags
(10cm x 7cm) (Mrs & Mrs Cheers) Red with Clear Loop (Personalised with Text)
FGLUG025-LLRED(CL)(P)
5060089255543
£10.99
36 g
10 x 7cm
Mr & Mrs Luggage Tags
(10cm Circle) (Mrs & Mrs Cheers) Red with Clear Loop (Personalised with Text)
FGLUG026-LLRED(CL)(P)
5060089255543
£11.99
36 g
10 x 10cm
Mr & Mrs Luggage Tags
(9cm x 4.5cm) (Mrs & Mrs Cheers) Red with Leather Strap (Personalised with Text)
FGLUG024-LLRED(LS)(P)
5060089255543
£11.99
26 g
9 x 4.5cm
Mr & Mrs Luggage Tags
(10cm x 7cm) (Mrs & Mrs Cheers) Red with Leather Strap (Personalised with Text)
FGLUG025-LLRED(LS)(P)
5060089255543
£12.99
44 g
10 x 7cm
Mr & Mrs Luggage Tags
(10cm Circle) (Mrs & Mrs Cheers) Red with Leather Strap (Personalised with Text)
FGLUG026-LLRED(LS)(P)
5060089255543
£13.99
44 g
10 x 10cm
Mr & Mrs Luggage Tags
(9cm x 4.5cm) (Mrs & Mrs Cheers) Black with Clear Loop (Personalised with Text)
FGLUG024-LLBLA(CL)(P)
5060089255543
£9.99
18 g
9 x 4.5cm
Mr & Mrs Luggage Tags
(10cm x 7cm) (Mrs & Mrs Cheers) Black with Clear Loop (Personalised with Text)
FGLUG025-LLBLA(CL)(P)
5060089255543
£10.99
36 g
10 x 7cm
Mr & Mrs Luggage Tags
(10cm Circle) (Mrs & Mrs Cheers) Black with Clear Loop (Personalised with Text)
FGLUG026-LLBLA(CL)(P)
5060089255543
£11.99
36 g
10 x 10cm
Mr & Mrs Luggage Tags
(9cm x 4.5cm) (Mrs & Mrs Cheers) Black with Leather Strap (Personalised with Text)
FGLUG024-LLBLA(LS)(P)
5060089255543
£11.99
26 g
9 x 4.5cm
Mr & Mrs Luggage Tags
(10cm x 7cm) (Mrs & Mrs Cheers) Black with Leather Strap (Personalised with Text)
FGLUG025-LLBLA(LS)(P)
5060089255543
£12.99
44 g
10 x 7cm
Mr & Mrs Luggage Tags
(10cm Circle) (Mrs & Mrs Cheers) Black with Leather Strap (Personalised with Text)
FGLUG026-LLBLA(LS)(P)
5060089255543
£13.99
44 g
10 x 10cm
Mr & Mrs Luggage Tags
(9cm x 4.5cm) (Mr & Mrs Cheers) Royal Blue with Clear Loop (Personalised with Text)
FGLUG024-CHEBRO(CL)(P)
5060089255543
£9.99
18 g
9 x 4.5cm
Mr & Mrs Luggage Tags
(10cm x 7cm) (Mr & Mrs Cheers) Royal Blue with Clear Loop (Personalised with Text)
FGLUG025-CHEBRO(CL)(P)
5060089255543
£10.99
36 g
10 x 7cm
Mr & Mrs Luggage Tags
(10cm Circle) (Mr & Mrs Cheers) Royal Blue with Clear Loop (Personalised with Text)
FGLUG026-CHEBRO(CL)(P)
5060089255543
£11.99
36 g
10 x 10cm
Mr & Mrs Luggage Tags
(9cm x 4.5cm) (Mr & Mrs Cheers) Royal Blue with Leather Strap (Personalised with Text)
FGLUG024-CHEBRO(LS)(P)
5060089255543
£11.99
26 g
9 x 4.5cm
Mr & Mrs Luggage Tags
(10cm x 7cm) (Mr & Mrs Cheers) Royal Blue with Leather Strap (Personalised with Text)
FGLUG025-CHEBRO(LS)(P)
5060089255543
£12.99
44 g
10 x 7cm
Mr & Mrs Luggage Tags
(10cm Circle) (Mr & Mrs Cheers) Royal Blue with Leather Strap (Personalised with Text)
FGLUG026-CHEBRO(LS)(P)
5060089255543
£13.99
44 g
10 x 10cm
Mr & Mrs Luggage Tags
(9cm x 4.5cm) (Mr & Mr Cheers) Royal Blue with Clear Loop (Personalised with Text)
FGLUG024-MMBRO(CL)(P)
5060089255543
£9.99
18 g
9 x 4.5cm
Mr & Mrs Luggage Tags
(10cm x 7cm) (Mr & Mr Cheers) Royal Blue with Clear Loop (Personalised with Text)
FGLUG025-MMBRO(CL)(P)
5060089255543
£10.99
36 g
10 x 7cm
Mr & Mrs Luggage Tags
(10cm Circle) (Mr & Mr Cheers) Royal Blue with Clear Loop (Personalised with Text)
FGLUG026-MMBRO(CL)(P)
5060089255543
£11.99
36 g
10 x 10cm
Mr & Mrs Luggage Tags
(9cm x 4.5cm) (Mr & Mr Cheers) Royal Blue with Leather Strap (Personalised with Text)
FGLUG024-MMBRO(LS)(P)
5060089255543
£11.99
26 g
9 x 4.5cm
Mr & Mrs Luggage Tags
(10cm x 7cm) (Mr & Mr Cheers) Royal Blue with Leather Strap (Personalised with Text)
FGLUG025-MMBRO(LS)(P)
5060089255543
£12.99
44 g
10 x 7cm
Mr & Mrs Luggage Tags
(10cm Circle) (Mr & Mr Cheers) Royal Blue with Leather Strap (Personalised with Text)
FGLUG026-MMBRO(LS)(P)
5060089255543
£13.99
44 g
10 x 10cm
Mr & Mrs Luggage Tags
(9cm x 4.5cm) (Mrs & Mrs Cheers) Royal Blue with Clear Loop (Personalised with Text)
FGLUG024-LLBRO(CL)(P)
5060089255543
£9.99
18 g
9 x 4.5cm
Mr & Mrs Luggage Tags
(10cm x 7cm) (Mrs & Mrs Cheers) Royal Blue with Clear Loop (Personalised with Text)
FGLUG025-LLBRO(CL)(P)
5060089255543
£10.99
36 g
10 x 7cm
Mr & Mrs Luggage Tags
(10cm Circle) (Mrs & Mrs Cheers) Royal Blue with Clear Loop (Personalised with Text)
FGLUG026-LLBRO(CL)(P)
5060089255543
£11.99
36 g
10 x 10cm
Mr & Mrs Luggage Tags
(9cm x 4.5cm) (Mrs & Mrs Cheers) Royal Blue with Leather Strap (Personalised with Text)
FGLUG024-LLBRO(LS)(P)
5060089255543
£11.99
26 g
9 x 4.5cm
Mr & Mrs Luggage Tags
(10cm x 7cm) (Mrs & Mrs Cheers) Royal Blue with Leather Strap (Personalised with Text)
FGLUG025-LLBRO(LS)(P)
5060089255543
£12.99
44 g
10 x 7cm
Mr & Mrs Luggage Tags
(10cm Circle) (Mrs & Mrs Cheers) Royal Blue with Leather Strap (Personalised with Text)
FGLUG026-LLBRO(LS)(P)
5060089255543
£13.99
44 g
10 x 10cm
Mr & Mrs Luggage Tags