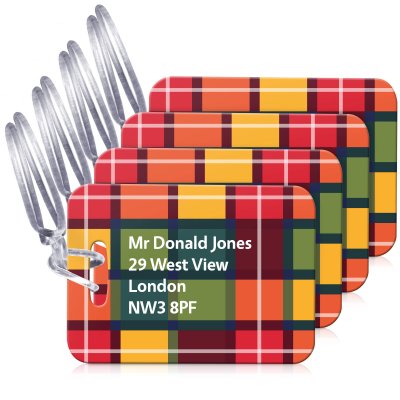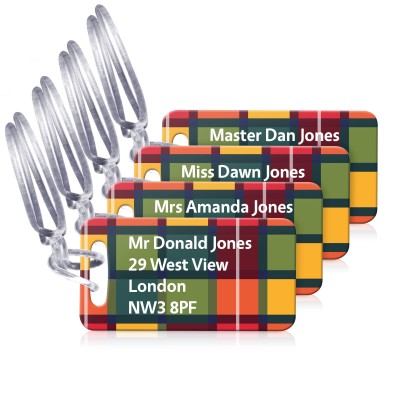 Pack of 4 Personalised Luggage Tags
Description
4 Pack of Personalised Luggage Tags personalised with your own text printed on to a glossy luggage tag finished in a colour of your choice.
Various bright colours to select from.
Different shape and size options.
Choose from the fastenings on offer.
Add up to 4 rows of text on each suitcase tag.
Trusted HappySnapGifts® brand.
A great way to ensure both yours and your families luggage can make it's way back to you if ever lost by adding your own personal information to the tags. Ease the stress of trying to locate your luggage on the carousel by easily spotting them with these brightly coloured luggage tags.
Reviews
Delivery
The information below is for guidance. Actual delivery costs and dates depend on the delivery address, weight and time your order is placed. Cut-off time for Overnight Orders is 12 noon.
| Price | Method | Manufacture Time | Delivery Time | Est. Delivery Date |
| --- | --- | --- | --- | --- |
| £3.95 | 2nd Class (Tracked) | 0-2 Days | 2-3 Days | Fri 9 Jun - Wed 14 Jun |
| £4.99 | 1st Class (Tracked) | 0-2 Days | 1-2 Days | Thu 8 Jun - Tue 13 Jun |
| £10.99 | Royal Mail (Special Delivery Overnight Mon-Sat Pre 1pm) | Tomorrow | Next Day (Mon-Sat) | Fri 9 Jun |
| £12.96 | DHL Courier (Economy M-F Pre 6pm) | 0-2 Days | 2-3 Days | Fri 9 Jun - Wed 14 Jun |
| £15.05 | DHL Courier (Overnight M-F Pre 6pm) | Tomorrow | Next Working Day | Fri 9 Jun |
| £34.99 | Royal Mail (Special Delivery Overnight Mon-Sat Pre 9am) | Tomorrow | Next Day (Mon-Sat) | Fri 9 Jun |
More Information
| | |
| --- | --- |
| Despatch | 0-2 Days (to Personalise) or Upgrade at Checkout for Overnight Delivery |
| Brand | HappySnapGifts® |
| RRP | £39.99 |
| Country of Origin | United Kingdom |
| SKU | FGLUG024TA01(CL)(P) |
| Gtin | 5056656304479 |
| Tariff Code | 3926909790 |
| Tariff Description | Luggage Tag |
| Product Weight | 66 g |
| Product Dimensions | 9 x 4.5cm |
Product Options
Size & Shape
9cm x 4.5cm, 10cm x 7cm, 10cm Circle
Fabric
Polyester - Non Fabric
Luggage Tag Colour
Tartan Check, Black, Royal Blue, Sky Blue, Burnt Orange, Bright Green, Paws Print, Baby Pink, Hot Pink (Fuchsia), Purple, Red, Union Jack, White, Yellow
Fastening
Clear Loop, Leather Strap +, Metal Loop +
Product Type
Luggage Tags
Travel & Outdoors > Travel Gifts
Personalised Luggage Tags

Pack of 4 Personalised Luggage Tags
(9cm x 4.5cm) Black with Clear Loop (Personalised with Text)
FGLUG024BLA(CL)(P)
5056656304479
£39.99
66 g
9 x 4.5cm
Pack of 4 Personalised Luggage Tags
(10cm x 7cm) Black with Clear Loop (Personalised with Text)
FGLUG025BLA(CL)(P)
5056656304479
£44.99
130 g
10 x 7cm
Pack of 4 Personalised Luggage Tags
(10cm Circle) Black with Clear Loop (Personalised with Text)
FGLUG026BLA(CL)(P)
5056656304479
£49.99
138 g
10 x 10cm
Pack of 4 Personalised Luggage Tags
(9cm x 4.5cm) Black with Leather Strap (Personalised with Text)
FGLUG024BLA(LS)(P)
5056656304479
£41.99
74 g
9 x 4.5cm
Pack of 4 Personalised Luggage Tags
(10cm x 7cm) Black with Leather Strap (Personalised with Text)
FGLUG025BLA(LS)(P)
5056656304479
£46.99
138 g
10 x 7cm
Pack of 4 Personalised Luggage Tags
(10cm Circle) Black with Leather Strap (Personalised with Text)
FGLUG026BLA(LS)(P)
5056656304479
£51.99
146 g
10 x 10cm
Pack of 4 Personalised Luggage Tags
(9cm x 4.5cm) Black with Metal Loop (Personalised with Text)
FGLUG024BLA(ML)(P)
5056656304479
£41.99
68 g
9 x 4.5cm
Pack of 4 Personalised Luggage Tags
(10cm x 7cm) Black with Metal Loop (Personalised with Text)
FGLUG025BLA(ML)(P)
5056656304479
£46.99
132 g
10 x 7cm
Pack of 4 Personalised Luggage Tags
(10cm Circle) Black with Metal Loop (Personalised with Text)
FGLUG026BLA(ML)(P)
5056656304479
£51.99
140 g
10 x 10cm
Pack of 4 Personalised Luggage Tags
(9cm x 4.5cm) Royal Blue with Clear Loop (Personalised with Text)
FGLUG024BRO(CL)(P)
5056656304479
£39.99
66 g
9 x 4.5cm
Pack of 4 Personalised Luggage Tags
(10cm x 7cm) Royal Blue with Clear Loop (Personalised with Text)
FGLUG025BRO(CL)(P)
5056656304479
£44.99
130 g
10 x 7cm
Pack of 4 Personalised Luggage Tags
(10cm Circle) Royal Blue with Clear Loop (Personalised with Text)
FGLUG026BRO(CL)(P)
5056656304479
£49.99
138 g
10 x 10cm
Pack of 4 Personalised Luggage Tags
(9cm x 4.5cm) Royal Blue with Leather Strap (Personalised with Text)
FGLUG024BRO(LS)(P)
5056656304479
£41.99
74 g
9 x 4.5cm
Pack of 4 Personalised Luggage Tags
(10cm x 7cm) Royal Blue with Leather Strap (Personalised with Text)
FGLUG025BRO(LS)(P)
5056656304479
£46.99
138 g
10 x 7cm
Pack of 4 Personalised Luggage Tags
(10cm Circle) Royal Blue with Leather Strap (Personalised with Text)
FGLUG026BRO(LS)(P)
5056656304479
£51.99
146 g
10 x 10cm
Pack of 4 Personalised Luggage Tags
(9cm x 4.5cm) Royal Blue with Metal Loop (Personalised with Text)
FGLUG024BRO(ML)(P)
5056656304479
£41.99
68 g
9 x 4.5cm
Pack of 4 Personalised Luggage Tags
(10cm x 7cm) Royal Blue with Metal Loop (Personalised with Text)
FGLUG025BRO(ML)(P)
5056656304479
£46.99
132 g
10 x 7cm
Pack of 4 Personalised Luggage Tags
(10cm Circle) Royal Blue with Metal Loop (Personalised with Text)
FGLUG026BRO(ML)(P)
5056656304479
£51.99
140 g
10 x 10cm
Pack of 4 Personalised Luggage Tags
(9cm x 4.5cm) Sky Blue with Clear Loop (Personalised with Text)
FGLUG024BSK(CL)(P)
5056656304479
£39.99
66 g
9 x 4.5cm
Pack of 4 Personalised Luggage Tags
(10cm x 7cm) Sky Blue with Clear Loop (Personalised with Text)
FGLUG025BSK(CL)(P)
5056656304479
£44.99
130 g
10 x 7cm
Pack of 4 Personalised Luggage Tags
(10cm Circle) Sky Blue with Clear Loop (Personalised with Text)
FGLUG026BSK(CL)(P)
5056656304479
£49.99
138 g
10 x 10cm
Pack of 4 Personalised Luggage Tags
(9cm x 4.5cm) Sky Blue with Leather Strap (Personalised with Text)
FGLUG024BSK(LS)(P)
5056656304479
£41.99
74 g
9 x 4.5cm
Pack of 4 Personalised Luggage Tags
(10cm x 7cm) Sky Blue with Leather Strap (Personalised with Text)
FGLUG025BSK(LS)(P)
5056656304479
£46.99
138 g
10 x 7cm
Pack of 4 Personalised Luggage Tags
(10cm Circle) Sky Blue with Leather Strap (Personalised with Text)
FGLUG026BSK(LS)(P)
5056656304479
£51.99
146 g
10 x 10cm
Pack of 4 Personalised Luggage Tags
(9cm x 4.5cm) Sky Blue with Metal Loop (Personalised with Text)
FGLUG024BSK(ML)(P)
5056656304479
£41.99
68 g
9 x 4.5cm
Pack of 4 Personalised Luggage Tags
(10cm x 7cm) Sky Blue with Metal Loop (Personalised with Text)
FGLUG025BSK(ML)(P)
5056656304479
£46.99
132 g
10 x 7cm
Pack of 4 Personalised Luggage Tags
(10cm Circle) Sky Blue with Metal Loop (Personalised with Text)
FGLUG026BSK(ML)(P)
5056656304479
£51.99
140 g
10 x 10cm
Pack of 4 Personalised Luggage Tags
(9cm x 4.5cm) Bright Green with Clear Loop (Personalised with Text)
FGLUG024GBR(CL)(P)
5056656304479
£39.99
66 g
9 x 4.5cm
Pack of 4 Personalised Luggage Tags
(10cm x 7cm) Bright Green with Clear Loop (Personalised with Text)
FGLUG025GBR(CL)(P)
5056656304479
£44.99
130 g
10 x 7cm
Pack of 4 Personalised Luggage Tags
(10cm Circle) Bright Green with Clear Loop (Personalised with Text)
FGLUG026GBR(CL)(P)
5056656304479
£49.99
138 g
10 x 10cm
Pack of 4 Personalised Luggage Tags
(9cm x 4.5cm) Bright Green with Leather Strap (Personalised with Text)
FGLUG024GBR(LS)(P)
5056656304479
£41.99
74 g
9 x 4.5cm
Pack of 4 Personalised Luggage Tags
(10cm x 7cm) Bright Green with Leather Strap (Personalised with Text)
FGLUG025GBR(LS)(P)
5056656304479
£46.99
138 g
10 x 7cm
Pack of 4 Personalised Luggage Tags
(10cm Circle) Bright Green with Leather Strap (Personalised with Text)
FGLUG026GBR(LS)(P)
5056656304479
£51.99
146 g
10 x 10cm
Pack of 4 Personalised Luggage Tags
(9cm x 4.5cm) Bright Green with Metal Loop (Personalised with Text)
FGLUG024GBR(ML)(P)
5056656304479
£41.99
68 g
9 x 4.5cm
Pack of 4 Personalised Luggage Tags
(10cm x 7cm) Bright Green with Metal Loop (Personalised with Text)
FGLUG025GBR(ML)(P)
5056656304479
£46.99
132 g
10 x 7cm
Pack of 4 Personalised Luggage Tags
(10cm Circle) Bright Green with Metal Loop (Personalised with Text)
FGLUG026GBR(ML)(P)
5056656304479
£51.99
140 g
10 x 10cm
Pack of 4 Personalised Luggage Tags
(9cm x 4.5cm) Burnt Orange with Clear Loop (Personalised with Text)
FGLUG024ORA(CL)(P)
5056656304479
£39.99
66 g
9 x 4.5cm
Pack of 4 Personalised Luggage Tags
(10cm x 7cm) Burnt Orange with Clear Loop (Personalised with Text)
FGLUG025ORA(CL)(P)
5056656304479
£44.99
130 g
10 x 7cm
Pack of 4 Personalised Luggage Tags
(10cm Circle) Burnt Orange with Clear Loop (Personalised with Text)
FGLUG026ORA(CL)(P)
5056656304479
£49.99
138 g
10 x 10cm
Pack of 4 Personalised Luggage Tags
(9cm x 4.5cm) Burnt Orange with Leather Strap (Personalised with Text)
FGLUG024ORA(LS)(P)
5056656304479
£41.99
74 g
9 x 4.5cm
Pack of 4 Personalised Luggage Tags
(10cm x 7cm) Burnt Orange with Leather Strap (Personalised with Text)
FGLUG025ORA(LS)(P)
5056656304479
£46.99
138 g
10 x 7cm
Pack of 4 Personalised Luggage Tags
(10cm Circle) Burnt Orange with Leather Strap (Personalised with Text)
FGLUG026ORA(LS)(P)
5056656304479
£51.99
146 g
10 x 10cm
Pack of 4 Personalised Luggage Tags
(9cm x 4.5cm) Burnt Orange with Metal Loop (Personalised with Text)
FGLUG024ORA(ML)(P)
5056656304479
£41.99
68 g
9 x 4.5cm
Pack of 4 Personalised Luggage Tags
(10cm x 7cm) Burnt Orange with Metal Loop (Personalised with Text)
FGLUG025ORA(ML)(P)
5056656304479
£46.99
132 g
10 x 7cm
Pack of 4 Personalised Luggage Tags
(10cm Circle) Burnt Orange with Metal Loop (Personalised with Text)
FGLUG026ORA(ML)(P)
5056656304479
£51.99
140 g
10 x 10cm
Pack of 4 Personalised Luggage Tags
(9cm x 4.5cm) Baby Pink with Clear Loop (Personalised with Text)
FGLUG024PBA(CL)(P)
5056656304479
£39.99
66 g
9 x 4.5cm
Pack of 4 Personalised Luggage Tags
(10cm x 7cm) Baby Pink with Clear Loop (Personalised with Text)
FGLUG025PBA(CL)(P)
5056656304479
£44.99
130 g
10 x 7cm
Pack of 4 Personalised Luggage Tags
(10cm Circle) Baby Pink with Clear Loop (Personalised with Text)
FGLUG026PBA(CL)(P)
5056656304479
£49.99
138 g
10 x 10cm
Pack of 4 Personalised Luggage Tags
(9cm x 4.5cm) Baby Pink with Leather Strap (Personalised with Text)
FGLUG024PBA(LS)(P)
5056656304479
£41.99
74 g
9 x 4.5cm
Pack of 4 Personalised Luggage Tags
(10cm x 7cm) Baby Pink with Leather Strap (Personalised with Text)
FGLUG025PBA(LS)(P)
5056656304479
£46.99
138 g
10 x 7cm
Pack of 4 Personalised Luggage Tags
(10cm Circle) Baby Pink with Leather Strap (Personalised with Text)
FGLUG026PBA(LS)(P)
5056656304479
£51.99
146 g
10 x 10cm
Pack of 4 Personalised Luggage Tags
(9cm x 4.5cm) Baby Pink with Metal Loop (Personalised with Text)
FGLUG024PBA(ML)(P)
5056656304479
£41.99
68 g
9 x 4.5cm
Pack of 4 Personalised Luggage Tags
(10cm x 7cm) Baby Pink with Metal Loop (Personalised with Text)
FGLUG025PBA(ML)(P)
5056656304479
£46.99
132 g
10 x 7cm
Pack of 4 Personalised Luggage Tags
(10cm Circle) Baby Pink with Metal Loop (Personalised with Text)
FGLUG026PBA(ML)(P)
5056656304479
£51.99
140 g
10 x 10cm
Pack of 4 Personalised Luggage Tags
(9cm x 4.5cm) Hot Pink (Fuchsia) with Clear Loop (Personalised with Text)
FGLUG024PFU(CL)(P)
5056656304479
£39.99
66 g
9 x 4.5cm
Pack of 4 Personalised Luggage Tags
(10cm x 7cm) Hot Pink (Fuchsia) with Clear Loop (Personalised with Text)
FGLUG025PFU(CL)(P)
5056656304479
£44.99
130 g
10 x 7cm
Pack of 4 Personalised Luggage Tags
(10cm Circle) Hot Pink (Fuchsia) with Clear Loop (Personalised with Text)
FGLUG026PFU(CL)(P)
5056656304479
£49.99
138 g
10 x 10cm
Pack of 4 Personalised Luggage Tags
(9cm x 4.5cm) Hot Pink (Fuchsia) with Leather Strap (Personalised with Text)
FGLUG024PFU(LS)(P)
5056656304479
£41.99
74 g
9 x 4.5cm
Pack of 4 Personalised Luggage Tags
(10cm x 7cm) Hot Pink (Fuchsia) with Leather Strap (Personalised with Text)
FGLUG025PFU(LS)(P)
5056656304479
£46.99
138 g
10 x 7cm
Pack of 4 Personalised Luggage Tags
(10cm Circle) Hot Pink (Fuchsia) with Leather Strap (Personalised with Text)
FGLUG026PFU(LS)(P)
5056656304479
£51.99
146 g
10 x 10cm
Pack of 4 Personalised Luggage Tags
(9cm x 4.5cm) Hot Pink (Fuchsia) with Metal Loop (Personalised with Text)
FGLUG024PFU(ML)(P)
5056656304479
£41.99
68 g
9 x 4.5cm
Pack of 4 Personalised Luggage Tags
(10cm x 7cm) Hot Pink (Fuchsia) with Metal Loop (Personalised with Text)
FGLUG025PFU(ML)(P)
5056656304479
£46.99
132 g
10 x 7cm
Pack of 4 Personalised Luggage Tags
(10cm Circle) Hot Pink (Fuchsia) with Metal Loop (Personalised with Text)
FGLUG026PFU(ML)(P)
5056656304479
£51.99
140 g
10 x 10cm
Pack of 4 Personalised Luggage Tags
(9cm x 4.5cm) Purple with Clear Loop (Personalised with Text)
FGLUG024PUR(CL)(P)
5056656304479
£39.99
66 g
9 x 4.5cm
Pack of 4 Personalised Luggage Tags
(10cm x 7cm) Purple with Clear Loop (Personalised with Text)
FGLUG025PUR(CL)(P)
5056656304479
£44.99
130 g
10 x 7cm
Pack of 4 Personalised Luggage Tags
(10cm Circle) Purple with Clear Loop (Personalised with Text)
FGLUG026PUR(CL)(P)
5056656304479
£49.99
138 g
10 x 10cm
Pack of 4 Personalised Luggage Tags
(9cm x 4.5cm) Purple with Leather Strap (Personalised with Text)
FGLUG024PUR(LS)(P)
5056656304479
£41.99
74 g
9 x 4.5cm
Pack of 4 Personalised Luggage Tags
(10cm x 7cm) Purple with Leather Strap (Personalised with Text)
FGLUG025PUR(LS)(P)
5056656304479
£46.99
138 g
10 x 7cm
Pack of 4 Personalised Luggage Tags
(10cm Circle) Purple with Leather Strap (Personalised with Text)
FGLUG026PUR(LS)(P)
5056656304479
£51.99
146 g
10 x 10cm
Pack of 4 Personalised Luggage Tags
(9cm x 4.5cm) Purple with Metal Loop (Personalised with Text)
FGLUG024PUR(ML)(P)
5056656304479
£41.99
68 g
9 x 4.5cm
Pack of 4 Personalised Luggage Tags
(10cm x 7cm) Purple with Metal Loop (Personalised with Text)
FGLUG025PUR(ML)(P)
5056656304479
£46.99
132 g
10 x 7cm
Pack of 4 Personalised Luggage Tags
(10cm Circle) Purple with Metal Loop (Personalised with Text)
FGLUG026PUR(ML)(P)
5056656304479
£51.99
140 g
10 x 10cm
Pack of 4 Personalised Luggage Tags
(9cm x 4.5cm) Red with Clear Loop (Personalised with Text)
FGLUG024RED(CL)(P)
5056656304479
£39.99
66 g
9 x 4.5cm
Pack of 4 Personalised Luggage Tags
(10cm x 7cm) Red with Clear Loop (Personalised with Text)
FGLUG025RED(CL)(P)
5056656304479
£44.99
130 g
10 x 7cm
Pack of 4 Personalised Luggage Tags
(10cm Circle) Red with Clear Loop (Personalised with Text)
FGLUG026RED(CL)(P)
5056656304479
£49.99
138 g
10 x 10cm
Pack of 4 Personalised Luggage Tags
(9cm x 4.5cm) Red with Leather Strap (Personalised with Text)
FGLUG024RED(LS)(P)
5056656304479
£41.99
74 g
9 x 4.5cm
Pack of 4 Personalised Luggage Tags
(10cm x 7cm) Red with Leather Strap (Personalised with Text)
FGLUG025RED(LS)(P)
5056656304479
£46.99
138 g
10 x 7cm
Pack of 4 Personalised Luggage Tags
(10cm Circle) Red with Leather Strap (Personalised with Text)
FGLUG026RED(LS)(P)
5056656304479
£51.99
146 g
10 x 10cm
Pack of 4 Personalised Luggage Tags
(9cm x 4.5cm) Red with Metal Loop (Personalised with Text)
FGLUG024RED(ML)(P)
5056656304479
£41.99
68 g
9 x 4.5cm
Pack of 4 Personalised Luggage Tags
(10cm x 7cm) Red with Metal Loop (Personalised with Text)
FGLUG025RED(ML)(P)
5056656304479
£46.99
132 g
10 x 7cm
Pack of 4 Personalised Luggage Tags
(10cm Circle) Red with Metal Loop (Personalised with Text)
FGLUG026RED(ML)(P)
5056656304479
£51.99
140 g
10 x 10cm
Pack of 4 Personalised Luggage Tags
(9cm x 4.5cm) White with Clear Loop (Personalised with Text)
FGLUG024WHI(CL)(P)
5056656304479
£39.99
66 g
9 x 4.5cm
Pack of 4 Personalised Luggage Tags
(10cm x 7cm) White with Clear Loop (Personalised with Text)
FGLUG025WHI(CL)(P)
5056656304479
£44.99
130 g
10 x 7cm
Pack of 4 Personalised Luggage Tags
(10cm Circle) White with Clear Loop (Personalised with Text)
FGLUG026WHI(CL)(P)
5056656304479
£49.99
138 g
10 x 10cm
Pack of 4 Personalised Luggage Tags
(9cm x 4.5cm) White with Leather Strap (Personalised with Text)
FGLUG024WHI(LS)(P)
5056656304479
£41.99
74 g
9 x 4.5cm
Pack of 4 Personalised Luggage Tags
(10cm x 7cm) White with Leather Strap (Personalised with Text)
FGLUG025WHI(LS)(P)
5056656304479
£46.99
138 g
10 x 7cm
Pack of 4 Personalised Luggage Tags
(10cm Circle) White with Leather Strap (Personalised with Text)
FGLUG026WHI(LS)(P)
5056656304479
£51.99
146 g
10 x 10cm
Pack of 4 Personalised Luggage Tags
(9cm x 4.5cm) White with Metal Loop (Personalised with Text)
FGLUG024WHI(ML)(P)
5056656304479
£41.99
68 g
9 x 4.5cm
Pack of 4 Personalised Luggage Tags
(10cm x 7cm) White with Metal Loop (Personalised with Text)
FGLUG025WHI(ML)(P)
5056656304479
£46.99
132 g
10 x 7cm
Pack of 4 Personalised Luggage Tags
(10cm Circle) White with Metal Loop (Personalised with Text)
FGLUG026WHI(ML)(P)
5056656304479
£51.99
140 g
10 x 10cm
Pack of 4 Personalised Luggage Tags
(9cm x 4.5cm) Yellow with Clear Loop (Personalised with Text)
FGLUG024YEL(CL)(P)
5056656304479
£39.99
66 g
9 x 4.5cm
Pack of 4 Personalised Luggage Tags
(10cm x 7cm) Yellow with Clear Loop (Personalised with Text)
FGLUG025YEL(CL)(P)
5056656304479
£44.99
130 g
10 x 7cm
Pack of 4 Personalised Luggage Tags
(10cm Circle) Yellow with Clear Loop (Personalised with Text)
FGLUG026YEL(CL)(P)
5056656304479
£49.99
138 g
10 x 10cm
Pack of 4 Personalised Luggage Tags
(9cm x 4.5cm) Yellow with Leather Strap (Personalised with Text)
FGLUG024YEL(LS)(P)
5056656304479
£41.99
74 g
9 x 4.5cm
Pack of 4 Personalised Luggage Tags
(10cm x 7cm) Yellow with Leather Strap (Personalised with Text)
FGLUG025YEL(LS)(P)
5056656304479
£46.99
138 g
10 x 7cm
Pack of 4 Personalised Luggage Tags
(10cm Circle) Yellow with Leather Strap (Personalised with Text)
FGLUG026YEL(LS)(P)
5056656304479
£51.99
146 g
10 x 10cm
Pack of 4 Personalised Luggage Tags
(9cm x 4.5cm) Yellow with Metal Loop (Personalised with Text)
FGLUG024YEL(ML)(P)
5056656304479
£41.99
68 g
9 x 4.5cm
Pack of 4 Personalised Luggage Tags
(10cm x 7cm) Yellow with Metal Loop (Personalised with Text)
FGLUG025YEL(ML)(P)
5056656304479
£46.99
132 g
10 x 7cm
Pack of 4 Personalised Luggage Tags
(10cm Circle) Yellow with Metal Loop (Personalised with Text)
FGLUG026YEL(ML)(P)
5056656304479
£51.99
140 g
10 x 10cm
Pack of 4 Personalised Luggage Tags
(9cm x 4.5cm) - Tartan Check with Clear Loop (Personalised with Text)
FGLUG024TA01(CL)(P)
5056656304479
£39.99
66 g
9 x 4.5cm
Pack of 4 Personalised Luggage Tags
(10cm x 7cm) - Tartan Check with Clear Loop (Personalised with Text)
FGLUG025TA01(CL)(P)
5056656304479
£44.99
130 g
10 x 7cm
Pack of 4 Personalised Luggage Tags
(10cm Circle) - Tartan Check with Clear Loop (Personalised with Text)
FGLUG026TA01(CL)(P)
5056656304479
£49.99
138 g
10 x 10cm
Pack of 4 Personalised Luggage Tags
(9cm x 4.5cm) - Tartan Check with Leather Strap (Personalised with Text)
FGLUG024TA01(LS)(P)
5056656304479
£41.99
74 g
9 x 4.5cm
Pack of 4 Personalised Luggage Tags
(10cm x 7cm) - Tartan Check with Leather Strap (Personalised with Text)
FGLUG025TA01(LS)(P)
5056656304479
£46.99
138 g
10 x 7cm
Pack of 4 Personalised Luggage Tags
(10cm Circle) - Tartan Check with Leather Strap (Personalised with Text)
FGLUG026TA01(LS)(P)
5056656304479
£51.99
146 g
10 x 10cm
Pack of 4 Personalised Luggage Tags
(9cm x 4.5cm) - Tartan Check with Metal Loop (Personalised with Text)
FGLUG024TA01(ML)(P)
5056656304479
£41.99
68 g
9 x 4.5cm
Pack of 4 Personalised Luggage Tags
(10cm x 7cm) - Tartan Check with Metal Loop (Personalised with Text)
FGLUG025TA01(ML)(P)
5056656304479
£46.99
132 g
10 x 7cm
Pack of 4 Personalised Luggage Tags
(10cm Circle) - Tartan Check with Metal Loop (Personalised with Text)
FGLUG026TA01(ML)(P)
5056656304479
£51.99
140 g
10 x 10cm
Pack of 4 Personalised Luggage Tags
(9cm x 4.5cm) - Paws Print with Clear Loop (Personalised with Text)
FGLUG024PW01(CL)(P)
5056656304479
£39.99
66 g
9 x 4.5cm
Pack of 4 Personalised Luggage Tags
(10cm x 7cm) - Paws Print with Clear Loop (Personalised with Text)
FGLUG025PW01(CL)(P)
5056656304479
£44.99
130 g
10 x 7cm
Pack of 4 Personalised Luggage Tags
(10cm Circle) - Paws Print with Clear Loop (Personalised with Text)
FGLUG026PW01(CL)(P)
5056656304479
£49.99
138 g
10 x 10cm
Pack of 4 Personalised Luggage Tags
(9cm x 4.5cm) - Paws Print with Leather Strap (Personalised with Text)
FGLUG024PW01(LS)(P)
5056656304479
£41.99
74 g
9 x 4.5cm
Pack of 4 Personalised Luggage Tags
(10cm x 7cm) - Paws Print with Leather Strap (Personalised with Text)
FGLUG025PW01(LS)(P)
5056656304479
£46.99
138 g
10 x 7cm
Pack of 4 Personalised Luggage Tags
(10cm Circle) - Paws Print with Leather Strap (Personalised with Text)
FGLUG026PW01(LS)(P)
5056656304479
£51.99
146 g
10 x 10cm
Pack of 4 Personalised Luggage Tags
(9cm x 4.5cm) - Paws Print with Metal Loop (Personalised with Text)
FGLUG024PW01(ML)(P)
5056656304479
£41.99
68 g
9 x 4.5cm
Pack of 4 Personalised Luggage Tags
(10cm x 7cm) - Paws Print with Metal Loop (Personalised with Text)
FGLUG025PW01(ML)(P)
5056656304479
£46.99
132 g
10 x 7cm
Pack of 4 Personalised Luggage Tags
(10cm Circle) - Paws Print with Metal Loop (Personalised with Text)
FGLUG026PW01(ML)(P)
5056656304479
£51.99
140 g
10 x 10cm
Pack of 4 Personalised Luggage Tags
(9cm x 4.5cm) - Union Jack with Clear Loop (Personalised with Text)
FGLUG024RWB(CL)(P)
5056656304479
£39.99
66 g
9 x 4.5cm
Pack of 4 Personalised Luggage Tags
(10cm x 7cm) - Union Jack with Clear Loop (Personalised with Text)
FGLUG025RWB(CL)(P)
5056656304479
£44.99
130 g
10 x 7cm
Pack of 4 Personalised Luggage Tags
(10cm Circle) - Union Jack with Clear Loop (Personalised with Text)
FGLUG026RWB(CL)(P)
5056656304479
£49.99
138 g
10 x 10cm
Pack of 4 Personalised Luggage Tags
(9cm x 4.5cm) - Union Jack with Leather Strap (Personalised with Text)
FGLUG024RWB(LS)(P)
5056656304479
£41.99
74 g
9 x 4.5cm
Pack of 4 Personalised Luggage Tags
(10cm x 7cm) - Union Jack with Leather Strap (Personalised with Text)
FGLUG025RWB(LS)(P)
5056656304479
£46.99
138 g
10 x 7cm
Pack of 4 Personalised Luggage Tags
(10cm Circle) - Union Jack with Leather Strap (Personalised with Text)
FGLUG026RWB(LS)(P)
5056656304479
£51.99
146 g
10 x 10cm
Pack of 4 Personalised Luggage Tags
(9cm x 4.5cm) - Union Jack with Metal Loop (Personalised with Text)
FGLUG024RWB(ML)(P)
5056656304479
£41.99
68 g
9 x 4.5cm
Pack of 4 Personalised Luggage Tags
(10cm x 7cm) - Union Jack with Metal Loop (Personalised with Text)
FGLUG025RWB(ML)(P)
5056656304479
£46.99
132 g
10 x 7cm
Pack of 4 Personalised Luggage Tags
(10cm Circle) - Union Jack with Metal Loop (Personalised with Text)
FGLUG026RWB(ML)(P)
5056656304479
£51.99
140 g
10 x 10cm
Pack of 4 Personalised Luggage Tags