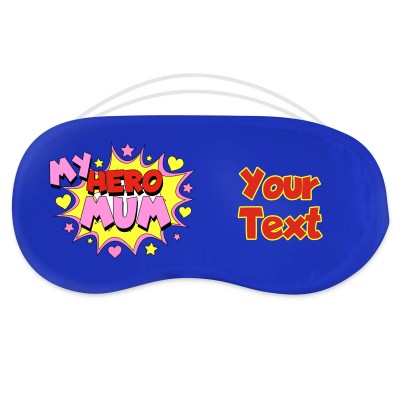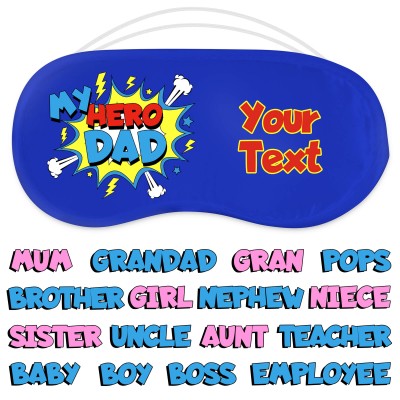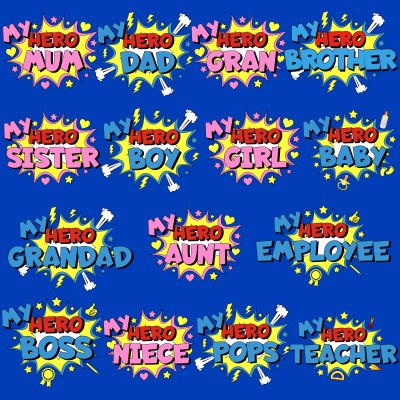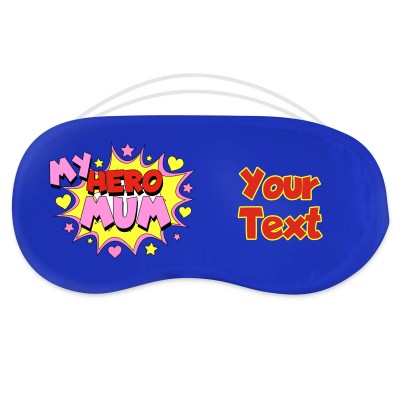 Personalised Eye Mask with My Hero Design
Description
My Hero Eye Mask is an eye mask to reward your very own hero with their own sleep mask.
My Hero Sleep Mask.
Personalised text design.
Bright colours of mask.
Trusted HappySnapGifts® brand.
Reviews
for my brother
- got this for my younger brother and he loves it amazing present and was on a BOGOF so I have a spare in case it breaks. (Wayne, 28/02/20)
for my dad and mum
- Bought these for mum and dad few weeks ago, they arrived promptly and eye mask quality was very good too. Colours and print was bright and crisp and free personalisation! Great value (Greg, 28/02/20)
Gift for my Uncle
- My Uncle is always travelling so this was the perfect gift for his birthday. He was very impressed and sent me a photo of him using it on the plane. (Kevin M, 27/02/20)
Best personalised eye masks
- 2 friends loved this pair of personalised hero eye masks I bought them, they have so many eye masks but had never seen anything as good as these simple but "super" printed themed masks. (Pete, 26/02/20)
Delivery
The information below is for guidance. Actual delivery costs and dates depend on the delivery address, weight and time your order is placed. Cut-off time for Overnight Orders is 12 noon.
| Price | Method | Manufacture Time | Delivery Time | Est. Delivery Date |
| --- | --- | --- | --- | --- |
| £3.99 | 2nd Class (Tracked LL) | 0-3 Days | 2-3 Days | Thu 7 Dec - Wed 13 Dec |
| £5.99 | 1st Class (Tracked LL) | 0-3 Days | 1-2 Days | Wed 6 Dec - Tue 12 Dec |
| £12.94 | DHL Courier (Economy M-F Pre 6pm) | 0-3 Days | 2-3 Days | Thu 7 Dec - Wed 13 Dec |
| £14.99 | Royal Mail Special Delivery (Overnight Mon-Sat Pre 1pm) | Today | Next Day (Mon-Sat) | Mon 4 Dec |
More Information
| | |
| --- | --- |
| Despatch | 0-3 Days (to Personalise) or Upgrade at Checkout for Overnight Delivery |
| Brand | HappySnapGifts® |
| Country of Origin | United Kingdom |
| SKU | EMDYE003MYH-MU1(P) |
| Gtin | 5056261049390 |
| Tariff Code | 6307909899 |
| Tariff Description | Eye Mask - Polyester Fabric Woven |
| Product Weight | 11 g |
| Product Dimensions | 10 x 21cm |
Product Options
Fabric
Polyester
Print Theme
Mum, Aunt, Baby, Boss, Boy, Brother, Dad, Employee, Girl, Gran, Grandad, Nephew, Niece, Pops, Sister, Teacher, Uncle
Product Type
Eye Mask
Travel & Outdoors > Personalised Travel Gifts
Home > Eye Masks
Personalised Eye Masks
Personalised Blindfold

Personalised Eye Mask with My Hero Design
(Mum) Polyester (Personalised with Text)
EMDYE003MYH-MU1(P)
5056261049390
£7.99
11 g
10 x 21cm
Personalised Eye Mask with My Hero Design
(Aunt) Polyester (Personalised with Text)
EMDYE003MYH-AU1(P)
5056261049505
£7.99
11 g
10 x 21cm
Personalised Eye Mask with My Hero Design
(Baby) Polyester (Personalised with Text)
EMDYE003MYH-BA1(P)
5056261049406
£7.99
11 g
10 x 21cm
Personalised Eye Mask with My Hero Design
(Boss) Polyester (Personalised with Text)
EMDYE003MYH-BS1(P)
5056261049420
£7.99
11 g
10 x 21cm
Personalised Eye Mask with My Hero Design
(Boy) Polyester (Personalised with Text)
EMDYE003MYH-BO1(P)
5056261049413
£7.99
11 g
10 x 21cm
Personalised Eye Mask with My Hero Design
(Brother) Polyester (Personalised with Text)
EMDYE003MYH-BR1(P)
5056261059542
£7.99
11 g
10 x 21cm
Personalised Eye Mask with My Hero Design
(Dad) Polyester (Personalised with Text)
EMDYE003MYH-DA1(P)
5056261049376
£7.99
11 g
10 x 21cm
Personalised Eye Mask with My Hero Design
(Employee) Polyester (Personalised with Text)
EMDYE003MYH-EM1(P)
5056261049444
£7.99
11 g
10 x 21cm
Personalised Eye Mask with My Hero Design
(Girl) Polyester (Personalised with Text)
EMDYE003MYH-GI1(P)
5056261049437
£7.99
11 g
10 x 21cm
Personalised Eye Mask with My Hero Design
(Gran) Polyester (Personalised with Text)
EMDYE003MYH-GN2(P)
5056261049468
£7.99
11 g
10 x 21cm
Personalised Eye Mask with My Hero Design
(Grandad) Polyester (Personalised with Text)
EMDYE003MYH-GD1(P)
5056261049451
£7.99
11 g
10 x 21cm
Personalised Eye Mask with My Hero Design
(Nephew) Polyester (Personalised with Text)
EMDYE003MYH-NE1(P)
5056261049383
£7.99
11 g
10 x 21cm
Personalised Eye Mask with My Hero Design
(Niece) Polyester (Personalised with Text)
EMDYE003MYH-NI1(P)
5056261049512
£7.99
11 g
10 x 21cm
Personalised Eye Mask with My Hero Design
(Pops) Polyester (Personalised with Text)
EMDYE003MYH-PO1(P)
5056261049482
£7.99
11 g
10 x 21cm
Personalised Eye Mask with My Hero Design
(Sister) Polyester (Personalised with Text)
EMDYE003MYH-SI1(P)
5056261059559
£7.99
11 g
10 x 21cm
Personalised Eye Mask with My Hero Design
(Teacher) Polyester (Personalised with Text)
EMDYE003MYH-TE1(P)
5056261049475
£7.99
11 g
10 x 21cm
Personalised Eye Mask with My Hero Design
(Uncle) Polyester (Personalised with Text)
EMDYE003MYH-UN1(P)
5056261049499
£7.99
11 g
10 x 21cm
Personalised Eye Mask with My Hero Design