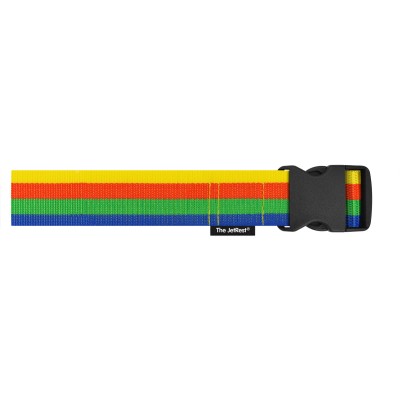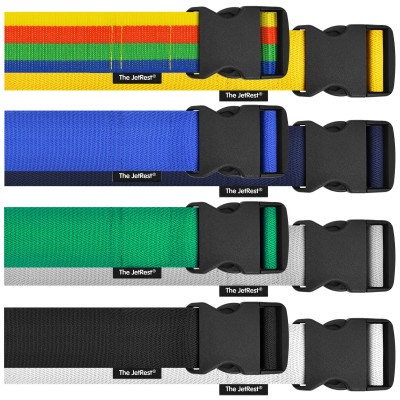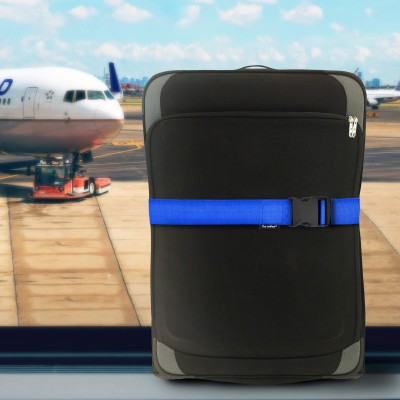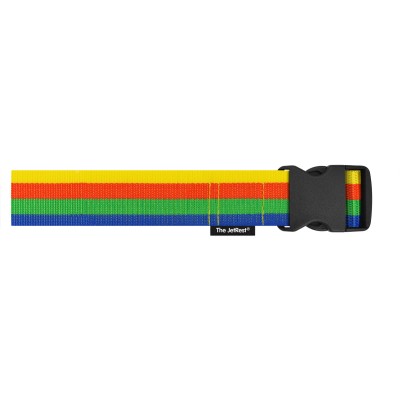 Luggage Strap (UK Made Suitcase Straps)
UK Made
Description
Luggage Straps made in the UK with a variety of bright colours to easily identify your suitcase and luggage.
UK made Luggage Straps.
Strong and adjustable.
180cm x 5cm standard or longer length options.
Peace of mind so your suitcase wont fall open.
Heavy duty nylon Suitcase Strap.
Rugged buckle fastenings that are extra strong.
Many colours available.
Trusted JetRest® brand.
Suitcase Straps are adjustable up to 180cm or longer if ordered and will bring peace of mind when travelling knowing that your suitcase will not fall apart when handled. Perfect as Suitcase Belt and fully adjustable and heavy duty for most luggage. Attractive and with strong snap buckle keeps your luggage closed and is made in our own UK Factory.
Reviews
Extra long suitcase strap.
- Ordered this extra long strap to to give security on new hard suitcase. Would recommend. (Janice S, 17/08/23)
Bright luggage straps
- Brought as gift for my sister who loves the colours. They seem good quality and make her luggage easy to identify; exactly what she wanted (CAR, 01/08/23)
Strapping!
- Great product. Does the job. Groom value. Speedy service. Thanks. (Gill, 03/05/23)
Very good product
- Very good product (Soph, 27/01/23)
Brilliant Colourful Long Straps.
- We have a large suitcase and I like to put a strap on over the top to bottom not across and find that straps are never long enough, these were perfect and sturdy. Also great value for money (Alison Johnstone, 11/12/22)
Great Product
- East to spot your cases well made (Paul just , 29/10/22)
Luggage Straps
- Work well look good. (P Wickham, 27/07/22)
Good to support UK products
- Very good quality. They've been on their first holiday and survived without any troubles. Love them. (Senora, 26/07/22)
Secured my case
- Have used my straps three times already & they do what they are supposed to do & the colours help to speedily identify my cases. (William Smith, 26/04/22)
Strap
- It's a strap no problem does what it says (Aad, 05/10/21)
Luggage straps
- Exactly what I ordered; arrived promptly. (Lindsay, 13/08/21)
Brilliant Straps
- I am really happy with my straps. They are well made and use high quality materials. Fast shipping was a bonus too. I highly recommend these. Thanks very much. (Spiderlegz, 08/01/21)
Straightforward product
- Properties just as expected - no more, no less. (Martin, 18/10/20)
Good Quality
- Very strong good quality at a great price (ION, 23/09/20)
helped with identification of luggage at hotels and airports.
- Strong strap which stayed in place securely and helped with identification of luggage at hotels and airports. (KathW, 14/06/20)
Ansa
- Sturdy product that provides additional security to suitcases. And easier to identify on arrival. (Ansa , 09/06/20)
Sam
- Great at identifying my bags on the carousel and holding the bags together. All so long ago now! (Sam, 07/06/20)
Sam
- Red and blue straps meant I found my bag easily. Who knows when we'll travel again. (Sam, 07/06/20)
Luggage straps Bright Blue
- Like the colour!! Fits our bags,makes them stand out from the hundreds of other black bags on the carousel.Very happy.A good buy. (Al jones)
Straps look very good
- Haven't had a chance to use these straps yet, but they seem to be very sturdy and well made. Delivery was very prompt and they look like very good value for money. I'm confident they will survive airport baggage handlers (I've had some that didn't!) (Mike)
Excellent quality
- These are the second set of luggage straps we have had from The JetRest, the first ones presumably still in Oregon where our luggage as checked! Happy to purchase from here again as they are good quality and bright enough to help spot our luggage with ease! (Carole)
Strapping good straps
- We purchased some luggage straps from The JetRest and are delighted with the service given and the quality of the straps. We would recommend them and also use this company again. (Peter Kirk)
Excellent product
- Really pleased with my purchase. Strong straps and it 1 get 1 free was a real bonus (AngieB)
Luggage Straps
- Amazingly strong and recognisable on my luggage. Also given me peace of mind as I feel my suitcases are more secure with this around it (I got one free!) All the colours are easily recognisable, and the green ones look good on my suitcases. (Barbara Stibbe)
Neat and tidy - extra security for suitcase.
- As described; look good and firm on case. Good value! (Roger)
Luggage Straps
- Great straps; exactly what I had hoped for, a very competitive price and delivery was speedy. I couldn't ask for more. (Holly)
Very bright
- An excellent product, fastens easily and the yellow is a very bright colour so should help make suitcases stand out on an airport carousel!! (Mervyn)
Just right
- These straps are just right for recycling a damaged case (Christopher)
First Class
- A very well made strap, at a good price. (Michael)
Luggage straps
- Excellent quality ( survived Ryanair) AND made in the UK for a reasonable price. What more could you ask for? Highly recommended. (anonymous)
Customer Service
- Every step of the process exuded Superior Customer Service from the Web Design, the order entry lady, price and Delivery. The product was as described and of high quality (Donald Larsen-Sorterup)
works a treat
- Strong straps just what is needed for suitcases (john lockey)
Luggage Straps - does the job!
- Very good and strong luggage straps. Gives you that extra peace of mind in that your suitcase won't come open should the lock/zip break. Not only that, the strap has a combination lock where you need a PIN to open it and therefore your belongings are just that little bit more secure. Finally if you choose a bright colour as we did (bright yellow!) its easy to spot your suitcase on the conveyor belt at the airport. Very good value. (Martin H.)
Spot my Bag
- Item arrived well packaged and within a week. Straps are wide , easy to open and seem very strong ( haven't used yet ) Nice bright colour and as they are wide will make spotting our bag easier Would buy again from this seller (Jen)
Good Quality
- Good quality straps. (anonymous)
good quality luggage straps
- again really quick delivery very good quality straps which we used recently - would recommend (mandy blackley)
Luggage Strap
- Excellent value, great delivery ... Bought personalised product before but didn't have time to repeat so just bought the normal straps. Great for identifying luggage (Ashley Hunter)
great for holiday travel.
- excellent product great price, gives real security when you have to cram stuff in!! (Paul)
Excellent value for money
- These straps are very robust, they fasten very securely and can be machine washed. (SH Surrey)
Only place I could buy extra length straps for large dive kit box .
- The straps appear to be robust and clips positive when put on box .I will be pleased if they put up with airline handling .Also great to be made in UK. (Peter)
just as needed
- exactly as advertised, on time. many thanks (john a shropshire)
Lugage straps and free gifts
- Very good quality straps. I don't use them for luggage, but to keep my foam blocks tidy and portable - 13 at a time. Excellent free eye shields: firs ones I've ever found comfortable. Thanks. (Gordon Spence)
Great straps.
- Bought 6 of these- 3 mid blue and 3 red (on special offer) to put round suitcases. Strong very well made straps which look like they will last many years. Quick delivery. Very pleased with the price and product. Chose these because they are made in the UK and aren't too garish. (Tracey M)
Great Product
- Bought matching straps for me and the missus. Very durable and bright. Had no problem locating on the luggage belt at Airports. Pleased with them. (Phil PNE)
holiday extras
- these case straps are strong, ideal for extra support,choice of colours.we had red ,can see them on the belt at the airport ,if needed would buy again. (sheila)
excellent product
- I bought these for our three family cases for a recent holiday. They are very strong and durable. They arrived quickly and we were very impressed with both the customer service and the product. Forget Amazon and use this company! (Julie)
Straps for luggage. Cases
- Great product just used over last 2 weeks recompensed (anonymous)
First class luggage straps
- Used two different coloured staps easy to identify bag also good clips good quality will be using them for years (Ski traveller)
Black straps
- Great straps, a good length and with good quality buckles (Graham)
This strap is so strong it holds my waterbut
- I needed a very strong way of strapping my very large waterbut. This strap is not only long enough it has resisted all wind and gales as needed. An unusual use but this excellent product delivers. Highly recommended and amazing fast delivery. I will be using again without fail. (Graham Smith)
Great Quality
- Very pleased with the excellent quality of these straps. This was the only site where we could find good quality straps available in Black. (Steve & Lin)
Great luggage straps
- Finally found what I've been looking for. Straps that are all in one continuous loop (no end strap hanging loose) are a godsend. (Brian)
Very pleased
- Good speedy delivery.straps are well made and strong.would recommend (Safe traveling)
Luggage Strap
- I have used the luggage strap no problems very sturdy well worth the money. I will be recommending your site to people (Annaros)
Excellent Luggage Straps
- Really good quality and robust straps managed to keep my gorilla box together despite it being thrown about in transit. (Phil R)
Bright and strong suitcase straps were just what we wanted
- We ordered 2 suitcase straps and have since used them on our recent holiday to Dubai. The straps were just what we wanted to easily identify our suitcases and ensured the cases were kept safely closed. To find a product made in England was a delight and such good quality. (Janet Steadman)
Satisfied customer
- Very pleased with the straps, very strong, secure and above all made it easy to recognise our cases as they came through baggage reclaim. Plastic catches of very good quality . (Nanny Stella)
Strong & sturdy
- Great suitcase straps, made our long haul flight both ways, no scuffs or signs if weakness - gave me abit more confidence knowing my luggage would be safe. Will definitely be using them on my next venture and would definitely recommend this item. (anonymous)
Suitcase straps ( made to order)
- FABULOUS, very happy with the product!! - product as described, good quality - was made to measure turned out fabulous - delivery very quick, despite being made to order....excellent (Mrs B Sherwood)
Suitcase strap
- Excellent product. Good to have the extra length when required. First class service. Highly recommend (Lorraine Ralph)
Excellent suitcase straps
- A very good service, the straps are very bright and clear. My luggage went astray at Bristol Airport, and it was found very quickly when I told them it was a red suitcase with a bright yellow strap with my name on! So thank you, it paid for itself that day, the first time I used it. Will be ordering more for the family. (Mary Thomas)
straps
- Used the straps to secure my golf trolley and bag in the back of my car, they work very well and are very strong and secure. (Plinnykat)
luggage straps
- Like these straps - bold type so will not be missed when picking up luggage from airport carousel. (sara burns)
Case Straps
- Product was just right for the job and also we received excellent service. (David Pierce)
Excellent Straps !
- Just a couple of days before leaving for our holiday, I decided to purchase some suitcase straps. Found these on the internet and the multi packs were excellent value. Rang the company and discussed the short notice and was assured they would be dispatched immediately. And they were! Arrived next day. Strong, very well made, excellent fastenings and brightly coloured. I chose not to have them personalised even though I had been reassured I would still receive them next day. Great holiday with no worries about suitcase accidents and we were away from the luggage carousel with our stand-out luggage in record time - the brightly coloured, easily recognised straps around all our suitcases saw to that. A nice little bonus was that you can choose to have a little material pouch to store each one in at no extra charge and they are all now packed away inside our cases ready for our next holiday. A great buy! (Mrs B.)
Suitcase Straps
- The do exactly what it says on the tin and look good too. (Pete)
Quality product
- Prompt delivery , even the special order arrived within a few days, very sturdy and distinctive on airport carousels.recommened (Kevin thomas)
Good strong straps
- These straps are excellent for securing items onto suitcases, with a good choice of lengths and colours. Excellent company for keeping you informed as to order and delivery status. (Abbi)
Good Product
- Good Product - Good Price - Fast Delivery (SJG)
luggage straps
- excellent product certainly made spotting the bags on the carousel a lot easier (alan)
this strap is ideal for use
- why we purchased this strap is to safeguard the basket we take our cat to the vets in. (gillian leake)
Good product
- I bought two of these for a recent holiday. The straps are very strong and well made. The colours were also useful to spot our suitcases! Very happy with purchase. (Emma)
Good value
- Arrived promptly. Very strong and as we had 2 different colours it was easy to identify individual cases on the carousel. (anonymous)
Fantastic on my cycle case.
- Luggage straps. I couldn't believe it made to order and I received them the next day. (Dave W)
Great product
- I ordered suitcase straps to strap our bulging Christmas Tree box and large boxes of Christmas decorations before storing them in the loft. It was alot better than using string. (Dave Wimborne)
Great luggage strap
- I bought this white luggage strap for my holiday and am really pleased with it. It was delivered quickly and was as described. (Rose F)
Bright efficient luggage strap
- I can definitely recommend the quality of the suitcase strap. The colour was good and vivid and there was a choice of lengths. I had been unable to find one in the shops and have been very pleased with the efficient service offered by this company. (Felix)
Exactly what I wanted
- I wanted a longer than average strap and could not find one on the high street.I ordered shortly before my holiday started and was pleased to receive my order earlier than promised. Product exactly what I wanted. (anonymous)
Luggage Straps
- I had a lot of diffficulty obtaining the right strap lenth one phone call to thejetrest fixed the problem they made them to measure.THANK YOU. I am very please with my Luggage Straps and will look to Thejetrest for should I reqire more travel accessories. (Mr M Jones)
Did the job brilliantly
- Got these suitcase straps for travelling. They are brilliant, very sturdy, stayed in place and did their job. (Lesley grace)
Bright coloured luggage strap.
- I bought from this company for the first time a few weeks ago having found them on the internet, read a few reviews & they seemed to be all positive & I wasn't disapointed, good communication & a prompt delivery, I havn't actually used the luggage strap yet but it looks good & feels like it will last for years, would definately buy from them again. (Colin from Southsea)
Does what it says on the tin
- Looking for straps for motor luggage, the order came quickly and the straps were exactly as described, will shop here again. (Geoffrey)
Does the Job
- Ordered, delivered promptly, as described, do the job well.No problems. (Jacko)
Excellent quality and service
- The straps were well made and lasted a trip to the US without any problems Our order was processed quickly and efficiently with good communication at all times Would definitely recommend (TonyB Oxford)
luggage straps
- I was very happy with the product and with the speed of delivery (Nigel Cowell)
Excellent Quality Strap
- I bought the navy blue to match my roller case and was really pleased with the quality, I am always back and forward to UK so this will get lots of use. Really pleased with quick delivery with the items I ordered. (Ann R)
luggage straps
- quality straps with excellent price (anonymous)
Suitcase straps
- We recently bought two very light weight suitcases but were worried that the pulling handle didn't lock in the retract position and was therefore vulnerable to damage during handling. I measured the 'girth' of the case and was able to order two straps long enough to go all round and hold the handle in position. These arrived very quickly and are good quality. They did the job perfectly and even have their own little storage bags. (anonymous)
Personalised Suit Case straps
- very quick service Excellent! (anonymous)
suitcase straps
- Me and my misses,are very pleased with the suitcase straps,very user friendly,very adjustable,the colours are fantastic,easy to spot from a distance.very pleased with product. (anonymous)
Suitcase straps
- Very good and strong, ideal for preventing baggage handlers bursting your cases. (anonymous)
Luggage straps
- These are great, very sturdy, excellent quality and good value for money. I love the personalisation and had a favourite word of my 4 year old nephew added to my straps. They really stand out. The red strap with red wording is particularly striking. Many thanks. (anonymous)
Happy Traveller
- I bought the wide straps. Excellent product, good choice of colours and letter printing large and bold so easy to spot. Very practical little bag to store them in too. (anonymous)
Luggage Straps
- Very strong bright coloured luggage straps that enables me to pick out my luggage as it is put on to the conveyer belt at the airport, without thinking is it or isn't it mine! A good buy would reccommend them. (anonymous)
5* Seller
- The product was very good,pleasant transaction, accurate delivery as mentioned in the website. Their customer service was very good. Thanks to Mike (anonymous)
Suitcase Straps
- Friendly, informed service over the telephone (in response to request for further information via the web site), and, subsequently, very prompt dispatch/receipt of goods. Excellent stuff! (anonymous)
That's Mine!
- Easy to spot luggage coming round, helps stop cases bursting open and makes it harder for anyone to pilfer. Natural material and bright colours - bargain! (anonymous)
Good Service
- Fast delivery, straps good and strong (used on recent flights). (anonymous)
Delivery Service
- quick delivery,correct items delivered - good quality -good service (anonymous)
Excellent Service
- Such an easy site to use and the service is excellent, The products I purchased are excellent quality and I would personally recommend The JetRest to any would be traveller for all your jetting about needs. (anonymous)
More Reviews
FAQs
Can the luggage strap fit different size suitcases?
Yes. Luggage Straps have an adjustable buckle and will fit the vast majority of sizes.  Simply order a longer version if required in the options.
Are the Luggage Straps easy to remove?
Yes. Luggage Straps come with a buckle that is easy to release.
Can I have my luggage strap made to a different length?
Yes. We manufacture all of our luggage straps in our factory so can make them as a bespoke item to your own requirements. If the luggage strap is to be made longer, please place your order and select the size you would like.
Delivery
The information below is for guidance. Actual delivery costs and dates depend on the delivery address, weight and time your order is placed. Cut-off time for Overnight Orders is 12 noon.
| Price | Method | Manufacture Time | Delivery Time | Est. Delivery Date |
| --- | --- | --- | --- | --- |
| £3.99 | 2nd Class (Tracked LL) | 0-1 Days | 2-3 Days | Mon 25 Sep - Wed 27 Sep |
| £5.99 | 1st Class (Tracked LL) | 0-1 Days | 1-2 Days | Fri 22 Sep - Tue 26 Sep |
| £12.99 | DHL Courier (Economy M-F Pre 6pm) | 0-1 Days | 2-3 Days | Mon 25 Sep - Wed 27 Sep |
| £12.99 | Royal Mail Special Delivery (Overnight Mon-Sat Pre 1pm) | Tomorrow | Next Day (Mon-Sat) | Mon 25 Sep |
More Information
| | |
| --- | --- |
| Despatch | Today (Cut off time 3pm M-F) |
| Brand | The JetRest® |
| RRP | £4.99 |
| Country of Origin | United Kingdom |
| SKU | FGLUG001(180cm)(WN50-STR) |
| Gtin | 5056656340729 |
| Tariff Code | 6307909899 |
| Tariff Description | Luggage Strap - Woven Webbing |
| Product Weight | 98 g |
| Product Dimensions | 5 x 180cm |
Product Options
Size
180cm, 250cm, 300cm
Colour
Striped, Royal Blue, Black, Green, Red, Yellow, White, Silver Grey, Navy Blue
Product Type
Luggage Straps
Travel & Outdoors > Personalised Luggage Straps
Personalised Gifts > Personalised Travel Gifts
suitcase straps

Luggage Strap (UK Made Suitcase Straps)
(180cm) - Royal Blue
FGLUG001(180cm)(WN50-BRO)
5056656347803
£4.99
98 g
5 x 180cm
Luggage Strap (UK Made Suitcase Straps)
(250cm) - Royal Blue
FGLUG001(250cm)(WN50-BRO)
5056656347810
£5.99
113 g
5 x 250cm
Luggage Strap (UK Made Suitcase Straps)
(300cm) - Royal Blue
FGLUG001(300cm)(WN50-BRO)
5056656347827
£6.99
134 g
5 x 300cm
Luggage Strap (UK Made Suitcase Straps)
(180cm) - Black
FGLUG001(180cm)(WN50-BLK)
5056656347834
£4.99
98 g
5 x 180cm
Luggage Strap (UK Made Suitcase Straps)
(250cm) - Black
FGLUG001(250cm)(WN50-BLK)
5056656347841
£5.99
113 g
5 x 250cm
Luggage Strap (UK Made Suitcase Straps)
(300cm) - Black
FGLUG001(300cm)(WN50-BLK)
5056656347858
£6.99
134 g
5 x 300cm
Luggage Strap (UK Made Suitcase Straps)
(180cm) - Green
FGLUG001(180cm)(WN50-GBG)
5056656347865
£4.99
98 g
5 x 180cm
Luggage Strap (UK Made Suitcase Straps)
(250cm) - Green
FGLUG001(250cm)(WN50-GBG)
5056656347872
£5.99
113 g
5 x 250cm
Luggage Strap (UK Made Suitcase Straps)
(300cm) - Green
FGLUG001(300cm)(WN50-GBG)
5056656347889
£6.99
134 g
5 x 300cm
Luggage Strap (UK Made Suitcase Straps)
(180cm) - Red
FGLUG001(180cm)(WN50-RED)
5056656347896
£4.99
98 g
5 x 180cm
Luggage Strap (UK Made Suitcase Straps)
(250cm) - Red
FGLUG001(250cm)(WN50-RED)
5056656347902
£5.99
113 g
5 x 250cm
Luggage Strap (UK Made Suitcase Straps)
(300cm) - Red
FGLUG001(300cm)(WN50-RED)
5056656347919
£6.99
134 g
5 x 300cm
Luggage Strap (UK Made Suitcase Straps)
(180cm) - Yellow
FGLUG001(180cm)(WN50-YEL)
5056656347926
£4.99
98 g
5 x 180cm
Luggage Strap (UK Made Suitcase Straps)
(250cm) - Yellow
FGLUG001(250cm)(WN50-YEL)
5056656347933
£5.99
113 g
5 x 250cm
Luggage Strap (UK Made Suitcase Straps)
(300cm) - Yellow
FGLUG001(300cm)(WN50-YEL)
5056656347940
£6.99
134 g
5 x 300cm
Luggage Strap (UK Made Suitcase Straps)
(180cm) - White
FGLUG001(180cm)(WN50-WHI)
5056656347957
£4.99
98 g
5 x 180cm
Luggage Strap (UK Made Suitcase Straps)
(250cm) - White
FGLUG001(250cm)(WN50-WHI)
5056656347964
£5.99
113 g
5 x 250cm
Luggage Strap (UK Made Suitcase Straps)
(300cm) - White
FGLUG001(300cm)(WN50-WHI)
5056656347971
£6.99
134 g
5 x 300cm
Luggage Strap (UK Made Suitcase Straps)
(180cm) - Silver Grey
FGLUG001(180cm)(WN50-GLG)
5056656347988
£4.99
98 g
5 x 180cm
Luggage Strap (UK Made Suitcase Straps)
(250cm) - Silver Grey
FGLUG001(250cm)(WN50-GLG)
5056656347995
£5.99
113 g
5 x 250cm
Luggage Strap (UK Made Suitcase Straps)
(300cm) - Silver Grey
FGLUG001(300cm)(WN50-GLG)
5056656348008
£6.99
134 g
5 x 300cm
Luggage Strap (UK Made Suitcase Straps)
(180cm) - Navy Blue
FGLUG001(180cm)(WN50-BNA)
5056656348015
£4.99
98 g
5 x 180cm
Luggage Strap (UK Made Suitcase Straps)
(250cm) - Navy Blue
FGLUG001(250cm)(WN50-BNA)
5056656348022
£5.99
113 g
5 x 250cm
Luggage Strap (UK Made Suitcase Straps)
(300cm) - Navy Blue
FGLUG001(300cm)(WN50-BNA)
5056656348039
£6.99
134 g
5 x 300cm
Luggage Strap (UK Made Suitcase Straps)
(180cm) Striped
FGLUG001(180cm)(WN50-STR)
5056656340729
£4.99
98 g
5 x 180cm
Luggage Strap (UK Made Suitcase Straps)
(250cm) Striped
FGLUG001(250cm)(WN50-STR)
5056656348046
£5.99
113 g
5 x 250cm
Luggage Strap (UK Made Suitcase Straps)
(300cm) Striped
FGLUG001(300cm)(WN50-STR)
5056656348053
£6.99
134 g
5 x 300cm
Luggage Strap (UK Made Suitcase Straps)