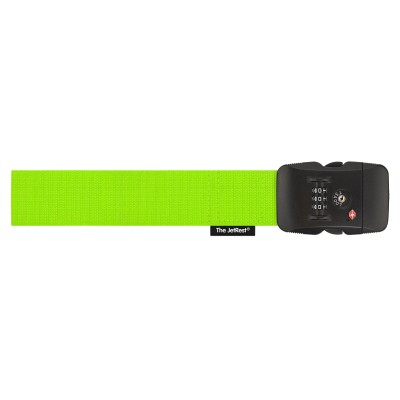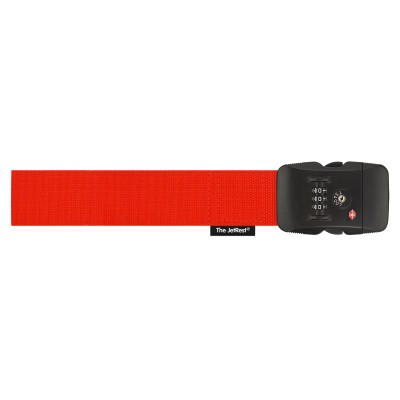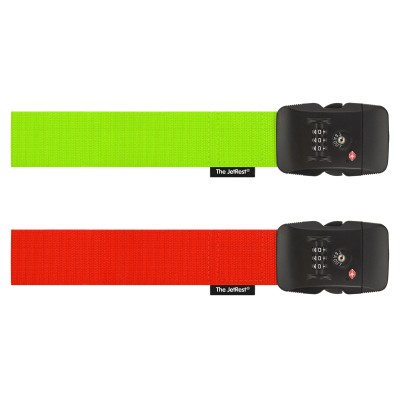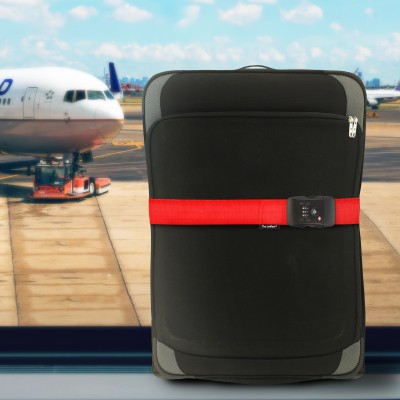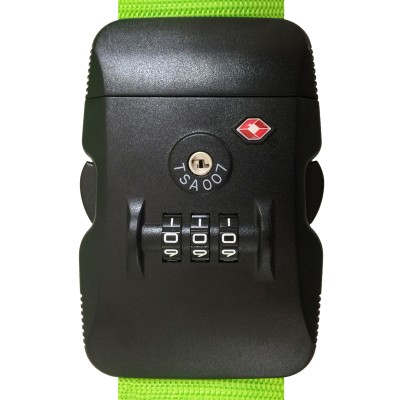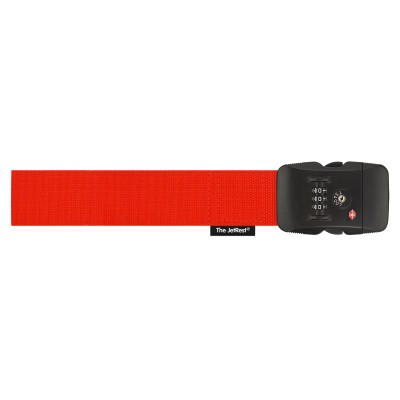 TSA Combination Luggage Strap
Description
The JetRest® TSA Combination Luggage Strap featuring an Integrated TSA approved Combination Lock.
Travel Sentry TSA approved combination lock.
Ultra-durable buckle and clasp.
180cm long x 5cm wide.
Fully adjustable.
Trusted JetRest® brand.
The JetRest® Luggage Strap with Integrated TSA Combination Lock allows for authorised airport security personnel to access your suitcase without breaking the lock. This striking suitcase belt comes in a standard 180cm x 5cm size, but is fully adjustable, which means it'll fit a huge variety of different suitcase and luggage sizes.
We've used a super visible, super durable green webbing that ensures that your time at baggage claim is stress-free and seamless. The rugged webbing used in the construction of this strap is designed to withstand the bumps and knocks associated with international baggage handling.
The JetRest® Luggage Strap with Integrated TSA Combination Lock provides added security and peace of mind to seasoned travelers and frequent flyers looking for an efficient airport experience. The TSA-approved combination lock is really simple to set, use or reset and a full set of instructions are provided for your knowledge.
Reviews
Combination Strap
- Work a treat, thanks. (Peter, 11/08/22)
Combination Luggage Strap
- These were Excellent and helped to identify my cases quickly (Doughnut, 02/08/22)
First Class
- A excellent suitcase strap sturdily made and good quality, would recommend. (Jeff, 25/06/22)
Personalised luggage straps with lock
- Haven't used them yet, but look as though they will do the job nicely. Prompt service, which was good. (Karen)
Bold colours
- Not used yet as brought for hols in April. But they are well made and look secure,bold colours to Identify cases in luggage claim. Thought price was good & liked the added bonus of names stitched into straps. (Norman)
Well made luggage straps
- well made,strong and quality material make these luggage straps a very good buy. (Michael Heavisides)
Denise
- Excellent Service and quality, very quick delivery. (Denise)
Luggage straps
- The items were as expected and on time, would use the website again. (SL)
Good quality product
- Good quality product which arrived within a couple of days. Did the job it needed to do and was easy to spot on luggage carousal. (Sally F)
very good
- stands out on the carousel, my luggage is black and not always easy to spot but now I have no problem (Eirlys)
Very useful product
- Very quick delivery, Very good product. Made us feel much more relaxed about the security of our suitcases on our trip to africa and made it so wasy to identify at the airports (Anthony LW)
Got what i wanted
- Ordered luggage straps which were delivered within 36hrs. Straps are just what I needed and also good for America. (Lainey W)
Great Product and price is value for money
- Product arrived on time and was as ordered. Product is of good quality and at a price which is value for money. (Chris Glover)
bought for a present
- Great quality product, which arrived very quickly. Would order again. (maggie)
Get noticed on the carousel
- Good quality strap, nicely finished. Good value for money. (Steve of devon)
Will save time at airport
- The website was easy to use and the good arrived quickly. Ordered two straps to get the special rate which made them really good value. Will save time at airport carousel looking for our cases. Can't wait to go on holiday again to use them! (Karen)
TSA Personalised Luggage Strap
- Pleasantly surprised upon receiving personalised luggage straps for myself and my son. Really impressed with the overall quality, large,robust, the lime green colour really stands out, as do our names. Should have no problems identifying these at luggage collection.. Highly recommended. (Lee W)
Great luggage straps
- Very quick service and good quality straps. Would totally recommend! (Kevin)
Easy to use
- Great feel confident our luggage wont go missing (Peter W.)
Clear ID
- Recently purchased a named luggage strap as our previous one came off the suitcase from last holiday. Great item. Name is very clear and the combination lock (which is easy to set up) makes it extra secure. No struggling to identify suitcases going round on the carousel! (B Bayes)
Great item
- Bought the luggage straps with personalisation and lock - super!!! (CATHIE HALBERT)
Stand Out product in more ways than one
- Even better than we were expecting. Strong well made product. Robust locking system. High visibility and easy recognition. Excellent value for money. Can't fault it. (Marvin)
Quick and easy
- The online ordering process was very easy and the items arrived very quickly - they appear to be good quality with strong materials and clear lettering - they do exactly as it says on the tin - very pleased (Samantha)
These luggage straps are just the ticket
- Bought these lime green luggage straps to match our new set of luggage. Very pleased with them :) (LuckyLindaAlice)
Find it quick
- Finding our cases at the end of a cruises could be a nightmare but these straps stand out so we can see ours even mixed in among a pile belonging to other people - thanks - oh and the cases are secure as well because they are securely locked by using the strap (June Windle)
Great store to deal with
- I ordered a peresonalized TSA luggage strap with a TSA lock. Unfortunately I received it in good order but my name was incorrectly spelled. I wrote to JestRest and immediately I received a new luggage strap with my name correctly spelled - free of charge. What better reccomendation can I give! (Joe Pein)
Brilliant straps well worth the money
- I have bought several luggage straps in the past but none have lasted.I ordered 2 and received these after a couple of days after ordering them and was pleasantly surprised as to how well they were made. I would definitely recommend these straps to anyone and they are very reasonably priced as well (Mr Paul Fox)
Excellent Product
- I ordered locking luggage straps 2 with my husbands name and 2 with my name in bright green. Was very pleased with the next day delivery and the quality of the straps. My plain black suitcases were very easy to spot on the airport carousel and that was exactly what I wanted. (Linda Stephens)
Excellent personalised suitcase straps
- These suitcase straps are easily seen with clear personalised details. The bright green colour really stands out on the case which makes them easy to pick out on the conveyor belt at airports. I highly recommend them and they arrived very quickly (Mrs Wilson)
Luggage Straps
- Excellent Product, very fast and efficient service (Fothers)
Good quality luggage strap
- LUGGAGE STRAP RECEIVED ON TIME AND MET EXPECTAIONS REGARDING QUALITY AND EXPECTATIONS. ALL GOOD! (Jane)
LUGGAGE RETRIEVAL MADE EASY
- BOUGHT ONE OF THESE PERSONALISED, COMBI LOCK STRAPS FOR MY DAUGHTER, SOME TIME AGO. GOOD QUALITY AND WITHSTOOD 2 WEEKS OF TRAVEL IN THAILAND. I HAVE SINCE PURCHASED 2 MORE, FOR MY WIFE AND MYSELF. NO PROBLEMS SPOTTING MY STANDARD BLACK CASE ON THE LUGGAGE BELT ANY MORE. ("ROAMIN" RONNIE)
Awesome product
- Excellent product .. keep it up jetrest (Ibby)
Great Luggage Strap
- Bought two personalised straps for my friends and they absolutely loved them. The personalisation was done exactly as I requested, and the order was dispatched speedily. Would definitely use this company again and have no hesitation in recommending them (Yorkytart)
Great luggage straps
- Item arrived on time and well packaged. Very helpful customer service. Luggage straps not yet used but appear to be of very good quality. (Angie)
Great travel accessory
- We bought these personalised straps complete with TSA combination locks to better identify our cases when travelling to the USA. They look very strong and robust and arrived within a week of placing the order. We're very pleased with our purchase which are very good value. (John R)
Can't miss it now!
- I bought two of these fluorescent personalised luggage straps for our honeymoon in Tanzania. Loads of people warned us that our luggage was likely to go missing in Africa, but on numerous flights both internal and international it always turned up and was so easy to spot on the luggage reclaim belt. Secure and easily identified, it did the job well for a really good price. (B-Ry)
Great product
- Haven't used straps yet but look good and feel very strong, especially having TSA locks. Last visit to USA our luggage straps were cut off. (Trinitygirl)
Tagged on the Carouel
- Great service, excellent product quality and our bags were immediately visible when it came through on the airport carousel (Alan Hackett)
Great product
- Great product and good cause for the money (K crompton)
Very pleased with TSA luggage straps.
- The straps appear to be very sturdy and well made and our personalised details show up well. Service was good and our products received quicker than anticipated. (Mrs R Cooper)
Personalised Luggage Straps .
- Bought two personalised luggage straps for myself and my wife. very good quality product with nice crisp and clear lettering of names. great delivery time and service, would recommend and use again. (Bob the Frog)
Just what I need
- The luggage straps are in a vivid colour and the print is clear and bold. I will have no difficulty at all spotting my case at the airport (anonymous)
To stand out in the crowd
- I have yet to use the strap but it certainly stands out, and I should be able to spot my case on the gondoler as I recently had my case mislaid by the airline and am now making my case very noticeable. (PGTips)
Safe, secure and findable!
- This is our second lot of Jetrest personalized luggage straps. The originals were so good my brother acquired them! The new straps are fantastic and have the USA TSA opening system should Customs require entry into your bag. They are fantastic quality and very reasonably priced given the personalisation as well. It is so good watching hundreds of similar suitcases coming off the airport baggage system and to see that your bags are so easily seen and found. (Ronnie McGovern)
Suitcase straps
- Wonderful product along with a locking devise, delivery was very prompt, in fact very quick, marvellous service, thank you. (Roy Armitage)
looks good
- Great price and quick delivery. Haven't had to put the straps to the test yet in a flight but they look sturdy (anonymous)
Clearly visible luggage
- So pleased with my recent purchase and excellent service. Had a problem with one of the straps which was remedied immediately,the replacement was received the very next morning - well impressed.We've since had a wonderful holiday with easily identified luggage - brilliant. (anonymous)
The JetRest Personalised TSA Luggage Strap with TSA Lock
- This is my second order of this product they have proved essential for me as I travel a lot and have a number of cases that look just like everyone else's with ribbons tied to them! But now I can see my cases with my personalised slogan as soon as they come onto the conveyer belt it also means less chance of someone walking innocently away with mistaken cases! So I think they are great! (Flo)
awesome personallised luggage straps
- excellent quality, so much easier to identify your own luggage on the carousel. (Marie)
Fantastic Purchase
- This was just what I was looking for - easy to identify - great colours - Perfect - I would recommend these to friends and family - great buy (John)
Personalised Luggage Straps
- Good solid luggage straps. The personalised name is clearly visible in large print. The fastenings seem substantial. The lock is digital but with a separate TSA lock for visiting the USA. They survived our first trip with them (to Italy and back) with no adverse effects. Very happy with the product. (Geoffrey Knipe)
Love these luggare straps
- Really happy with this product, a lot more sturdy than the old strap, name stands out really well with a quick turnaround on the order. I was updated with my order all the way with an e-mail. (Margo)
Case Strap for my Golf Case
- What a find on google… was looking for a secure strap for my golf case for a trip to Spain. 3 digit lock and personalisation chucked in for just over £10… also adjustable and a choice of colours to boot… all my mates were very impressed with the product.… give it a go, you won't be disappointed (Mick Maguire)
Strapping
- Good quality product well made. Delivery very quick. (The traveller)
Bought as a gift and my friends loved them
- I bought these as a gift for my friends and had them delivered direct to their address, with a little note from me inside, they absolutely loved them, said they were very strong & study and the TSA locks are a brilliant idea, I was kept up to date about my order regularly and they were delivered very speedily. They loved them so much I ordered some for myself (Wendy Willis)
Personalised TSA Luggage Strap
- Goods - Excellent : exactly as advertised and exactly what was wanted. Service - Excellent : goods delivered quickly; telephone queries dealt with quickly and in a friendly manner. (Riversleigh 08)
Personalised luggage strap
- Excellent speedy delivery very sturdy well made straps (Maria)
Combination personalised luggage straps
- Just bought the product before we went on holidays. I found the straps to be of good quality and was extremely helpful in identifying our luggage on the carousel at the airport. Very good purchase would recommend. (Mandy)
Excellent Straps
- I ordered these straps from Amazon having had a good look at what was on offer. These are excellent, really good quality and have had them personalised...so no longer will I be looking around the conveyor doing a search for my luggage. I am pleased with my purchase price and quality and also the speed which my order came thro. Would recommend these straps without hesitation. (Tipsytizzy)
Excellent straps!
- These straps are really eye catching and of great quality. I think they are great value for money! I would highly recommend them! (Lee A)
Luggage strap
- Excellent service & delivery Product looks well made & will certainly stand out Would not hesitate to recommend or purchase again (Doback)
Love my case straps
- Can see our cases coming and with the TSA lock means we can use them all over the world (Moira Pinchin)
xmas gift
- Look good quality (alison)
The perfect strap
- I bought the straps to keep various items of professional music equipment (keyboard stands bag, trombone case & computer fx rack) secure on a recent return flight between Heathrow and Tokyo. These TSA straps are extremely well made and durable. The colour (green) is highly visible on the baggage conveyor and with the addition of my name in a contrasting colour made it very easy to spot my bags from quite a distance. All my bags survived intact and tightly closed and the straps had not suffered any stress either. I cannot recommend them highly enough! (Glenn)
Case strapps
- I delighted with the products l ordered they will help us find our cases a lot quicker at the airport (Angela Smith)
Great luggage strap
- Really happy with this product, a lot more sturdy than the old strap. Very quick turnaround on the order meant it arrived in time for a trip to America, my case really stood out (Alex)
Excellent product
- Bought the family pack of personalised luggage straps. Inbelievable value and well made. Did the job perfectly and looked smart. Made cases very easy to spot. (Kendo)
Excellent Buy
- Fast delivery, great product and great value. Was very impressed and will recommend this product to everyone. (Gani)
Well made product.
- Prompt delivery, well made, really pleased with the quality. Will definitely use the seller again. (M.Heavisides)
My personalised luggage straps
- All my life I have struggled to pick things off the shelf with my name on so when I saw these I was excited, even more so when they arrived, they are supercool. (Yaz)
Straps
- Just the job. Bold and clear writing. (Ann mell)
Great product
- I have been looking for some time for a decent luggage strap for mine and my wifes cases, then I saw your straps and thought they look OK. I ordered the two at the special price and I must say they are the best straps I have ever seen not only the quality of the names on the straps but the combination lock with the customs key lock as well. If you are looking for a good reliable smart strap look no further this is the Rolls Royce of luggage straps. (Keith)
Great case straps...
- Like many people I was absolutely fed up having to closely scrutinise passing baggage at the airport and bought a set of lockable identity straps from JetRest. They are good value, of very good quality and just what we needed. We had one query about our order and it was dealt with quickly and effectively. I would recommend this supplier. (Tim P (Bristol))
Well made product
- These luggage straps are very well made, help to identify your luggage on the carousel as well as helping keep it secure. Ordering process very easy and deliver very quick.....would recommend. (Sue Barraclough)
Customer Service Review of the Personalised Luggage Strap with Integrated TSA Combination Lock
- Available in a bold and intense red webbing, this luggage strap contains an exceptionally secure TSA/Travel Sentry-approved combination lock. This rugged and durable suitcase belt is designed to travel the world over and last a lifetime. This Luggage Strap with Integrated TSA Combination Lock can be personalised with any text of your choice, which makes it a thoughtful and unique gift idea for someone that loves to travel. Though only available in a fixed 180cm size, it can be conveniently adjusted and made smaller to fit a huge range of different size suitcases. I cannot recommend this luggage strap enough. (Lance Plachciak)
More Reviews
Instructions
Instructions for changing the combination luggage strap lock number:
Your combination lock is set to 0-0-0 when first purchased.
To change the combination, first set the lock to 0-0-0.
On the back of the buckle move the button from position A to position B.
Now set your own 3 unique numbers.
To fix these numbers change teh button on the back from position B back to A.
Do not forget your new combination as there is no master re-set available.
FAQs
Is this product Travel Sentry approved?
Yes. This product is approved by Travel Sentry - the Global Standard for Travel Security.
How do I set the combination lock number?
Your TSA combination lock is set to 0-0-0 when first purchased.
1. Open the lock with the default code: 0-0-0.
2. Push the Reset Button to position B and set your desired combination using the Dials.
3. To set your combination, push the Reset Button back to position A.
Do not forget your new combination as there is no master reset available.
Delivery
The information below is for guidance. Actual delivery costs and dates depend on the delivery address, weight and time your order is placed. Cut-off time for Overnight Orders is 12 noon.
| Price | Method | Manufacture Time | Delivery Time | Est. Delivery Date |
| --- | --- | --- | --- | --- |
| £3.99 | 2nd Class (Tracked LL) | 0-1 Days | 2-3 Days | Thu 7 Dec - Mon 11 Dec |
| £5.99 | 1st Class (Tracked LL) | 0-1 Days | 1-2 Days | Wed 6 Dec - Fri 8 Dec |
| £13.01 | DHL Courier (Economy M-F Pre 6pm) | 0-1 Days | 2-3 Days | Thu 7 Dec - Mon 11 Dec |
| £14.99 | Royal Mail Special Delivery (Overnight Mon-Sat Pre 1pm) | Today | Next Day (Mon-Sat) | Mon 4 Dec |
More Information
| | |
| --- | --- |
| Despatch | Today (Cut off time 3pm M-F) |
| Brand | The JetRest® |
| RRP | £12.99 |
| Country of Origin | China |
| SKU | FGLUG061 |
| Gtin | 5056261020672 |
| Tariff Code | 6307909899 |
| Tariff Description | Luggage Strap - Woven Webbing |
| Product Weight | 136 g |
| Product Dimensions | 5 x 180cm |
Product Options
Colour
Red, Green
Product Type
Luggage Straps
Travel & Outdoors > Personalised Luggage Straps
Personalised Gifts > Personalised Travel Gifts
TSA Lock Suitcase Straps
TSA Combination Luggage Straps

TSA Combination Luggage Strap
- Green
FGLUG056
5056261020665
£12.99
136 g
5 x 180cm
TSA Combination Luggage Strap
- Red
FGLUG061
5056261020672
£12.99
136 g
5 x 180cm
TSA Combination Luggage Strap