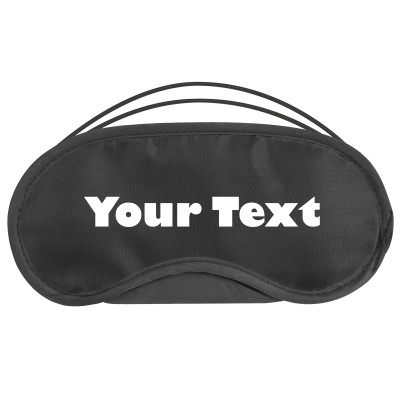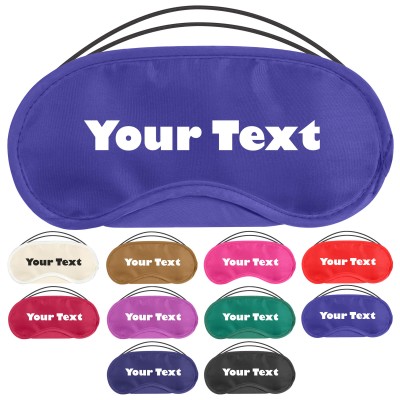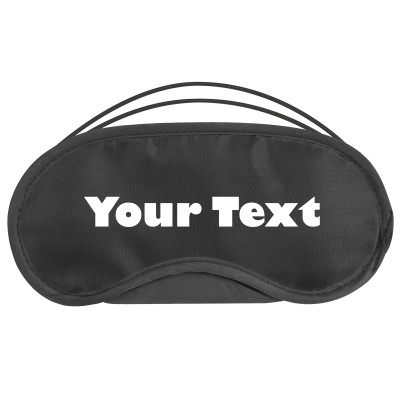 Description
Personalised Eye Masks by HappySnapGifts® are great for Sleep with these airline eye masks and good for Parties & Team Building Exercises.
Airline Eye Mask Personalised with a name or phrase.
An assortment of distinct colours.
Classic eye mask shape.
Foam lining helps to block light out.
Dual elastic fastening.
Trusted HappySnapGifts® brand.
These classic shaped Airline Style Eye Masks by HappySnapGifts® are personalised with a name, phrase or number of your choosing and are available in an assortment of fun colours. We personalise each sleep mask using the latest branding technologies and use a font that is clear, concise and bold. These sleep masks are brilliant for work-related team-building exercises, but are also suitable for parties as a novelty item.
Each Personalised Blind Fold Eye Mask has an inner foam lining which prevents light from seeping through the fabric. The dual elastic fastening ensures that the sleep mask is comfortable and secure regardless of the position you sleep in. Though this eye mask makes for a wonderful novelty gift, it is a very capable sleep mask suitable for those looking to block out ambient light. We recommend this sleep mask to shift workers, frequent flyers or those that struggle to get a good night's rest.
Reviews
The surprise blindfold
- I bought this product and personalised it for my partners surprise 40th party. It was brilliant and served its purpose and was not too expensive. Many thanks Sarah (Sarah, 17/05/22)
Face mask
- Great product - prompt delivery (Jo, 17/01/21)
BLIND FOLD EYE MASK.
- THE BLACK POLYESTER BLIND FOLD EYE MASK,IS VERY GOOD. I BOUGHT THIS AS A PRESENT.HE SAID,THIS EYE MASK,AS DONE THE TRICK. HE CAN NOW REST,AND SLEEP,BETTER.JUST WHAT HE WANTED. (BEACHBELL, 05/09/20)
Great
- Had a request for some custom text as a gift that was handled professionally and promptly. would recommened! (Chris, 26/08/20)
Ideal for personalised gifts.
- Excellent speedy delivery. Ideal for personalised gifts. Loved these on our Long haul flight . Helped us to rest. (Val , 13/06/20)
Brilliant Eye Mask
- Brilliant item, will be a much appreciated christmas present. Godd quality and prompt deliver (Elaine K)
Great quality and price
- I had an order delivered that I wasn't happy with, I got in touch and within the team and they quickly sorted out the situation arranged another dispatch and were very polite and professional. We were very happy with the end product and the service we received. (Janis Cairns)
Good eye mask
- Mask very good arrived in good time (barry)
For the hubby
- Great quality product, arrived very quickly too! I got this for my hubby who works nights, and he loves it! (Reet)
Great product
- Excellent service and great product. Very well made and personalisation looks really good. Very comfortable to wear and blocks out a lot of light, would definitely recommend. I purchased two children's masks also and they are just as good. (L.H.Lloyd)
Eye mask
- Great service, arrived quickly and with good communication regarding the order, dispatch etc. good quality product with personalisation as required. Would buy again / recommend (Charlotte)
Just the Job
- I bought the eye mask for my granddaughter who sleeps in a spare bedroom which has curtains which let in the light quite early in the morning. She was thrilled to have the pink eye mask with her name on. Very happy with my purchase, thanks. (Ros)
Sleep masks
- I was kept informed throughout..the sleep masks are gorgeous..would definitely recommend this company!! (Jennifer)
My eye shield
- Very impressed with eye mask Very good quality and arrived promptly Would recommend to anyone who needs complete darkness to sleep (Stoutest)
Great Eye Mask
- Was really pleased with the item and fast delivery. Many Thanks (Kelly)
Comfy and Stylish
- Bought a personalised travel mask with the word 'Tenerife' on it for my summmer holiday. Wore it on the flight there and was the flight home. Found it was really light weight and comfy and gets rid of unwanted light and glare. Love the fact that you can personalise them specially for your holiday. Great product would recommend it to anyone. (Lauren Sneddon)
Great value and fun.
- Bought personalised eye masks for my daughter and son. They love them. Great colours to choose from too. Have got 2 more on order for my niece and myself. Great value and fun too. (Carly)
My girlfriend loved her personalised eye masks
- Simple ordering procedure, excellent customer service and quality products. This company was a pleasure to do business with! (Alison)
wow, not really
- great thanks (Anonymous)
My friends love their masks
- Excellent speed of delivery and accurate description of eye masks - very good value and service. (Andrew Martin)
Fiances loves this item
- This product is excellent. It is exactly what I was expecting and my fiance loved it. (David Moores)
Delivery
The information below is for guidance. Actual delivery costs and dates depend on the delivery address, weight and time your order is placed. Cut-off time for Overnight Orders is 12 noon.
| Price | Method | Manufacture Time | Delivery Time | Est. Delivery Date |
| --- | --- | --- | --- | --- |
| £3.99 | 2nd Class (Tracked LL) | 0-3 Days | 2-3 Days | Thu 7 Dec - Wed 13 Dec |
| £5.99 | 1st Class (Tracked LL) | 0-3 Days | 1-2 Days | Wed 6 Dec - Tue 12 Dec |
| £12.91 | DHL Courier (Economy M-F Pre 6pm) | 0-3 Days | 2-3 Days | Thu 7 Dec - Wed 13 Dec |
| £14.99 | Royal Mail Special Delivery (Overnight Mon-Sat Pre 1pm) | Today | Next Day (Mon-Sat) | Mon 4 Dec |
More Information
| | |
| --- | --- |
| Despatch | 0-3 Days (to Personalise) or Upgrade at Checkout for Overnight Delivery |
| Brand | HappySnapGifts® |
| RRP | £2.99 |
| Country of Origin | United Kingdom |
| SKU | EMEVB001(P) |
| Gtin | 5056656325399 |
| Tariff Code | 6307909899 |
| Tariff Description | Eye Mask - Polyester Fabric Woven |
| Product Weight | 10 g |
| Product Dimensions | 8 x 18cm |
Product Options
Fabric
Polyester
Eye Mask Colour
Black, Beige, Dark Green, Fuchsia Pink, Ivory White, Navy Blue, Purple, Red, Royal Blue
Product Type
Eye Mask
Travel & Outdoors > Personalised Travel Gifts
Home > Eye Masks
Personalised Eye Masks
Personalised Sleep Masks

Personalised Eye Mask
- Black Polyester (Personalised with Text)
EMEVB001(P)
5056656325399
£2.99
10 g
8 x 18cm
Personalised Eye Mask
- Beige Polyester (Personalised with Text)
EMBE001(P)
5056656326624
£2.99
10 g
8 x 18cm
Personalised Eye Mask
- Dark Green Polyester (Personalised with Text)
EMGR002(P)
5056656326631
£2.99
10 g
8 x 18cm
Personalised Eye Mask
- Fuchsia Pink Polyester (Personalised with Text)
EMFU002(P)
5056656326648
£2.99
10 g
8 x 18cm
Personalised Eye Mask
- White Polyester (Personalised with Text)
EMWH01(P)
5056656326655
£2.99
10 g
8 x 18cm
Personalised Eye Mask
- Navy Blue Polyester (Personalised with Text)
EMEVN001(P)
5056656326662
£2.99
10 g
8 x 18cm
Personalised Eye Mask
- Purple Polyester (Personalised with Text)
EMPU001(P)
5056656326679
£2.99
10 g
8 x 18cm
Personalised Eye Mask
- Red Polyester (Personalised with Text)
EMRE001(P)
5056656326686
£2.99
10 g
8 x 18cm
Personalised Eye Mask
- Royal Blue Polyester (Personalised with Text)
EMRB001(P)
5056656326693
£2.99
10 g
8 x 18cm
Personalised Eye Mask