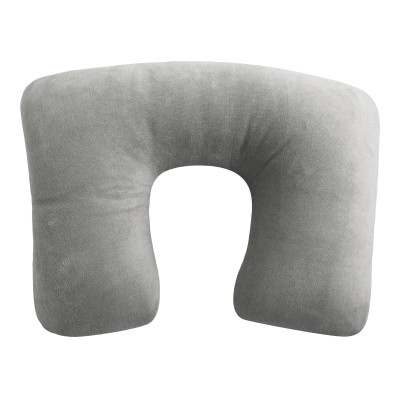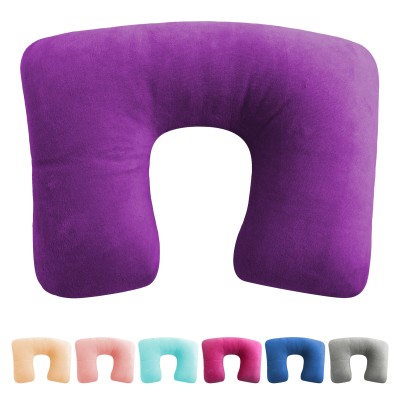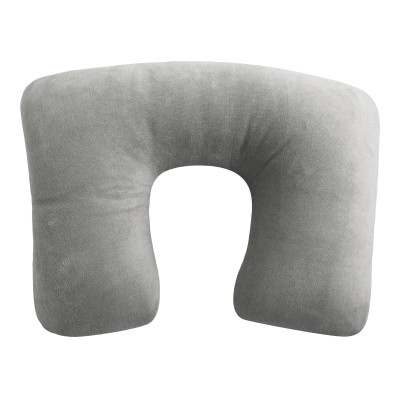 Inflatable Neck Pillow (with Removable Flock Cover)
Description
The JetRest® U-Shaped Inflatable Travel Pillow features an easy-inflate valve and removable velvety flock cover.
Ultra portable travel pillow.
Washable velvety flock cover.
Inflates and deflates in seconds.
25cm x 30cm x 13cm.
The JetRest® Luxury U-Shaped Inflatable Comfort Neck Pillow is a super portable, featherlight travel cushion that can be conveniently inflated when needed. Available in a number of gorgeous colour options this is a very effective travel sleep aid.
Each u-shaped travel pillow comes with a removable cover that has a luxurious textured flock finish and can be machine washed when needed. The integrated valve inflates the cushion to full capacity within seconds and requires little to no effort.
If you're looking for a convenient way of making long haul flights comfortable, then you owe it to yourself to invest in a travel pillow such as this one. The textured flock cover is super soft and gentle against the skin and is available in a myriad of dazzling colour options.
This u-shape travel accessory offers phenomenal levels of support for the head and neck and can be inflated to a size that is to your personal preference. Please take note of our super value Special Offers redeemable from the product page.
Reviews
Good
- Very good value for money. Does the job (Ken R, 18/07/23)
Comfortable
- Light & comfortable easy to use and store cannot yet vouch for its longevity hence the mark down but very pleased as yet (Steve, 25/06/23)
great item
- My husband and i bought these to use on a long haul to new zealand. They were well worth the money. Very comfortable and easy to use (Jules, 07/05/23)
great item
- My husband and i bought these to use on a long haul flight to new zealand. I must say i was impressed with the quality and ease of use and very comfortably did the job of support. Great value (Jules, 07/05/23)
Just the job
- Does the job very well and the soft cover makes for good comfort. Only drawback is that the non return valve in the mouth piece either stops you blowing it up easily or getting the air out without inserting something into the tube to release the valve. The usual squeezing seems to make no difference. Can be fiddly on aircraft (Ken Nason, 09/10/20)
Brilliant
- Looks good. Performs really well. Cover washes and dries well. Very impressed. (Fi, 24/08/20)
comfy
- Like these, we have them ready for our trip to Canada, blow up to be supportive, soft and fold up to go in your bag. (traveller)
great for air travel
- bought 4 of these for my family. Comfortably soft (not scratchy like many others). deflate easily and Fold fairly small when not in use. A must have for a long journey! (anna)
Great comfortable cushion
- Really pleased with these neck pillows. They fit all the way around your neck which is what I need as my head tends to flop forward when I sleep. Soft to the touch and easy to inflate/ deflate. I agree with other reviews don't fully inflate the cushion it is more comfortable. (Anne)
Lovely and soft
- I haven't used the pillows properly yet but have tested at home and can confirm they are very easy to inflate and feel super soft. (Sharon)
I absolutely adore my neck pillow
- Very happy with my purchase, it's exactly what I was after, a comfortable travel pillow I can easily store when not being used. (Andrea)
Twin pack headrest with washable covers
- Although we haven't used them yet we have blown them up and put inside case they look good quality (Dave)
Extemeley Comfortable
- I found these a little hard to blow up at first but once i realised you had to pinch the valve it was really easy, a few breaths and it was done. Very comfortable to wear and offered good support, no annoying line at your rear of your neck irritating you. (Phil HD)
super value
- Much better product than what I paid £20 for in Glasgow airport and I got 2 for my money. (maureen)
Comfy U pillow.
- I researched U shaped inflatable neck pillows for our long haul over night flight, in shops and online. I'm so glad I did or I never would have found these. Amazingly comfy, the removable covers have a light foam padding which means you won't end up bathed in sweat and makes them much more agreeable than the really cheap flocked plastic kind. They inflate in a couple of breaths and are just as easy to deflate. Initially we inflated them too much but after minimum trial and error we got them perfect. We sat watching TV for over an hour, looking fairly daft, to test them out. I am delighted with my purchase and would highly recommend them. (Micki)
TRAVEL CUSHION
- Haven't actually used it on a long haul flight yet but am very pleased with the product as it certainly looks as though it will be comfy. Really good value for money and good quality - and it's great that it's easily inflated and deflated as it makes is so much easier to quickly pack away in hand luggage without taking up too much space. (TERRY)
Fantastic Purchase
- I bought the inflatable pillows for my son for his journey to New Zealand. The quality is very good and they are easy to inflate. I would recommend them. (Chris02)
Comfort = sleep on the flight
- The jetrest was great - better than the pillow supplied by the airline. Excellent value for money. (Diane)
The cushions are great
- Bought the two pack and used them on strip to USA. They were comfortable and best of all they could be let down to take up less space unlike others on the market. (TS)
So comfy
- Agree with all other reviews. Bye to the cheap and nasty inflatable neck pillows. This one is worth every penny, it was so comfy on a long haul flight. The removable cover washed fine too, now it's all ready to go again! (Carrie)
Softest travel pillow
- I initially bought a cheaper travel pillow that did the job but neither of my children liked the feel of it and the rough plastic flaps around the edges made it very annoying after a while so I decided to try the Jetrest. My kids are delighted, there's no rough seams and the fabric is so soft. My kids love them and they will make a long haul flight a little easier. (K nickson)
Very pleased
- Loved this pillow, used it on 13 hour flight, easy to use and very soft and comfortable. (Marie)
This is a useful pillow
- My husband and I have one of these each. I like to go to sleep playing games on my iPad at night. The pillow gives me wonderful support for doing just that. My husband like to sleep in his arm chair and as he has osteoarthritis he has difficulty getting comfortable this pillow is very helpful. (Saranne Abel)
Good value
- Soft removable covers make these much more comfortable than other similarly priced products. Colours bright and cheerful. (Maz)
Bought for toddler in baby carrier
- Was looking for inflatable cusion for when babies sleep on long walks. They are lovely and soft and convenient. Good value. Postage took a while but product is fine. (Zara)
Worth spending the extra cash on
- We needed new neckrests for our holiday which involved a coach journey and a transatlantic flight. Gone are the days of us suffering with cheap £1 neck cushions. We researched on t'internet and came across jetrest. We were very happy with the lovely soft cover. The choice of colours was an added bonus. Blow them up before you need to use them though as a practise. Once you've inflated and deflated your cushion once it's a doddle the second time. (Suzanne)
Makes travelling so much more comfortable
- Bought two of these, one for mother in law, one for me. Have travelled with mine once already and it's great because it takes up no room in my handbag, is very quick and easy to inflate and deflate and means I don't arrive places with a stiff neck. Mother in law is out in Africa on hols with hers now. (Sarah Liveing)
Neck Pillows
- Bought two for our recent US Holiday, very comfortable for our long waits in terminals and on long haul flights (Anthony M W)
Lovely colours
- I bought one for myself and then ordered another for a friend. The pillow has no sharp edges and is comfortable where ever you place it. Its a good idea to have a cover as it is washable. Many people commented on the pillow on my journey and asked where I got it from. (Travelling Trish)
Very satisfied
- There are many neck rest products on the market so choosing one at a reasonable price is not easy. We wanted cosy inflatable neck rests which we could keep in a small bag and inflate them on the plane. The Jet Rest was exactly what we wanted. We had a 10 hour flight and used the neck rests throughout. They were comfortable and we slept well with no stiff necks afterwards. (John)
Comfort!
- If the headrests on planes are in the wrong place then this product is for you. Comfort in seconds. (Embee)
Flying in comfort
- Excellent product. We bought 3 and they are easy to pack away and then inflate when needed. Soft and comfortable. Would recommend. (Sumi)
Really plush cushion.
- This was purchased as a gift - looked really warm & comfy. (anonymous)
Travel Cushion
- The best thing I have brought.Travelling is so much more comfortable. (Saintly)
Comfortable Flying
- The inflatable travel pillow was easy to use and very comfortble. Many thanks for two comfortable flights! (Sue Trewella)
It does the job
- I have used the inflatable comfort pillow for the first time on our recent long-haul trip, and it did not disappoint. However I found that the best use of it on the plane was using it at the front neck area rather than the back as often shown on pictures. Super easy to inflate and deflate, it is compact. It is an item that I will always include on my long-haul trips. (Anna)
Comfy Little Pillow
- I bought 2 of these for our holiday flights. Great little pillows, fold down to store. Easy wash covers. Minor problem with one of them, JetRest replaced immediately. (Adele Wooton)
Pure Comfort
- After 3 flights with the total travel time of 30 hours my neck and soul were in good shape after using the inflatable travel pillows. Soft cover and the fact you can vary the size of the pillow helped to make an unbareable journey much better. I certainly would recommend. (ElPardo)
Flight to Florida!
- Bought the travel pillows for our flight to Florida (honeymoon) found them very comfortable and have used mine on car journeys since, all good! (Michael Cusack)
Best travel pillow
- I really liked having my neck support on a long haul trip to LA, soft and easy to inflate. good quality good price and quick delivery! (Manuela BC)
comfy pillow
- material is pleasant to touch and pink colour is really beautifull (jana)
A good sleep on a long haul flight
- I ordered an inflatable neck cushion, some ear plugs and an eye mask. They both arrived very promptly and I used them to sleep on a long haul flight and had a very good night's sleep for a change (I usually cannot sleep on planes). Excellent service. (Julie B)
Great product n great service
- Bought this as a present for my Nan when she is travelling to NZ. Product v reasonably priced and great service, fast delivery. We found the whole purchase and delivery processes very smooth and product as described. Will def recommend the site to friends :) Thanks! Wendy (Wendy)
makes travelling so much easier
- This cushion is great. Firstly you can blow it up so of course it can deflate and pack down to nothing. Secondly it is so comfortable for long flights and train journeys where there is finally somewhere to rest your head! Highly recommend it...in fact would not travel without it. (sally dawn)
More Reviews
Delivery
The information below is for guidance. Actual delivery costs and dates depend on the delivery address, weight and time your order is placed. Cut-off time for Overnight Orders is 12 noon.
| Price | Method | Manufacture Time | Delivery Time | Est. Delivery Date |
| --- | --- | --- | --- | --- |
| £3.99 | 2nd Class (Tracked LL) | 0-1 Days | 2-3 Days | Thu 7 Dec - Mon 11 Dec |
| £5.99 | 1st Class (Tracked LL) | 0-1 Days | 1-2 Days | Wed 6 Dec - Fri 8 Dec |
| £13.00 | DHL Courier (Economy M-F Pre 6pm) | 0-1 Days | 2-3 Days | Thu 7 Dec - Mon 11 Dec |
| £14.99 | Royal Mail Special Delivery (Overnight Mon-Sat Pre 1pm) | Today | Next Day (Mon-Sat) | Mon 4 Dec |
More Information
| | |
| --- | --- |
| Despatch | Today (Cut off time 3pm M-F) |
| Brand | The JetRest® |
| RRP | £2.99 |
| Country of Origin | China |
| SKU | FGINF012 |
| Gtin | 5056261021914 |
| Tariff Code | 3926909290 |
| Tariff Description | Travel Pillow - Inflatable with Polyester Cover |
| Product Weight | 134 g |
| Product Dimensions | 25 x 30 x 13cm |
Product Options
Colour
Grey, Baby Pink, Fuchsia Pink, Orange, Purple, Royal Blue, Sky Blue
Product Type
Travel Pillow
Travel Pillows > Inflatable Travel Pillows
inflatable neck support
travel neck pillow
airplane pillow

Inflatable Neck Pillow (with Removable Flock Cover)
- Grey
FGINF012
5056261021914
£2.99
134 g
25 x 30 x 13cm
Inflatable Neck Pillow (with Removable Flock Cover)
- Orange
FGINF015
5056261021945
£2.99
134 g
25 x 30 x 13cm
Inflatable Neck Pillow (with Removable Flock Cover)
- Royal Blue
FGINF021
5056261021921
£2.99
134 g
25 x 30 x 13cm
Inflatable Neck Pillow (with Removable Flock Cover)
- Sky Blue
FGINF014
5056261021938
£2.99
134 g
25 x 30 x 13cm
Inflatable Neck Pillow (with Removable Flock Cover)
- Purple
FGINF020
5056261021976
£2.99
134 g
25 x 30 x 13cm
Inflatable Neck Pillow (with Removable Flock Cover)
- Fuchsia Pink
FGINF019
5056261021969
£2.99
134 g
25 x 30 x 13cm
Inflatable Neck Pillow (with Removable Flock Cover)
- Baby Pink
FGINF013
5056261021952
£2.99
134 g
25 x 30 x 13cm
Inflatable Neck Pillow (with Removable Flock Cover)