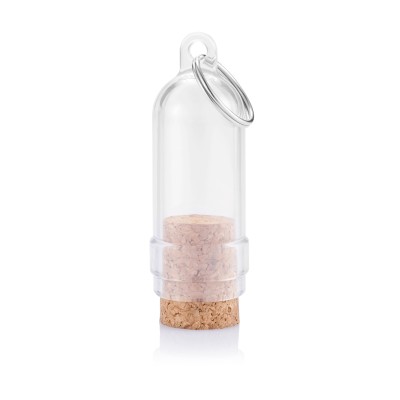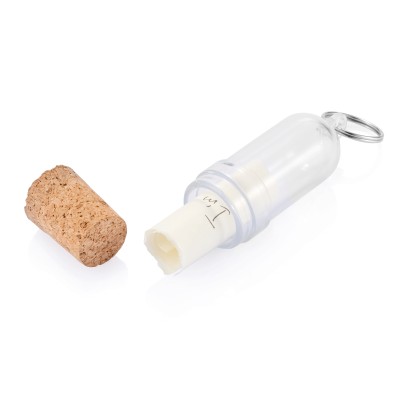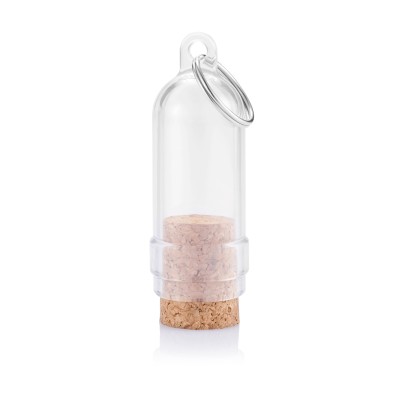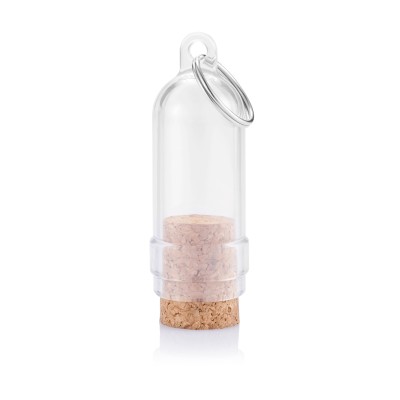 Message in a Bottle Floating Keyring
Description
The Message in a Bottle Floating Keyring conjures up magical images of finding something like this, long lost and then getting in touch with the owner at the other side of the world. Best of all it's a really handy keyring as it helps make your keys float !
Floating keychain.
Transparent tube with cork closer.
Paper enclosed for filling in your contact details and secret message.
Approx. 11cm x 3cm.
Very lightweight.
Will you keep it with you on return from holiday or set it free !
I want to write a message on my floating keyring and set the Message in a Bottle free into the sea wherever I go on holiday or take a few of them with me and get the kids to each write their own messages in there.
Email is a great thing these days as it means that if you set your floating keyring free someone from anywhere in the world may well get in touch if you share your email on the message inside.
Being practical the floating keyring also helps to make sure my keys float if I drop them which is great by the pool with my room key, or my locker key when in the sea.
Reviews
So I don't lose my keys
- I on more than one occaision have jumped into a swimming pool on holiday without removing my car keys from my pocket, only for my kids to find them on the bottom of the pool sometime later. They bought me one of these a few years back as a joke present but it turned out to be really useful and so I recently bought myslef a couple of replacements also. (Trevor S, 28/02/20)
Magical memories!
- What a great idea! My kids absolutely loved writing a message and putting it inside. We watched it float off in the sea on holiday. Great little adventure for them! (Mr P, 26/02/20)
For the kids
- Buy these for every holiday and think my kids are addicted now to sending a message in a bottle everywhere we go. Send them off into the sea and off bridges and boats all over the world. Fun kids gift. (Kelly, 26/02/20)
Delivery
The information below is for guidance. Actual delivery costs and dates depend on the delivery address, weight and time your order is placed. Cut-off time for Overnight Orders is 12 noon.
| Price | Method | Manufacture Time | Delivery Time | Est. Delivery Date |
| --- | --- | --- | --- | --- |
| £4.99 | 2nd Class (Tracked) | 0-1 Days | 2-3 Days | Mon 25 Sep - Wed 27 Sep |
| £6.99 | 1st Class (Tracked) | 0-1 Days | 1-2 Days | Fri 22 Sep - Tue 26 Sep |
| £12.92 | DHL Courier (Economy M-F Pre 6pm) | 0-1 Days | 2-3 Days | Mon 25 Sep - Wed 27 Sep |
| £12.99 | Royal Mail Special Delivery (Overnight Mon-Sat Pre 1pm) | Tomorrow | Next Day (Mon-Sat) | Mon 25 Sep |
More Information
| | |
| --- | --- |
| Despatch | Today (Cut off time 3pm M-F) |
| Brand | The JetRest® |
| Country of Origin | China |
| SKU | FGKEY001 |
| Gtin | 5056656304691 |
| Product Weight | 25 g |
| Product Dimensions | 11 x 3 x 3cm |
Product Options
Product Type
keyring
message in a bottle
travel keyring
novelty keyring

Message in a Bottle Floating Keyring
FGKEY001
5056656304691
£3.99
25 g
11 x 3 x 3cm
Message in a Bottle Floating Keyring