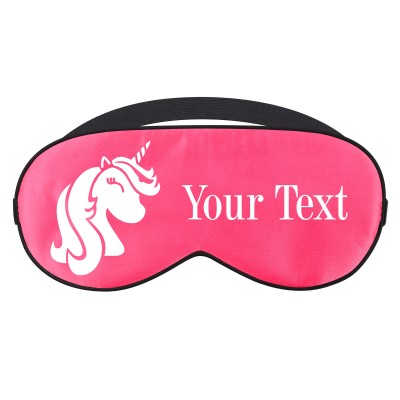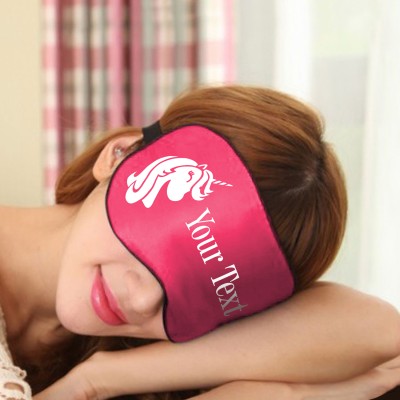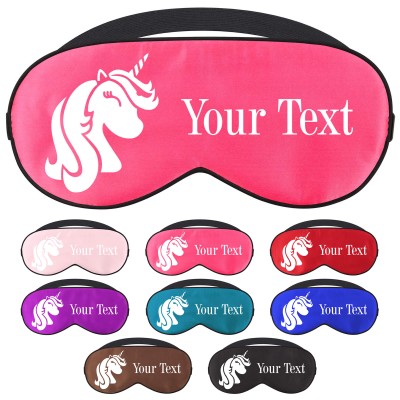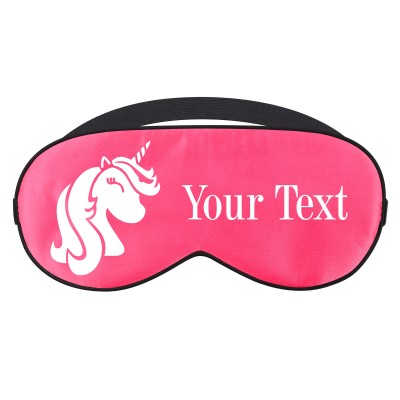 Personalised Luxury Silk Unicorn Eye Mask
Description
Unicorn Eye Mask available in a choice of fabric and colour options as an eye mask unicorn adult and teen version. UK Stock of Eye Masks are held and we personalise the Unicorn Design with your Personalised Text of your choice.
Unicorn Eye Mask.
Fabric and Colour Choices.
Size options.
Personalised with Optional Text.
Trusted HappySnapGifts® brand.
Reviews
Mask
- My granddaughter was delighted with her mask as she has an unusual name and it was very personal to her also good quality (Rupert, 26/02/22)
Very Comfy
- Saw this on Instagram and had to buy one, great quality eye mask and is very comfy. Great Price aswell. (Gill P, 28/02/20)
Unicorn
- So soft and rested perfectly on my eyes. Blocked out all the light and added my own text (Rebecca, 28/02/20)
Helps me sleep
- I have trouble sleeping in the summer due to light coming round my curtains, this eye mask is the softest, comfiest mask I have ever had and I love the unicorn print. (Samantha Reading, 27/02/20)
Perfect silk eye mask
- Unicorns all over my friends house and she loves eye masks so these unicorn eye masks made her so happy. Great silk masks too. (Shelly, 26/02/20)
Delivery
The information below is for guidance. Actual delivery costs and dates depend on the delivery address, weight and time your order is placed. Cut-off time for Overnight Orders is 12 noon.
| Price | Method | Manufacture Time | Delivery Time | Est. Delivery Date |
| --- | --- | --- | --- | --- |
| £3.99 | 2nd Class (Tracked LL) | 0-3 Days | 2-3 Days | Mon 25 Sep - Fri 29 Sep |
| £5.99 | 1st Class (Tracked LL) | 0-3 Days | 1-2 Days | Fri 22 Sep - Thu 28 Sep |
| £12.92 | DHL Courier (Economy M-F Pre 6pm) | 0-3 Days | 2-3 Days | Mon 25 Sep - Fri 29 Sep |
| £12.99 | Royal Mail Special Delivery (Overnight Mon-Sat Pre 1pm) | Tomorrow | Next Day (Mon-Sat) | Mon 25 Sep |
More Information
| | |
| --- | --- |
| Despatch | 0-3 Days (to Personalise) or Upgrade at Checkout for Overnight Delivery |
| Brand | HappySnapGifts® |
| Country of Origin | China |
| SKU | EMSIL001(P)(UNI) |
| Gtin | 5056261076402 |
| Tariff Code | 6307909899 |
| Tariff Description | Eye Mask - Polyester Fabric Woven |
| Product Weight | 18 g |
| Product Dimensions | 11 x 23cm |
Product Options
Fabric
Silk
Eye Mask Colour
Fuchsia Pink, Baby Pink, Black, Brown, Peacock Blue, Purple, Red
Design
Unicorn
Product Type
Eye Mask
Travel & Outdoors > Personalised Travel Gifts
Home > Eye Masks
Personalised Eye Masks
Unicorn Eye Mask

Personalised Luxury Silk Unicorn Eye Mask
with Unicorn Print - Fuchsia Pink (Personalised with Text)
EMSIL001(P)(UNI)
5056261076402
£12.99
18 g
11 x 23cm
Personalised Luxury Silk Unicorn Eye Mask
with Unicorn Print - Purple (Personalised with Text)
EMSIL003(P)(UNI)
5056261076419
£12.99
18 g
11 x 23cm
Personalised Luxury Silk Unicorn Eye Mask
with Unicorn Print - Red (Personalised with Text)
EMSIL005(P)(UNI)
5056261076426
£12.99
18 g
11 x 23cm
Personalised Luxury Silk Unicorn Eye Mask
with Unicorn Print - Peacock Blue (Personalised with Text)
EMSIL008(P)(UNI)
5056261076440
£12.99
18 g
11 x 23cm
Personalised Luxury Silk Unicorn Eye Mask
with Unicorn Print - Brown (Personalised with Text)
EMSIL006(P)(UNI)
5056261076457
£12.99
18 g
11 x 23cm
Personalised Luxury Silk Unicorn Eye Mask
with Unicorn Print - Black (Personalised with Text)
EMSIL002(P)(UNI)
5056261076464
£12.99
18 g
11 x 23cm
Personalised Luxury Silk Unicorn Eye Mask
with Unicorn Print - Baby Pink (Personalised with Text)
EMSIL009(P)(UNI)
5056261076471
£12.99
18 g
11 x 23cm
Personalised Luxury Silk Unicorn Eye Mask