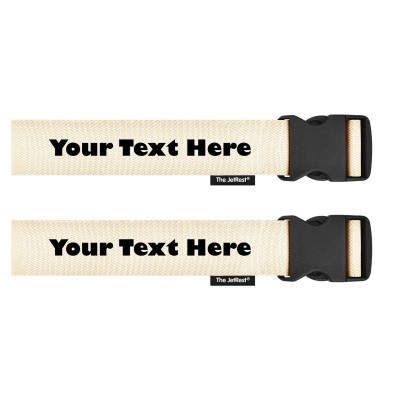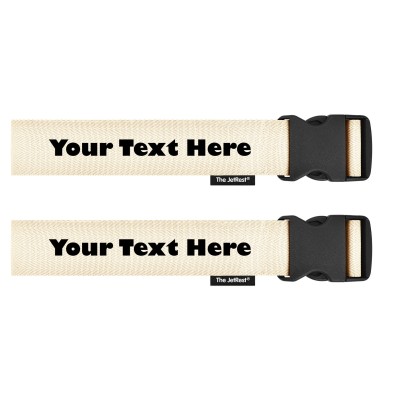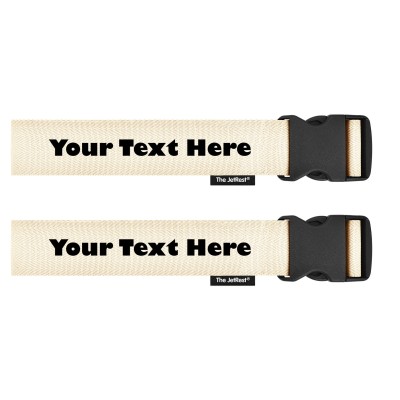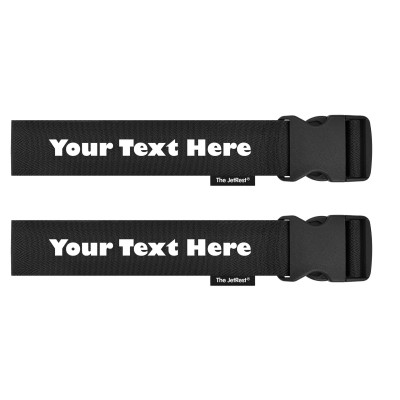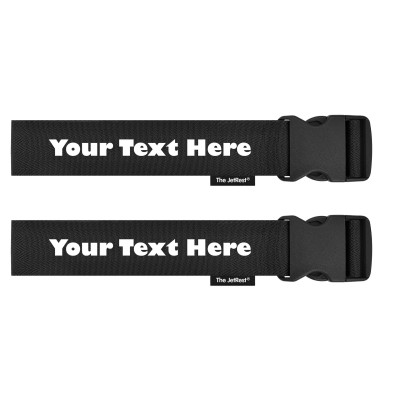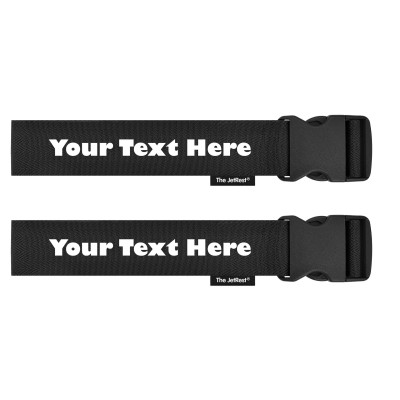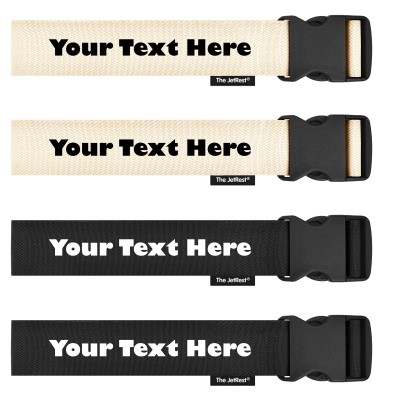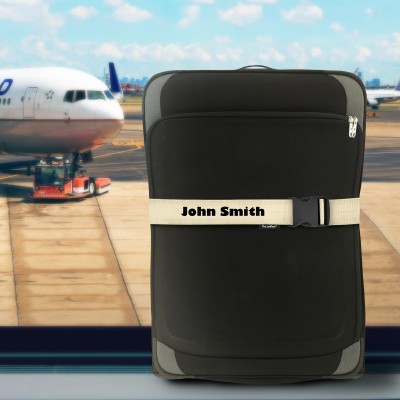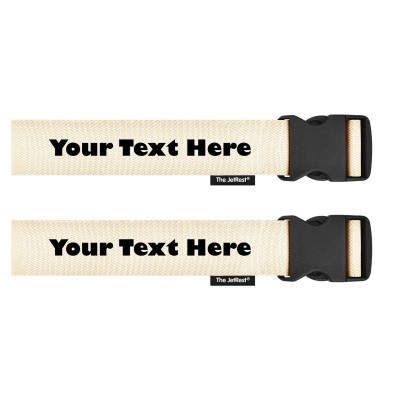 Personalised Luggage Strap (Soft Cotton - Pack of 2)
UK Made
Description
Personalised Luxury Cotton Luggage Strap Set made from soft yet strong fabric webbing which is great for protecting luxury luggage and music cases.
Luxury cotton fabric suitcase straps.
Personalised with your name.
Includes 2 identical straps
Optional drawstring pouches.
Approx. 180cm x 5cm and fully adjustable with size options.
UK made.
Trusted JetRest® brand.
Each of these wonderful sets includes two of our British-made Luxury Cotton Luggage Straps. The super soft cotton we use means that these straps are ideal for delicate luggage such as instrument flight cases.
Our luggage straps are made to a 180cm length or longer strap options and can be easily adjusted down to fit smaller suitcases. All straps are made in our Lancashire factory and come with a sturdy buckle and clasp design.
Create something truly unique with our fantastic personalisation option, allowing you to have your name printed onto the straps making your time at the airport carousel much easier. This set is also a great gift idea for a family member or friend who loves to travel.
Reviews
Very good
- Very good product (Soph, 27/01/23)
jw
- Bought these as a gift. They were well received (jw, 05/06/20)
Grace
- Very pleased with my purchase, quality much better than expected for the price paid, recommended to my friends. (Grace, 28/05/20)
Really handy things
- Our luggage wasn't at our hotel but when we looked we had some 1 else's by accident so thought needed to identify proper next time so now there no mistake big and bold I am 64 so eye sight not the best lol we love them so easy as well (Mrs Boswell)
Great Product
- Great product with speedy and professional service (Patrick Sands)
Perfect
- Great quality. Perfect for 18th birthday present fo man who has everything! (Baggies ni)
Excellent product
- At last we can see clearly when our suitcases are coming along the carousel at the airport (Mrs Morgan)
Directors Review
- Luggage Straps are so popular with our customers but we created this special set of straps in response to customers that wanted something softer, and more luxurious than our usual British Made tough nylon straps. Musicians and people with more expensive bags wanted something that wouldnt chafe on the bags so the soft cotton webbing seemed the best option. Packed together in a twin pack, this luggage strap offers free personalisation within the kit and comes packed in a matching soft cotton drawstring bag to hold the straps when not in use. This could make for a lovely gift set for any traveller. (Michael Robinson)
Delivery
The information below is for guidance. Actual delivery costs and dates depend on the delivery address, weight and time your order is placed. Cut-off time for Overnight Orders is 12 noon.
| Price | Method | Manufacture Time | Delivery Time | Est. Delivery Date |
| --- | --- | --- | --- | --- |
| £3.99 | 2nd Class (Tracked LL) | 0-3 Days | 2-3 Days | Mon 25 Sep - Fri 29 Sep |
| £5.99 | 1st Class (Tracked LL) | 0-3 Days | 1-2 Days | Fri 22 Sep - Thu 28 Sep |
| £12.99 | Royal Mail Special Delivery (Overnight Mon-Sat Pre 1pm) | Tomorrow | Next Day (Mon-Sat) | Mon 25 Sep |
| £13.02 | DHL Courier (Economy M-F Pre 6pm) | 0-3 Days | 2-3 Days | Mon 25 Sep - Fri 29 Sep |
More Information
| | |
| --- | --- |
| Despatch | 0-3 Days (to Personalise) or Upgrade at Checkout for Overnight Delivery |
| Brand | The JetRest® |
| RRP | £17.99 |
| Country of Origin | United Kingdom |
| SKU | FGLUG055180cm(WC50-NAT)(P) |
| Gtin | 5060089253921 |
| Tariff Code | 6307909899 |
| Tariff Description | Luggage Strap - Woven Webbing |
| Product Weight | 164 g |
| Product Dimensions | 5 x 180cm |
Product Options
Size
180cm, 250cm, 300cm
Colour
Natural, Black
Product Type
Luggage Straps
Travel & Outdoors > Personalised Luggage Straps
Personalised Gifts > Personalised Travel Gifts
Soft luggage straps
Musical Instrument Straps

Personalised Luggage Strap (Soft Cotton - Pack of 2)
(180cm x 5cm) Soft Natural (Personalised with Text)
FGLUG055180cm(WC50-NAT)(P)
5060089253921
£17.99
164 g
5 x 180cm
Personalised Luggage Strap (Soft Cotton - Pack of 2)
(250cm) Soft Natural (Personalised with Text)
FGLUG055(250cm)(WC50-NAT)(P)
5060089253921
£19.99
200 g
5 x 250cm
Personalised Luggage Strap (Soft Cotton - Pack of 2)
(300cm) Soft Natural (Personalised with Text)
FGLUG055(300cm)(WC50-NAT)(P)
5060089253921
£19.99
190 g
5 x 300cm
Personalised Luggage Strap (Soft Cotton - Pack of 2)
(180cm x 5cm) Soft Black (Personalised with Text)
FGLUG055180cm(WC50-BLK)(P)
5060089253921
£17.99
164 g
5 x 180cm
Personalised Luggage Strap (Soft Cotton - Pack of 2)
(250cm) Soft Black (Personalised with Text)
FGLUG055(250cm)(WC50-BLK)(P)
5060089253921
£19.99
200 g
5 x 250cm
Personalised Luggage Strap (Soft Cotton - Pack of 2)
(300cm) Soft Black (Personalised with Text)
FGLUG055(300cm)(WC50-BLK)(P)
5060089253921
£19.99
190 g
5 x 300cm
Personalised Luggage Strap (Soft Cotton - Pack of 2)