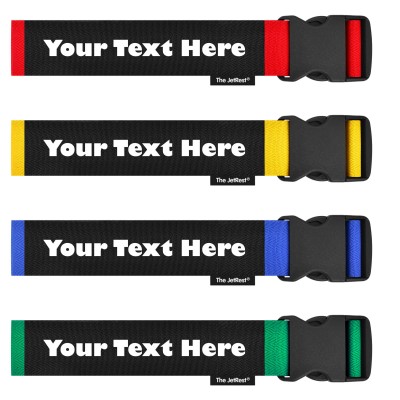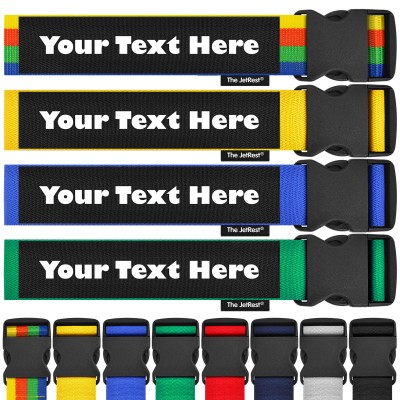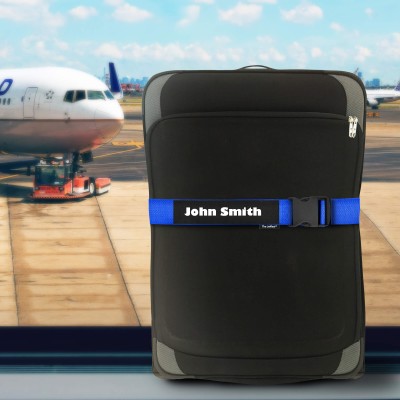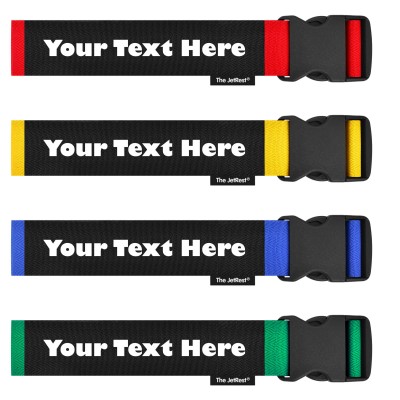 4 Pack of Personalised Luggage Straps (UK Made Suitcase Straps)
UK Made
Description
4 Pack of UK Made Personalised Luggage Straps.
Printed with up to 4 different names.
180cm length x 5cm width with longer strap options.
Super durable clasp design.
Stunning colour varieties.
Optional pouches.
Trusted JetRest® brand
Made to order in Britain, this stunning 4 Pack of Personalised Suitcase Straps is a great bargain for those looking for straps for the whole family. We allow a different name to be printed on each strap, which will make spotting your luggage at the carousel super easy.
We offer our British Made Personalised Luggage Straps in a wide variety of unique colours. Among these options is a lovely 100% cotton strap which is ideal for those who have delicate baggage.
As standard, these stunning suitcase straps come in a 180cm length, but we offer the facility to select up to a 300cm long strap if you require one. Each strap is manufactured to order and comes in a 5cm width as standard.
This 4 Pack of Personalised Luggage Straps also makes for a wonderful and thoughtful gift idea. If you know anyone going on their holiday soon, give them the gift of peace of mind and the assurance that their luggage is safe and sound with these durable baggage straps.
Reviews
Mega Straps
- They arrived on time and very quick. So pleased with them, sturdy construction and just what I required. (TONY, 21/09/23)
Luggage straps
- Love these. Hopefully stop me picking up the wrong case next time we go away. (Shirley, 19/08/23)
Personalised luggage
- Straps arrived in good time. Two travelled to New Zealand and back the other two went to Tenerife and back without los or damage. Recommend this for easy identifying own baggage at airport carrousel. (Chris traveller, 18/07/23)
Personalise Luggage straps
- Excellent Straps looks great and easy to use. (Calvin Holder, 01/07/23)
Personalised luggage strap
- Easy to spot your case on the carousel at airport or anywhere else with your family name printed on. Bright colours easily spotted too. (FHJ, 18/06/23)
Personalized Luggage Straps
- Very good product, great price, swift delivery. (Ian Buckland, 30/05/23)
They stand out from the crowd
- We got feed up with different ways of identifying our cases but these straps really stand out which is great because being in a wheelchair I have to get the Airport Assistance team member to collect our cases. Unfortunately my wife is no longer able to fly due to health reasons (Les, 26/05/23)
Pleased with the purchase
- Very pleased with these and glad I ordered them. We travelled as a group and they made our cases easily identifiable at the airport. I will be ordering more in the future Thank you (Mary, 25/04/23)
Great straps
- Purchased these for family and they have loved them found it so much easier to find the suitcases at the airport (Chopsuey , 17/04/23)
Fantastic belts
- I sell and use these luggage straps for my work as a Postural Alignment Specialist. Jet rest always very promptly sends out thank you (Caroline Clarke , 16/03/23)
Luggage straps. Great
- 5 (David Ainley , 15/03/23)
Great product
- Delivery very fast. Quality of the straps are great. Our suitcases stood out a mile with our red straps on. Highly recommend. (Hels, 23/01/23)
Luggage straps
- Good quality, highly visible and do exactly what you would expect.would recommend. 5 stars (Chas, 15/01/23)
Really good
- Very pleased with the straps. Letters very large and unmissable on a luggage carousel. Only had one trip so far but seem to be very sturdy. (Terry , 29/11/22)
Personalised Luggage Straps
- Excellent, prompt service. items are exactly as requested. (Ian Sutcliffe , 11/10/22)
Luggage straps
- Really impressed with the quality of these straps; strong, first class finish and delivered quickly from The JetRest, highly recommended. (Phil Cottrill, 22/08/22)
Luggage straps
- Excellent product. Easy to spot our luggage now. (Sue, 17/08/22)
Fantastic product
- I have been using Jet rest luggage straps for my company Heal Your Pain for the last ten years. I sell them on to my clients with my tel no and company name on so no one can forget me ! (Caroline Clarke , 30/07/22)
Joke gift
- Well received, superb thank you (Terry Robinson, 16/07/22)
Luggage Strap Review
- Fantastic product. Strong, robust and does everything we wanted it to do. (John Sanders, 05/07/22)
Toms
- Great addition for our travel - easy to recognise the cases. Very prompt service -highly recommended (Annie, 17/06/22)
Perfect for spotting your suitcase
- Recently used the luggage straps on our first family holiday abroad using an airport in years. They made life so much easier on the baggage reclaim areas. (Rachel, 17/06/22)
Perfect for spotting your suitcase
- Recently used the luggage straps on our first family holiday abroad using an airport in years. They made life so much easier on the baggage reclaim areas. (Rachel, 17/06/22)
luggage straps
- Fantastic product so far so good we can recognise our cases. Once every body has one it may be more dificult. (Nigel, 18/02/22)
Amaxing
- Brilliant product, great quality and amazingly quick service. (GW, 13/12/21)
straps
- great for the cases (susan, 05/04/21)
Work out straps
- I use these luggage straps for my work as a ridged strap works the joint muscles. I have my tel no put on them so my clients never forget my number! Always a great product! (Caroline Clarke Heal your Pain, 14/03/21)
Nice Straps
- Lovely luggage straps with very clear text. (Sue , 17/01/21)
Personalised luggage straps
- Great unique gift! (Andi, 17/01/21)
Excellent
- Excellent product and price bought some 4 year ago and got more for family members not often multiplies are available with different text. Making these very good value for money and so easy to retrieve luggage at carousels. Thank you (Beep the sheep , 03/01/21)
luggage straps
- pleased with service and product. well packaged and didn't wait long for delivery. (aw, 24/12/20)
4 great christmas presents for £17.95
- My daughter gave my husband one of these a few years ago and it was great and has lasted a lot of travelling, it definitely does the main job effectively, making the luggage immediately recognisable on a carousel at the airport. I needed useful but small gifts for some family and friends, I knew about the quality and usefulness of these, but the real selling point for me was that I could order 4 straps at a value multi price and I could get a DIFFERENT name on each strap. Result, four great presents for £17.95. (Clare, 14/12/20)
Luggage
- Having not being able to go on holiday because of covid and last holiday getting the wrong case off the carousel I can't wait to use my new labels.They are so strong and an excellent quality. (Maureen Brunskill, 21/11/20)
Excelent
- These straps are a very good addition to our travels especially keeping an eye on your luggage and finding them on arrival carrousels (David Hazel, 25/09/20)
Keep your distance!
- we purchased thse luggage straps, to wrap around lecture theatre seating to encourage social distancing, and used the term Keep your distance on the strap! its been ideal for what we needed, and the colours stand out. The JetRest were very efficient in the ordering, production and delivery process with the straps being recieved within 48 hours! great work highly recommend! (David , 03/09/20)
Quick service excellent colours
- Very pleased with these luggage straps in every sense. (Jo Jones, 02/09/20)
Smart luggage belts
- Great belts made it easy to find our cases when on holiday. Overall great product cheaper than others by miles (Poppet, 02/09/20)
Hi
- Great product. Arrived quickly and matched the description. (Julie , 02/09/20)
personalised luggage straps
- these are fab, received quickly, great value, no one will ever pick up my black case by mistake again! (Amelia, 22/08/20)
Brilliant straps
- I bought these straps for myself & my sister . They are really strong & best of all can easily be seen on the conveyor belt. They are fab, don't hesitate to buy. Thanks (Mumfife, 15/08/20)
Great customer service
- After an error on my part when ordering we received excellent communication, returned the wrong item and new item was sent out. Quality straps and personalised too. (Emma Ferrarelli, 14/08/20)
Went down a treat - everyone loved them
- Great quality, quick delivery. (Frances Gaiger)
Great product and really fast service
- After a mix up at the airport carousel this year with our luggage, I ordered sets of personalised luggage straps for Xmas gifts for all the family. Great quality and service and everyone was delighted with them. (JW)
Quality straps, great service
- Great quality luggage straps well marked with personalised name. Delivered in time for Christmas despite leaving the ordering late. (Stonescot83)
GREAT FOR THE HOLIDAYS
- I BOUGHT A PAIR OF LUGGGAGE STRAPS FOR MY HUSBAND AND A PAIR FOR ME. THET ARRIVED VERY PROMPTLY IN TIME FOR CHRISTMAS AND THEY LOOK GOOD. (B STAPLETON)
Luggage straps
- Ordered 4 straps as Christmas presents. All were impressed by the quality. Just need to go on holiday now. (Joan Brown)
Excellent product
- Excellent quality material used for the personalised luggage straps. Very prompt service on all the items. (Spurr)
Stress Free Personalised Luggage Straps
- With so many cases looking identical these days, it is always a stressful moment ensuring we select the right cases - and, more to the point - no-one else takes our cases. The quality of the straps and the personal service I received were excellent. (Denice)
Excellent travel gadget to find cases at a glance
- Great value for money, and really nice white on navy personalised luggage straps. A good quality product, delivered in good time, and very pleased with buy. (NooNoo)
Personalised luggage straps
- Have bought these as a little extra Xmas present. They look well made and strong and I am sure the recipients will be pleased with them. (Val)
Luggage straps
- I bought them for friends as going on a Scotland trip was easy to spot our cases easily and one person could get the lot as knew what cases had Straps on a great buy (anonymous)
Good quality straps
- The straps arrived very quickly. They are very good quality and I'm sure they will have lots of use. (Gill Pope)
Friends loved them
- Purchased personalised luggage straps with a humourous catch line for a group of friends. Great quality, quick delivery, brilliant price. Everyone loved them and made a few other travellers laugh. (Team Hebb)
Fab luggage straps, make a perfect stocking filler
- A great little gift for family or friends. appear to be really good quality. (Andrea Clayton)
Soooo useful!
- I ordered personalised luggage straps that arrived very quickly and fit the bill nicely. No more struggling to locate bags on carousels! (Busby)
Great presents
- I bought the pack of 4 personalised luggage straps for members of my family. They were good value and make it easy to spot our luggage at the airport. (Brompton1898)
Mr & Mrs ideal honeymoon gift for my son
- Good quality and value for money, bought a pack of 4 Well made strong straps Very pleased with them (anonymous)
Luggage straps - first rate quality
- Purchased personalised luggage straps after a bad encounter when someone lifted my case in error at airport - nightmare getting things resolved. These luggage straps are of good quality and personalisation very clear. Would recommend highly. (Diane J)
great for knowing your luggage on holiday
- good strong straps and printed name is clear in capital letters, (nobody can pick up our luggage by mistake), also strong fastening . They were delivered within five days (Cliff)
Luggage straps
- Very impressed with service. Would use again (Carole)
Great luggage straps
- Good quality straps, easily identifiable at a distance. Great price. (Bonnie)
Fab straps
- Really good quality, great delivery times. Fab price. Would highly recommend (Tracy price)
personalised luggage straps
- I ordered these straps for our holiday in September. 2 off them have mine and my husbands name on them and 2 have our phone number on so hoping if it gets lost they can contact us. This product arrive fast and looks good and was good value for money so very pleased with them. (Nicki)
A wonderful unique group present
- I have a group of friends who I regularly go traveling with so I ordered these personalised luggage straps as a fun gift for us all. The group all loved them and they arrived in plenty of time, are bright and well made. (Rebecca Seal)
Super straps
- Although I haven't used the straps yet until October th look great. I think my cases will be clearly visible on the airport carousel. (Geoff)
Personalised Luggage Straps
- Saw an advert for these, so purchased a set of four for he family. The look great and made it obvious to "border officials"! and others that we were a family group. An excellent product! (Peter)
XMAS GIFTS
- Everyone commented on my personalised luggage straps so thought it would be a good idea for presents (T DAVIES)
Excellent customer service
- I ordered 4 straps and one had the initials transposed. I emailed with the problem and it was rectified speedily. It's easy to give good service when there's no problems but it's a better measure of quality service when you see how they rectify problems. I received excellent service and would recommend this company. Good quality straps with good quality service. (anonymous)
Suit case straps
- Fabulous,got 4 really love them (Deb jackson)
Noticed
- These luggage straps can be noticed from among a host of other luggage. Saved no end of time at the port terminal. will recommend. (sheila)
Luggage straps
- Thick, very strong. Big bold lettering. Easy to notice which is your case. (Jimmy)
ready for holiday
- Very pleased with our personalised luggage straps. Excellent quality.Easy to spot when searching for luggage at the airport !! (MR G.E.CAREY)
Just what I was looking for
- Lovely strong straps with very clear lettering. Will really help locating my cases on the carousel. Very pleased (Trish)
Good straps
- Ordering straightforward and received when promised. Good straps with a clear printed name. Would definitely recommend (Christine H)
Excellent
- Well-made with LARGE writing. So far very pleased. (Richard)
Luggage Straps.
- The straps came quickly and are a good size. Ordered extra 20cms to ensure fitted large case and no problem. Used for one return flight and are unscathed so seem pretty robust. Easy to spot cases on carousel and no one picked up thinking they were theirs which has happened before. (Trevor)
A good purchase
- The luggage labels are well made and just what I wanted. The price was good and the service swift and efficient (Maureen)
Suitcase id straps
- Excellent - exactly as described on the web site. (John Pollard)
We received what we wanted!
- We ordered these as gifts for other people and they have not had chance to use them yet - but they look fine and came fairly promptly. They looked very smart and the colours were vivid, which is what was required. (anonymous)
Good quality luggage straps
- Straps fitted the bill perfectly. Good quality and bright and bold enough to identify our luggage on the conveyor belt (IP)
Best personalised luggage straps
- Looks great and strong enough to keep the cases safe in the baggage handling system. The kids love them (Billybong)
Love it
- Absolutely love these I'm just about to order somemore. (Hayley)
My friends are thrilled with the luggage straps
- Travelling will be so much easier now we can recognise our luggage at the Airport. (Vera Gibson)
Highly impressed!
- We bought these luggage straps as a gift to newlyweds. We had left present buying a bit late, but the straps were delivered very quickly. They look great and to get 4, all with different personalisation, is fantastic value for money. Very impressed,would recommend! (Nicky)
luggage straps
- Just what I needed (Frances McCarthy)
Luggage straps
- Excellent product spotted my suitcase couldn't miss it with bright yellow strap (Mary)
Great xmas present stocking fillers
- I bought 4 luggage straps for my friend,her husband and kids as xmas stocking fillers. I'm sure they will be pleased with them and use them on their next holiday - my husband and I already had luggage straps which our friends commented on, when they were struggling to spot their suitcases on the airport carousel. The straps look great and come with cute little pouches to keep them tidy and clean. I'm very impressed with the quality and price. (Andrea White)
Perfect for our suitcases
- These 4 straps are perfect, you can spot your suitcase on the luggage carousel and they keep your case from popping open. Very Strong. (Sid Sewell)
Perfect Xmas gift for hubby
- Very pleased with these personalised luggage straps, fast delivery. Product exactly as described. (Edmonds)
Suit case Straps
- An easy web site to use, with great service, Kept informed of progress of the order , and goods arrived in a timely manner. Product as specified on web site - overall very satisfied with the service. (Adrienne Price)
Very smart luggage straps, excellent quality
- After my old luggage straps were lost by the port authority at Southampton, I needed to replace them and after searching the web, I came across your website. These straps attracted my attention and I was impressed by the price, so decided to try the pack of four. Delivery was very quick and I am delighted with the straps, strongly made, efficient clip fasteners and the printing of initials is top class. I will recommend these to all my friends. Thank you. (Adele Wilbraham)
GREAT LUGGAGE STRAPS!
- We love our red luggage straps with our names on. They make recognising your luggage so much easier. Great product! (Anna)
You wont miss these
- The straps themselves are very robust and with the additional bright colour combinations i wont be pulling the wrong bags of the carousel this year (Gary)
Luggage Straps - Perfect!
- The personalised luggage straps are great. I was delighted with the quality of the material and the lettering. They are really strong, fully adjustable and just the job. Thank you (Mrs JG)
Great gift
- Super fast and efficient service will definitely recommend (Peter carver smith)
Personalised Luggage Straps
- Came within 48 hours, all straps as ordered, well made and stood out on the luggage carousel at the airport. Excellent quality for the money! (Kim Sangster)
Great product, great service
- Product was exactly as described, we were kept updated on progress and the straps arrived earlier than expected. What more can you ask? (Dawnraider55)
Get your luggage the easy way
- We purchased personalized luggage straps, what a difference they made, it was so easy to pick out our cases on the carousel, easy to fit, didn't come off. We even got complimentary comments and people asking where we got them.Great buy. (Barbara Elrick)
Spot my luggage arriving in style
- These are great quality straps. The last ones I bought (not from here)were ok until the clasp broke and suitcase arrived on belt without strap. These clasps are much more sturdy. The fact you can order multiple straps with a discount AND with different personalisation is a huge bonus - Xmas/birthday gifts are sorted! Highly recommend. (Verity)
Excellent idea
- Loved these luggage straps. Made our luggage easy to identify and helped to keep it more secure. (AnnieM)
More Reviews
FAQs
Can I personalise this strap with something other than my name?
Yes. You are free to type whatever name, message or phrase you want, as long as it's within the 18-character limit.
How are the straps printed?
We heat press your text on to a black strip which is then sewn carefully on to the strap to make a durable and strong personalisation for your straps.
Can I have different text on each strap?
Yes. Just fill in the text field for the personalised text you want on each strap.
Can the luggage strap fit different size suitcases?
Yes. Luggage Straps have an adjustable buckle and will fit the vast majority of sizes. Simply order a longer version if required in the options.
Are the Luggage Straps easy to remove?
Yes. Luggage Straps come with a buckle that is easy to release.
Can I have my luggage strap made to a different length?
Yes. We manufacture all of our luggage straps in our factory so can make them as a bespoke item to your own requirements. If the luggage strap is to be made longer, please place your order and select the size you would like.
Delivery
The information below is for guidance. Actual delivery costs and dates depend on the delivery address, weight and time your order is placed. Cut-off time for Overnight Orders is 12 noon.
| Price | Method | Manufacture Time | Delivery Time | Est. Delivery Date |
| --- | --- | --- | --- | --- |
| £3.99 | 2nd Class (Tracked LL) | 0-3 Days | 2-3 Days | Thu 7 Dec - Wed 13 Dec |
| £5.99 | 1st Class (Tracked LL) | 0-3 Days | 1-2 Days | Wed 6 Dec - Tue 12 Dec |
| £13.09 | DHL Courier (Economy M-F Pre 6pm) | 0-3 Days | 2-3 Days | Thu 7 Dec - Wed 13 Dec |
| £14.99 | Royal Mail Special Delivery (Overnight Mon-Sat Pre 1pm) | Today | Next Day (Mon-Sat) | Mon 4 Dec |
More Information
| | |
| --- | --- |
| Despatch | 0-3 Days (to Personalise) or Upgrade at Checkout for Overnight Delivery |
| Brand | The JetRest® |
| RRP | £31.99 |
| Country of Origin | United Kingdom |
| SKU | FGLUG001(x4)(180cm)WEB-R-Y-RB-G(P) |
| Gtin | 5056656340767 |
| Tariff Code | 6307909899 |
| Tariff Description | Luggage Strap - Woven Webbing |
| Product Weight | 374 g |
| Product Dimensions | 5 x 180cm |
Product Options
Size
180cm, 250cm, 300cm
Colour
Mixed Pack (Red, Yellow, Royal, Green), Mixed Pack (Striped, Red, Yellow, Royal), Mixed Pack (Black, White, Grey, Navy), Mixed Pack (Black, White, Black, White), Striped, Red, Yellow, Royal Blue, Green, Navy Blue, Silver Grey, Black, White
Product Type
Luggage Straps
Travel & Outdoors > Personalised Luggage Straps
Personalised Gifts > Personalised Travel Gifts
suitcase straps
uk made luggage straps

4 Pack of Personalised Luggage Straps (UK Made Suitcase Straps)
(Strap 180cm) - Mixed Colour Pack (Red, Yellow, Royal, Green) (Personalised with Text)
FGLUG001(x4)(180cm)WEB-R-Y-RB-G(P)
5056656340767
£31.99
374 g
5 x 180cm
4 Pack of Personalised Luggage Straps (UK Made Suitcase Straps)
(Strap 250cm) - Mixed Colour Pack (Red, Yellow, Royal, Green) (Personalised with Text)
FGLUG001(x4)(250cm)WEB-R-Y-RB-G(P)
5056656349364
£34.99
475 g
5 x 180cm
4 Pack of Personalised Luggage Straps (UK Made Suitcase Straps)
(Strap 300cm) - Mixed Colour Pack (Red, Yellow, Royal, Green) (Personalised with Text)
FGLUG001(x4)(300cm)WEB-R-Y-RB-G(P)
5056656349371
£39.99
550 g
5 x 180cm
4 Pack of Personalised Luggage Straps (UK Made Suitcase Straps)
(Strap 180cm) - Red (Personalised with Text)
FGLUG001(x4)(180cm)(WN50-RED)(P)
5056656349098
£31.99
374 g
5 x 180cm
4 Pack of Personalised Luggage Straps (UK Made Suitcase Straps)
(Strap 250cm) - Red (Personalised with Text)
FGLUG001(x4)(250cm)(WN50-RED)(P)
5056656349104
£34.99
475 g
5 x 180cm
4 Pack of Personalised Luggage Straps (UK Made Suitcase Straps)
(Strap 300cm) - Red (Personalised with Text)
FGLUG001(x4)(300cm)(WN50-RED)(P)
5056656349111
£39.99
550 g
5 x 180cm
4 Pack of Personalised Luggage Straps (UK Made Suitcase Straps)
(Strap 180cm) - Yellow (Personalised with Text)
FGLUG001(x4)(180cm)(WN50-YEL)(P)
5056656349128
£31.99
374 g
5 x 180cm
4 Pack of Personalised Luggage Straps (UK Made Suitcase Straps)
(Strap 250cm) - Yellow (Personalised with Text)
FGLUG001(x4)(250cm)(WN50-YEL)(P)
5056656349135
£34.99
475 g
5 x 180cm
4 Pack of Personalised Luggage Straps (UK Made Suitcase Straps)
(Strap 300cm) - Yellow (Personalised with Text)
FGLUG001(x4)(300cm)(WN50-YEL)(P)
5056656349142
£39.99
550 g
5 x 180cm
4 Pack of Personalised Luggage Straps (UK Made Suitcase Straps)
(Strap 180cm) - Royal Blue (Personalised with Text)
FGLUG001(x4)(180cm)(WN50-BRO)(P)
5056656349159
£31.99
374 g
5 x 180cm
4 Pack of Personalised Luggage Straps (UK Made Suitcase Straps)
(Strap 250cm) - Royal Blue (Personalised with Text)
FGLUG001(x4)(250cm)(WN50-BRO)(P)
5056656349166
£34.99
475 g
5 x 180cm
4 Pack of Personalised Luggage Straps (UK Made Suitcase Straps)
(Strap 300cm) - Royal Blue (Personalised with Text)
FGLUG001(x4)(300cm)(WN50-BRO)(P)
5056656349173
£39.99
550 g
5 x 180cm
4 Pack of Personalised Luggage Straps (UK Made Suitcase Straps)
(Strap 180cm) - Green (Personalised with Text)
FGLUG001(x4)(180cm)(WN50-GBG)(P)
5056656349180
£31.99
374 g
5 x 180cm
4 Pack of Personalised Luggage Straps (UK Made Suitcase Straps)
(Strap 250cm) - Green (Personalised with Text)
FGLUG001(x4)(250cm)(WN50-GBG)(P)
5056656349197
£34.99
475 g
5 x 180cm
4 Pack of Personalised Luggage Straps (UK Made Suitcase Straps)
(Strap 300cm) - Green (Personalised with Text)
FGLUG001(x4)(300cm)(WN50-GBG)(P)
5056656349203
£39.99
550 g
5 x 180cm
4 Pack of Personalised Luggage Straps (UK Made Suitcase Straps)
(Strap 180cm) - Navy Blue (Personalised with Text)
FGLUG001(x4)(180cm)(WN50-BNA)(P)
5056656349210
£31.99
374 g
5 x 180cm
4 Pack of Personalised Luggage Straps (UK Made Suitcase Straps)
(Strap 250cm) - Navy Blue (Personalised with Text)
FGLUG001(x4)(250cm)(WN50-BNA)(P)
5056656349227
£34.99
475 g
5 x 180cm
4 Pack of Personalised Luggage Straps (UK Made Suitcase Straps)
(Strap 300cm) - Navy Blue (Personalised with Text)
FGLUG001(x4)(300cm)(WN50-BNA)(P)
5056656349234
£39.99
550 g
5 x 180cm
4 Pack of Personalised Luggage Straps (UK Made Suitcase Straps)
(Strap 180cm) - Silver Grey (Personalised with Text)
FGLUG001(x4)(180cm)(WN50-GLG)(P)
5056656349241
£31.99
374 g
5 x 180cm
4 Pack of Personalised Luggage Straps (UK Made Suitcase Straps)
(Strap 250cm) - Silver Grey (Personalised with Text)
FGLUG001(x4)(250cm)(WN50-GLG)(P)
5056656349258
£34.99
475 g
5 x 180cm
4 Pack of Personalised Luggage Straps (UK Made Suitcase Straps)
(Strap 300cm) - Silver Grey (Personalised with Text)
FGLUG001(x4)(300cm)(WN50-GLG)(P)
5056656349265
£39.99
550 g
5 x 180cm
4 Pack of Personalised Luggage Straps (UK Made Suitcase Straps)
(Strap 180cm) - Black (Personalised with Text)
FGLUG001(x4)(180cm)(WN50-BLK)(P)
5056656349272
£31.99
374 g
5 x 180cm
4 Pack of Personalised Luggage Straps (UK Made Suitcase Straps)
(Strap 250cm) - Black (Personalised with Text)
FGLUG001(x4)(250cm)(WN50-BLK)(P)
5056656349289
£34.99
475 g
5 x 180cm
4 Pack of Personalised Luggage Straps (UK Made Suitcase Straps)
(Strap 300cm) - Black (Personalised with Text)
FGLUG001(x4)(300cm)(WN50-BLK)(P)
5056656349296
£39.99
550 g
5 x 180cm
4 Pack of Personalised Luggage Straps (UK Made Suitcase Straps)
(Strap 180cm) - White (Personalised with Text)
FGLUG001(x4)(180cm)(WN50-WHI)(P)
5056656349302
£31.99
374 g
5 x 180cm
4 Pack of Personalised Luggage Straps (UK Made Suitcase Straps)
(Strap 250cm) - White (Personalised with Text)
FGLUG001(x4)(250cm)(WN50-WHI)(P)
5056656349319
£34.99
475 g
5 x 180cm
4 Pack of Personalised Luggage Straps (UK Made Suitcase Straps)
(Strap 300cm) - White (Personalised with Text)
FGLUG001(x4)(300cm)(WN50-WHI)(P)
5056656349326
£39.99
550 g
5 x 180cm
4 Pack of Personalised Luggage Straps (UK Made Suitcase Straps)
(Strap 180cm) Striped (Personalised with Text)
FGLUG001(x4)(180cm)(WN50-STR)(P)
5056656349333
£31.99
374 g
5 x 180cm
4 Pack of Personalised Luggage Straps (UK Made Suitcase Straps)
(Strap 250cm) Striped (Personalised with Text)
FGLUG001(x4)(250cm)(WN50-STR)(P)
5056656349340
£34.99
475 g
5 x 180cm
4 Pack of Personalised Luggage Straps (UK Made Suitcase Straps)
(Strap 300cm) Striped (Personalised with Text)
FGLUG001(x4)(300cm)(WN50-STR)(P)
5056656349357
£39.99
550 g
5 x 180cm
4 Pack of Personalised Luggage Straps (UK Made Suitcase Straps)
(Strap 180cm) - Mixed Pack (Striped, Red, Yellow, Royal) (Personalised with Text)
FGLUG001(x4)(180cm)WEB-STR-R-Y-RB(P)
5056656349418
£31.99
375 g
5 x 180cm
4 Pack of Personalised Luggage Straps (UK Made Suitcase Straps)
(Strap 250cm) - Mixed Pack (Striped, Red, Yellow, Royal) (Personalised with Text)
FGLUG001(x4)(250cm)WEB-STR-R-Y-RB(P)
5056656349425
£34.99
476 g
5 x 180cm
4 Pack of Personalised Luggage Straps (UK Made Suitcase Straps)
(Strap 300cm) - Mixed Pack (Striped, Red, Yellow, Royal) (Personalised with Text)
FGLUG001(x4)(300cm)WEB-STR-R-Y-RB(P)
5056656349432
£39.99
551 g
5 x 180cm
4 Pack of Personalised Luggage Straps (UK Made Suitcase Straps)
(Strap 180cm) - Mixed Pack (Black, White, Grey, Navy) (Personalised with Text)
FGLUG001(x4)(180cm)WEB-BL-W-GY-NB(P)
5056656349449
£31.99
375 g
5 x 180cm
4 Pack of Personalised Luggage Straps (UK Made Suitcase Straps)
(Strap 250cm) - Mixed Pack (Black, White, Grey, Navy) (Personalised with Text)
FGLUG001(x4)(250cm)WEB-BL-W-GY-NB(P)
5056656349456
£34.99
476 g
5 x 180cm
4 Pack of Personalised Luggage Straps (UK Made Suitcase Straps)
(Strap 300cm) - Mixed Pack (Black, White, Grey, Navy) (Personalised with Text)
FGLUG001(x4)(300cm)WEB-BL-W-GY-NB(P)
5056656349463
£39.99
551 g
5 x 180cm
4 Pack of Personalised Luggage Straps (UK Made Suitcase Straps)
(Strap 180cm) - Mixed Pack (Black and White) (Personalised with Text)
FGLUG001(x4)(180cm)WEB-BLX2-WX2(P)
5056656349388
£31.99
375 g
5 x 180cm
4 Pack of Personalised Luggage Straps (UK Made Suitcase Straps)
(Strap 250cm) - Mixed Pack (Black and White) (Personalised with Text)
FGLUG001(x4)(250cm)WEB-BLX2-WX2(P)
5056656349395
£34.99
476 g
5 x 180cm
4 Pack of Personalised Luggage Straps (UK Made Suitcase Straps)
(Strap 300cm) - Mixed Pack (Black and White) (Personalised with Text)
FGLUG001(x4)(300cm)WEB-BLX2-WX2(P)
5056656349401
£39.99
551 g
5 x 180cm
4 Pack of Personalised Luggage Straps (UK Made Suitcase Straps)