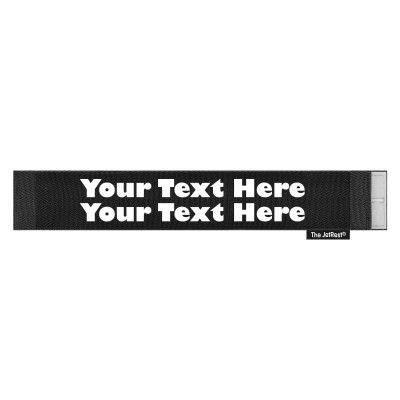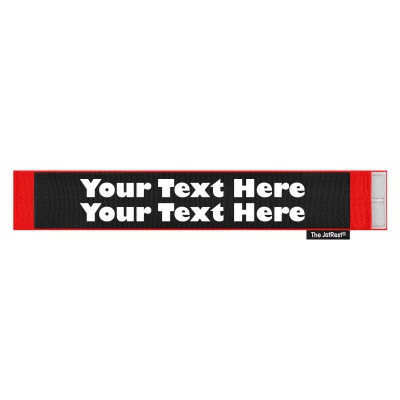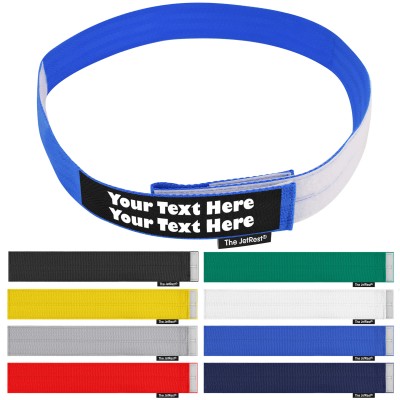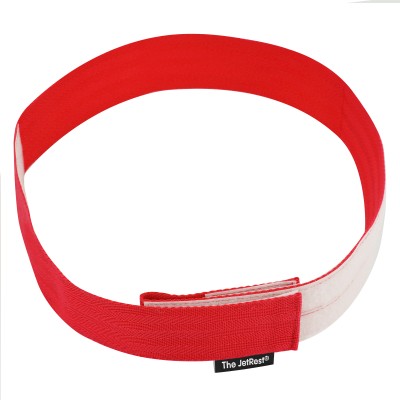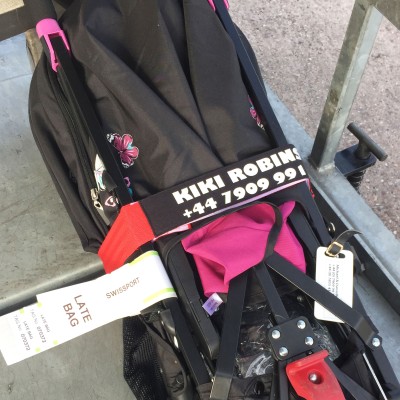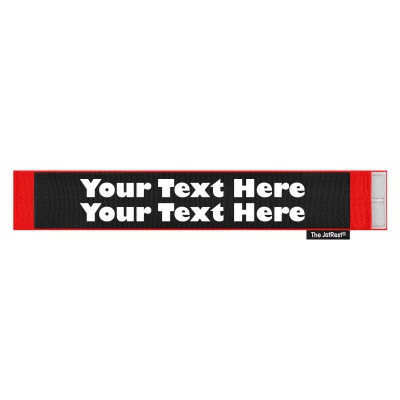 Personalised Luggage Strap (Buggy's & Strollers)
UK Made
Description
The JetRest® Personalised Buggy Straps are made to hold your stroller pram together in transit and stand out in the crowd when collecting your childs pram.
One size fits all buggy strap.
Strong nylon strap with double velcro style fastening.
Many colour options.
Personalised with your details.
Trusted JetRest® brand
When travelling with our toddler and her buggy we found that the airlines will throw all buggies around until you collect them. The plastic fastening from the manufacturer on our buggy broke ages ago and when we collected it from the airport, all the strollers were in a huge tangled bundle on a cart. No way could we find it and eventually realised that ours had been buried among many and they had all tangled up at the wheels.
What better solution then than a bright strong strap, made to fit all strollers by way of adjustable velcro style fastenings and personalised with mine or our childs name and our phone number. The strap worked first time and am so pleased that the product is now available as the travel accessory for parents with toddlers on The JetRest®.
Reviews
travel strap for push chair
- Arrived on time and was worth it. Kept the pram secure and made it easy identifiable when collecting at baggage after flight. Strong and the velcro is very grippy,like the extra anchor point to attach to the pram (heather morrison)
Keeps pram in place
- Very good. Holds pram together really well. Looks stylish. (Jo)
Amazingly strong strap for our stroller
- I love this personalised strap for my childs stroller.  Taking the buggy abroad almost always involves stress finding it at the airport on arrival and they are usually such a mess.  This makes ours really stand out (we ordered a yellow strap for the black pram) and better still it held it all together and there was absolutely no damage from the airline. The perfect travel accessory for travelling with a toddler.  5 stars. (Jane Franciso)
Delivery
The information below is for guidance. Actual delivery costs and dates depend on the delivery address, weight and time your order is placed. Cut-off time for Overnight Orders is 12 noon.
| Price | Method | Manufacture Time | Delivery Time | Est. Delivery Date |
| --- | --- | --- | --- | --- |
| £3.99 | 2nd Class (Tracked LL) | 0-3 Days | 2-3 Days | Thu 7 Dec - Wed 13 Dec |
| £5.99 | 1st Class (Tracked LL) | 0-3 Days | 1-2 Days | Wed 6 Dec - Tue 12 Dec |
| £12.98 | DHL Courier (Economy M-F Pre 6pm) | 0-3 Days | 2-3 Days | Thu 7 Dec - Wed 13 Dec |
| £14.99 | Royal Mail Special Delivery (Overnight Mon-Sat Pre 1pm) | Today | Next Day (Mon-Sat) | Mon 4 Dec |
More Information
| | |
| --- | --- |
| Despatch | 0-3 Days (to Personalise) or Upgrade at Checkout for Overnight Delivery |
| Brand | The JetRest® |
| RRP | £9.99 |
| Country of Origin | United Kingdom |
| SKU | FGLUG070(100cm)(WN50-RED)(P) |
| Gtin | 5060089257394 |
| Tariff Code | 6307909899 |
| Tariff Description | Luggage Strap - Woven Webbing |
| Product Weight | 48 g |
| Product Dimensions | 5 x 100cm |
Product Options
Size
100cm
Colour
Red, Black, Navy Blue, Royal Blue, Green, Silver Grey, White, Yellow
Product Type
Luggage Straps
Travel & Outdoors > Personalised Luggage Straps
Personalised Gifts > Personalised Travel Gifts
Buggy & Stroller Luggage Strap

Personalised Luggage Strap (Buggy's & Strollers)
(100cm) - Black (Personalised with Text)
FGLUG070(100cm)(WN50-BLK)(P)
5060089257394
£9.99
48 g
5 x 100cm
Personalised Luggage Strap (Buggy's & Strollers)
(100cm) - Green (Personalised with Text)
FGLUG070(100cm)(WN50-GBG)(P)
5060089257394
£9.99
48 g
5 x 100cm
Personalised Luggage Strap (Buggy's & Strollers)
(100cm) - Yellow (Personalised with Text)
FGLUG070(100cm)(WN50-YEL)(P)
5060089257394
£9.99
48 g
5 x 100cm
Personalised Luggage Strap (Buggy's & Strollers)
(100cm) - White (Personalised with Text)
FGLUG070(100cm)(WN50-WHI)(P)
5060089257394
£9.99
48 g
5 x 100cm
Personalised Luggage Strap (Buggy's & Strollers)
(100cm) - Silver Grey (Personalised with Text)
FGLUG070(100cm)(WN50-GLG)(P)
5060089257394
£9.99
48 g
5 x 100cm
Personalised Luggage Strap (Buggy's & Strollers)
(100cm) - Royal Blue (Personalised with Text)
FGLUG070(100cm)(WN50-BRO)(P)
5060089257394
£9.99
48 g
5 x 100cm
Personalised Luggage Strap (Buggy's & Strollers)
(100cm) - Red (Personalised with Text)
FGLUG070(100cm)(WN50-RED)(P)
5060089257394
£9.99
48 g
5 x 100cm
Personalised Luggage Strap (Buggy's & Strollers)
(100cm) - Navy Blue (Personalised with Text)
FGLUG070(100cm)(WN50-BNA)(P)
5060089257394
£9.99
48 g
5 x 100cm
Personalised Luggage Strap (Buggy's & Strollers)