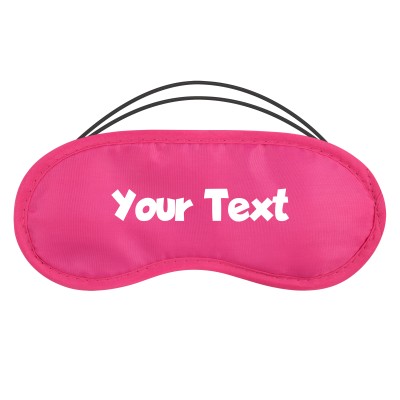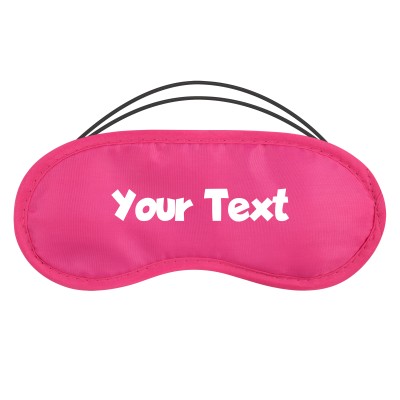 Personalised Childrens Eye Masks
Description
Childrens Airline Eye Masks Personalised with Text and perfect for travelling kids or sleeping at home.
Low cost childrens eye masks.
Double elastic fastening to hold in place.
Can be personalised with text of your choice.
Smaller version of our airline eye masks.
Available in vibrant colours.
Approximately 15cm by 7cm.
Trusted JetRest® brand.
These fun little eye masks are available in boys and girls versions and are a nice cost effective option for travel. Available in blue and pink colours, you can mix and match with this bargain twin pack.
Each mask is made with double fabric and a foam lining which helps to block out the light. Perfect for the little ones to help them sleep on your journey.
We are also able to print the text of your choice on the masks to give it a more personal feel, be it a name or a favourite phrase, kids are sure to love these mini eye masks.
Reviews
The eyemasks help the Grandchildren to sleep when the nights/mornings are light.
- My order arrived promptly, good quality product, well printed and the Grandchildren liked wearing them in bed. (Gill, 08/07/21)
Excellent
- These are the second sleep masks I have purchased for my children, the last were just over 2 years ago and were still functioning but had had a lot of use! The quality is excellent and my children love them. (Mrs Lloyd)
Perfect for a slumber party!
- I bought this product for my daughters slumber party that we were hosting. All the girls loved it and it meant that they had a personalised gift to take home. Great value for the parent too :) (Anon)
Amazing!
- I bought these for my little boy and girl. They are so comfortable and won't go to sleep without them. Delivery was quick. Just overall. Awesome (Sandra)
Very happy
- Very happy with product. Sign of a good company is how quickly they sort things when they go wrong. There was a mistake but they were really attentive and sorted it quickly. Would use again (Silk)
Eye pads
- Very good my boys loved them (Jeannie)
Perfect for little ones
- These eye masks fit my 5yr old & 7yr old perfectly. My youngest loves it & sleeps in it every night. They have been essential over the light summer nights. My daughters has just started to frey after 6 months nightly wear hence the re-order, which I have no problem with as they are an absolute bargain price. I would recommend them. (JanR)
As described
- These eye masks are as described. They are comfortable for my 6 year old daughter. (anonymous)
grandchildren sleep later these light mornings
- my grandchildren are delighted with the sleep masks. Their parents are too as the children are no longer waking at first light. (Susan)
My daughter Imogen loves these
- About to buy more of these - our 3rd purchase I think. Not sure where they all end up??. Imogen (7) wears these every night and has done since she was 3. She finds them very comfortable and probably wouldn't sleep without them! (Jo)
Airline Eye Masks
- I bought the twin pack of airline masks for my grandson as he wasn't sleeping well. He loved them, they were soft and silky also he liked having his name on them. (anonymous)
Brilliant for the kids!
- I recently purchased two personalised Children's Airline Style Sleeps Masks for my niece and nephew to help keep them asleep longer in the bright summer mornings. They absolutely love them, as does my sister! They also loved that they had their name on them. Would definitely recommend them and other products from this site. Easy to order and fast delivery. (Paula Dunn)
Fabulous!
- Bought these for my daughter's birthday sleepover. A huge hit with everyone. So much so, I've just ordered a load more for camping. (KateH)
Cute eye mask that the kids love
- After a holiday to Florida where the kids got eye masks on the flight, they decided they wanted ones of their own. The 2 pack was great as I managed to get a pink one and a blue one for my son and daughter, and the fact they were personalised was an added bonus. A great stocking filler as they were bought before Xmas. (Elena Henderson)
Happy Spa Party Girls!
- Bought these personalised eye masks for my daughters birthday Spa Party guests. Delivery was exceptional as I had to wait for replies before I could order and they arrived in a couple of days. My daughter is still wearing hers every night and sleeping longer! Thanks so much. (Katy)
Great product
- 2nd time of ordering this item. Great fun for kids sleepovers & recommended to a friend also. Very quick delivery. (Zoplod)
great for kids sleepover
- This is the second lot of kids eye masks I have ordered. The personalized aspect is brilliant ... ordered for the birthday sleepovers and the kids are all still wearing them! A bit of fun for the party bag and you can get different names on each. Fabulous! Great customer service too, an excellent company to deal with. (zo_plod)
Kid's eye mask
- The girls like their masks - they stay in place all night, and I don't get woken up at dawn! (Frances)
These work a treat!
- I ordered these eye masks to help my 5 year old get to sleep in the summer months. I immediately noticed a difference in the time it took her to nod off for the night! Before we tried this tactic, she used to take up to 40 minutes to settle, complainting it was too light in her room. Now, she's asleep within 10 minutes. I would recommend to any parent looking for a sleep solution during the summer season. Would work on flights, camping, etc. The masks are made from soft material, have a double layer to block out light and two secure elastic bands which fit comfortably around a child`s head. Can't praise this product enough! (Sylvie)
So much fun
- Bought these for my daughters sleepover. So cute and great that you could personalize each one! Great quality & fast delivery. Went down a treat with the girls! (Zoe)
great product great service
- The masks are perfect. Very good value. My grandson loves his mask and he gets to sleep earlier and sleeps in later. The summer nights have been a real problem till now (maggotti)
Made my daughters Christmas!
- When my 7 year old asked for an 'eye mask' for herself and her cuddly cat (Marie from Aristocats!) she was asking Santa for, I was beginning to doubt my ability to source such a thing! Then I came across The Jet Rest and the personalised Twin pack...couldn't believe my luck! My daughters face on Christmas morning when she opened the little parcel to find 2 personalised pink eye masks was the best moment of the day! The quality is brilliant, they fit perfectly and the service was top notch! Thank you! x (Jen Scott)
My daughter loves these eye masks
- I can really recommend these masks. My daughter has always been distracted at bedtimes and finds it hard to settle but these masks take away the distractions and allow her to sleep much faster. She is also very good at sleeping in until late - i like those 8 or later weekend lie ins! The masks have really helped with the summer light evenings especially when travelling in the car in the evening. (Joanna)
Delivery
The information below is for guidance. Actual delivery costs and dates depend on the delivery address, weight and time your order is placed. Cut-off time for Overnight Orders is 12 noon.
| Price | Method | Manufacture Time | Delivery Time | Est. Delivery Date |
| --- | --- | --- | --- | --- |
| £3.99 | 2nd Class (Tracked LL) | 0-3 Days | 2-3 Days | Mon 25 Sep - Fri 29 Sep |
| £5.99 | 1st Class (Tracked LL) | 0-3 Days | 1-2 Days | Fri 22 Sep - Thu 28 Sep |
| £12.93 | DHL Courier (Economy M-F Pre 6pm) | 0-3 Days | 2-3 Days | Mon 25 Sep - Fri 29 Sep |
| £12.99 | Royal Mail Special Delivery (Overnight Mon-Sat Pre 1pm) | Tomorrow | Next Day (Mon-Sat) | Mon 25 Sep |
More Information
| | |
| --- | --- |
| Despatch | 0-3 Days (to Personalise) or Upgrade at Checkout for Overnight Delivery |
| Brand | The JetRest® |
| Country of Origin | United Kingdom |
| SKU | EMCHFU001(P) |
| Gtin | 5056656326990 |
| Tariff Code | 6307909899 |
| Tariff Description | Eye Mask - Polyester Fabric Woven |
| Product Weight | 5 g |
| Product Dimensions | 7 x 15cm |
Product Options
Fabric
Polyester
Eye Mask Colour
Fuchsia Pink, Royal Blue
Product Type
Eye Mask
Travel & Outdoors > Personalised Travel Gifts
Home > Eye Masks
Personalised Eye Masks
Personalised Sleep Masks

Personalised Childrens Eye Masks
- Fuchsia Pink Polyester (Personalised with Text)
EMCHFU001(P)
5056656326990
£3.99
5 g
7 x 15cm
Personalised Childrens Eye Masks
- Royal Blue Polyester (Personalised with Text)
EMCHRO001(P)
5056656327003
£3.99
5 g
7 x 15cm
Personalised Childrens Eye Masks