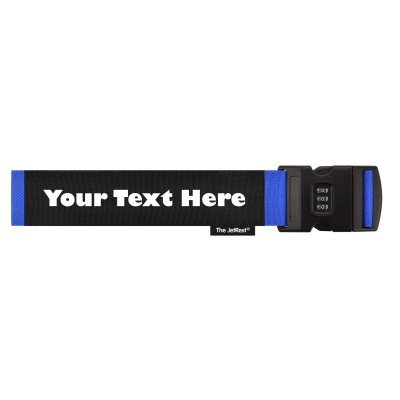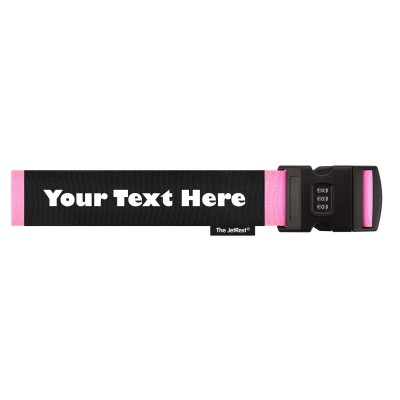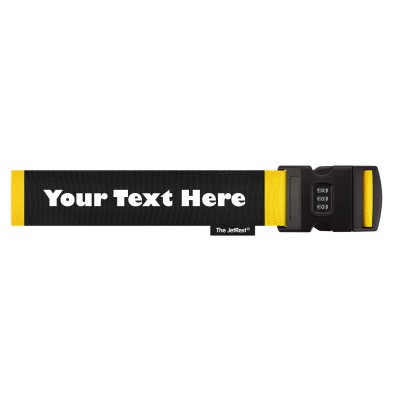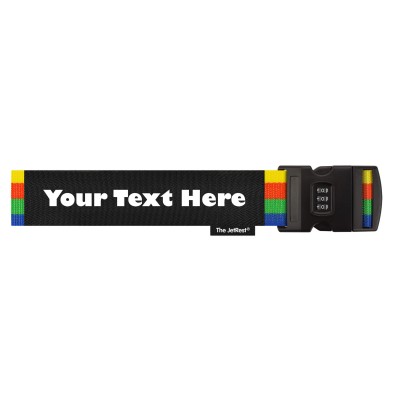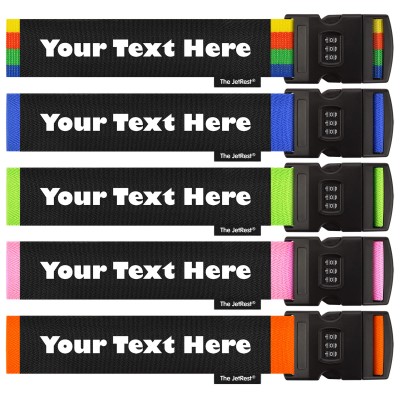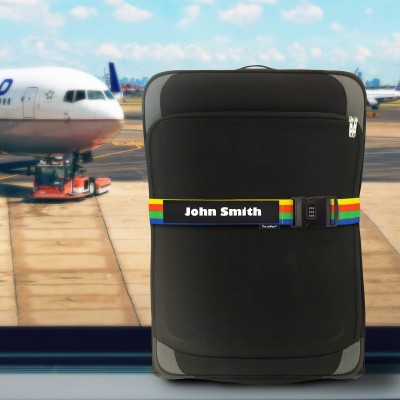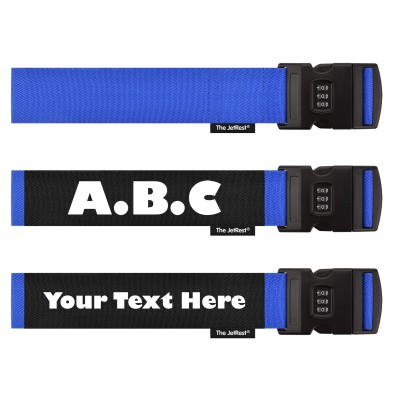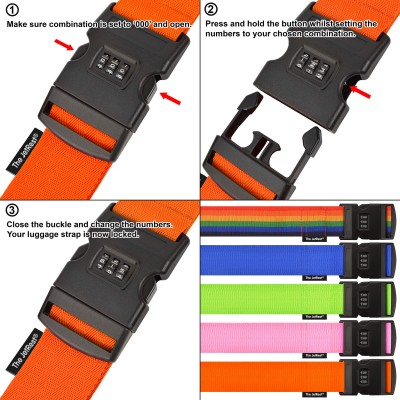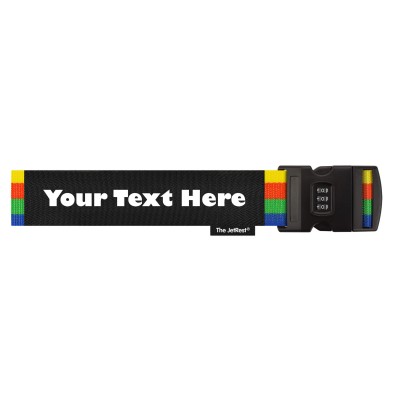 Personalised Combination Luggage Strap
Description
The JetRest® Personalised Combination Luggage Straps printed with text of your choice.
Personalised with your own text.
Durable lock design.
Set a unique combination code.
50mm wide.
Standard 180cm long.
4 striking colour options.
Optional storage pouch.
Trusted JetRest® brand
Make your airport experience a seamless one with our stunning Personalised Combination Luggage Straps. Printed in a super bold, super clear font, these remarkable straps are easily identifiable and can be quickly spotted at the carousel.
The JetRest® Personalised Combination Luggage Straps come in four striking colours for you to choose from. Exclusive to our combination suitcase strap range is a stunning pink colourway, as well as a classic striped variation for super visibility.
We offer these stunning straps in a standard 180cm length, which can be expanded or contracted accordingly. We recommend measuring your luggage before buying to ensure that our standard length is suitable for your requirements.
Personalised Combination Luggage Straps make for a wonderful and thoughtful gift idea and are perfect for frequent flyers. The robust and durable combination lock ensures peace of mind during transit, providing you with that much needed reassurance during travel.
Reviews
Great
- Great product. (Steve, 03/07/23)
Brilliant
- You can spot your luggage so quickly I absolutely love it! (Marion Rogers, 10/06/23)
Great Product
- Used recently for family holiday. They are strong and secure and easy to use. (Malc, 07/05/23)
Great product
- Strong and easy to use. The lettering is clear. Four flights with it so far and standing up really well to airport baggage handlers. (Denise , 07/04/23)
excellent product
- lovely strap. quick delivery too (Anna, 09/03/23)
Luggage straps
- Great product. Clear text. Easy to use. Would buy again. (Dibs, 22/01/23)
Very happy
- I am very happy with the strap that I bought, I have used it and it worked perfectly. (Brian, 01/12/22)
Perfect
- I bought the personalised luggage straps for my parents present they say they're perfect as spotted their cases straight away. (Julia, 23/11/22)
Alan
- Brilliant product. Easy to use. Separate your case from the rest Love it (Alan, 22/11/22)
Luggage Strap
- Excellent service, simple to use web site, prompt delivery. A quality strap and personalisation! (T59er, 03/10/22)
Perfect for spotting your suitcase
- Recently used the luggage straps on our first family holiday abroad using an airport in years. They made life so much easier on the baggage reclaim areas. (Rachel, 17/06/22)
Brilliant
- Great purchase, long strong straps and personalised . Very easy to spot when your luggage is coming around on the carousel. (Jan, 12/05/22)
Excellent!
- Daughter is delighted! Really strong luggage straps & the locking code function is a great idea. (Bert 28, 01/02/22)
Excellent Product
- With so many similar luggage straps on a carousel it can be easy to mis-identify our cases. With this multi-coloured strap with our names on, this problem goes away. Well recommended. (Shrimper, 13/10/21)
Great Strap!
- Lovely colours and very distinctive strong strap which made it so very easy to pick out my suitcase from so many similar ones. I would thoroughly recommend it to anyone (Hilary, 05/08/21)
Great product
- Really pleased with my personalised name strap. (Mary , 12/09/20)
baggage strap
- Excellent quality, easy to use. Good value speedily delivered (edward, 30/08/20)
luggage
- Brilliant glad I bought them (Harleysgran, 15/08/20)
Personalised Combination Luggage Straps
- I am well pleased with these straps, good quality and fast service form the company. Would definitely buy for them again (Sandra Hunter)
Luggage Strap
- Easy ordering and delivered on time. (Martin Jones)
Really pleased
- Ordered 3 of these straps for Christmas presents, I ordered them after the cut off to get guarantee to receive them for Christmas but they came in time with days to spare which was great. The straps look great but as they were presents I don't know how they will wear yet. (Julie havey)
Great Product and Service
- Purchased Two Named Luggage security straps for our cases which arrived very quickly. The quality is excellent and represents very good value (Jim)
Named luggage straps for Christmas presents
- My twenty something kids were really pleased with the named luggage tags. My daughter had a suitcase stolen off a carousel last year so anything that helps your luggage stand out is a bonus! (Mrs Evans)
With this I will never loose my suite case.
- A1 product even better than described. (Rob Weston)
Unique luggage straps
- Grandma and grandpa love these luggage straps, totally individual so they can always find their suitcases on the cruise. (Emily)
Great luggage srtaps
- The personalised luggage straps bought for my grandchildren will be excellent . (Wendy taylor)
Excellent Gift
- I bought personalised luggage straps for friends who travel a lot for Christmas - can't wait for them to open their present (Janet Shenton)
Luggage straps
- After a friend mistakenly picked up the wrong case at the airport I decided to buy a luggage strap with her name on. Good quality straps and quick service. Very pleased with the straps. I also bought one for myself. (Parks)
Great luggage straps ,
- They look really strong straps and with the combination lock should be really safe . Ive bought them for my family for christmas presents. (Corinne roberts)
Bright and noticable!
- I bought one of the straps for each of my seven well-travelled grandchildren. They are well made and will make it easy for them to identify their luggage! (Marilyn)
Great gift
- Well made luggage straps strong outstanding made to last (Petria)
friends xmas present
- Excellent product. Lovely vibrant colours. Sent early to Spain to use when they visit at xmas. They were delighted, and commented on their quality. Great product. (keith sumner)
Great Luggage Straps
- We purchased these straps for our upcoming holiday,very well made at a super price.Highly recommended. (Richard Lavender)
The family really like the product.
- Excellent service and product with a quick delivery.Lots of bright colours to pick from. (Trevor Ginley)
Pleased with product
- Very happy with the luggage strap. Well made and it was delivered quickly (Hazel)
Absolutely love it!
- I ordered a pink luggage strap and I absolutely love it! Thank you so much jet rest x (Lucy)
Luggage Strap with our name
- Easy to order, fast delivery and very happy with the quality of the product. It will make our luggage both strong and secure. Thank you (Barbara)
Straps
- Excellent product. Very quick delivery. Would deal with again. (ClanKenn)
THE FAB STRAP !
- I bought this luggage strap as a gift for a friend, she was highly delighted and loved the clearness of her name. Thank you. (Junielew)
Great for the Airport Luggage Conveyor
- Had my name printed on 2 luggage straps. Brilliant. Identified my luggage immediately and was away before most (Stuart KEMPSTER)
Love it!
- Great item. Very efficient service. Will buy some more in the future for next family holiday (Ninaw)
Loved personalised luggage strap
- I needed a new luggage strap for my holidays and found this website easy to use. Delivery was really quick and luggage strap was exactly as picture shows. I loved the fact that it fits all cases and love having the combination lock feature.Would definitely recommend. (Gill)
A lovely gift for a family holiday.
- These were a really great gift and comes with clear personalisation. I was really happy the straps come with a lock code aswell which was. A nice surprise. (anonymous)
Personalised luggage straps
- For what we paid,these look exceptionally good. With our name printed on them it will make finding our case easier at the cruise terminal. (Mr S Veal)
Bought 3 and look great
- I bought three of these in different colours and they are great. We all love them and make the identification at the baggage collection much easier. (Laura)
Straps for cases
- Delivered on time. The product was just what we wanted (John)
Easy to identify our luggage
- The straps arrived very quickly and made our black case standout on the luggage reclaim carousel. Very pleased with my purchase. (Karen)
luggage straps
- Excellent product ,with the combination lock makes your luggage really secure,also excellent value for money (alan)
My friend and I love this strap
- My friend and I just love the colorful strong suitcase straps good quality and very colourful .came very quickly (Patricia Fernandez)
Awesome Luggage Straps
- My wife and I were looking for something to set our luggage apart from other people's and had seen these advertised. It's great that they are personalised and also come with a combination to can't be stolen. Finding our luggage on our latest trip was a sinch. They're well made and were delivered quickly. (Richard Watkin)
Personalised Luggage Straps with lock
- Bought for relatives abroad as they thought the ones I had were great idea and as frequent travellers it makes their luggage much easier to spot. Very happy with quality too (Mrs A)
Shows good customer care.
- A great product which will really enhance our holiday experience. Even though there was an error, it was quickly corrected at no extra cost or cafuffal. (Kevin Tiernan)
Great product
- Very easy to spot our luggage with our brightly coloured personalised straps. Good quality and quick delivery (Jayne)
Easily noticeable bag straps
- The straps are easily recognised afar on the conveyor belt so that we are prepared to haul the suitcases off. Would not want to do without them. (Brigitte Marsh)
I'm suit case strap
- My personalised strap came for my suit case I'm absolute chuffed to pieces with it. Spelt everything correct and it's the way I want it to be. I will defiantly be purchasing other things from you. Will defiantly recommend you. (Shine Wallace)
Great product
- Ordered one to start with to see what they were like and was really pleased with it so ordered three more, all with our initials. All arrived quickly but one came with initials the wrong way round. A quick email with a quick response and a replacement came very quickly. Am now on holiday and straps made it really easy to identify our cases on the conveyor. Would recommend. Thank you! (Karen)
Friends are so grateful
- Excellent straps. Easy to use and visually easy to spot on the luggage carousel. My friends are delighted with these gifts (I Lockwood Hall)
great product
- Purchased second lot of luggage straps as gifts. Both recipients very pleased with them. excellent quality and value for money. hopefully will make lugage identification much easier for them. (JULIA HAYMAN)
Won,
- A very good Product.. A very prompt service. (Charles Price)
The person I got the luggage strap for real liked it
- The personalised combination luggage strap will come very handy for the person I got it for and would recommend it 2 any body that i now that would need 2 (Pat Penfold)
Does the job
- Good product at a reasonable price (Alan Paterson)
Very Happy With My Purchase
- I am very happy with my purchase.i certainly shan't miss my luggage as it trundles around on the carousel. I have my name on the multi striped strap together with a combination lock. The strap is very good quality and I think it is very good value. Would thoroughly recommend this site. Fast postage too. What more could you want apart from the luggage being on the same plane. (Clare W)
Great
- Good quality big name on strap nice combination lock clear instructions quick delivery great product (Peter Walker)
One very happy daughter
- Brought my daughter her own personalised luggage strap for her first ever holiday. So easy to order and delivery was fast. Would definitely recommend to anyone. (K webber)
Super 18th Gift
- Excellent quality product, which arrived on time. Recipient really happy and is currently travelling with her personalised luggage strap. (Ann Delaney)
Personalised luggage straps
- I ordered two .They arrived very promptly.They are well made,and will be easily seen on the luggage carousel.I would order this product again (Anne from essex)
Travel!
- Excellent baggage straps value for money. (anonymous)
Love these
- Should be able to spot easily and useful for people collecting and dropping off luggage to have the name seen easily. Liked that they can be locked also. (PJ)
Excellent luggage straps
- Just what we wanted to identify our cases as they come off the carousel at the airport. (Philip Can)
Very effective and distintive Luggage Strap
- This multi-coloured combination luggage strap fits easily around my Tripp four wheel suitcase making it very distinctive and easily retrievable from an airport luggage carousel. The strap also gives extra security with it's inbuilt combination lock with clear readable digits. I am also impressed with the high quality and robustness of the strap. Excellent product. (Gezza Kennedy)
Great luggage belts
- good quality, name is prominent, importantly stands out to easily identify your luggage - and hope no one else picks up by mistake (Anne)
A great Strap,
- Very useful for identifying your luggage and also for security. (B Chiswell)
Clearly identiable
- Strong colours and chosen logo stands out well. Easy to strap on. Any case should now be clearly identifiable on the carousel. (Gulliver)
Love our luggage strap
- Brilliant strap for our luggage with our football team on, have bought before and will buy again and recommend to everyone. Quick delivery too. (Pamela healey)
Ideal identification Tag
- Good service , Great Product and exactly what I wanted (Neil Evans)
GREAT PRODUCT
- GOOD QUALITY STRAP, SPEEDY DELIVERY, TYPE VERY CLEAR, WOULD DEF USE AGAIN. THANK YOU. (KAY)
luggage straps
- straps look great .not tried them yet .very efficient service .thanks (taff)
Luggage Straps
- They work (Gordon)
Gift for daughter & son-in-law
- My daughter wanted straps that were highly noticeable to go around her luggage. She was really pleased with these straps (Terry - Tezza)
Personalised luggage straps
- I brought some personalised luggage straps for my childrens suitcases and they were chuffed to bits. Great looking strapps with their name on them. Good fast delivery. I would recommend these and this company. Thanks. (nicolas freeland)
Worked perfectly
- Ordered a personalised luggage strap both for security and ease of bag recognition on the carousel at the airport just before I went away for 3.5 weeks. It arrived much quicker than I expected it to, and worked perfectly whilst I was away. Would have no qualms about ordering anything else from JetRest. (Liz E)
Personalised Combination Luggage Straps
- Excellent product, very pleased with them, I'm sure my friend who is travelling to New Zealand shortly will love them and her luggage will be easily recognisable. (Pauline Barton)
I like the large name tags printed on the strapes
- Look good & strong. But not used yet (June 2018)I will then know of their success. (John Baker)
Mrs
- Great product, delivery was fast, can't fsult the quality of the goods will certainly use again 5 star (Christine)
My granddaughter loved this strap for her case. It will stick out brilliantly at the airport.
- I was so pleased with the strap it's made brilliantly and it came so quickly. (Yvonne)
Personalised Luggage straps
- Fast and accurate. Amazing service and would use jetrest again anytime (anonymous)
Birthday present
- Good colour case security strap we spotted it at once and checked by our name off the luggage belt very happy with the quality also (Dawn)
Great presant
- A very welcome gift for my retired friends who are going off on their travels. Cheap but good quality...a nice touch to say goodbye (Lindylou)
Luggage straps
- We loved our personalised straps, they helped us at the airports spot our cases , good postages and price. (Pamela healey)
A useful and thoughtful present
- I ordered two luggage straps as an extra Christmas gift for my grandchildren who have just started taking holidays overseas. They were excellent value and much appreciated gifts as well as being useful, though I did have to show themn how to use them!! (Judith)
Personalised Luggage Strap
- I was really happy with the look and quality of this luggage strap. I bought it for my partner and he was very impressed too! (Caroline Lawrence)
As expected, and in good time thank you
- Great turnaround and arrived in time so the rating is for service. These were a gift for my parents who unfortunately had to cancel their trip because of illness, so to date am unable to let you know how they performed during travel. Looked like they'd do the trick though - fingers crossed for the next booking. (anonymous)
Great product
- Bought this for a friend. Product was just as described,the personalisation was excellent and only took a few days. Communication was very good too (Nanna)
Luggage
- I have purchased 2 of these for our holidays. Easy to spot suitcase .well made and good quality (Chris Hebbard)
Very useful
- I ordered a personalised luggage strap. It worked really well identifying our suitcase at the airport. Easy to use and good value for money. (Pete Sweet)
Grandad will never loose his suitcase again
- Lime green luggage strap, very string durable luggage strap. (Liz Steventon)
Suitcase recognition
- These luggage straps are really heavy duty and the name printed stands out so wil not be missed. The triple combination lock is a useful feature. (Therapist)
Make great gifts
- Excellent products and service. I bought a few as gifts to put in adult party bags as a take-home party bag (and bought one for myself). Everyone loved them and wanted the website to order gifts for other people. Fabulous idea as I can never see my luggage coming round even with bits tied on it. They're well made and fit large and small cases. Would highly recommend. (Doe)
Xmas Presents!
- Just as I expected. Excellent quality (Brian Liddell)
USEFUL PRODUCT
- Nice sturdy straps which made the luggage very easy to spot at the airport. (PETER HEWITT)
More Reviews
Instructions
Instructions for changing the combination luggage strap lock number:
Your combination lock is set to 0-0-0 when first purchased.
To change the combination, first open the lock using 0-0-0.
Press and hold the round button on the inside while changing the numbers.
Only release the button when you are happy with the new number.
Do not forget your new combination as there is no master re-set available.
FAQs
Can I personalise this strap with something other than my name?
Yes. You are free to type whatever name, message or phrase you want, as long as it's within the 18-character limit.
How are the straps printed?
We heat press your text on to a black strip which is then sewn carefully on to the strap to make a durable and strong personalisation for your straps.
Can I have different text on each strap?
Yes. Just fill in the text field for the personalised text you want on each strap.
Delivery
The information below is for guidance. Actual delivery costs and dates depend on the delivery address, weight and time your order is placed. Cut-off time for Overnight Orders is 12 noon.
| Price | Method | Manufacture Time | Delivery Time | Est. Delivery Date |
| --- | --- | --- | --- | --- |
| £3.99 | 2nd Class (Tracked LL) | 0-3 Days | 2-3 Days | Mon 25 Sep - Fri 29 Sep |
| £5.99 | 1st Class (Tracked LL) | 0-3 Days | 1-2 Days | Fri 22 Sep - Thu 28 Sep |
| £12.99 | Royal Mail Special Delivery (Overnight Mon-Sat Pre 1pm) | Tomorrow | Next Day (Mon-Sat) | Mon 25 Sep |
| £12.99 | DHL Courier (Economy M-F Pre 6pm) | 0-3 Days | 2-3 Days | Mon 25 Sep - Fri 29 Sep |
More Information
| | |
| --- | --- |
| Despatch | 0-3 Days (to Personalise) or Upgrade at Checkout for Overnight Delivery |
| Brand | The JetRest® |
| RRP | £9.99 |
| Country of Origin | China |
| SKU | FGLUG054(P) |
| Gtin | 5060089253167 |
| Tariff Code | 6307909899 |
| Tariff Description | Luggage Strap - Woven Webbing |
| Product Weight | 111 g |
| Product Dimensions | 5 x 180cm |
Product Options
Colour
Striped, Royal Blue, Yellow, Pink
Product Type
Luggage Straps
Travel & Outdoors > Personalised Luggage Straps
Personalised Gifts > Personalised Travel Gifts
Suitcase Straps
Combination Luggage Straps

Personalised Combination Luggage Strap
- Royal Blue (Personalised with Text)
FGLUG052(P)
5060089253167
£9.99
111 g
5 x 180cm
Personalised Combination Luggage Strap
- Pink (Personalised with Text)
FGLUG051(P)
5060089253167
£9.99
111 g
5 x 180cm
Personalised Combination Luggage Strap
- Yellow (Personalised with Text)
FGLUG053(P)
5060089253167
£9.99
111 g
5 x 180cm
Personalised Combination Luggage Strap
- Striped (Personalised with Text)
FGLUG054(P)
5060089253167
£9.99
111 g
5 x 180cm
Personalised Combination Luggage Strap