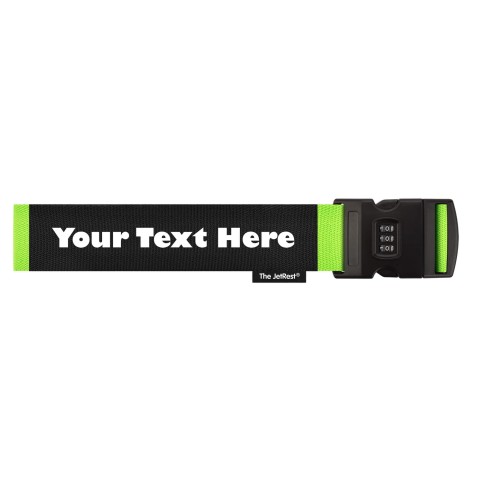 1018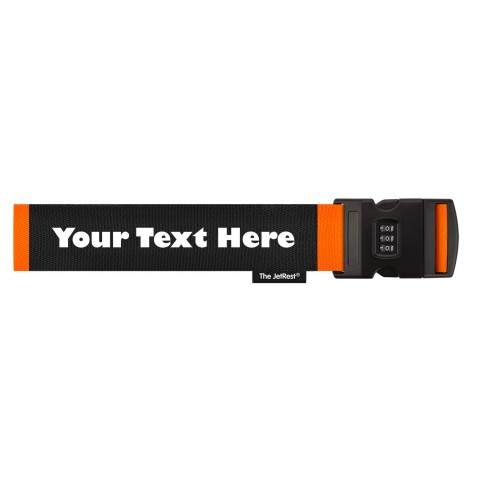 1022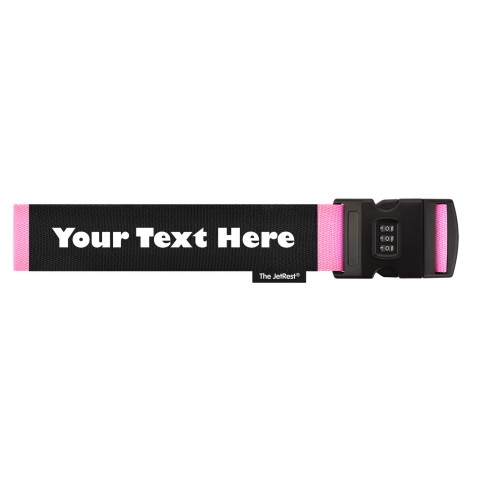 1021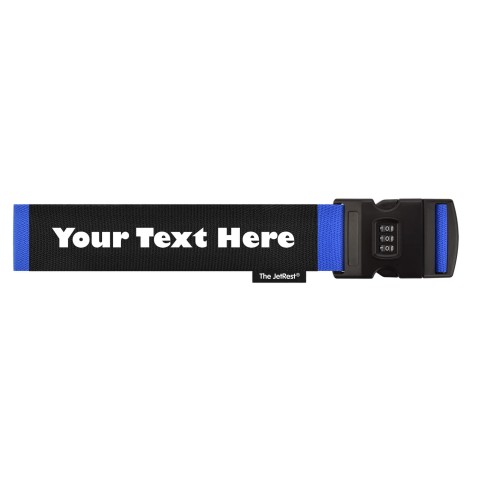 1023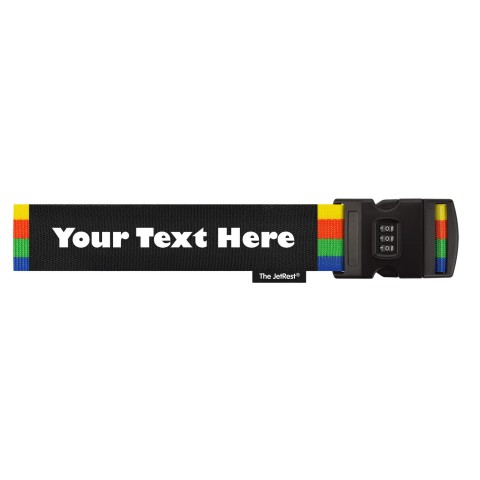 1019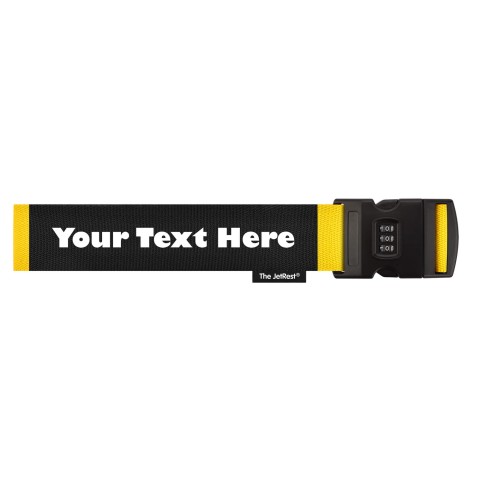 1020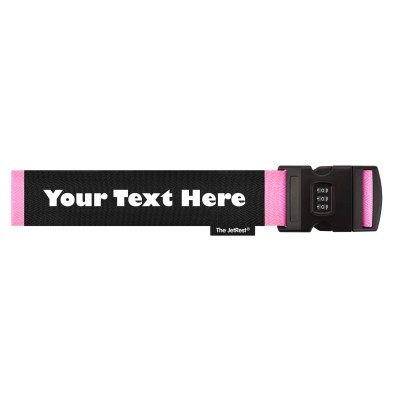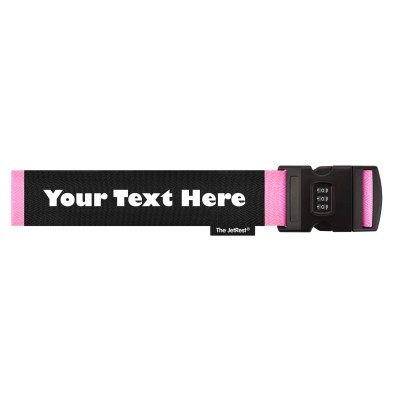 Personalised Combination Luggage Strap
Description
The JetRest® Personalised Combination Luggage Straps printed with a name of your choice.
Personalised with your own text.
Durable lock design.
Set a unique combination code.
50mm wide.
Standard 180cm long.
4 striking colour options.
Optional storage pouch.
Trusted JetRest® brand
Make your airport experience a seamless one with our stunning Personalised Combination Luggage Straps. Printed in a super bold, super clear font, these remarkable straps are easily identifiable and can be quickly spotted at the carousel.
The JetRest® Personalised Combination Luggage Straps come in four striking colours for you to choose from. Exclusive to our combination suitcase strap range is a stunning pink colourway, as well as a classic striped variation for super visibility.
We offer these stunning straps in a standard 180cm length, which can be expanded or contracted accordingly. We recommend measuring your luggage before buying to ensure that our standard length is suitable for your requirements.
Personalised Combination Luggage Straps make for a wonderful and thoughtful gift idea and are perfect for frequent flyers. The robust and durable combination lock ensures peace of mind during transit, providing you with that much needed reassurance during travel.
Reviews
Personalised Combination Luggage Straps
- I am well pleased with these straps, good quality and fast service form the company. Would definitely buy for them again
By Sandra Hunter (Jan 2019)
Luggage Strap
- Easy ordering and delivered on time.
By Martin Jones (Jan 2019)
Great Product and Service
- Purchased Two Named Luggage security straps for our cases which arrived very quickly. The quality is excellent and represents very good value
By Jim (Jan 2019)
Named luggage straps for Christmas presents
- My twenty something kids were really pleased with the named luggage tags. My daughter had a suitcase stolen off a carousel last year so anything that helps your luggage stand out is a bonus!
By Mrs Evans (Dec 2018)
With this I will never loose my suite case.
- A1 product even better than described.
By Rob Weston (Dec 2018)
Unique luggage straps
- Grandma and grandpa love these luggage straps, totally individual so they can always find their suitcases on the cruise.
By Emily (Dec 2018)
Shipping
The information below is for guidance. Actual delivery costs and dates depend on the delivery address, weight and time your order is placed. Cut-off time for Overnight Orders is 12 noon.
| Price | Method | Manufacture Time | Delivery Time | Est. Delivery Date |
| --- | --- | --- | --- | --- |
| £2.95 | Royal Mail - 2nd Class | 1-3 Days | 2-3 Days | Mon 3 Feb - Thu 6 Feb |
| £3.95 | Royal Mail - 2nd Class | 1-3 Days | 2-4 Days | Mon 3 Feb - Fri 7 Feb |
| £3.95 | Royal Mail - 1st Class | 1-3 Days | 1-2 Days | Fri 31 Jan - Wed 5 Feb |
| £4.99 | Royal Mail - 1st Class | 1-3 Days | 1-3 Days | Fri 31 Jan - Thu 6 Feb |
| £5.95 | Royal Mail - 2nd Class | 1-3 Days | 2-3 Days | Mon 3 Feb - Thu 6 Feb |
| £9.98 | Courier - Economy (M-F Pre 6pm) | 1-3 Days | 2-3 Days | Mon 3 Feb - Thu 6 Feb |
| £12.95 | Courier - Overnight (M-F Pre 6pm) | 1-3 Days | 1-2 Days | Fri 31 Jan - Wed 5 Feb |
| £14.95 | Royal Mail - Special Delivery (Pre 1pm) | Same Day | Next Working Day | Thu 30 Jan |
| £14.95 | Royal Mail - Special Delivery (Saturday Pre 1pm) | Monday | This Saturday | Sat 1 Feb |
| £24.95 | Courier - Economy (M-F Pre 6pm) | 1-3 Days | 2-4 Days | Mon 3 Feb - Fri 7 Feb |
More Information
| | |
| --- | --- |
| Availability | Available to Order |
| Despatch | 1-3 Days (to Personalise) or Upgrade at Checkout for Overnight Delivery |
| Brand | The JetRest |
| RRP | £10.50 |
| Weight | 146 g |
| Country of Origin | China |
| SKU | FGLUG |
| Tariff Code | 6307909899 |
| Tariff Description | Luggage Strap - Woven Webbing |
Personalised Combination Luggage Strap