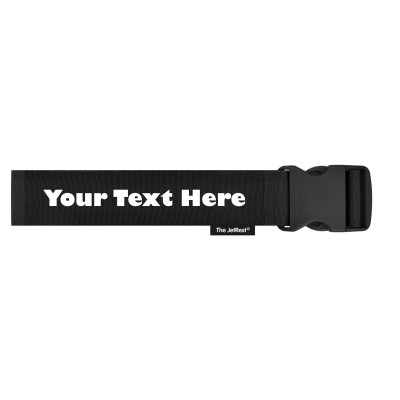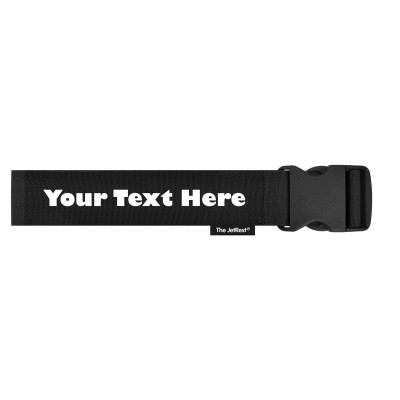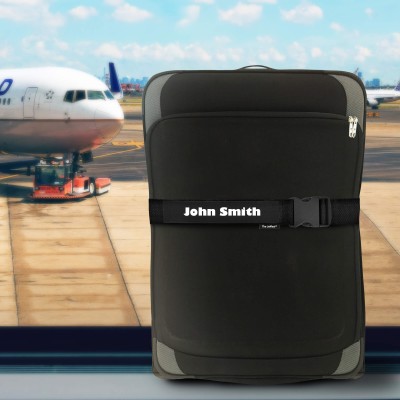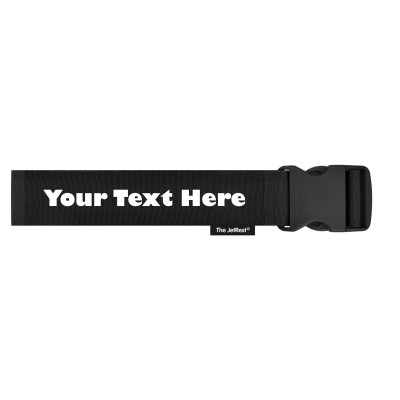 Personalised Elasticated Luggage Strap
UK Made
Description
Personalised Elasticated Luggage Strap is a stretchy suitcase strap designed to fit any size suitcase and personalised with your name or slogan to really make your luggage stand out.
Personalise with your name.
5cm wide.
180cm length.
Stretches up to 300cm.
UK Made.
Trusted JetRest® brand.
Make baggage claim stress free for you and your family with this super versatile Personalised Elasticated Luggage Strap. The elasticated webbing we use is durable and robust and has been designed to last a lifetime of traveling.
This Personalised Elasticated Luggage Strap is fully adjustable but can be also be stretched to a massive 300cm circumference, due to the webbing we use and its elasticated properties. Give yourself that much needed peace of mind with this great travel product.
The classic buckle and clasp design we use ensures your strap grips your luggage tightly. This product can be personalised with a name or message of your choice, which makes your time at the airport much less stressful, as it enables you to quickly identify your luggage at the carousel.
We will manufacture your strap to the highest possible standards, right here in our factory in Britain.
Reviews
Really good !
- Good strong straps ! Best Ive ever bought ! (Jan , 03/12/22)
At last - a luggage strap that stays where it should!
- bought these elasticated straps as the ones I had used previously always worked loose. Have only used them for one journey so far but am delighted to say they stayed in place and because they had our names on them they were easy to spot of the conveyor belt. (Nessa)
Returning customer, very happy!
- Excellent quality, excellent customer service. I have been using them for years. (A Gardiner)
Personalised luggage straps
- Great service, excellent product, good value for money. (George)
Very pleased with end result
- Really pleased with how they communicated with me, knew exactly what was going on and very pleased with the product. (Jane)
Not used luggage straps yet as a present but they look really good
- Well made at a good price luggage straps. (Tom)
Elasticated Luggage Straps
- Great to see your luggage early. Fits all size cases with your name engraved on strap. (Philip James)
case strap
- A very good product, lives up to the description. (Carol)
Ready to travel
- The luggage strap is great and fits right round my enormous suitcase. Being personalised will be so easy to spot on the carasoul. Delivery was very prompt and will certainly buy again (Iris Boston)
Luggage straps
- The luggage straps we bought were exactly what we wanted. Strong, wide and very clearly marked as requested. Nuff said! (John Grant)
Personalised Luggage straps
- I ordered 2 sets or personalised straps and got 1 set free, they are of good quality and I can't wait to use them for my next holiday, some of my friends have some and used them on their suitcases, they were easily noticeable on the conveyor belt,no more waiting around to see which suitcases are ours anymore. (Annie)
Luggage straps
- Just what I wanted, excelent customer service, thankyou (Mrs jones)
excellent luggage strap
- I ordered this luggage strap as a Christmas present. It was well received especially because it was personised with his name. (Margaret L Edwards)
Customer Service Review of Personalised Elasticated Luggage Strap
- Our Personalised Elasticated Luggage Strap is great for those who need one strap that can fit a large variety of suitcase sizes. During testing, we were able to stretch the strap to a colossal 300cm circumference, allowing it to fit even the most gigantic of luggage sizes. Of course, this strap can also be downsized to fit smaller luggage and works just as well as our nylon straps. (Lance Plachciak)
FAQs
Can I personalise this strap with something other than my name?
Yes. You are free to type whatever name, message or phrase you want, as long as it's within the 18-character limit.
How are the straps printed?
We heat press your text on to a black strip which is then sewn carefully on to the strap to make a durable and strong personalisation for your straps.
Can I have different text on each strap?
Yes. Just fill in the text field for the personalised text you want on each strap.
Delivery
The information below is for guidance. Actual delivery costs and dates depend on the delivery address, weight and time your order is placed. Cut-off time for Overnight Orders is 12 noon.
| Price | Method | Manufacture Time | Delivery Time | Est. Delivery Date |
| --- | --- | --- | --- | --- |
| £3.99 | 2nd Class (Tracked LL) | 0-3 Days | 2-3 Days | Mon 25 Sep - Fri 29 Sep |
| £5.99 | 1st Class (Tracked LL) | 0-3 Days | 1-2 Days | Fri 22 Sep - Thu 28 Sep |
| £12.99 | DHL Courier (Economy M-F Pre 6pm) | 0-3 Days | 2-3 Days | Mon 25 Sep - Fri 29 Sep |
| £12.99 | Royal Mail Special Delivery (Overnight Mon-Sat Pre 1pm) | Tomorrow | Next Day (Mon-Sat) | Mon 25 Sep |
More Information
| | |
| --- | --- |
| Despatch | 0-3 Days (to Personalise) or Upgrade at Checkout for Overnight Delivery |
| Brand | The JetRest® |
| Country of Origin | United Kingdom |
| SKU | FGLUG009(180cm)(E50-BLK)(P) |
| Gtin | 5060089256724 |
| Tariff Code | 6307909899 |
| Tariff Description | Luggage Strap - Woven Webbing |
| Product Weight | 104 g |
| Product Dimensions | 5 x 180cm |
Product Options
Size
180cm, 250cm, 300cm
Colour
Black
Product Type
Luggage Straps
Travel & Outdoors > Personalised Luggage Straps
Personalised Gifts > Personalised Travel Gifts
Elasticated Luggage Straps
Elasticated Suitcase Straps

Personalised Elasticated Luggage Strap
180cm in Black (Personalised with Text)
FGLUG009(180cm)(E50-BLK)(P)
5060089256724
£10.99
104 g
5 x 180cm
Personalised Elasticated Luggage Strap
250cm in Black (Personalised with Text)
FGLUG009(250cm)(E50-BLK)(P)
5060089256724
£11.99
130 g
5 x 250cm
Personalised Elasticated Luggage Strap
300cm in Black (Personalised with Text)
FGLUG009(300cm)(E50-BLK)(P)
5060089256724
£12.99
160 g
5 x 300cm
Personalised Elasticated Luggage Strap