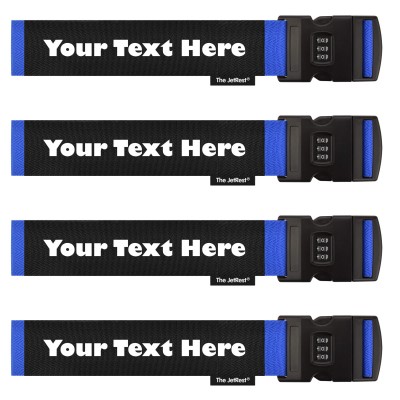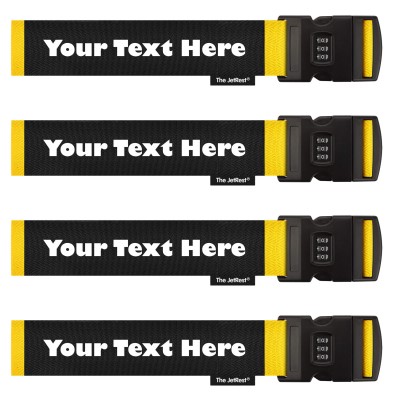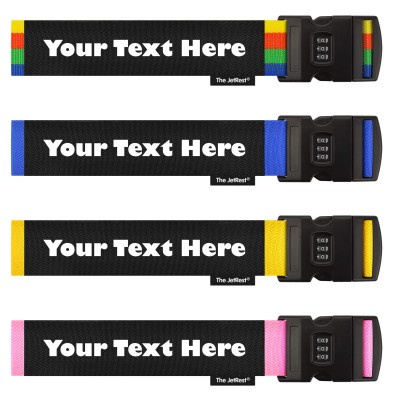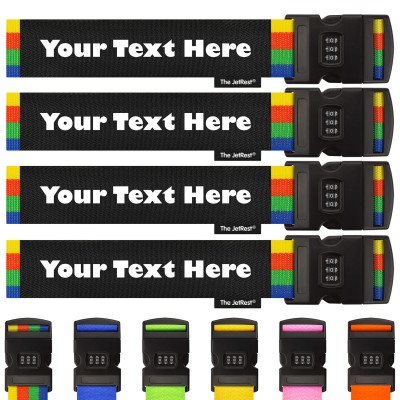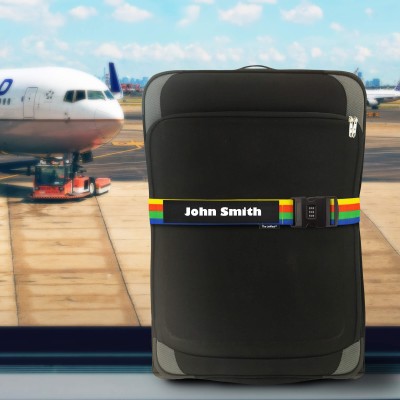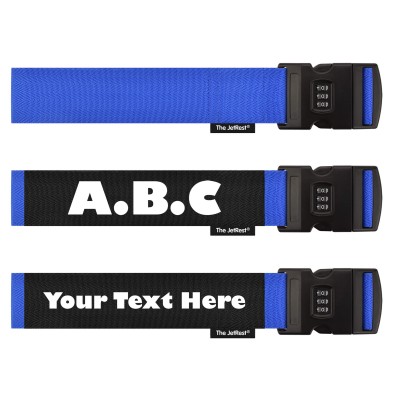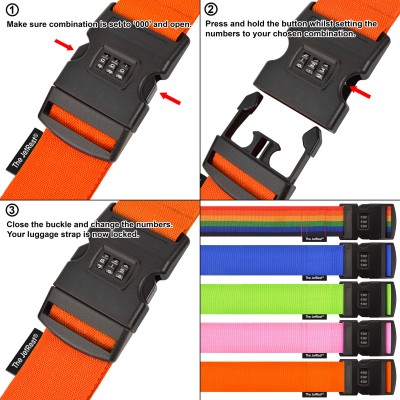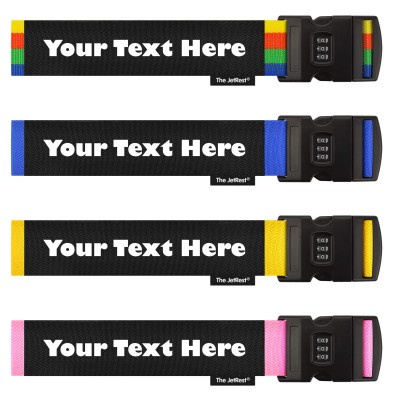 4 Pack of Personalised Combination Luggage Straps
Description
Personalised Combination Luggage Strap 4 Pack from The JetRest®.
Super value 4 pack.
Robust combination lock.
180cm long x 5cm size.
Personalised with your text.
Set your own unique code.
6 distinct colours.
Optional storage pouch bags.
Trusted JetRest® brand.
Get the peace of mind you long for with our 4 Pack of stunning Personalised Combination Luggage Straps. Each strap comes with a unique personalisation of your choice, printed in an ultra bold font for easy visibility at the carousel.
Our combination suitcase straps are available in a 180cm length as standard. Each strap is fully expandable and can be contracted down to the appropriate size if you are in need of a smaller strap. Please measure your luggage before purchasing to ensure that our strap size meets your requirements.
If you're looking for a unique gift idea and know someone who is a frequent traveller, then surprise them with this lovely 4 Pack of Personalised Combination Luggage Straps. The integrated combination lock is super easy to set and guarantees that their luggage is safe and sound during transit.
This 4 Pack is amazing value for money and as a retailer travel accessories for over a decade, we want to ensure that our products are affordable.
Reviews
4 pack personalised Combination Luggage Straps
- Fantastic! essential item for travellers, you can easily secured your luggage and easily identify by putting your name on and with highly visible colour. (Ehd, 31/07/23)
Excellent straps
- Straps are exactly what we wanted. Good strong straps and combination locks. Text is well printed so we can easily spot our cases on the conveyer belt. (Phil the fluter, 07/05/23)
Baggage strap to the rescue!
- We recently used all four luggage straps on a recent trip over Easter and was so pleased I did. For the first time one of the zips on the Antler case came apart and as I took the case off the conveyer belt at Gatwick, you could see some clothes in the gap. The luggage strap effectively prevented the case from opening and contents from falling out of the case. Our new luggage straps looked great on the cases and we have been very pleased with the quality, the safety digital lock and look of the named luggage straps. A great purchase! (Nigel Sellers, 17/04/23)
As described prompt det
- Straps were as described and the service prompt. We have used them several times no problems easily identified our luggage (Ehay, 16/02/23)
Suitcase strap
- Good quality strap easily identifiable (Andy p , 09/02/23)
Bargain Buy
- After a mishap collecting luggage early last year, we decided to purchase these straps, I have to say they were superb and made our luggage very recognisable, wouldn't hesitate to recommend them ' (Graham, 07/02/23)
Great luggage straps
- Got these straps for our family cases for holiday last summer. These straps are great. Very bright and added bonus of each of our names on them. The writing has stayed on really well, so we're good to go for the next holiday as well😀 (Lyno, 19/01/23)
Personalised luggage straps
- Excellent quality. Very sturdy. Prompt delivery and colourful. Superb. (Jo, 06/12/22)
No problems identifying cases now
- We have used these twice so far and they make a huge difference to our boring grey cases. They are immediately obvious on the luggage belt and the combination lock adds an extra level of security. (YvonneT, 02/11/22)
Luggage straps for cases
- Good value and very practical. Easily spotted on the carassel at the airport. (Ken Rolfe , 25/10/22)
Great item
- Makes life easier in the rish to collect casses (Randall, 16/05/22)
Luggage Straps 4 0f them
- Dear Sir / Madam about my review i brought the 4 luggage straps for stocking fillers for christmas and i was very pleased with them they were delivered on time and they look great and are made of good quality i am highley delighted with them and the service that i got from your selves thank you from Mr Derrick Rishworth Addingham In West yorkshire (Mr Derrick Rishworth, 12/12/21)
Luggage Straps
- Great idea, thanks (Philtw, 23/11/21)
Exactly what we ordered
- Every time we go on holiday I'm sure I know exactly what our case looks like until we come to pick it up from the carousel. These easy to use bright straps have definitely ensured that I do now reasonably priced well made win win (Skinnet, 17/10/21)
Distinctive
- We thought these straps may be flimsy but they are strong, bright and distinctive, making it easy to spot your luggage on the carousel. Recommended. (Karen, 10/10/21)
Special birthdays
- I ordered 4 luggage straps with 4 different nicknames. They were devlivered really quickly and the quality is fantastic. We haven't used them yet as our holiday has been delayed (as with everyone else!), But we plan to use them in June (2022). We love them! Certainly see our cases coming! ;-) (Jusie, 17/09/21)
Part of birthday gift
- The straps are good quality with bold names which makes for easy recognition when we are able to travel again. Would certainly recommend and great that they are British (Eileen Lewis, 18/04/21)
Luggage straps
- Bought these for my granddaughter and her husband, haven't been used yet because of restrictions for COVID-19. They are good sturdy straps, for by keeping your luggage safe they are a good way of identifying your case on the carousel. (Rebecca, 13/03/21)
4 X Personalised Luggage Straps
- Excellent quality, bright yellow personalised luggage straps. Very low price for personalised goods. Speedy delivery. (Jane, 06/02/21)
Personalised luggage straps
- Great value for money , good quality and fast reliable service top marks (Marie, 25/12/20)
Do what is written on the tin
- These straps were exactly what I wanted and expected. They stand out when on the luggage belt, are durable and simple to use, and were received in particularly good time after placing my order. An excellent buy. (Dorothy , 14/12/20)
Wow
- Not had chance to use them yet ( covid 🙄 ) but Much better quality than I expected especially for the price! Very happy with my purchase, I do need some for my little cases so will be buying some more (Linz, 21/11/20)
Luggage strap
- Excellent value for money. Strong straps (Norah , 26/10/20)
Great quality
- Great quality and very secure (Bob, 15/10/20)
Excellent
- The price which includes your name being printed on them is excellent. The straps are of different sizes so would suit more than one sized case. Just brilliant. (Victoria , 26/09/20)
Excellent
- Excellent value for money. Quality is amazing and the lock gives you added peace of mind. (Wendy, 23/09/20)
Love the straps
- Really pleased with quality of the product also the delivery was quick (Mandy)
No more hunting for your suitcase.
- Bold, bright and attractive. Quick delivery and good value. This is the second time I have bought these and never disappointed. First time given as gifts. Next time bought for myself. (Ann58)
Will see my cases from miles away now!
- Great straps to keep case securely closed. Easy to use and clearly visible on the carousel. (anonymous)
Look good & good value
- Order came quickly, products look good quality & the personalisation was all correct as I had ordered. They were ordered as gifts so I am unable to give feedback on the use of the products. Ordering 4 worked out at good value for money. (Lyndsey)
Luggage Straps
- Nice product and excellent service. Not used them yet. Waiting for the next holiday!! (AHill21)
Family surprise
- Wonderful straps !! (anonymous)
Bright and cheery
- These straps appear tough and are very bright in colour so will definitely make it easier to find luggage at airports. The personalisation is good and the customer service team were excellent in helping with the order. (Pauline)
Luggage straps
- Very pleased with the product as I was with the swift turn round of order to delivery. (Ness)
make your Luggage stand out in a crowd
- the luggage straps are bright, strong,and you wont lose sight of your luggage easily with these. Delivery was quick and troublefree (easyreader)
Ideal for the family
- Bought for myself and granddaughters as going on hols next year and they have the same cases (Ja)
luggage starps
- Excellent service and quality (Kevin Eastwood)
Case straps were saviours!
- At one US airport recently the handlers had taken all luggage off the carousel and parked it on the floor. Imagine...all so similar except for ours! Reclaimed immediately! Ego sum sana Baker. (Dr Rob Baker)
Fantastic !!
- Great quality, fast delivery looked fab on suitcases ???????? (Lesley)
Personalised Luggage Straps
- These are great quality and exactly as expected. I experienced great customer service and speedy delivery from The JetRest and would definitely buy from them again. (Adrian Reeves)
Really pleased, excellent quality and speedy delivery
- These had the best reviews on line and I can see why. Robust, easily noticed (especially the stripes). My luggage took a battering today but the strap held up well. Many thanks (Maria)
Great value for a family set of luggage straps
- I was really pleased with the straps. They are very distinctive, essential in any airport, and being able to personalise each strap makes them perfect if travelling separately. The material used is very robust and the combination locks make them very easy to adjust and fit and remove from any case. A researched many options - these are excellent value and very prompt delivery. (Margaret)
So easy to see bags at airport.
- Delighted with our personalised luggage straps and like the pin code Would recommend (anonymous)
Luggage straps
- Bought straps for the cases some years ago but as they were black did not stand out well. These ones are really good and the names also stand out. The oringals had a little key which was lost long ago where as these have code lock. Very happy and impressed also were not a silly price (ANN POTTS)
Great luggage strap
- A great product, well made, quick delivery (Dave)
Great great product
- This is simply a great product You get a pack,of personalised luggage bands You can choose style and colours etc The straps are bright and extremely eye catching. Service was prompt and efficient Loved everything about this deal. 5 star through, Regards Dave (Dave Mead)
Combi multicolour luggage straps
- Good quality, very good price straps personalised well good printing and very clear. (Ken Reseigh)
Perfect product. Speedy delivery
- Love these luggage straps. Great quality and really and really fast delivery. (anonymous)
Love our luggage straps
- We recently used these on holiday and our luggage was easily recognised by us and made reclaiming our luggage so easy (Margaret Hutchison)
Perfect for spotting suitcases quickly
- Just returned from holiday and they make it very easy to spot our luggage amongst the chaos of the airport (Jones)
Straps
- Excellent really happy with quality and delivery (Kieron)
Thick, Strong Straps
- Good quality straps. Pleased with the wording - text size and colour. Very happy. Delivery was quick too. (Michelle)
Luggage Straps
- Ordered four of these and they not only came quickly but were nice and clear. no more messing about at the airport trying to identify black luggage. (Lin Houldershaw)
my luggage straps
- i would recommend jetrest to anyone site was easy to use they kept me informed all the way through and and delivered just as advised the luggage straps are well made (edward barnes)
Brilliant personalised luggage straps
- Delighted with quality etc (Hilary Smith)
Perfect for coach trips
- As I go on several coach trips throughout the year with a group of friends it is hard to identify your case in the huge boot of the coach, these straps provide quick identification of our groups cases and extra security . Good price for a seemingly strong product . (Lizzie)
perfect
- Quick delivery. Item as promised. No probs. (Lynniehay)
Lugge straps
- Your service was excellent and the staff extremely helpful thank you (Keith Kirton)
LUGGAGE STRAP
- GOOD PRODUCT AND GOOD SERVICE. I WOULD RECOMMEND THE PRODUCT AND SELLER. (ROY BERRY)
Excellent just what i wanted
- Wanted somwthinf to make my luggage recognisable and this product certainly does that, its even has a coded lock. Would totally recommend (Julie)
Will easily identify my luggage now
- Luggage straps were as described, with a quick and prompt delivery (Doreen Holt)
REALLY STAND OUT
- JUST WHAT I ORDERED WITH PROMPT DELIVERY ,EXCELLENT PRODUCT AT GREAT PRICE . (DAVE PICKERING)
Love mine
- Have not used these yet but love the colour and the fact our names are visable from a distance (Lesley)
Amazingly good value
- Bright pink security straps are always going to be useful at the baggage carousel, and these are robust as well. UK/Dubai/Port Sudan/Khartoum/Dubai/UK no problem at all (Simon Crowe)
Great
- Good strong product and great delivery time (anonymous)
Luggage straps with our names are on
- Very pleased with the luggage straps with our names on. A great service from the company:) (Karen)
Suitcase straps with my name
- Great service the name is so bright I will never lose my suitcase I have a black one so does every body else thankyou (Alvin knight)
Great
- Very pleased with my purchase of lockable, personalised luggage straps. They really make it easy to spot and retrieve the cases from the carousel- just what I wanted. (LRC)
Luggage straps
- Very pleased, will make identifying our luggage so easy. They will certainly stand out. (anonymous)
Easy to spot on carousel
- We purchased these straps to make identification of our cases easy. Also a bit of fun as each one had our names printed on them. They are robust and come with a built in combination lock. Great value (Ron Taylor)
good straps.
- The four straps with names on are just great and look very good, i may be looking at the locks next. thank you very much (john hall)
Very satisfied customer
- Excellent service with quick delivery. Luggage straps look really good although haven't tried them as yet. (Jeanne)
Tired of struggling to recognise our cases
- Good quality strong straps - I'll pick out my luggage easily from now on! Good professional service with easy to use website. Recommended. (Bill Perry)
Personalised Combination Luggage Straps
- Just what I ordered, good communication from seller and prompt delivery (Elaine)
Know your travel bags
- Arrived very quickly, well made, instantly recognise your bags on the conveyor, and never pick up the wrong ones again. (Maurice Jones)
Personalised Luggage Straps
- Recently purchased and seem to be of strong, durable quality, having not travelled with them as yet. Products were sent in a timely manner at a good price, good customer service. Would certainly recommend and use again. (Nigel)
Fast service
- Amazingly fast service my luggage straps arrived almost as soon as they were ordered. (Elaine)
A persoal practical present
- I was very pleased with this product the straps are good quality. The straps are colourful, practical and make it easy to identify your own suitcase. (Luci)
Excellent product
- Ordered some personalised luggage straps, they arrived promptly and are excellent quality. (Carl Thompson)
great gift for future memories....
- extended family off for overseas wedding, plenty of luggage, so these were perfect gift and should last for many more trips and hopefully lots of happy memories further into the future. (anonymous)
Christmas present fun!
- I bought 8 personalised luggage straps as a gift to all my family members as we are going on a cruise together next year - so I can't comment on the quality of the straps in use, but they seem to be ok when unwrapped! Good price and they arrived as expected, so at the moment I am a very happy customer! (Just hoping now that the nephews (10 & 13) don't forget their codes for unlocking!!! (Jo B)
Excellent service
- Excellent service, prompt delivery and great value for money. Thanks (Nicky Chambers)
Luggage straps
- Personalised item bought as Christmas gift. Not used as yet but quality looks good, swift delivery. Would order again from this company. (Elspeth)
The luggage straps were just what we wanted
- The luggage straps that we purchased were just what we needed. The logo that were on them were clear to read and of the correct size for us. (George Summers)
personalised luggage straps
- I took advantage of the offer on 4 luggage straps and from the beginning I was impressed by both the service and quality of the straps. I would recommend JetRest to anyone thinking of placing an order. (anonymous)
luggage strap
- really pleased with my purchase a quality product at a very reasonable price 4 gifts bought in one hit - fantastic ! (Joyce Loadman)
Suitcase straps
- Not used them yet but they look great (Rob)
Luggage Straps - personalised
- Prompt delivery, Not used them yet but look as useful as they should be (Ennyl)
Quality case straps
- Easy order process and delivery in a week at a fair price (Mardell)
Really useful stocking filler
- We bought a number of these personalised straps with combination locks for our adult grandchildren for Christmas. The young adults are difficult to buy for - but these are an ideal gift and an imaginative improvement on socks and hankies! (Sandy)
Brilliant
- We have bought these for ourselves and as presents and would recommend them to anyone they are good quality and value for money (Jill)
Great idea
- Haven't used these straps yet but, having generic black suitcases, I imagine the bright yellow straps with our name printed on will be most helpful in picking out our luggage on the conveyor belt. Saw luggage with these on our last holiday and thought "what a great idea". Also, £17.45 (includes p&p) for 4 straps seems a good deal. (Pam from Merseyside)
Personalised product and purchase
- I bought 8 luggage straps for my friend and wanted the family name in different colours so that each case could be easily identified.I asked Pippa if this was possible and she went above and beyond to make sure that it happened.Personalised product and a personalised service.Thank you. (Sandy)
Will spot our cases so much easier!
- Good product, value for money and quick delivery. Very pleased (Linda)
Absolutely love these!
- Bought these luggage straps for the whole family! Everyone loves them! Names on them look great, straps adjust to fit all cases and the clips even have locks on them which are fab! Easy to use! (Lindsay)
Great luggage straps
- Delighted with product clearly printed and strong (Gwen)
Great product
- Great product and quick delivery (Jen)
Great way of identifying your luggage
- I ordered these luggage straps before a trip to the USA. They were as described on the site and delivered to schedule. They enabled me to quickly identify our luggage on the airport baggage carousel. I would recommend them (Andy Jopp)
Colourful personalised luggage straps
- My four straps arrived very quickly and well packaged. Unsure whether they would fit through letterbox but they did. And the recipients of the straps were delighted with their gifts. So much so that I will be placing another order using the discount voucher supplied. (Margaret)
Good product and efficient supply
- I think the review title sums it up nicely, happy with product. Particularly noteworthy are the communications you recieve from jet rest at each stage of the process - nice work! (Simon Bogdon)
More Reviews
Instructions
Instructions for changing the combination luggage strap lock number:
Your combination lock is set to 0-0-0 when first purchased.
To change the combination, first open the lock using 0-0-0.
Press and hold the round button on the inside while changing the numbers.
Only release the button when you are happy with the new number.
Do not forget your new combination as there is no master re-set available.
FAQs
Can I personalise this strap with something other than my name?
Yes. You are free to type whatever name, message or phrase you want, as long as it's within the 18-character limit.
How are the straps printed?
We heat press your text on to a black strip which is then sewn carefully on to the strap to make a durable and strong personalisation for your straps.
Can I have different text on each strap?
Yes. Just fill in the text field for the personalised text you want on each strap.
Delivery
The information below is for guidance. Actual delivery costs and dates depend on the delivery address, weight and time your order is placed. Cut-off time for Overnight Orders is 12 noon.
| Price | Method | Manufacture Time | Delivery Time | Est. Delivery Date |
| --- | --- | --- | --- | --- |
| £3.99 | 2nd Class (Tracked LL) | 0-3 Days | 2-3 Days | Thu 7 Dec - Wed 13 Dec |
| £5.99 | 1st Class (Tracked LL) | 0-3 Days | 1-2 Days | Wed 6 Dec - Tue 12 Dec |
| £13.16 | DHL Courier (Economy M-F Pre 6pm) | 0-3 Days | 2-3 Days | Thu 7 Dec - Wed 13 Dec |
| £14.99 | Royal Mail Special Delivery (Overnight Mon-Sat Pre 1pm) | Today | Next Day (Mon-Sat) | Mon 4 Dec |
More Information
| | |
| --- | --- |
| Despatch | 0-3 Days (to Personalise) or Upgrade at Checkout for Overnight Delivery |
| Brand | The JetRest® |
| RRP | £39.99 |
| Country of Origin | China |
| SKU | FGLUG054052053051(P) |
| Gtin | 5060089253501 |
| Tariff Code | 6307909899 |
| Tariff Description | Luggage Strap - Woven Webbing |
| Product Weight | 446 g |
| Product Dimensions | 5 x 180cm |
Product Options
Colour
Mixed Pack (Striped, Royal, Yellow, Pink), Striped, Royal Blue, Yellow, Pink, Mixed Pack (Pink, Royal, Pink, Royal)
Product Type
Luggage Straps
Travel & Outdoors > Personalised Luggage Straps
Personalised Gifts > Personalised Travel Gifts
personalised suitcase straps
combination luggage straps

4 Pack of Personalised Combination Luggage Straps
- Royal Blue (Personalised with Text)
FGLUG052(x4)(P)
5060089253501
£39.99
446 g
5 x 180cm
4 Pack of Personalised Combination Luggage Straps
- Pink (Personalised with Text)
FGLUG051(x4)(P)
5060089253501
£39.99
446 g
5 x 180cm
4 Pack of Personalised Combination Luggage Straps
- Yellow (Personalised with Text)
FGLUG053(x4)(P)
5060089253501
£39.99
446 g
5 x 180cm
4 Pack of Personalised Combination Luggage Straps
- Mixed Colour Pack (Striped, Royal, Yellow, Pink) (Personalised with Text)
FGLUG054052053051(P)
5060089253501
£39.99
446 g
5 x 180cm
4 Pack of Personalised Combination Luggage Straps
- Striped (Personalised with Text)
FGLUG054(x4)(P)
5060089253501
£39.99
446 g
5 x 180cm
4 Pack of Personalised Combination Luggage Straps
- Mixed Pack (Pink and Royal) (Personalised with Text)
FGLUG051052(P)
5060089253501
£39.99
446 g
5 x 180cm
4 Pack of Personalised Combination Luggage Straps