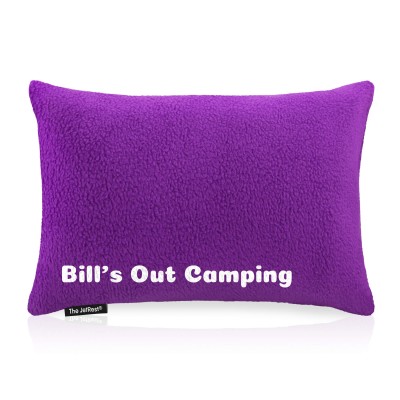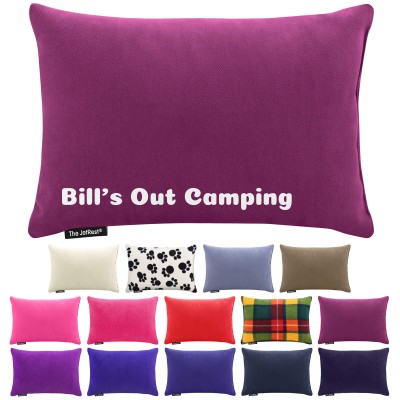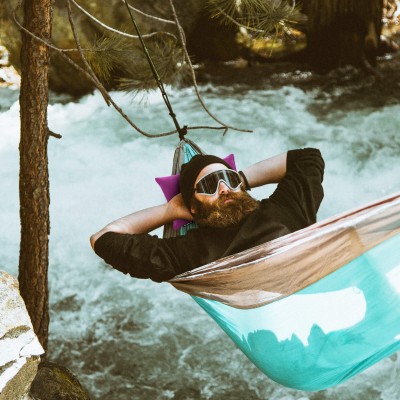 Small Travel Pillow (Camping Style)
BS5852 : 1988
UK Made
Hypo-Allergenic Filling
Organic Options *
Description
Small Travel Pillows are a really handy, super-soft pillow made smaller for travelling and camping.
Small camping pillow for adults and kids.
Hypoallergenic polyester fibre filling (BS5852).
Many fabrics and colour choices.
Optional removable cover for washing.
Lightweight and compact camping pillow.
British Made.
Can be personalised with your own message or slogan or name.
Optional lavender.
Trusted HappySnapGifts® brand.
With just the right amount of luxury polyester fibre, this travel cushion is perfect for a good night's sleep when out and about. We make all our travel pillows to order and can offer a good variety of fabric covers and colours all for the same price. Ideal for camping, outdoors, travel in the car or when you go overseas. Perfect for adults and children.
Reviews
Perfect
- Bought these for holiday. Perfect for the plane and perfect for relaxing on the sun bed. Just the right size and very well made. (Diane , 25/10/23)
Ideal Travel Pillow
- I purchased this pillow to take with me on long haul flights and it is ideally suited for that purpose. It will also be useful for gong spas, yoga classes and meditation too. (Sheri, 09/10/23)
Absolutely perfect!
- This is just what I needed - a small firm pillow to put behind my back in bed at night, to help prevent me rolling completely on to my right side. I broke my femur last year, and it's really painful to lie on that side, so this works really well. Many thanks! (Hilary , 17/08/23)
Camping Pilliow
- Expensive for what it is but ok. The postage pushed the cost up (Izzy, 02/08/23)
Pillow
- Lovely pillow really happy with it great for traveling I've just been away and used it on plane also on coach trips while I was away everyone kept asking where I got it from so hopefully more orders will come your way (Diane , 11/07/23)
Mrs Ann Taylor
- I bought two of these pillows to take on holiday. We use them for our necks on a sun bed. They're great. And don't take much space in our case. (Mrs Ann Taylor , 12/09/22)
Travel pillow
- Great little pillow, keeps it shape. I use it as a knee pillow (just the right size). But equally good as a head or neck pillow. Made my own pillowcases to take off and wash. Fits in suitcase for holidays. Love it. (Sharon, 21/07/22)
Small travel, yoga pillow
- Lovely well made pillow, bought one for myself and other for friend to use when doing yoga. Would highly recommend (Sue, 04/06/22)
Comfort
- Perfect, used medically between knees for sleeping. (Sue, 22/02/22)
Perfect small travel pillow
- My grandson was delighted with his bright red personalised travel pillow. It is a good quality product. (Sue, 23/08/21)
Expensive but Good Quality
- I purchased to give additional support to an injured wrist on longer car journeys and they proved ideal for this task, hence I am very pleased with the product. (Kevin C, 10/06/21)
Perfect Pillow
- I ordered 2 small pillows to serve as cushions on our new sofa. Delivery was when expected and the product is exactly as described. Good quality fabric and finish. Also exactly the right size to fill the gap in the back. Also serves well as a book rest when sitting upright and not needing a back rest. very happy all round (Linda , 03/02/21)
HELP FOR DISABLED PERSON
- My disabled husband - he is an amputee - needs to be as comfortable as possible and finds that the travel pillow supports his neck and head well at night. He also uses one as a rest for his one leg, which needs to be raised a little - and another for his stump, which also has to be raised. (JENNIFER HARROWER, 29/10/20)
Travel Pillow
- Ideal size for my Pilate class (Sue, 06/09/20)
OK pillow
- I bought this as an aid to a painful neck and it works well. (Popsi, 29/08/20)
useful little cushion
- Good neutral colour and robust yet attractive fabric. Very useful as a lumbar cushion or for travelling. (Lounger, 13/08/20)
Best travel pillow
- This is the best travel pillow that I have had. It is very comfortable and easy to wash. Perfect! (Briley, 18/06/20)
Moira
- I have ordered these before. They are very useful and now they have a removable cover, which makes them even better. (Moira, 10/06/20)
Anne
- Thank you for giving me time to actually try your product before asking for it to be reviewed! I am very pleased with this little cushion which is the best I have tried for the purpose. It is an ideal size for me, I am quite small, other cushions I have tried have been too big or too square. I have bought 2, one stays in my car all the time and just fits into the bit of my back that needs support when I am driving or as a passenger. The other I travel with and find the same thing, I can rest my head on it but usually use it at the base of my back. I have tried it on a long haul flight and found it extremely helpful and comfortable. The covers wash well too. (Anne, 09/06/20)
My wife loves the cushion
- The cushion my wife bought in 2014 needed replacing so we bought 2for 1 of the plain cushion. Great cushion, great value! (Phil)
My wife loves this cushion
- Great produce, really comfortable for use as car or plane passenger. (Paul)
Comfortable
- Great little cushion for back and neck comfort (Rae)
Brilliant for resting your head on
- Cushion is a perfect fit for placing on your head on when sitting on the sofa watching tv. Cushions are of good quality and service was excellent ???? (Sarah)
Spot on cushion for lower back
- This cushion is the right size for placing in your lower back, cushions are good quality and service was excellent ???? (Sarah)
My husband finds the cushion so comfortable
- Good value really useful he uses it in car and chair under his disabled leg (Lesley Mayers)
Just what was required.
- Excellent value - quick delivery. The cushion is so comfortable. Used it both on the plane & on holiday. (anonymous)
My mum loved it
- She said it was just what she wanted and now she's got two of them (BOGOF offer). (John)
I keep buying these!
- Excellent soft little cushions for travelling, or use at home for neck or back support Just the right size for comfort wherever you are. They last forever. I've left one of my two on a train, bought two for elderly relatives. They are practically weightless and easy to take wherever you go. Such good value too. (Lee)
Great cushions for the sun loungers
- Fast delivery and items just as described at a good price especially with buy one get one free, would definitely deal with again A1 (Patrick Owen)
useful and handy
- receiving two for the price of one is great as i gave the other one away as a gift, cushion is very handy and also popular with my kitten when i'm not using it for travel (Matt)
Brilliant after Breast Cancer Surgery!
- I had breast cancer surgery a few months ago and I've been looking for cushions this size for ages! I need them to fit under my armpit because of discomfort and these are the perfect size and shape! They even come with a pink removeabke cover! I have two, one for work and one for home, but will be buying more for me and some for a friend who's also had surgery! Thank you for making my life more comfortable! X (Jayne)
Perfect small cushion
- I purchased this for my mother, to support her shoulder when lying down and it does the job very well (Jon)
Holiday pillow
- Ideal for beach or bed, take on holiday, finished will, at this cost, leave behind. Great (maureen)
comfy cushion
- I haven't used it yet but it is small enough to take on a plane and feels really comfotable. (charlie)
Just ehat we were looking for
- These cushions are just what we have been searching for. I use one at night to support my knees. They are also the right size to use as neck pillows. particularly good value with the buy on get one free offer. (Kathy Kingston)
Cushions for campervan
- Thank you so much for your prompt delivery of the cushions. The buy one get one free is very good value for money and they are neat and comfortable. Thank you. (Johnnycool)
Comfortable
- The cushions are well made and hopefully will be unsecured on our travels (Sfm)
Great travel cushions
- I bought two of these cushions for my granddaughters on the buy one get one free offer. When I telephoned to ask if the offer could be supplied in two different colours they were more than happy to oblige. I bought the fuchsia and purple fleece cushions with removable covers and the girls were delighted with a cushion each in their respective favourite colours. The cushions are extremely soft to the touch and very comfortable - great product and excellent value for money on the deal - two very happy girls! (NannyfromKent)
Travel cushion
- Excellent product. I am very pleased with it/them. 2 for 1 as well! Delivery was fast also. Thank you JetRest. (Brian Henderson)
Quality!
- Great price and quality. Swift service and good friendly customer contact. Thankyou (Marty)
Perfect.
- Good quality, a perfect size to squash into hand luggage; and also to support my lower back on those uncomfortable airline seats that are designed for tall people. (Silv)
Cushions perfect for Alexander Technique
- My Alexander Teacher uses these little cushions in her lesson with me. Just the right width to tuck under armpits to help the shoulders widen and the arms relax. I bought two and whenever I'm stiffening up I use them. Just so comfortable and such good value. (Amanda)
Just what was wanted
- We had been looking for small cushions/pillows for some time, preferably without some schmuck written on them. These fitted the bill perfectly. Arrived very quickly and am very pleased. Next time I would buy the covers also (William Armstrong)
Great for lower back support
- This is the second time we have bought these small cushions as we have found them really great for providing lower back support in our cars when on long journeys. Excellent quick delivery and good value. (John Askew)
I love love love my new cushion!
- A compact cushion, ideal for travel. I use it also to make a hard upright kitchen or dining chair more comfortable. Good value for money. Arrived quickly. Very pleasant people when I asked a question before ordering. Highly recommended. (Pam Gully)
Just right for my back
- I was looking for a small cushion that sits well in the small of the lower back - I have back issues! I am very pleased with the cushion I have bought it helps a lot. (T Clark)
Just what my back needs
- This little cushion is just what my back needs on long car journeys. Most cushions are too wide but this one fits neatly into the curve of the car seat and supports the small of my back. (Lew)
My wife loves her new red knee cushion
- This cushion was ideal for my wife to replace her old one that had reached the end of its serviceable life between her knees as she slept. So thankful she found a replacement. Ideal for knobbly knee syndrome! (anonymous)
Excellent small cushion
- This cushion is perfect for putting behind back in car and planes. Has really helped with preventing lower back pain and enabling longer journeys. Fleece cover very soft and comfortable. I would highly recommend. (Jane)
Perfect
- Exactly what I was looking for and the removable cover makes it easy to keep clean. Arrived promptly - excellent service so can highly recommend both the product and the company. (PJR)
Just the job!
- Love this cushion, perfect size and so soft! (Judy)
Perfect for backpacking
- I bought this cushion for my daughter who is currently off back-packing around the world! I had it embroidered with a personal statement and she loved it and I'm sure it will have a few of it's own tales of its return!! (Katie Morrison)
Soft and comfy!
- Great little cushion/pillow. It allowed me to sleep comfortably on my recent long haul flight. It is also being used now to support my back when sitting on the sofa at home. Very grateful also that the cushion was delivered to me so quickly as I had left it till the last minute to order before my flight. Great service and excellent item. (Rosalind McClean)
Love these little pillows
- I just love these soft comforting little pillows, I use them when traveling and also in bed as I don't sleep very well but since I've used them I have slept better..... (Cathie)
Great cushion
- I recently bought 2 cushions for a trip to the States from Scotland. They were a great buy, very comfortable to lean on a overnight flight and as I have back problems I sat on it as airline cushions were useless. Back was fine after the long flight. Will spread the word re the cushions to family and friends (Granny H)
Great little travel pillow
- This is a perfect size pillow for travelling and I purchased the additional pillowcase which is great for being able to wash and keep the pillow clean. Recommended and very comfortable. (Michael)
Great pillow
- Great little pillow, wish I'd got one years ago (Diane)
Very versatile cushion.
- These little cushions are very versatile. Can be used behind head, in small of back or placed to support side if necessary. (P. page)
I bought this travel cushion for my son.
- I needed a small travel cushion for my son to take away with him to Florida and found this one. The fact that it could be personalised was brilliant and he loved it. It took awhile to be delivered not helped by the fact i picked a wording colour that needed to be altered but it did arrive before he left for his holiday so i was very pleased. When i did contact them they were responsive and helpful so cant ask for more.. Will order with them again and recommend (yvonne)
Great cushion following my operation!
- I bought this cushion to help following my recent hysterectomy .. It was ideal to slip under the seat belt to travel home and has been useful whilst recovering. The item is very good quality and love the way I can wash the cover. This will also be really useful on any long haul flights as will be more comfy than the normal airline cushion. (Gina)
Great for travelling with a bad back
- Bought this for my boyfriend as he travels a lot and suffers with lower back pain. He uses it a lot on the train and it helps. It is good quality. (Lauren)
brilliant little pillow!
- I bought 2 of these pillows for a long haul flight for myself and my boyfriend. They were perfect. I now use them everyday at home. (Lin)
Personalised Travel Pillows
- A great quality product. Personalised asa fun gift. They loved them. :-) (Damon)
Cushion
- Very comfortable when travelling (Kirti Dattani)
Lovely squidgy pillow
- I mostly use this travel pillow at home in my chair and in my bed but also for the small of my back when travelling. Very soft and comfortable and small enough to take anywhere. (Lorimar)
Fantastic Travel Pillow
- We recently used the travel pillows for our long haul flight to Maldives and they made the journey much more enjoyable. We were able to sleep for about 5 hours so it made the journey feel much less. They are very small and light weight and fitted into out hand luggage with no problem. We also purchased the removable covers and since returing have already removed them and washed them so they stay clean and fresh. A fantastic buy that I would strongly recommend to anyone for comfort. (Paul Boulton)
Travel pillow
- A very nice small pillow which I use to support my neck when resting in my armchair.Good quality.Exactly what I had been looking for. (anonymous)
perfect travel companion
- Bought one for myself and husband for a recent 10 hour coach trip. They were well worth the money. Very comfortable. Will certainly use again. (anonymous)
Small Pillow
- One of the best things i have bought in a long time.A few months ago i had an operation on my knee,and found i wasnt sleeping because of the pain in my knee,as soon as i used the pillow between my knees at bedtime,i found it was very comfortable,so no more sleepless nights. We have just been on holiday and it was small enough to go into the suitcase,so to me its worth its weight in gold. I will definately be visiting your web site again. (anonymous)
Excellent service!
- I recently ordered fleece car cushions & a blanket. The site was very easy to use, the delivery was very prompt & the goods were brilliant! I also had a to request a change for two items & I received an immediate response with replacement at no extra charge to me. An excellent service which I will definitely use again. (anonymous)
Great Lil Travel Pillows
- I bought these 2 lil travel pillows to use on our safari trip in September. One word to sum up = FAB! Fits perfectly in a rucksack (I would take one pillow out and about with me). Perfect lil size to cradle your head on a plane against the window or up against your partners shoulder. I personally use them to cushion between my knees and feet when sleeping. The material is like a corduroy if I may say, not soft, not rough, perfect! Durable for travelling. You wont be disappointed if it is a SMALL travel pillow you are looking for. (anonymous)
travel cushion
- just would like to say that I received two cushion very quickly. They were perfect for our long haul journey and would certainly recommend them. (anonymous)
Small Travel Cushion
- Great for long plane journeys (anonymous)
Small Travel Cushion
- Great for long plane journeys (anonymous)
Small Travel Cushion
- Really nice little cushion. Made the perfect gift and to be able to personalise was brill. Would highly recommend this product. (anonymous)
Perfect Size Travel Pillows
- Ordered 2 of these TINY travel pillows bank holiday Monday & recv'd them 3 days later 2nd class mail. Perfect little size to put in the nook of your neck leaning against something (my man! lol) when travelling. I personally want them to put inbetween my knees and feet for padding when sleeping. I'm sure they will flatten with time but will still do the trick. The fabric is great. Will fit in our rucksacks for our trip to Kenya/Mombasa too! Awesome, thanks. (anonymous)
More Reviews
Instructions
We recommend cleaning marks with a damp cloth.
Cleaning with a damp sponge or cloth will be the best way to clean any dirty marks off this product.
Cushions are filled with a luxury polyester fibre that creates a lovely "loftiness" that will bounce back to life.
If you wash the cushion in the washing machine, the fibres tend to move about and clump up which might spoil the look of your cushion.
The print on the outer fabric will not run.
What happens if the Lux. Fibre gets wet or is washed in the machine?
No harm will come to the polyester fibre in theory, getting it wet is inadvisable though don't panic, just dry it out normally at room temperature though don't put it in the dryer.
We found on testing that if you do put the cushion in the washing machine, it will dry out ok though the tumbling in the washing machine tends to make the fibres all clump together and become less evenly spaced in the cushion.
FAQs
What type of Fibre is used to fill our cushion & pillow Products?
Generally speaking, we use a luxury, spiral twisted and smooth-coated polyester fibre (Lux.) to fill our cushion products. Normal fibre can become lumpy over time but ours will bounce back time and again and has the benefit of being Hypoallergenic.
Does the Lux. Fibre have a Fire Rating?
Yes. We buy our fibre only from a trusted UK source that has their fibre meet the Furniture (Fire) (Safety) Regulations (BS5852). We regularly obtain updated certificates to check the latest batches meet the current requirements.
What happens if the Lux. Fibre gets wet or is washed in the machine?
No harm will come to the polyester fibre in theory, getting it wet is inadvisable though don't panic, just dry it out normally at room temperature though don't put it in the dryer. We found on testing that if you do put the cushion in the washing machine, it will dry out ok though the tumbling in the washing machine tends to make the fibres all clump together and become less evenly spaced in the cushion.
Can this product be washed?
Please refer to the "Instructions" tab for detailed information on cleaning this product and any care label sewn into the product itself.
Delivery
The information below is for guidance. Actual delivery costs and dates depend on the delivery address, weight and time your order is placed. Cut-off time for Overnight Orders is 12 noon.
| Price | Method | Manufacture Time | Delivery Time | Est. Delivery Date |
| --- | --- | --- | --- | --- |
| £4.99 | 2nd Class (Tracked) | 0-3 Days | 2-3 Days | Thu 7 Dec - Wed 13 Dec |
| £7.99 | 1st Class (Tracked) | 0-3 Days | 1-2 Days | Wed 6 Dec - Tue 12 Dec |
| £12.96 | DHL Courier (Economy M-F Pre 6pm) | 0-3 Days | 2-3 Days | Thu 7 Dec - Wed 13 Dec |
| £14.99 | Royal Mail Special Delivery (Overnight Mon-Sat Pre 1pm) | Today | Next Day (Mon-Sat) | Mon 4 Dec |
More Information
| | |
| --- | --- |
| Despatch | 0-3 Days (Made to Order) or Upgrade for Overnight Delivery at Chekout |
| Brand | HappySnapGifts® |
| RRP | £12.99 |
| Filling | Fibre |
| Country of Origin | United Kingdom |
| SKU | FGPIL004(R30x20)COT-BNA |
| Gtin | 5060599198125 |
| Tariff Code | 9404909000 |
| Tariff Description | Travel Pillow - Filled with Polyester Fibre |
| Product Weight | 120 g |
| Product Dimensions | 30 x 20 x 8cm |
Product Options
Size
30cm x 20cm
Filling
100% Polyester Fibre
Fabric
Cotton, Organic Cotton, Luxury Cotton, Fleece
Fabric Colour
Navy Blue, Purple, Natural, Royal Blue, Red, Hot Pink, Gothic Blue, Chocolate, Hot Pink (Fuchsia), Tartan Check, Paws Print
Removable Cover
Without Removable Cover, Removable Cover +
Aroma (Click to Select)
Unscented, Organic Lavender Buds +
Product Type
Travel Pillow
Travel & Outdoors > Personalised Travel Pillows
Personalised Gifts > Personalised Travel Gifts
Personalised Travel Pillow
Small Camping Pillow

Small Travel Pillow (Camping Style)
(30cm x 20cm) - Navy Blue Cotton Fabric
FGPIL004(R30x20)COT-BNA
5060599198125
£12.99
120 g
30 x 20 x 8cm
Small Travel Pillow (Camping Style)
(30cm x 20cm) - Navy Blue Cotton Fabric Removable Cover
FGPIL004(R30x20)COT-BNA(RC)
5056261064485
£20.49
220 g
30 x 20 x 8cm
Small Travel Pillow (Camping Style)
(30cm x 20cm) - Royal Blue Cotton Fabric
FGPIL004(R30x20)COT-BRO
5060599198149
£12.99
120 g
30 x 20 x 8cm
Small Travel Pillow (Camping Style)
(30cm x 20cm) - Royal Blue Cotton Fabric Removable Cover
FGPIL004(R30x20)COT-BRO(RC)
5056261064614
£20.49
220 g
30 x 20 x 8cm
Small Travel Pillow (Camping Style)
(30cm x 20cm) - Natural Cotton Fabric
FGPIL004(R30x20)COT-NAT
5060599198101
£12.99
120 g
30 x 20 x 8cm
Small Travel Pillow (Camping Style)
(30cm x 20cm) - Natural Cotton Fabric Removable Cover
FGPIL004(R30x20)COT-NAT(RC)
5060599198293
£20.49
220 g
30 x 20 x 8cm
Small Travel Pillow (Camping Style)
(30cm x 20cm) - Hot Pink Cotton Fabric Removable Cover
FGPIL004(R30x20)COT-PBU(RC)
5060599198309
£20.49
220 g
30 x 20 x 8cm
Small Travel Pillow (Camping Style)
(30cm x 20cm) - Purple Cotton Fabric
FGPIL004(R30x20)COT-PUR
5060599198132
£12.99
120 g
30 x 20 x 8cm
Small Travel Pillow (Camping Style)
(30cm x 20cm) - Purple Cotton Fabric Removable Cover
FGPIL004(R30x20)COT-PUR(RC)
5056261064683
£20.49
220 g
30 x 20 x 8cm
Small Travel Pillow (Camping Style)
(30cm x 20cm) - Red Cotton Fabric
FGPIL004(R30x20)COT-RED
5056261064775
£12.99
120 g
30 x 20 x 8cm
Small Travel Pillow (Camping Style)
(30cm x 20cm) - Red Cotton Fabric Removable Cover
FGPIL004(R30x20)COT-RED(RC)
5056261064430
£20.49
220 g
30 x 20 x 8cm
Small Travel Pillow (Camping Style)
(30cm x 20cm) - Gothic Blue Luxury Cotton Fabric
FGPIL004(R30x20)COL-BGO
5060599198279
£17.99
120 g
30 x 20 x 8cm
Small Travel Pillow (Camping Style)
(30cm x 20cm) - Gothic Blue Luxury Cotton Fabric Removable Cover
FGPIL004(R30x20)COL-BGO(RC)
5060599198477
£25.49
220 g
30 x 20 x 8cm
Small Travel Pillow (Camping Style)
(30cm x 20cm) - Chocolate Luxury Cotton Fabric
FGPIL004(R30x20)COL-BMO
5060599198286
£17.99
120 g
30 x 20 x 8cm
Small Travel Pillow (Camping Style)
(30cm x 20cm) - Chocolate Luxury Cotton Fabric Removable Cover
FGPIL004(R30x20)COL-BMO(RC)
5060599198484
£25.49
220 g
30 x 20 x 8cm
Small Travel Pillow (Camping Style)
(30cm x 20cm) - Natural Organic Cotton
FGPIL004(R30x20)COO-NAT
5056261065161
£19.99
120 g
30 x 20 x 8cm
Small Travel Pillow (Camping Style)
(30cm x 20cm) - Natural Organic Cotton Removable Cover
FGPIL004(R30x20)COO-NAT(RC)
5056261065185
£27.49
220 g
30 x 20 x 8cm
Small Travel Pillow (Camping Style)
(30cm x 20cm) - Tartan Fleece Fabric
FGPIL004(R30x20)FLE-TA01
5060599198255
£14.99
120 g
30 x 20 x 8cm
Small Travel Pillow (Camping Style)
(30cm x 20cm) - Tartan Fleece Fabric Removable Cover
FGPIL004(R30x20)FLE-TA01(RC)
5060599198453
£22.49
220 g
30 x 20 x 8cm
Small Travel Pillow (Camping Style)
(30cm x 20cm) - Paws Fleece Fabric
FGPIL004(R30x20)FLE-PW01
5060599198262
£14.99
120 g
30 x 20 x 8cm
Small Travel Pillow (Camping Style)
(30cm x 20cm) - Paws Fleece Fabric Removable Cover
FGPIL004(R30x20)FLE-PW01(RC)
5060599198460
£22.49
220 g
30 x 20 x 8cm
Small Travel Pillow (Camping Style)
(30cm x 20cm) - Royal Blue Fleece Fabric
FGPIL004(R30x20)FLE-BRO
5060599198224
£12.99
120 g
30 x 20 x 8cm
Small Travel Pillow (Camping Style)
(30cm x 20cm) - Royal Blue Fleece Fabric Removable Cover
FGPIL004(R30x20)FLE-BRO(RC)
5060599198415
£20.49
220 g
30 x 20 x 8cm
Small Travel Pillow (Camping Style)
(30cm x 20cm) - Navy Blue Fleece Fabric
FGPIL004(R30x20)FLE-BNA
5060599198217
£12.99
120 g
30 x 20 x 8cm
Small Travel Pillow (Camping Style)
(30cm x 20cm) - Navy Blue Fleece Fabric Removable Cover
FGPIL004(R30x20)FLE-BNA(RC)
5060599198408
£20.49
220 g
30 x 20 x 8cm
Small Travel Pillow (Camping Style)
(30cm x 20cm) - Purple Fleece Fabric
FGPIL004(R30x20)FLE-PUR
5060599198248
£12.99
120 g
30 x 20 x 8cm
Small Travel Pillow (Camping Style)
(30cm x 20cm) - Purple Fleece Fabric Removable Cover
FGPIL004(R30x20)FLE-PUR(RC)
5060599198439
£20.49
220 g
30 x 20 x 8cm
Small Travel Pillow (Camping Style)
(30cm x 20cm) - Navy Blue Cotton Fabric Scented (Organic Lavender Buds)
FGPIL004(R30x20)COT-BNA(LAV)
5056261064652
£13.99
121 g
30 x 20 x 8cm
Small Travel Pillow (Camping Style)
(30cm x 20cm) - Navy Blue Cotton Fabric Scented (Organic Lavender Buds) Removable Cover
FGPIL004(R30x20)COT-BNA(LAV)(RC)
5056261064744
£21.49
221 g
30 x 20 x 8cm
Small Travel Pillow (Camping Style)
(30cm x 20cm) - Royal Blue Cotton Fabric Scented (Organic Lavender Buds)
FGPIL004(R30x20)COT-BRO(LAV)
5056261064409
£13.99
121 g
30 x 20 x 8cm
Small Travel Pillow (Camping Style)
(30cm x 20cm) - Royal Blue Cotton Fabric Scented (Organic Lavender Buds) Removable Cover
FGPIL004(R30x20)COT-BRO(LAV)(RC)
5056261064492
£21.49
221 g
30 x 20 x 8cm
Small Travel Pillow (Camping Style)
(30cm x 20cm) - Natural Cotton Fabric Scented (Organic Lavender Buds)
FGPIL004(R30x20)COT-NAT(LAV)
5056261064553
£13.99
121 g
30 x 20 x 8cm
Small Travel Pillow (Camping Style)
(30cm x 20cm) - Natural Cotton Fabric Scented (Organic Lavender Buds) Removable Cover
FGPIL004(R30x20)COT-NAT(LAV)(RC)
5056261064621
£21.49
221 g
30 x 20 x 8cm
Small Travel Pillow (Camping Style)
(30cm x 20cm) - Purple Cotton Fabric Scented (Organic Lavender Buds)
FGPIL004(R30x20)COT-PUR(LAV)
5056261064461
£13.99
121 g
30 x 20 x 8cm
Small Travel Pillow (Camping Style)
(30cm x 20cm) - Purple Cotton Fabric Scented (Organic Lavender Buds) Removable Cover
FGPIL004(R30x20)COT-PUR(LAV)(RC)
5056261064546
£21.49
221 g
30 x 20 x 8cm
Small Travel Pillow (Camping Style)
(30cm x 20cm) - Red Cotton Fabric Scented (Organic Lavender Buds)
FGPIL004(R30x20)COT-RED(LAV)
5056261064607
£13.99
121 g
30 x 20 x 8cm
Small Travel Pillow (Camping Style)
(30cm x 20cm) - Red Cotton Fabric Scented (Organic Lavender Buds) Removable Cover
FGPIL004(R30x20)COT-RED(LAV)(RC)
5056261064690
£21.49
221 g
30 x 20 x 8cm
Small Travel Pillow (Camping Style)
(30cm x 20cm) - Gothic Blue Luxury Cotton Fabric Scented (Organic Lavender Buds)
FGPIL004(R30x20)COL-BGO(LAV)
5056261064379
£18.99
121 g
30 x 20 x 8cm
Small Travel Pillow (Camping Style)
(30cm x 20cm) - Gothic Blue Luxury Cotton Fabric Scented (Organic Lavender Buds) Removable Cover
FGPIL004(R30x20)COL-BGO(LAV)(RC)
5056261064287
£26.49
221 g
30 x 20 x 8cm
Small Travel Pillow (Camping Style)
(30cm x 20cm) - Chocolate Luxury Cotton Fabric Scented (Organic Lavender Buds)
FGPIL004(R30x20)COL-BMO(LAV)
5056261064300
£18.99
121 g
30 x 20 x 8cm
Small Travel Pillow (Camping Style)
(30cm x 20cm) - Chocolate Luxury Cotton Fabric Scented (Organic Lavender Buds) Removable Cover
FGPIL004(R30x20)COL-BMO(LAV)(RC)
5056261064331
£26.49
221 g
30 x 20 x 8cm
Small Travel Pillow (Camping Style)
(30cm x 20cm) - Natural Organic Cotton Scented (Organic Lavender Buds)
FGPIL004(R30x20)COO-NAT(LAV)
5056261065208
£20.99
121 g
30 x 20 x 8cm
Small Travel Pillow (Camping Style)
(30cm x 20cm) - Natural Organic Cotton Scented (Organic Lavender Buds) Removable Cover
FGPIL004(R30x20)COO-NAT(LAV)(RC)
5056261065222
£28.49
221 g
30 x 20 x 8cm
Small Travel Pillow (Camping Style)
(30cm x 20cm) - Tartan Fleece Fabric Scented (Organic Lavender Buds)
FGPIL004(R30x20)FLE-TA01(LAV)
5056261064829
£15.99
121 g
30 x 20 x 8cm
Small Travel Pillow (Camping Style)
(30cm x 20cm) - Tartan Fleece Fabric Scented (Organic Lavender Buds) Removable Cover
FGPIL004(R30x20)FLE-TA01(LAV)(RC)
5056261064904
£23.49
221 g
30 x 20 x 8cm
Small Travel Pillow (Camping Style)
(30cm x 20cm) - Paws Fleece Fabric Scented (Organic Lavender Buds)
FGPIL004(R30x20)FLE-PW01(LAV)
5056261064966
£15.99
121 g
30 x 20 x 8cm
Small Travel Pillow (Camping Style)
(30cm x 20cm) - Paws Fleece Fabric Scented (Organic Lavender Buds) Removable Cover
FGPIL004(R30x20)FLE-PW01(LAV)(RC)
5056261065031
£23.49
221 g
30 x 20 x 8cm
Small Travel Pillow (Camping Style)
(30cm x 20cm) - Royal Blue Fleece Fabric Scented (Organic Lavender Buds)
FGPIL004(R30x20)FLE-BRO(LAV)
5056261065093
£13.99
121 g
30 x 20 x 8cm
Small Travel Pillow (Camping Style)
(30cm x 20cm) - Royal Blue Fleece Fabric Scented (Organic Lavender Buds) Removable Cover
FGPIL004(R30x20)FLE-BRO(LAV)(RC)
5056261065154
£21.49
221 g
30 x 20 x 8cm
Small Travel Pillow (Camping Style)
(30cm x 20cm) - Navy Blue Fleece Fabric Scented (Organic Lavender Buds)
FGPIL004(R30x20)FLE-BNA(LAV)
5056261064874
£13.99
121 g
30 x 20 x 8cm
Small Travel Pillow (Camping Style)
(30cm x 20cm) - Navy Blue Fleece Fabric Scented (Organic Lavender Buds) Removable Cover
FGPIL004(R30x20)FLE-BNA(LAV)(RC)
5056261064942
£21.49
221 g
30 x 20 x 8cm
Small Travel Pillow (Camping Style)
(30cm x 20cm) - Purple Fleece Fabric Scented (Organic Lavender Buds)
FGPIL004(R30x20)FLE-PUR(LAV)
5056261065147
£13.99
121 g
30 x 20 x 8cm
Small Travel Pillow (Camping Style)
(30cm x 20cm) - Purple Fleece Fabric Scented (Organic Lavender Buds) Removable Cover
FGPIL004(R30x20)FLE-PUR(LAV)(RC)
5056261064850
£21.49
221 g
30 x 20 x 8cm
Small Travel Pillow (Camping Style)
(30cm x 20cm) - Purple Fleece Fabric (Personalised with Text)
FGPIL004(R30x20)FLE-PUR(P)
5060089250104
£12.99
120 g
30 x 20 x 8cm
Small Travel Pillow (Camping Style)
(30cm x 20cm) - Purple Fleece Fabric Removable Cover (Personalised with Text)
FGPIL004(R30x20)FLE-PUR(RC)(P)
5060089250104
£20.49
220 g
30 x 20 x 8cm
Small Travel Pillow (Camping Style)
(30cm x 20cm) - Royal Blue Fleece Fabric (Personalised with Text)
FGPIL004(R30x20)FLE-BRO(P)
5060089250104
£12.99
120 g
30 x 20 x 8cm
Small Travel Pillow (Camping Style)
(30cm x 20cm) - Royal Blue Fleece Fabric Removable Cover (Personalised with Text)
FGPIL004(R30x20)FLE-BRO(RC)(P)
5060089250104
£20.49
220 g
30 x 20 x 8cm
Small Travel Pillow (Camping Style)
(30cm x 20cm) - Navy Blue Fleece Fabric (Personalised with Text)
FGPIL004(R30x20)FLE-BNA(P)
5060089250104
£12.99
120 g
30 x 20 x 8cm
Small Travel Pillow (Camping Style)
(30cm x 20cm) - Navy Blue Fleece Fabric Removable Cover (Personalised with Text)
FGPIL004(R30x20)FLE-BNA(RC)(P)
5060089250104
£20.49
220 g
30 x 20 x 8cm
Small Travel Pillow (Camping Style)
(30cm x 20cm) - Tartan Fleece Fabric (Personalised with Text)
FGPIL004(R30x20)FLE-TA01(P)
5060089250104
£14.99
120 g
30 x 20 x 8cm
Small Travel Pillow (Camping Style)
(30cm x 20cm) - Tartan Fleece Fabric Removable Cover (Personalised with Text)
FGPIL004(R30x20)FLE-TA01(RC)(P)
5060089250104
£22.49
220 g
30 x 20 x 8cm
Small Travel Pillow (Camping Style)
(30cm x 20cm) - Hot Pink (Fuchsia) Fleece Fabric (Personalised with Text)
FGPIL004(R30x20)FLE-PFU(P)
5060089250104
£12.99
120 g
30 x 20 x 8cm
Small Travel Pillow (Camping Style)
(30cm x 20cm) - Hot Pink (Fuchsia) Fleece Fabric Removable Cover (Personalised with Text)
FGPIL004(R30x20)FLE-PFU(RC)(P)
5060089250104
£20.49
220 g
30 x 20 x 8cm
Small Travel Pillow (Camping Style)
(30cm x 20cm) - Paws Fleece Fabric (Personalised with Text)
FGPIL004(R30x20)FLE-PW01(P)
5060089250104
£14.99
120 g
30 x 20 x 8cm
Small Travel Pillow (Camping Style)
(30cm x 20cm) - Paws Fleece Fabric Removable Cover (Personalised with Text)
FGPIL004(R30x20)FLE-PW01(RC)(P)
5060089250104
£22.49
220 g
30 x 20 x 8cm
Small Travel Pillow (Camping Style)
(30cm x 20cm) - Navy Blue Cotton Fabric (Personalised with Text)
FGPIL004(R30x20)COT-BNA(P)
5060089250104
£12.99
120 g
30 x 20 x 8cm
Small Travel Pillow (Camping Style)
(30cm x 20cm) - Navy Blue Cotton Fabric Removable Cover (Personalised with Text)
FGPIL004(R30x20)COT-BNA(RC)(P)
5060089250104
£20.49
220 g
30 x 20 x 8cm
Small Travel Pillow (Camping Style)
(30cm x 20cm) - Royal Blue Cotton Fabric (Personalised with Text)
FGPIL004(R30x20)COT-BRO(P)
5060089250104
£12.99
120 g
30 x 20 x 8cm
Small Travel Pillow (Camping Style)
(30cm x 20cm) - Royal Blue Cotton Fabric Removable Cover (Personalised with Text)
FGPIL004(R30x20)COT-BRO(RC)(P)
5060089250104
£20.49
220 g
30 x 20 x 8cm
Small Travel Pillow (Camping Style)
(30cm x 20cm) - Natural Cotton Fabric (Personalised with Text)
FGPIL004(R30x20)COT-NAT(P)
5060089250104
£12.99
120 g
30 x 20 x 8cm
Small Travel Pillow (Camping Style)
(30cm x 20cm) - Natural Cotton Fabric Removable Cover (Personalised with Text)
FGPIL004(R30x20)COT-NAT(RC)(P)
5060089250104
£20.49
220 g
30 x 20 x 8cm
Small Travel Pillow (Camping Style)
(30cm x 20cm) - Hot Pink Cotton Fabric Removable Cover (Personalised with Text)
FGPIL004(R30x20)COT-PBU(RC)(P)
5060089250104
£20.49
220 g
30 x 20 x 8cm
Small Travel Pillow (Camping Style)
(30cm x 20cm) - Purple Cotton Fabric (Personalised with Text)
FGPIL004(R30x20)COT-PUR(P)
5060089250104
£12.99
120 g
30 x 20 x 8cm
Small Travel Pillow (Camping Style)
(30cm x 20cm) - Purple Cotton Fabric Removable Cover (Personalised with Text)
FGPIL004(R30x20)COT-PUR(RC)(P)
5060089250104
£20.49
220 g
30 x 20 x 8cm
Small Travel Pillow (Camping Style)
(30cm x 20cm) - Red Cotton Fabric (Personalised with Text)
FGPIL004(R30x20)COT-RED(P)
5060089250104
£12.99
120 g
30 x 20 x 8cm
Small Travel Pillow (Camping Style)
(30cm x 20cm) - Red Cotton Fabric Removable Cover (Personalised with Text)
FGPIL004(R30x20)COT-RED(RC)(P)
5060089250104
£20.49
220 g
30 x 20 x 8cm
Small Travel Pillow (Camping Style)
(30cm x 20cm) - Gothic Blue Luxury Cotton Fabric (Personalised with Text)
FGPIL004(R30x20)COL-BGO(P)
5060089250104
£17.99
120 g
30 x 20 x 8cm
Small Travel Pillow (Camping Style)
(30cm x 20cm) - Gothic Blue Luxury Cotton Fabric Removable Cover (Personalised with Text)
FGPIL004(R30x20)COL-BGO(RC)(P)
5060089250104
£25.49
220 g
30 x 20 x 8cm
Small Travel Pillow (Camping Style)
(30cm x 20cm) - Chocolate Luxury Cotton Fabric (Personalised with Text)
FGPIL004(R30x20)COL-BMO(P)
5060089250104
£17.99
120 g
30 x 20 x 8cm
Small Travel Pillow (Camping Style)
(30cm x 20cm) - Chocolate Luxury Cotton Fabric Removable Cover (Personalised with Text)
FGPIL004(R30x20)COL-BMO(RC)(P)
5060089250104
£25.49
220 g
30 x 20 x 8cm
Small Travel Pillow (Camping Style)
(30cm x 20cm) - Natural Organic Cotton (Personalised with Text)
FGPIL004(R30x20)COO-NAT(P)
5060089250104
£19.99
120 g
30 x 20 x 8cm
Small Travel Pillow (Camping Style)
(30cm x 20cm) - Natural Organic Cotton Removable Cover (Personalised with Text)
FGPIL004(R30x20)COO-NAT(RC)(P)
5060089250104
£27.49
220 g
30 x 20 x 8cm
Small Travel Pillow (Camping Style)
(30cm x 20cm) - Purple Fleece Fabric Scented (Organic Lavender Buds) (Personalised with Text)
FGPIL004(R30x20)FLE-PUR(LAV)(P)
5060089250104
£13.99
121 g
30 x 20 x 8cm
Small Travel Pillow (Camping Style)
(30cm x 20cm) - Purple Fleece Fabric Scented (Organic Lavender Buds) Removable Cover (Personalised with Text)
FGPIL004(R30x20)FLE-PUR(LAV)(RC)(P)
5060089250104
£21.49
221 g
30 x 20 x 8cm
Small Travel Pillow (Camping Style)
(30cm x 20cm) - Royal Blue Fleece Fabric Scented (Organic Lavender Buds) (Personalised with Text)
FGPIL004(R30x20)FLE-BRO(LAV)(P)
5060089250104
£13.99
121 g
30 x 20 x 8cm
Small Travel Pillow (Camping Style)
(30cm x 20cm) - Royal Blue Fleece Fabric Scented (Organic Lavender Buds) Removable Cover (Personalised with Text)
FGPIL004(R30x20)FLE-BRO(LAV)(RC)(P)
5060089250104
£21.49
221 g
30 x 20 x 8cm
Small Travel Pillow (Camping Style)
(30cm x 20cm) - Navy Blue Fleece Fabric Scented (Organic Lavender Buds) (Personalised with Text)
FGPIL004(R30x20)FLE-BNA(LAV)(P)
5060089250104
£13.99
121 g
30 x 20 x 8cm
Small Travel Pillow (Camping Style)
(30cm x 20cm) - Navy Blue Fleece Fabric Scented (Organic Lavender Buds) Removable Cover (Personalised with Text)
FGPIL004(R30x20)FLE-BNA(LAV)(RC)(P)
5060089250104
£21.49
221 g
30 x 20 x 8cm
Small Travel Pillow (Camping Style)
(30cm x 20cm) - Tartan Fleece Fabric Scented (Organic Lavender Buds) (Personalised with Text)
FGPIL004(R30x20)FLE-TA01(LAV)(P)
5060089250104
£15.99
121 g
30 x 20 x 8cm
Small Travel Pillow (Camping Style)
(30cm x 20cm) - Tartan Fleece Fabric Scented (Organic Lavender Buds) Removable Cover (Personalised with Text)
FGPIL004(R30x20)FLE-TA01(LAV)(RC)(P)
5060089250104
£23.49
221 g
30 x 20 x 8cm
Small Travel Pillow (Camping Style)
(30cm x 20cm) - Hot Pink (Fuchsia) Fleece Fabric Scented (Organic Lavender Buds) (Personalised with Text)
FGPIL004(R30x20)FLE-PFU(LAV)(P)
5060089250104
£13.99
121 g
30 x 20 x 8cm
Small Travel Pillow (Camping Style)
(30cm x 20cm) - Hot Pink (Fuchsia) Fleece Fabric Scented (Organic Lavender Buds) Removable Cover (Personalised with Text)
FGPIL004(R30x20)FLE-PFU(LAV)(RC)(P)
5060089250104
£21.49
221 g
30 x 20 x 8cm
Small Travel Pillow (Camping Style)
(30cm x 20cm) - Paws Fleece Fabric Scented (Organic Lavender Buds) (Personalised with Text)
FGPIL004(R30x20)FLE-PW01(LAV)(P)
5060089250104
£15.99
121 g
30 x 20 x 8cm
Small Travel Pillow (Camping Style)
(30cm x 20cm) - Paws Fleece Fabric Scented (Organic Lavender Buds) Removable Cover (Personalised with Text)
FGPIL004(R30x20)FLE-PW01(LAV)(RC)(P)
5060089250104
£23.49
221 g
30 x 20 x 8cm
Small Travel Pillow (Camping Style)
(30cm x 20cm) - Navy Blue Cotton Fabric Scented (Organic Lavender Buds) (Personalised with Text)
FGPIL004(R30x20)COT-BNA(LAV)(P)
5060089250104
£13.99
121 g
30 x 20 x 8cm
Small Travel Pillow (Camping Style)
(30cm x 20cm) - Navy Blue Cotton Fabric Scented (Organic Lavender Buds) Removable Cover (Personalised with Text)
FGPIL004(R30x20)COT-BNA(LAV)(RC)(P)
5060089250104
£21.49
221 g
30 x 20 x 8cm
Small Travel Pillow (Camping Style)
(30cm x 20cm) - Royal Blue Cotton Fabric Scented (Organic Lavender Buds) (Personalised with Text)
FGPIL004(R30x20)COT-BRO(LAV)(P)
5060089250104
£13.99
121 g
30 x 20 x 8cm
Small Travel Pillow (Camping Style)
(30cm x 20cm) - Royal Blue Cotton Fabric Scented (Organic Lavender Buds) Removable Cover (Personalised with Text)
FGPIL004(R30x20)COT-BRO(LAV)(RC)(P)
5060089250104
£21.49
221 g
30 x 20 x 8cm
Small Travel Pillow (Camping Style)
(30cm x 20cm) - Natural Cotton Fabric Scented (Organic Lavender Buds) (Personalised with Text)
FGPIL004(R30x20)COT-NAT(LAV)(P)
5060089250104
£13.99
121 g
30 x 20 x 8cm
Small Travel Pillow (Camping Style)
(30cm x 20cm) - Natural Cotton Fabric Scented (Organic Lavender Buds) Removable Cover (Personalised with Text)
FGPIL004(R30x20)COT-NAT(LAV)(RC)(P)
5060089250104
£21.49
221 g
30 x 20 x 8cm
Small Travel Pillow (Camping Style)
(30cm x 20cm) - Hot Pink Cotton Fabric Scented (Organic Lavender Buds) Removable Cover (Personalised with Text)
FGPIL004(R30x20)COT-PBU(LAV)(RC)(P)
5060089250104
£21.49
221 g
30 x 20 x 8cm
Small Travel Pillow (Camping Style)
(30cm x 20cm) - Purple Cotton Fabric Scented (Organic Lavender Buds) (Personalised with Text)
FGPIL004(R30x20)COT-PUR(LAV)(P)
5060089250104
£13.99
121 g
30 x 20 x 8cm
Small Travel Pillow (Camping Style)
(30cm x 20cm) - Purple Cotton Fabric Scented (Organic Lavender Buds) Removable Cover (Personalised with Text)
FGPIL004(R30x20)COT-PUR(LAV)(RC)(P)
5060089250104
£21.49
221 g
30 x 20 x 8cm
Small Travel Pillow (Camping Style)
(30cm x 20cm) - Red Cotton Fabric Scented (Organic Lavender Buds) (Personalised with Text)
FGPIL004(R30x20)COT-RED(LAV)(P)
5060089250104
£13.99
121 g
30 x 20 x 8cm
Small Travel Pillow (Camping Style)
(30cm x 20cm) - Red Cotton Fabric Scented (Organic Lavender Buds) Removable Cover (Personalised with Text)
FGPIL004(R30x20)COT-RED(LAV)(RC)(P)
5060089250104
£21.49
221 g
30 x 20 x 8cm
Small Travel Pillow (Camping Style)
(30cm x 20cm) - Gothic Blue Luxury Cotton Fabric Scented (Organic Lavender Buds) (Personalised with Text)
FGPIL004(R30x20)COL-BGO(LAV)(P)
5060089250104
£18.99
121 g
30 x 20 x 8cm
Small Travel Pillow (Camping Style)
(30cm x 20cm) - Gothic Blue Luxury Cotton Fabric Scented (Organic Lavender Buds) Removable Cover (Personalised with Text)
FGPIL004(R30x20)COL-BGO(LAV)(RC)(P)
5060089250104
£26.49
221 g
30 x 20 x 8cm
Small Travel Pillow (Camping Style)
(30cm x 20cm) - Chocolate Luxury Cotton Fabric Scented (Organic Lavender Buds) (Personalised with Text)
FGPIL004(R30x20)COL-BMO(LAV)(P)
5060089250104
£18.99
121 g
30 x 20 x 8cm
Small Travel Pillow (Camping Style)
(30cm x 20cm) - Chocolate Luxury Cotton Fabric Scented (Organic Lavender Buds) Removable Cover (Personalised with Text)
FGPIL004(R30x20)COL-BMO(LAV)(RC)(P)
5060089250104
£26.49
221 g
30 x 20 x 8cm
Small Travel Pillow (Camping Style)
(30cm x 20cm) - Natural Organic Cotton Scented (Organic Lavender Buds) (Personalised with Text)
FGPIL004(R30x20)COO-NAT(LAV)(P)
5060089250104
£20.99
121 g
30 x 20 x 8cm
Small Travel Pillow (Camping Style)
(30cm x 20cm) - Natural Organic Cotton Scented (Organic Lavender Buds) Removable Cover (Personalised with Text)
FGPIL004(R30x20)COO-NAT(LAV)(RC)(P)
5060089250104
£28.49
221 g
30 x 20 x 8cm
Small Travel Pillow (Camping Style)