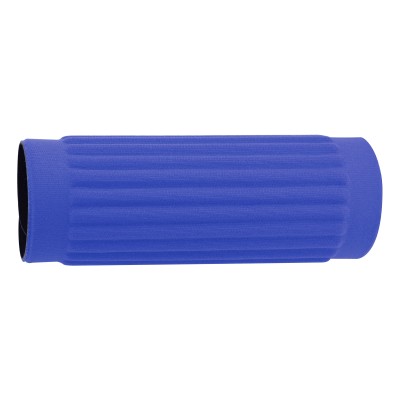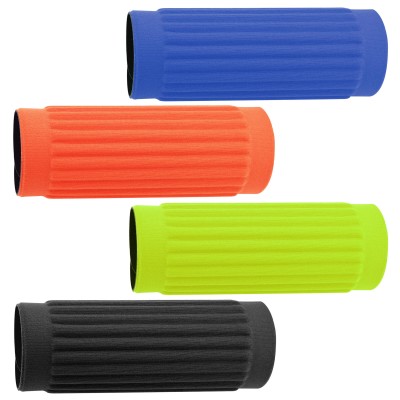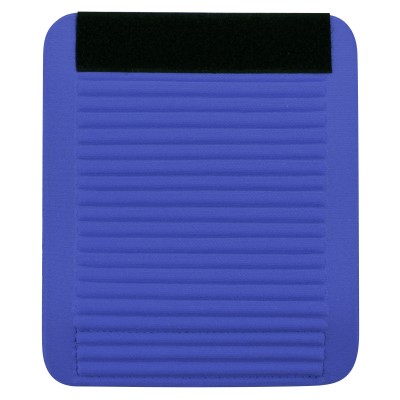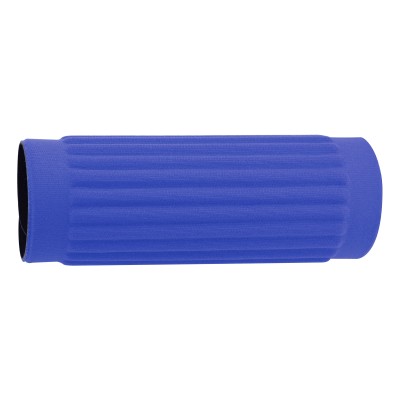 Description
The JetRest® Padded Luggage Handles make carrying any bag more comfortable with a uniquely coloured padded wrap-around handle protector.
Luxury padded luggage handles.
Wrap over your luggage for a more comfortable way of carrying your case.
Brightly coloured suitcase handles to easily identify your luggage on arrival.
Fits onto all suitcase handles, luggage, cary bags, briefcases, backpacks and many other items.
Padded neoprene wraps around the handle and fastens with Velcro.
15cm x 12cm approximately.
The JetRest Padded Luggage Handles are a great way to brightly identify your bags and suitcases and with the benefit of adding extra padded comfort for carrying.
We have all been at the airport waiting for our luggage to go round the conveyor belt and struggle to spot our suitcases. More and more people all seem to have the same as mine these days and this is where The JetRest Padded Luggage Handles come in. I use the bright green and orange handles on my luggage as they really stand out in the crowd of suitcases though we have black and also a striking royal blue available.
The JetRest Padded Luggage Handles also give extra comfort when carrying heave cases and bags as they are padded. Made from soft molded neoprene, the luggage handles are great for my suitcases though I also use them on my lap top bag and all other bags as they are simply so comfortable.
Each of our padded luggage handles comes flat packed which measure 15cm x 12cm and they roll around your luggage handle and fasten with a really strong set of velcro style hook and loop fasteners. Simply roll around your luggage handle and that's it - fastened and ready to carry.
Reviews
Too big
- Didn't fit handles on our wheeler suitcases. Would have been useful to have more info on size etc. (PeterD, 25/08/22)
Very good product
- Makes carrying heavy bags much easier. Hopefully it will stand the test of time.... (N., 31/03/21)
Very comfortable grip handle
- An excellent product. I use the padded luggage handle wrap around daily on the handles of my sports bag to and from the gym. The padded grip is extremely comfortable to hold and enables the carrying of my bag a very easy task. (Gezza, 09/09/20)
Perfect for my needs - not many things on the market like this
- Used this product to replace a perished handle cover on my guitar amp's flight case of all things - it works perfectly! (ramsay, 14/08/20)
Fantastic
- Used previously on luggage and were really comfortable so decided to purchase another set for my heavy back pack. Placed on straps so that they rest on top of shoulders. Fantastic, no more straps digging into shoulders. Recommended (J Hughes)
Padded handles
- Work well on my walking aid, stopping my hands getting sore (Sue Gray)
Why didn't I think of these before!
- For several years I have put up with aching hands because of carrying bags where the handles are too thin - they dug into the skin and joints, and instead of looking at it logically I kept searching for bags with rounded wider handles. I have arthritis in my hands, and also fibromyalgia - I can't use shoulder bags as they hurt. So, I searched online for padded handle grips and yippee, discovered these, they're the answer to my prayers and recommend them to anyone who has problems with sensitive skin and painful joints. (anonymous)
Comfortable luggage carrying
- These straps really help to make luggage more comfortable when carrying along, rather than have the thin existing bag straps cutting in to your hands. A great idea and I'm pleased I bought them. (MarianneS)
Excellent
- Does the job as described at a great price. We use ours to wrap a metal handle on a suitcase after the original plastic handle fell off metal part. (Chris S)
The best out there
- Simple, extremely comfortable, well made, very durable, and above all: No stupid branding/logo or inconsistent stiching. It's just perfect. (T. Tormes)
I searched the world for these colourful padded luggage handles
- well done couldn't find them anywhere else (aussie traveller)
Good price
- These luggage identifiers are easy to use, and they work and don't cost the earth (job)
Fantastic grip that makes carrying my sports bag effortless and comfortable
- The luggage handles that I ordered and received from you are excellent. The product is robust and well made. The velcro fold and padding gives a fantastic grip to the handles of my sports bag making it effortless and comfortable to carry. I was very impressed with the short time it took to receive the goods. Upon placing my order I was kept informed of the progress by email and the item arrived only after a few days - excellent service! Thank you very much. (Gerry Kennedy)
Exended life for shopping bag
- The handles of my favourite shopping bag were fraying so these handle covers have extended the life of my most useful shopper. (anonymous)
Love the Padded Luggage Handles
- Have now bought 3 sets of these... very useful for quick recognition. I love your products. (palurie)
Great product!Used it on the handle of my sons guitar amp! Just the job!
- Used it on the handle of my sons guitar amp! Just the job! (lesley)
Padded Luggage Handles - A Different Use
- I bought one handle to cover some wiring attached to a 1" OD metal tube in my homebuilt aircraft and it does the job perfectly. (Bob)
products as described; excellent service !
- products as described; excellent service ! (Dimitri)
Comfortable hands
- Using these regularly on shopping bags and they are excellent! (Girl Friday)
Padded Luggage Handles
- Really good for a suitcase. Adjustable to fit different thicknesses of handle. (Guy)
great handle covers
- Great handle covers. Helps to tell my bag from all the other black cases. (MARK HOSBROUGH)
Padded Luggage Handles
- Good packing - as it says on packet with excellent delivery time. (anonymous)
Delivery
The information below is for guidance. Actual delivery costs and dates depend on the delivery address, weight and time your order is placed. Cut-off time for Overnight Orders is 12 noon.
| Price | Method | Manufacture Time | Delivery Time | Est. Delivery Date |
| --- | --- | --- | --- | --- |
| £3.99 | 2nd Class (Tracked LL) | 0-1 Days | 2-3 Days | Thu 7 Dec - Mon 11 Dec |
| £5.99 | 1st Class (Tracked LL) | 0-1 Days | 1-2 Days | Wed 6 Dec - Fri 8 Dec |
| £12.91 | DHL Courier (Economy M-F Pre 6pm) | 0-1 Days | 2-3 Days | Thu 7 Dec - Mon 11 Dec |
| £14.99 | Royal Mail Special Delivery (Overnight Mon-Sat Pre 1pm) | Today | Next Day (Mon-Sat) | Mon 4 Dec |
More Information
| | |
| --- | --- |
| Despatch | Today (Cut off time 3pm M-F) |
| Brand | The JetRest® |
| RRP | £4.99 |
| Country of Origin | Sri Lanka |
| SKU | FGLUG003 |
| Gtin | 5060585037285 |
| Product Weight | 18 g |
| Product Dimensions | 18 x 12 x 0.5cm |
Product Options
Colour
Royal Blue, Orange, Lime Green
Product Type
padded handles for luggage
travel accessory > luggage > handles > padded handles

Padded Luggage Handles
- Royal Blue
FGLUG003
5060585037285
£4.99
18 g
18 x 12 x 0.5cm
Padded Luggage Handles
- Lime Green
FGLUG004
5060585037261
£4.99
18 g
18 x 12 x 0.5cm
Padded Luggage Handles
- Orange
FGLUG006
5060585037278
£4.99
18 g
18 x 12 x 0.5cm