415

415

415

415

416

416

416

416

19

19

19

19

20

20

20

20

417

417

417

417

375

375

375

375

1109

1109

1109

1109

1110

1110

1110

1110

1163

1163

1163

1163

494

494

494

494

493

493

493

493

34

34

34

34

33

33

33

33

35

35

35

35

36

36

36

36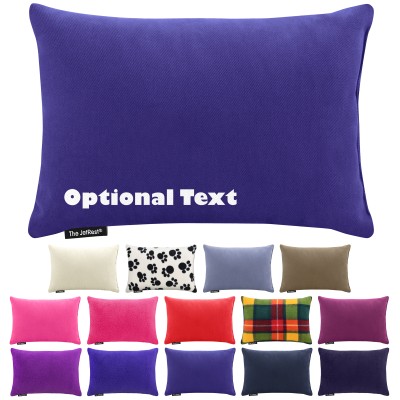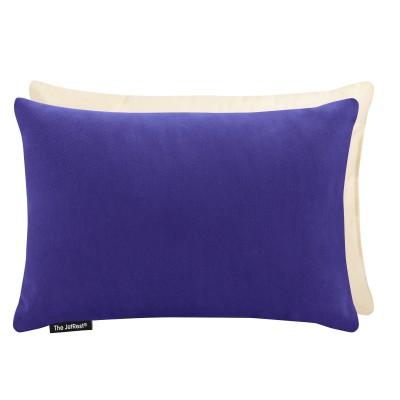 Travel Pillow (Small Camping Style Pillow)
BS5852 : 1988
UK Made
Hypo-Allergenic Filling
Organic Option *
Description
Buy 1 Get 1 Free Small Travel Pillows are a really handy, super-soft pillow made smaller for travelling and camping.
30cm x 20cm.
Hypo alergenic polyester fibre filling.
Many fabrics and colour choices.
Optional removable cover for washing.
Light weight and compact camping pillow.
British Made.
Can be personalised with your own message or slogan or name.
Optional lavender.
Trusted JetRest brand.
Measuring only 30cm x 20cm and with just the right amount of luxury polyester fibre, this travel cushion is perfect for a good night's sleep when out and about. We make all our travel pillows to order and can offer a good variety of fabric covers and colours all for the same price. Ideal for camping, outdoors, travel in the car or when you go overseas. Perfect for adults and children.
Reviews
My wife loves the cushion
- The cushion my wife bought in 2014 needed replacing so we bought 2for 1 of the plain cushion. Great cushion, great value!
By Phil (Dec 2018)
My wife loves this cushion
- Great produce, really comfortable for use as car or plane passenger.
By Paul (Nov 2018)
Comfortable
- Great little cushion for back and neck comfort
By Rae (Nov 2018)
Brilliant for resting your head on
- Cushion is a perfect fit for placing on your head on when sitting on the sofa watching tv. Cushions are of good quality and service was excellent ????
By Sarah (Oct 2018)
Spot on cushion for lower back
- This cushion is the right size for placing in your lower back, cushions are good quality and service was excellent ????
By Sarah (Oct 2018)
My husband finds the cushion so comfortable
- Good value really useful he uses it in car and chair under his disabled leg
By Lesley Mayers (Oct 2018)
FAQs
Can I save space when travelling ?
The small travel cushion is small as it is though will come to no harm in being squashed into backpacks or other tight spaces when you are on the move. The fibres we use to fill the cushion are spiral formed and spring back to life when unpacked.
Shipping
The information below is for guidance. Actual delivery costs and dates depend on the delivery address, weight and time your order is placed. Cut-off time for Overnight Orders is 12 noon.
| Price | Method | Manufacture Time | Delivery Time | Est. Delivery Date |
| --- | --- | --- | --- | --- |
| £2.95 | Royal Mail - 2nd Class | 0-3 Days | 2-3 Days | Tue 28 Jan - Mon 3 Feb |
| £3.95 | Royal Mail - 2nd Class | 0-3 Days | 2-4 Days | Tue 28 Jan - Tue 4 Feb |
| £3.95 | Royal Mail - 1st Class | 0-3 Days | 1-2 Days | Mon 27 Jan - Fri 31 Jan |
| £4.99 | Royal Mail - 1st Class | 0-3 Days | 1-3 Days | Mon 27 Jan - Mon 3 Feb |
| £5.95 | Royal Mail - 2nd Class | 0-3 Days | 2-3 Days | Tue 28 Jan - Mon 3 Feb |
| £10.00 | Courier - Economy (M-F Pre 6pm) | 0-3 Days | 2-3 Days | Tue 28 Jan - Mon 3 Feb |
| £12.95 | Courier - Overnight (M-F Pre 6pm) | 0-3 Days | 1-2 Days | Mon 27 Jan - Fri 31 Jan |
| £14.95 | Royal Mail - Special Delivery (Pre 1pm) | Same Day | Next Working Day | Mon 27 Jan |
| £14.95 | Royal Mail - Special Delivery (Saturday Pre 1pm) | Monday | This Saturday | Sat 1 Feb |
| £24.95 | Courier - Economy (M-F Pre 6pm) | 0-3 Days | 2-4 Days | Tue 28 Jan - Tue 4 Feb |
More Information
| | |
| --- | --- |
| Availability | Available to Order |
| Despatch | Today (Cut off time 3pm) (1-3 Days if Personalised) or Upgrade at Checkout for Overnight Delivery |
| Brand | The JetRest |
| Filling | Fibre |
| Weight | 150 g |
| Approximate Dimensions | 30cm x 20cm x 8cm |
| Country of Origin | United Kingdom |
| SKU | FGPIL004 |
| Tariff Code | 9404909000 |
| Tariff Description | Travel Pillow - Filled with Polyester Fibre |
Travel Pillow (Small Camping Style Pillow)