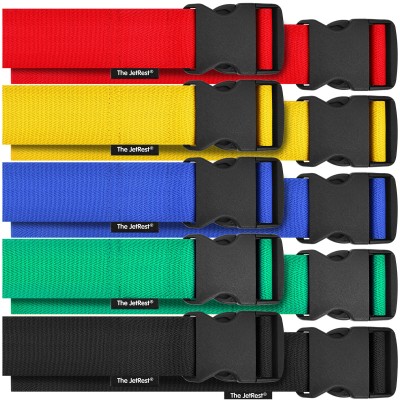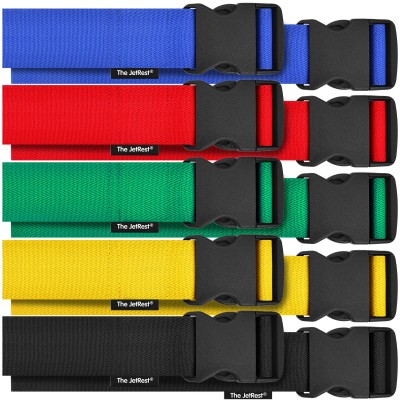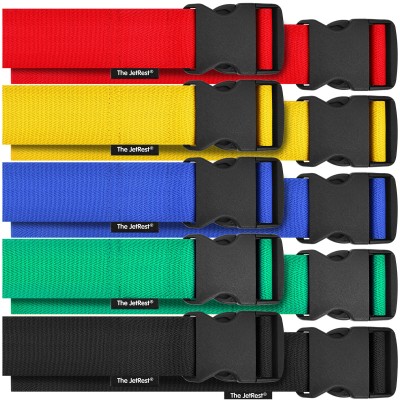 10 Pack of Luggage Straps (UK Made Suitcase Straps)
UK Made
Description
Luggage Straps 10 Pack Mega Deal is a fantastic offer from The JetRest® which are available in a range of bright and bold colours to choose from making your luggage easy to identify which can also all be personalised.
UK Made Suitcase Straps.
Each pack contains 10 luggage straps.
Fully adjustable.
5cm width with size options.
Heavy duty nylon luggage straps.
Extra strong buckle fastening.
Many colours to choose from.
Excellent for family and group holidays.
Optional personalisation.
Trusted JetRest® brand.
The British made suitcase straps are fully adjustable and will give peace of mind when travelling knowing that your luggage is secured.
The straps are perfect for use with general suitcases and most heavy duty luggage. They are formed from super strong nylon making them perfect for securing suitcases and luggage.
We have many bright colours to select from and each strap comes with a super strong snap buckle to hold the luggage in place.
All suitcase straps are produced from nylon with the exception of the soft cotton options which are designed specifically for more delicate luggage.
All luggage straps in the 10 pack mega deal will be the same colour.
If you would like to personalise your item all straps shall be printed with the same text and colour, ideal for family and group holidays. Simply select your colour choice and enter your text in the space provided and we shall print all 10 straps. This is a great way to make your luggage stand out from the crowd.
Reviews
Very good quality
- Excellent service, so quick they nearly arrived before they were ordered! Definitely would recommend (Brenda)
Suitcase straps
- These are fabulous! Really distinctive, worked exactly as described. A fantastic price for a quality product. Delivered as predicted. Highly recommended. Thank you. (Gavin Craigen)
my luggage straps,
- these luggage straps are excellent, thankyou (christine jones)
FAQs
Are the luggage straps suitable for different sized suitcases ?
Yes. The luggage straps have an adjustable buckle so our suitable for most suitcases.
Are the suitcase straps easy to remove?
Yes. Luggage Straps can be easily released with the buckle.
Will all my straps be the same colour?
Yes. All luggage straps in this offer will be the same colour unless you select the mixed pack, in which case the pack contains 2 of each of the colours shown. If you prefer to have different colours, please order from our single product packs.
Delivery
The information below is for guidance. Actual delivery costs and dates depend on the delivery address, weight and time your order is placed. Cut-off time for Overnight Orders is 12 noon.
| Price | Method | Manufacture Time | Delivery Time | Est. Delivery Date |
| --- | --- | --- | --- | --- |
| £4.99 | 2nd Class (Tracked) | 0-1 Days | 2-3 Days | Mon 25 Sep - Wed 27 Sep |
| £6.99 | 1st Class (Tracked) | 0-1 Days | 1-2 Days | Fri 22 Sep - Tue 26 Sep |
| £13.41 | DHL Courier (Economy M-F Pre 6pm) | 0-1 Days | 2-3 Days | Mon 25 Sep - Wed 27 Sep |
| £14.99 | Royal Mail Special Delivery (Overnight Mon-Sat Pre 1pm) | Tomorrow | Next Day (Mon-Sat) | Mon 25 Sep |
More Information
| | |
| --- | --- |
| Despatch | Today (Cut off time 3pm M-F) |
| Brand | The JetRest® |
| RRP | £49.99 |
| Country of Origin | United Kingdom |
| SKU | FGLUG001(x10)(180cm x 5cm)WEB-R-Y-RB-G-BL |
| Gtin | 5056656340743 |
| Tariff Code | 6307909899 |
| Tariff Description | Luggage Strap - Woven Webbing |
| Product Weight | 1,004 g |
| Product Dimensions | 5 x 180cm |
Product Options
Size
180cm, 250cm, 300cm
Colour
Mixed Pack (Red, Yellow, Royal, Green, Black), Striped, Royal Blue, Red, Green, Yellow, Black, Navy Blue, Silver Grey, White
Product Type
Luggage Straps
Travel & Outdoors > Personalised Luggage Straps
Personalised Gifts > Personalised Travel Gifts

10 Pack of Luggage Straps (UK Made Suitcase Straps)
(180cm x 5cm) -Mixed Pack (Red, Yellow, Royal, Green, Black)
FGLUG001(x10)(180cm x 5cm)WEB-R-Y-RB-G-BL
5056656340743
£49.99
1,004 g
5 x 180cm
10 Pack of Luggage Straps (UK Made Suitcase Straps)
(250cm x 5cm) -Mixed Pack (Red, Yellow, Royal, Green, Black)
FGLUG001(x10)(250cm x 5cm)WEB-R-Y-RB-G-BL
5060089250210
£59.99
1,130 g
5 x 180cm
10 Pack of Luggage Straps (UK Made Suitcase Straps)
(300cm x 5cm) -Mixed Pack (Red, Yellow, Royal, Green, Black)
FGLUG001(x10)(300cm x 5cm)WEB-R-Y-RB-G-BL
5060089250210
£69.99
1,340 g
5 x 180cm
10 Pack of Luggage Straps (UK Made Suitcase Straps)
(180cm x 5cm) - Royal Blue
FGLUG001(x10)(180cm x 5cm)(WN50-BRO)
5060089250210
£49.99
1,004 g
5 x 180cm
10 Pack of Luggage Straps (UK Made Suitcase Straps)
(250cm x 5cm) - Royal Blue
FGLUG001(x10)(250cm x 5cm)(WN50-BRO)
5060089250210
£59.99
1,130 g
5 x 180cm
10 Pack of Luggage Straps (UK Made Suitcase Straps)
(300cm x 5cm) - Royal Blue
FGLUG001(x10)(300cm x 5cm)(WN50-BRO)
5060089250210
£69.99
1,340 g
5 x 180cm
10 Pack of Luggage Straps (UK Made Suitcase Straps)
(180cm x 5cm) - Red
FGLUG001(x10)(180cm x 5cm)(WN50-RED)
5060089250210
£49.99
1,004 g
5 x 180cm
10 Pack of Luggage Straps (UK Made Suitcase Straps)
(250cm x 5cm) - Red
FGLUG001(x10)(250cm x 5cm)(WN50-RED)
5060089250210
£59.99
1,130 g
5 x 180cm
10 Pack of Luggage Straps (UK Made Suitcase Straps)
(300cm x 5cm) - Red
FGLUG001(x10)(300cm x 5cm)(WN50-RED)
5060089250210
£69.99
1,340 g
5 x 180cm
10 Pack of Luggage Straps (UK Made Suitcase Straps)
(180cm x 5cm) - Green
FGLUG001(x10)(180cm x 5cm)(WN50-GBG)
5060089250210
£49.99
1,004 g
5 x 180cm
10 Pack of Luggage Straps (UK Made Suitcase Straps)
(250cm x 5cm) - Green
FGLUG001(x10)(250cm x 5cm)(WN50-GBG)
5060089250210
£59.99
1,130 g
5 x 180cm
10 Pack of Luggage Straps (UK Made Suitcase Straps)
(300cm x 5cm) - Green
FGLUG001(x10)(300cm x 5cm)(WN50-GBG)
5060089250210
£69.99
1,340 g
5 x 180cm
10 Pack of Luggage Straps (UK Made Suitcase Straps)
(180cm x 5cm) - Yellow
FGLUG001(x10)(180cm x 5cm)(WN50-YEL)
5060089250210
£49.99
1,004 g
5 x 180cm
10 Pack of Luggage Straps (UK Made Suitcase Straps)
(250cm x 5cm) - Yellow
FGLUG001(x10)(250cm x 5cm)(WN50-YEL)
5060089250210
£59.99
1,130 g
5 x 180cm
10 Pack of Luggage Straps (UK Made Suitcase Straps)
(300cm x 5cm) - Yellow
FGLUG001(x10)(300cm x 5cm)(WN50-YEL)
5060089250210
£69.99
1,340 g
5 x 180cm
10 Pack of Luggage Straps (UK Made Suitcase Straps)
(180cm x 5cm) - Black
FGLUG001(x10)(180cm x 5cm)(WN50-BLK)
5060089250210
£49.99
1,004 g
5 x 180cm
10 Pack of Luggage Straps (UK Made Suitcase Straps)
(250cm x 5cm) - Black
FGLUG001(x10)(250cm x 5cm)(WN50-BLK)
5060089250210
£59.99
1,130 g
5 x 180cm
10 Pack of Luggage Straps (UK Made Suitcase Straps)
(300cm x 5cm) - Black
FGLUG001(x10)(300cm x 5cm)(WN50-BLK)
5060089250210
£69.99
1,340 g
5 x 180cm
10 Pack of Luggage Straps (UK Made Suitcase Straps)
(180cm x 5cm) - Navy Blue
FGLUG001(x10)(180cm x 5cm)(WN50-BNA)
5060089250210
£49.99
1,004 g
5 x 180cm
10 Pack of Luggage Straps (UK Made Suitcase Straps)
(250cm x 5cm) - Navy Blue
FGLUG001(x10)(250cm x 5cm)(WN50-BNA)
5060089250210
£59.99
1,130 g
5 x 180cm
10 Pack of Luggage Straps (UK Made Suitcase Straps)
(300cm x 5cm) - Navy Blue
FGLUG001(x10)(300cm x 5cm)(WN50-BNA)
5060089250210
£69.99
1,340 g
5 x 180cm
10 Pack of Luggage Straps (UK Made Suitcase Straps)
(180cm x 5cm) - Silver Grey
FGLUG001(x10)(180cm x 5cm)(WN50-GLG)
5060089250210
£49.99
1,004 g
5 x 180cm
10 Pack of Luggage Straps (UK Made Suitcase Straps)
(250cm x 5cm) - Silver Grey
FGLUG001(x10)(250cm x 5cm)(WN50-GLG)
5060089250210
£59.99
1,130 g
5 x 180cm
10 Pack of Luggage Straps (UK Made Suitcase Straps)
(300cm x 5cm) - Silver Grey
FGLUG001(x10)(300cm x 5cm)(WN50-GLG)
5060089250210
£69.99
1,340 g
5 x 180cm
10 Pack of Luggage Straps (UK Made Suitcase Straps)
(180cm x 5cm) - White
FGLUG001(x10)(180cm x 5cm)(WN50-WHI)
5060089250210
£49.99
1,004 g
5 x 180cm
10 Pack of Luggage Straps (UK Made Suitcase Straps)
(250cm x 5cm) - White
FGLUG001(x10)(250cm x 5cm)(WN50-WHI)
5060089250210
£59.99
1,130 g
5 x 180cm
10 Pack of Luggage Straps (UK Made Suitcase Straps)
(300cm x 5cm) - White
FGLUG001(x10)(300cm x 5cm)(WN50-WHI)
5060089250210
£69.99
1,340 g
5 x 180cm
10 Pack of Luggage Straps (UK Made Suitcase Straps)
(180cm x 5cm) Striped
FGLUG001(x10)(180cm x 5cm)(WN50-STR)
5060089250210
£49.99
1,004 g
5 x 180cm
10 Pack of Luggage Straps (UK Made Suitcase Straps)
(250cm x 5cm) Striped
FGLUG001(x10)(250cm x 5cm)(WN50-STR)
5060089250210
£59.99
1,130 g
5 x 180cm
10 Pack of Luggage Straps (UK Made Suitcase Straps)
(300cm x 5cm) Striped
FGLUG001(x10)(300cm x 5cm)(WN50-STR)
5060089250210
£69.99
1,340 g
5 x 180cm
10 Pack of Luggage Straps (UK Made Suitcase Straps)