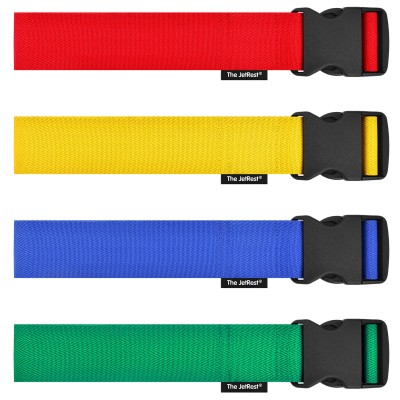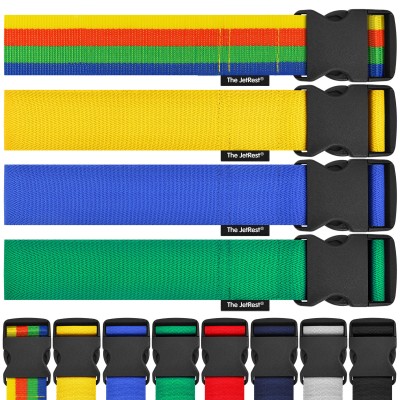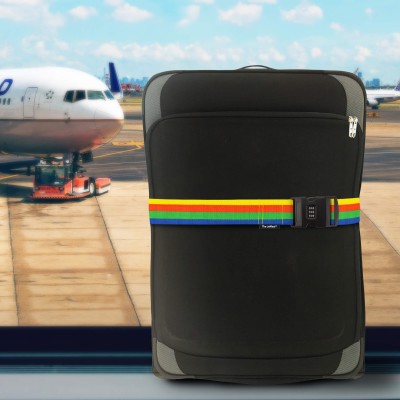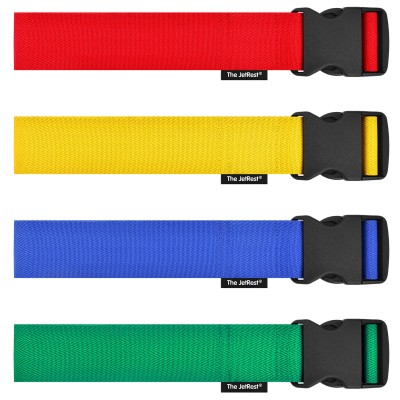 4 Pack of Luggage Straps (UK Made Suitcase Straps)
UK Made
Description
UK Made Luggage Straps in a Pack of 4, great for family or friends holidays.
Super strong buckle withstanding many opening and closings.
Made from a heavy duty nylon fabric.
180cm x 5cm which fits most standard sized suitcases, but we also offer bigger sizes if you prefer.
Lovely, bright luggage strap colour options and packs.
Trusted JetRest® brand
Suitcase straps by The JetRest® add extra security to your baggage and allow it to be easily identifiable meaning it wont be mixed up with anyone else's at the airport. This 4 pack allows for each of your party to have their own colour to distinguish between similar bags, or why not purchase our single colour packs to identify all of your party's suitcase the minute they leave the plane.
Reviews
Luggage Straps
- XLong luggage straps for XLarge suitcase. Great quality and choice of colours, excellent price and pack of 4. Look fabulous on my new luggage and will definitely stand out from the rest. Will definitely buy again and recommend to anyone looking for XLong straps. (Liz, 05/05/23)
FAQs
Can the luggage strap fit different size suitcases?
Yes. Luggage Straps have an adjustable buckle and will fit the vast majority of sizes. Simply order a longer version if required in the options.
Are the Luggage Straps easy to remove?
Yes. Luggage Straps come with a buckle that is easy to release.
Can I have my luggage strap made to a different length?
Yes. We manufacture all of our luggage straps in our factory so can make them as a bespoke item to your own requirements. If the luggage strap is to be made longer, please place your order and select the size you would like.
Delivery
The information below is for guidance. Actual delivery costs and dates depend on the delivery address, weight and time your order is placed. Cut-off time for Overnight Orders is 12 noon.
| Price | Method | Manufacture Time | Delivery Time | Est. Delivery Date |
| --- | --- | --- | --- | --- |
| £3.99 | 2nd Class (Tracked LL) | 0-1 Days | 2-3 Days | Thu 7 Dec - Mon 11 Dec |
| £5.99 | 1st Class (Tracked LL) | 0-1 Days | 1-2 Days | Wed 6 Dec - Fri 8 Dec |
| £13.09 | DHL Courier (Economy M-F Pre 6pm) | 0-1 Days | 2-3 Days | Thu 7 Dec - Mon 11 Dec |
| £14.99 | Royal Mail Special Delivery (Overnight Mon-Sat Pre 1pm) | Today | Next Day (Mon-Sat) | Mon 4 Dec |
More Information
| | |
| --- | --- |
| Despatch | Today (Cut off time 3pm M-F) |
| Brand | The JetRest® |
| RRP | £19.99 |
| Country of Origin | United Kingdom |
| SKU | FGLUG001(x4)(180cm)WEB-R-Y-RB-G |
| Gtin | 5056261022461 |
| Tariff Code | 6307909899 |
| Tariff Description | Luggage Strap - Woven Webbing |
| Product Weight | 375 g |
| Product Dimensions | 5 x 180cm |
Product Options
Size
180cm, 250cm, 300cm
Colour
Mixed Pack (Red, Yellow, Royal, Green), Mixed Pack (Striped, Red, Yellow, Royal), Mixed Pack (Black, White, Grey, Navy), Mixed Pack (Black, White, Black, White), Striped, Red, Yellow, Royal Blue, Green, Navy Blue, Black, White, Silver Grey
Product Type
Luggage Straps
Travel & Outdoors > Personalised Luggage Straps
Personalised Gifts > Personalised Travel Gifts
Suitcase Straps

4 Pack of Luggage Straps (UK Made Suitcase Straps)
(180cm) - Mixed Colour Pack (Red, Yellow, Royal, Green)
FGLUG001(x4)(180cm)WEB-R-Y-RB-G
5056261022461
£19.99
375 g
5 x 180cm
4 Pack of Luggage Straps (UK Made Suitcase Straps)
(250cm) - Mixed Colour Pack (Red, Yellow, Royal, Green)
FGLUG001(x4)(250cm)WEB-R-Y-RB-G
5060089258544
£24.99
475 g
5 x 180cm
4 Pack of Luggage Straps (UK Made Suitcase Straps)
(300cm) - Mixed Colour Pack (Red, Yellow, Royal, Green)
FGLUG001(x4)(300cm)WEB-R-Y-RB-G
5060089258582
£29.99
550 g
5 x 180cm
4 Pack of Luggage Straps (UK Made Suitcase Straps)
(180cm) - Mixed Pack (Striped, Red, Yellow, Royal)
FGLUG001(x4)(180cm)WEB-STR-R-Y-RB
5060089258629
£19.99
376 g
5 x 180cm
4 Pack of Luggage Straps (UK Made Suitcase Straps)
(250cm) - Mixed Pack (Striped, Red, Yellow, Royal)
FGLUG001(x4)(250cm)WEB-STR-R-Y-RB
5060089258667
£24.99
476 g
5 x 180cm
4 Pack of Luggage Straps (UK Made Suitcase Straps)
(300cm) - Mixed Pack (Striped, Red, Yellow, Royal)
FGLUG001(x4)(300cm)WEB-STR-R-Y-RB
5060089258704
£29.99
551 g
5 x 180cm
4 Pack of Luggage Straps (UK Made Suitcase Straps)
(180cm) - Mixed Pack (Black, White, Grey, Navy)
FGLUG001(x4)(180cm)WEB-BL-W-GY-NB
5060089258742
£19.99
376 g
5 x 180cm
4 Pack of Luggage Straps (UK Made Suitcase Straps)
(250cm) - Mixed Pack (Black, White, Grey, Navy)
FGLUG001(x4)(250cm)WEB-BL-W-GY-NB
5060089258797
£24.99
476 g
5 x 180cm
4 Pack of Luggage Straps (UK Made Suitcase Straps)
(300cm) - Mixed Pack (Black, White, Grey, Navy)
FGLUG001(x4)(300cm)WEB-BL-W-GY-NB
5060089258834
£29.99
551 g
5 x 180cm
4 Pack of Luggage Straps (UK Made Suitcase Straps)
(180cm) - Mixed Pack (Black and White)
FGLUG001(x4)(180cm)WEB-BLX2-WX2
5060089258889
£19.99
376 g
5 x 180cm
4 Pack of Luggage Straps (UK Made Suitcase Straps)
(250cm) - Mixed Pack (Black and White)
FGLUG001(x4)(250cm)WEB-BLX2-WX2
5060089258919
£24.99
476 g
5 x 180cm
4 Pack of Luggage Straps (UK Made Suitcase Straps)
(300cm) - Mixed Pack (Black and White)
FGLUG001(x4)(300cm)WEB-BLX2-WX2
5060089258940
£29.99
551 g
5 x 180cm
4 Pack of Luggage Straps (UK Made Suitcase Straps)
(180cm) Striped
FGLUG001(x4)(180cm)(WN50-STR)
5060089258568
£19.99
375 g
5 x 180cm
4 Pack of Luggage Straps (UK Made Suitcase Straps)
(250cm) Striped
FGLUG001(x4)(250cm)(WN50-STR)
5060089258605
£24.99
475 g
5 x 180cm
4 Pack of Luggage Straps (UK Made Suitcase Straps)
(300cm) Striped
FGLUG001(x4)(300cm)(WN50-STR)
5060089258643
£29.99
550 g
5 x 180cm
4 Pack of Luggage Straps (UK Made Suitcase Straps)
(180cm) - Red
FGLUG001(x4)(180cm)(WN50-RED)
5060089258681
£19.99
375 g
5 x 180cm
4 Pack of Luggage Straps (UK Made Suitcase Straps)
(250cm) - Red
FGLUG001(x4)(250cm)(WN50-RED)
5060089258728
£24.99
475 g
5 x 180cm
4 Pack of Luggage Straps (UK Made Suitcase Straps)
(300cm) - Red
FGLUG001(x4)(300cm)(WN50-RED)
5060089258773
£29.99
550 g
5 x 180cm
4 Pack of Luggage Straps (UK Made Suitcase Straps)
(180cm) - Yellow
FGLUG001(x4)(180cm)(WN50-YEL)
5060089258803
£19.99
375 g
5 x 180cm
4 Pack of Luggage Straps (UK Made Suitcase Straps)
(250cm) - Yellow
FGLUG001(x4)(250cm)(WN50-YEL)
5060089258841
£24.99
475 g
5 x 180cm
4 Pack of Luggage Straps (UK Made Suitcase Straps)
(300cm) - Yellow
FGLUG001(x4)(300cm)(WN50-YEL)
5060089258896
£29.99
550 g
5 x 180cm
4 Pack of Luggage Straps (UK Made Suitcase Straps)
(180cm) - Royal Blue
FGLUG001(x4)(180cm)(WN50-BRO)
5060089258926
£19.99
375 g
5 x 180cm
4 Pack of Luggage Straps (UK Made Suitcase Straps)
(250cm) - Royal Blue
FGLUG001(x4)(250cm)(WN50-BRO)
5060089258957
£24.99
475 g
5 x 180cm
4 Pack of Luggage Straps (UK Made Suitcase Straps)
(300cm) - Royal Blue
FGLUG001(x4)(300cm)(WN50-BRO)
5060089258575
£29.99
550 g
5 x 180cm
4 Pack of Luggage Straps (UK Made Suitcase Straps)
(180cm) - Green
FGLUG001(x4)(180cm)(WN50-GBG)
5060089258612
£19.99
375 g
5 x 180cm
4 Pack of Luggage Straps (UK Made Suitcase Straps)
(250cm) - Green
FGLUG001(x4)(250cm)(WN50-GBG)
5060089258650
£24.99
475 g
5 x 180cm
4 Pack of Luggage Straps (UK Made Suitcase Straps)
(300cm) - Green
FGLUG001(x4)(300cm)(WN50-GBG)
5060089258698
£29.99
550 g
5 x 180cm
4 Pack of Luggage Straps (UK Made Suitcase Straps)
(180cm) - Navy Blue
FGLUG001(x4)(180cm)(WN50-BNA)
5060089258735
£19.99
375 g
5 x 180cm
4 Pack of Luggage Straps (UK Made Suitcase Straps)
(250cm) - Navy Blue
FGLUG001(x4)(250cm)(WN50-BNA)
5060089258780
£24.99
475 g
5 x 180cm
4 Pack of Luggage Straps (UK Made Suitcase Straps)
(300cm) - Navy Blue
FGLUG001(x4)(300cm)(WN50-BNA)
5060089258810
£29.99
550 g
5 x 180cm
4 Pack of Luggage Straps (UK Made Suitcase Straps)
(180cm) - Black
FGLUG001(x4)(180cm)(WN50-BLK)
5060089258858
£19.99
375 g
5 x 180cm
4 Pack of Luggage Straps (UK Made Suitcase Straps)
(250cm) - Black
FGLUG001(x4)(250cm)(WN50-BLK)
5060089258902
£24.99
475 g
5 x 180cm
4 Pack of Luggage Straps (UK Made Suitcase Straps)
(300cm) - Black
FGLUG001(x4)(300cm)(WN50-BLK)
5060089258933
£29.99
550 g
5 x 180cm
4 Pack of Luggage Straps (UK Made Suitcase Straps)
(180cm) - White
FGLUG001(x4)(180cm)(WN50-WHI)
5060089258551
£19.99
375 g
5 x 180cm
4 Pack of Luggage Straps (UK Made Suitcase Straps)
(250cm) - White
FGLUG001(x4)(250cm)(WN50-WHI)
5060089258599
£24.99
475 g
5 x 180cm
4 Pack of Luggage Straps (UK Made Suitcase Straps)
(300cm) - White
FGLUG001(x4)(300cm)(WN50-WHI)
5060089258636
£29.99
550 g
5 x 180cm
4 Pack of Luggage Straps (UK Made Suitcase Straps)
(180cm) - Silver Grey
FGLUG001(x4)(180cm)(WN50-GLG)
5060089258674
£19.99
375 g
5 x 180cm
4 Pack of Luggage Straps (UK Made Suitcase Straps)
(250cm) - Silver Grey
FGLUG001(x4)(250cm)(WN50-GLG)
5060089258711
£24.99
475 g
5 x 180cm
4 Pack of Luggage Straps (UK Made Suitcase Straps)
(300cm) - Silver Grey
FGLUG001(x4)(300cm)(WN50-GLG)
5060089258766
£29.99
550 g
5 x 180cm
4 Pack of Luggage Straps (UK Made Suitcase Straps)