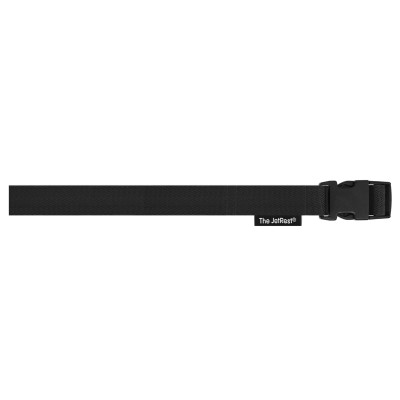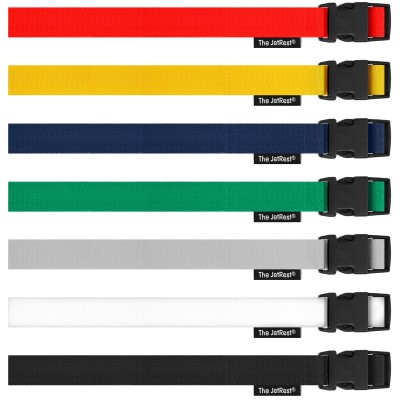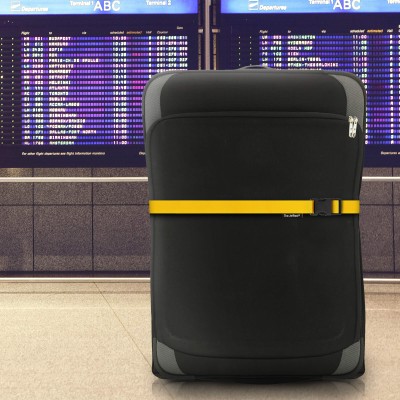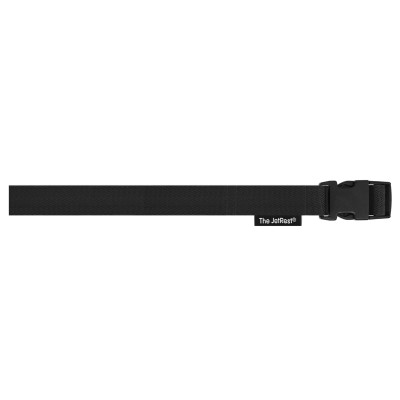 UK Made
Description
Narrow Luggage Straps are strong, adjustable and UK Made.
UK Made Luggage Straps.
Narrow 25mm width with length options.
Fully adjustable to any length.
Strong clasp buckles.
Choice of colours.
Can be made to any length at nominal extra cost.
Trusted JetRest® brand.
In order to keep costs down, we manufacture these budget luggage straps in 25mm wide tough nylon webbing. At 1 inch wide they are still very strong and will easily hold a case together and are fully adjustable to any length within the size options.
Reviews
Strong and reliable
- I use two of these luggage straps to hang a small wheelchair on the back of my large mobility scooter when I go out. The straps keep the 12 kg wheelchair safely in place and they are a quick and reliable way to keep the wheelchair hanging there. (Scootermad, 31/05/23)
Very good
- Very good product (Soph, 27/01/23)
Excellent range and service
- Great range of sizes and colours, delivered super-fast, recommended (David Simister)
An unusual use for this product!
- These suitcase straps I bought for my husband to use as a belt (no he's not that huge!). He is fed up with removing his belt to go through airport security. Because the strap has no metal he can leave it on, and the length is very adjustable. He is very happy with this (no more walking through detectors with trousers round ankles. (Sally)
Safe keyboard at last.
- Purchased strap to secure my x brace keyboard stand. Strap adjustable and sturdy.I can now hammer the keys without fear of stand collapsing. (Ian)
My family were very pleased with the luggage straps
- The yellow luggage straps were to go with the straps I purchased with their names on to show which case was theirs exactly what they wanted. (Christine Brown)
Strapping Perfection
- Very well made, prompt deliver will use products again (Andrew Ashfield)
Luggage Strap
- This is the best luggage strap I have bought - excellent quality - name very clear and very quick delivery - many thanks (anonymous)
Excellent luggage straps for easy identification
- good service. easy to navigate website. prompt delivery. items were as described. recommended (Christine)
Excellent British made product
- Good quality at a very good price and I really like that it's Britsh made (Alison Smith)
My husband likes the luggage straps
- The luggage straps are ideal and we shall look forward to using them on a journey next week (Christina Robinson)
Great Service
- The straps were of good quality and a prompt delivery (Ade fae abyne)
Length matters ...
- I ordered this product from JetRest because it was the only site among many that offered to make extra-length straps to order. Ordering was easy, delivery was well within the time quoted, and the product is neat, tidy and well able to stand up to the intended use. (Mick C)
A strap to match the colour of a new suitcase
- Delivered promptly in perfect condition. Suits my new suitcase 'to a t'. Pleased with purchase. (Formbyite)
Luggage Straps
- Very efficient time saving service (Peter Biggin)
Luggage straps - did the job
- Easily spotted our cases on the carousel - very sturdy fasteners - would recommend (Barbara Walker)
Good for the price
- I was pleased to find these luggage straps made in Great Britain at a reasonable price. I wanted them to secure some big cushions together and they were ideal. The strap itself is made from quite lightweight fabric but should be adequate for most purposes, particular colour identification. (Janet)
Luggage straps
- straps arrived on time and fit for purpose (John Stewart)
Excellent
- Very good product, fast, efficent service (Mrs Cooper)
Bright yellow colour stood out a treat
- Product did exactly what was asked of it. Robust and easy to see cases coming round the carousel. (James)
Luggage straps
- I ordered the luggage straps to try and solve a problem I was experiencing, feeling that if this doesn't work I give up! Happily they did work very well and I was delighted to solve my problem at a very low cost so thank you the JET Rest for a fast service at reasonable cost! I'll be back! regards Olivia (Olivia Matthews)
Luggage straps
- I was very pleasantly surprised when I received the straps, they were so much better than I expected and enabled me to finish the project successfully. Very good and quick service, I can recommend this seller. (Olivia)
Luggage Strap
- With this red strap on my suitcase l will be able to recognise my case straight away. No more getting wrong suitcases for me. (fruitybaybe)
Luggage straps
- These seem good although I haven't tried them out yet. Wanted a plain colour rather than the striped ones that you often see. Happy so far. (Mark)
Simple but great
- Does what says on the tin !!!!! Good quality product (Mark)
affordable quality
- I ordered 2 luggage straps to hold display boards together in transit, worked a treat, an inexpensive soulution to an unwieldy problem !! Thanks (Chris Nocetti)
luggage straps
- quality straps excellent price (anonymous)
Super Value
- having scanned the net for this kind of product i finally settled on THE JET REST, glad i did, very quick del and really good quality, i would not hesitate to recommend this company to everyone. (anonymous)
Really pleased
- What a great item for the price, was really surprised how good these were, I'm guessing the more expensive ones must be REALLY good ! thank you jetrest! (anonymous)
More Reviews
FAQs
Can the luggage strap fit different size suitcases?
Yes. Luggage Straps have an adjustable buckle and will fit the vast majority of sizes.  Simply order a longer version if required in the options.
Are the Luggage Straps easy to remove?
Yes. Luggage Straps come with a buckle that is easy to release.
Can I have my luggage strap made to a different length?
Yes. We manufacture all of our luggage straps in our factory so can make them as a bespoke item to your own requirements. If the luggage strap is to be made longer, please place your order and select the size you would like.
Delivery
The information below is for guidance. Actual delivery costs and dates depend on the delivery address, weight and time your order is placed. Cut-off time for Overnight Orders is 12 noon.
| Price | Method | Manufacture Time | Delivery Time | Est. Delivery Date |
| --- | --- | --- | --- | --- |
| £3.99 | 2nd Class (Tracked LL) | 0-1 Days | 2-3 Days | Mon 25 Sep - Wed 27 Sep |
| £5.99 | 1st Class (Tracked LL) | 0-1 Days | 1-2 Days | Fri 22 Sep - Tue 26 Sep |
| £12.98 | DHL Courier (Economy M-F Pre 6pm) | 0-1 Days | 2-3 Days | Mon 25 Sep - Wed 27 Sep |
| £12.99 | Royal Mail Special Delivery (Overnight Mon-Sat Pre 1pm) | Tomorrow | Next Day (Mon-Sat) | Mon 25 Sep |
More Information
| | |
| --- | --- |
| Despatch | Today (Cut off time 3pm M-F) |
| Brand | The JetRest® |
| RRP | £4.99 |
| Country of Origin | United Kingdom |
| SKU | FGLUG021(180cm)(WN50-BLK) |
| Gtin | 5060089256137 |
| Tariff Code | 6307909899 |
| Tariff Description | Luggage Strap - Woven Webbing |
| Product Weight | 38 g |
| Product Dimensions | 2.5 x 180cm |
Product Options
Size
180cm, 250cm, 300cm
Colour
Black, Green, Yellow, Silver Grey, Red, White
Product Type
Luggage Straps
Travel & Outdoors > Personalised Luggage Tags
Personalised Gifts > Personalised Travel Gifts
narrow suitcase straps
suitcase straps

Narrow Luggage Strap
(180cm) - Black
FGLUG021(180cm)(WN50-BLK)
5060089256137
£4.99
38 g
2.5 x 180cm
Narrow Luggage Strap
(250cm) - Black
FGLUG021(250cm)(WN50-BLK)
5056261031319
£5.99
60 g
2.5 x 250cm
Narrow Luggage Strap
(180cm) - Green
FGLUG021(180cm)(WN50-GBG)
5060089256151
£4.99
38 g
2.5 x 180cm
Narrow Luggage Strap
(250cm) - Green
FGLUG021(250cm)(WN50-GBG)
5056261031197
£5.99
60 g
2.5 x 250cm
Narrow Luggage Strap
(180cm) - Yellow
FGLUG021(180cm)(WN50-YEL)
5060089256144
£4.99
38 g
2.5 x 180cm
Narrow Luggage Strap
(250cm) - Yellow
FGLUG021(250cm)(WN50-YEL)
5056261031227
£5.99
60 g
2.5 x 250cm
Narrow Luggage Strap
(180cm) - Silver Grey
FGLUG021(180cm)(WN50-GLG)
5060089256151
£4.99
38 g
2.5 x 180cm
Narrow Luggage Strap
(250cm) - Silver Grey
FGLUG021(250cm)(WN50-GLG)
5056261031258
£5.99
60 g
2.5 x 250cm
Narrow Luggage Strap
(180cm) - Red
FGLUG021(180cm)(WN50-RED)
5060089256106
£4.99
38 g
2.5 x 180cm
Narrow Luggage Strap
(250cm) - Red
FGLUG021(250cm)(WN50-RED)
5056261031302
£5.99
60 g
2.5 x 250cm
Narrow Luggage Strap
(180cm) - White
FGLUG021(180cm)(WN50-WHI)
5060089256168
£4.99
38 g
2.5 x 180cm
Narrow Luggage Strap
(250cm) - White
FGLUG021(250cm)(WN50-WHI)
5056261031326
£5.99
60 g
2.5 x 250cm
Narrow Luggage Strap
(300cm) - Black
FGLUG021(300cm)(WN50-BLK)
5056261031203
£6.99
65 g
2.5 x 300cm
Narrow Luggage Strap
(300cm) - Green
FGLUG021(300cm)(WN50-GBG)
5056261031210
£6.99
65 g
2.5 x 300cm
Narrow Luggage Strap
(300cm) - Yellow
FGLUG021(300cm)(WN50-YEL)
5056261031234
£6.99
65 g
2.5 x 300cm
Narrow Luggage Strap
(300cm) - Silver Grey
FGLUG021(300cm)(WN50-GLG)
5056261031241
£6.99
65 g
2.5 x 300cm
Narrow Luggage Strap
(300cm) - Red
FGLUG021(300cm)(WN50-RED)
5056261031272
£6.99
65 g
2.5 x 300cm
Narrow Luggage Strap
(300cm) - White
FGLUG021(300cm)(WN50-WHI)
5056261031296
£6.99
65 g
2.5 x 300cm
Narrow Luggage Strap